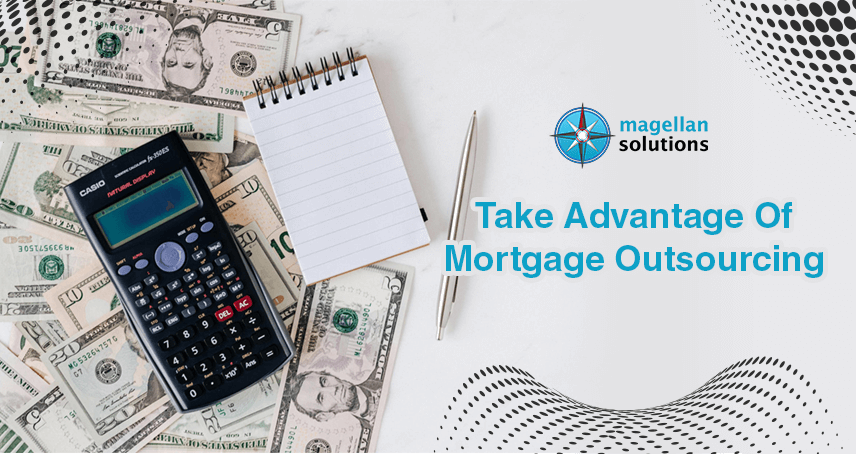 Mortgage Outsourcing Is An Essential Tool for Lenders 
The mortgage industry shifts like any industry. Lenders must focus their efforts to develop their business. Not drown in time-consuming and repetitive tasks. 
Inconsistent demands in the housing industry prompts lenders to look for effective solutions. To keep up with the changing demands and keep the business up-and-running efficiently. Which mortgage outsourcing helps. 
Mortgage outsourcing helps banks and lending institutions to process loan requests. At the same time maintain lower cost per loan and customer retention. Mortgage processing requires accuracy and attention to detail. Which may use up your in-house staff's work hours. 
Why
Mortgage Processing Contractors
Is Good For Your Firm
When you do mortgage outsourcing, you free your firm from high volume but time consuming tasks. There are a lot of steps that happen on services like loan processing, accounting, underwriting, post-closing, title ordering, and examination. 
These steps you can outsource to mortgage processing contractors. Your in-house team can focus their skills and energy to improve the business. While your outsourced contractors focus on your back office tasks. This enables flexibility and efficiency within your firm. 
Advantages Of
Third Party Mortgage Loan Processing Companies
When you outsource your mortgage loan processing to a third party company, you can gain the following benefits:
Applicable For Any Mortgage Firms, Banks of Any Size
There is a common misconception that mortgage outsourcing is only applicable for firms like large banks and big lenders. This is not the case. Even small banks and small lending mortgage firms can avail this service. 
Mortgage processing is almost the same no matter what the size. Thus you can avail third party services to process tedious tasks involved in the whole process. 
Faster Turnaround Time For Mortgage Processing
Now that you outsourced your tedious and repetitive tasks, this equals faster turnaround time. You can provide stable and error-free mortgage loan processing. As you can have the appropriate number of staff to handle your back office tasks. 
Better Client Service
As you streamline your process, you can focus on your client engagements. As you load off your mind on your growing firm's back office tasks, you can now shift your focus to clients. Attend to their needs and build better customer relationships with. 
Focus on Firm Management
Your in-house staff can focus on things that have a huge impact on your firm. This scalability also offers your firms to streamline your overall business process. Your employees can maximize their work hours for business development.
You can invest your time and money to better market your services. As well as manage your client portfolio. 
3rd Party Mortgage Processing Companies
: Magellan Solutions Is Your Choice
For your efficient mortgage loan processing, Magellan Solutions can help you. Our 15 years in service provides excellent services that can offer flexibility and efficiency to your firm. 
We are ISO-27001:2013-certified and HIPAA-compliant. We can deliver stellar services with focus on your data security. 
Contact us today for a free 60-minute business consultation. Fill up the form below!
TALK TO US!
Contact us today for more information.