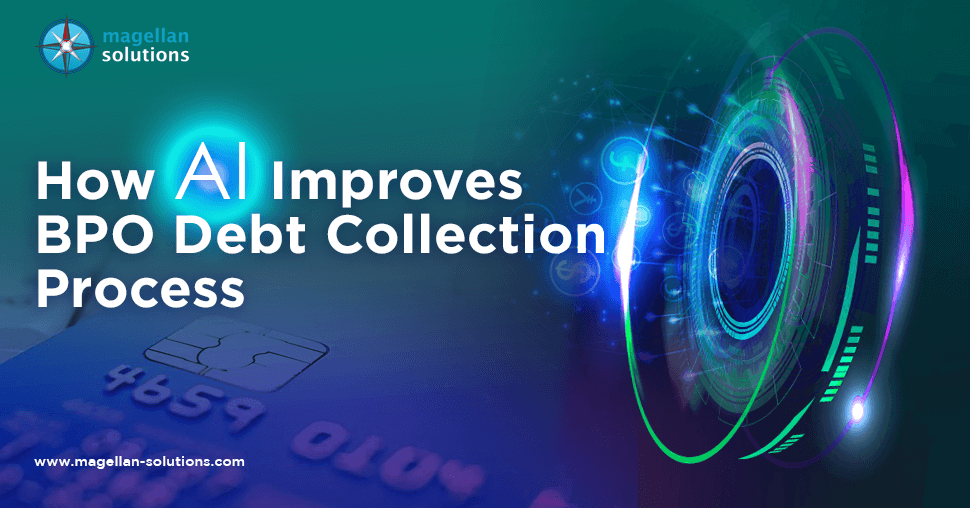 How AI Improves BPO Debt Collection Process
Outsourced Debt Collection Call Center Can Help You Recover Outstanding Debts Faster
The tedious process of going after delinquents who owe you money is pretty time-intensive. Doing this in-house can incur a lot of expenses, not to mention frustrating and distracting. This is where a debt collection call center becomes a great help. 
Outsourcing a debt collection agency is like getting a dedicated team to recover outstanding or past-due payments. These services range from goods and services. It also varies from account to account. 
Call collection agency staff to use any available information or obtain new contact information to reach and recover outstanding balances.  
Call Collection Agency
is Great For the Following
When you get the services of a credit card collection process in BPO, this third-party provider can do the following for you:
Monitor

accounts to identify outstanding debts

Investigate historical data for each debt or bill

Find and contact clients to make follow-ups about their overdue payments

Tale actions to encourage timely debt payments

Resolve billing and customer credit issues

Update account status records and collection efforts

Report on collection activity and accounts receivable status
3 Cs of
Debt Collection Call Center
Operations
Depending on your third-party provider, how they operate varies. But the usual is the following:
Contact
Outsourced staff will contact as many debtors as possible
Convince
BPO companies' debt collection processes have protocols to convince as many debtors as possible to begin repayment
Collect
Your outsourced debt collection agency aims to collect the most significant possible percentage of each outstanding debt.
How Cloud Communications Platforms Improve
Debt Collection Call Center
Operations
Your third-party provider uses various tools and software to ensure processes involved in debt collection work to your advantage. One of these is cloud communications platforms. 
Cloud-based communications tools boost productivity by eliminating mundane tasks like manual dialing and organization of call lists. 
One example is the use of predictive dialers. This way, each dial ensures you can skip voicemails, and easier to reach debtors live. 
This is also good for update and reports analysis. You can also compare collection rates between different teams or agents. Here you can get a clear overview of each agent's performance, the status of each debtor, and overall team performance. 
These platforms are easily accessible anywhere in the world. 
Why
Credit Card Collection Process in BPO
Is A Good Strategy For You
Establishing a working process in going after debtors, hiring additional staff and training them, and the needed equipment costs too much. When you outsource these specific tasks, you free your business of this hassle. 
Most importantly, you get these excellent services on top of saving costs:
1. Leverage the Winning Man-Machine Strategy
As stated, debt collection is sensitive yet time-consuming. The debt collection call center has an established process to do this efficiently: consistent service and strengthened compliance with financial standards. 
Through their tools and infrastructure, you are assured every system in place is to get the best results. 
2. Proficient
Call Collection Agency
Staff
Outsourcing in the Philippines allows you to get the services of proficient debt collectors. You can contact a team of expert debt recovery specialists to hit collection targets on time. 
These agents are excellent communicators, understand contexts, and can converse professionally. They become a valid extension of your business and aim to extend the same work ethics while efficiently doing their job for you. 
3. Get the Services of a Compliant Provider
Monetary matters often require the highest level of security. You must get a partner that knows the ins and outs of the US financial industry. Not to mention, they must comply with the necessary financial regulations. 
It would be best to zero in on PCI-DSS certification and ISMS compliance. 
Magellan Solutions is Your
Debt Collection Call Center
Partner
Our 18 years in the service further strengthen our debt collection strategies. This is to ensure we can get the best collection rates for you. 
Our agents are well-equipped with the necessary knowledge and skills to make them proficient in providing the services you need. We use cloud-based platforms to ensure our processes remain efficient. 
Magellan Solutions bears PCI DSS certification and is ISO 27001-compliant. We are GDPR and HIPAA-compliant as well. This proves that we provide excellent debt collection services on top of the highest security protocols. 
Contact us today and let us help with your debt recovery strategy. Fill up the form below!
TALK TO US!
Contact us today for more information.