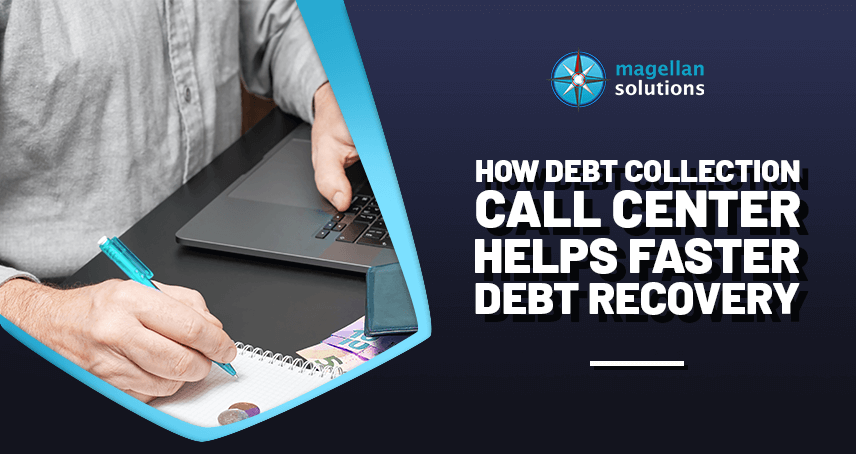 How Debt Collection Call Center Helps Faster Debt Recovery
Traditional debt collection practices such as frequent phone calls, emails, text messages, and house-to-house visits connote negative customer experience and often result in lending losses. But with the advancement of technology, the BPO debt collection process is now taking the digital approach through the help of Artificial Intelligence. 
Artificial Intelligence (AI) is computer software that can mimic human behavior. It has different types, like chatbots for real-time conversations and Deep Learning Software for image and speech recognition. 
The application of Artificial Intelligence in debt collection is a giant leap in the financial services industry. If credit lending and accounts receivable are fully automated in BPO debt collection agencies, how can it improve the BPO debt collection process?
The Rise of Artificial Intelligence in Debt Collection
The task of a debt collection agency to go after customers with unsettled accounts is emotionally and mentally draining. They have to deal with different kinds of people and make them feel a personalized experience every time. In addition, they manage customer data and do quick follow-ups that are vulnerable to errors.
The workflow is systemized through automation and implementation of Artificial Intelligence in daily operations. It's focused on giving accurate assumptions in assessing customers that may increase work productivity and output. This digital approach to BPO collection aims to avoid the traditional call-and-response process. It is geared towards a hassle-free group for both the agent and the debtor in the digital workforce.
4 Ways How AI Improves BPO Debt Collection Process
Here are four ways AI improves BPO Debt Collection Process:
Debt Automation
One of the ways to have effective customer service is to have a collection process that's efficient and hassle-free. Debt automation is the use of technology to replace outdated collection processes. In the past, loan companies relied on endless paperwork with clerical procedures, which was time-consuming and prone to human error. As debt collection is modernized, customers are given better options to settle their obligation conveniently. 
Artificial Intelligence in debt collection offers a cloud-based platform streamlining the collection process. Payment reminders via email and SMS may be considered a modern way of debt collection. Still, when the power of Artificial Intelligence is involved, messages already include links that can direct customers to the payment platform or the integration of QR codes in emails for payment processing.
Lending services also utilize online applications where customers can create an account to see their balance, due date, and interest incurred. These debt automation applications are just a few examples of how customers can self-serve. It doesn't only conserve their time and effort, but it's a customer-friendly approach to debt recovery. 
Debt Recovery Prioritization
Loan companies outsource their account receivables to BPO debt collection agencies to prioritize debt recovery. Through AI's Machine Learning Algorithms, agents can categorize customers based on receivables from highest to lowest to know which case to prioritize. Debt automation assists in acquiring accurate customer data from their borrowing profile, credit history, and present credit score to hard-to-track data like call logs. 
Artificial Intelligence analyzes the data to make predictions and recommend the right action. For example, based on the records, if the customer is more responsive through text messages rather than email or calls, the agent must focus on sending them text reminders more. The challenge is to identify the appropriate collection approach for each individual. 
Lenders' common mistake is applying the one-size-fits-all strategy in collecting a debt. AI doesn't only help determine the possible practical way to communicate with customers. It also allows you to personalize call spiel or message based on the gathered data to make the customer feel a sense of urgency to pay since their account has already reached collections. 
Improve Communication 
Artificial Intelligence allows agents to utilize different communication platforms—phone calls, text messages, email, Messenger, and other apps—to reach customers depending on their preferred mode. AI also offers debt collection software like chatbots where customers can ask first-level queries without queueing for human interaction. 
For follow-ups, AI can assist in automating sending payment reminders via email, text message, or even through human-like voice phone operators. With this, agents can focus more on critical cases. Also, annoyance and intimidation on the debtor's part are avoided when human interaction is lessened. 
There's a notion that the use of AI technology in communicating with customers is somewhat robotic. To address this, agents can still personalize the message and tweak the tone of the message depending on the customer's profile. Like their gender and age. Knowing the customer's profile assists in how you can better communicate with them.
To establish customer engagement, it's not enough to have different communication channels; it's about choosing the best method and knowing when it's the best time to reach out. AI can also evaluate audio from customer calls to observe their overall behavior and have a game plan on how to deal with them next time.
Modernize Analytics
BPO collection agencies handle large data sets. Receiving vast information flowing through different communication channels is complicated to process manually. Through Artificial Intelligence, information from other media is collected in one system and later categorized and compiled in the customer's Customer relationship management (CRM).
Artificial Intelligence in debt collection doesn't only discuss the strategies to prioritize debt recovery. But it also measures how effective these strategies are. AI conducts A/B Testing to analyze the effectiveness of phone calls, SMS, or emails to a particular account. A/B Testing is a marketing assessment tool used in experiments to determine which communication tool is practical. 
For example, AI can tell how many people open an email by looking at the subject line. With the addition of A/B testing, AI can also tell if the message was opened. And how long the customer spent reading it. So the system would know if email was an excellent way to remind people to pay their bills.
Benefits of Artificial Intelligence in BPO Debt Collection
So, what are the benefits of AI in Debt Collection? Here are some of them:
Reduce Collection Agent Errors
Collection agents will make mistakes from time to time. This is something that can't be helped. But even mistakes that weren't made on purpose can cost money and lead to lawsuits. They can also hurt the credibility and reputation of your agency. All of the debtor's information is put into one system through AI. This way, they can gather all their information before the agency calls, emails, or texts the customer.
Improves Customer Experience
To some, being contacted by a collection agency is something to be ashamed of. That's why debtors usually avoid human interaction with the agents resulting in money loss. Artificial Intelligence in dept collections addresses this through debt automation. 
This automation's self-service option is a judgment-free zone to change their behavior towards collection agencies. Phone calls, SMS, and emails include instructions and links where they can pay directly. AI ensures that self-service options are done with a personal touch so that the customer would feel a legitimate negotiator's interaction. 
Cost-Effective Approach
The application of Artificial Intelligence is to save resources. Methods to collect debt, like engaging in lawsuits and house-to-house intervention, are expensive and often ineffective. Investing in AI makes time-consuming processes streamlined to reduce agents' workloads. The goal of debt automation is to collect more money in a short span by optimizing the process.
Compliance with Collection Regulations
One of the lapses in collection practices is the abusive way of debt recovery. Implementing AI in the collection process ensures that customer privacy and the regulation imposed by the law are followed. If the customer knows that the debt collecting agency is compliant with fair debt regulation, it will build trust.
Partner with an Experienced Company for your BPO Debt Collection Process Needs
Artificial Intelligence in BPO Debt Collection is indeed a game-changing application. Debt collection isn't just about collecting the money owed, but it's how customer relations are improved. 
Debt collection agencies can prioritize debt recovery efficiently through the innovations brought by automation. So, if you would like to outsource your accounts receivables and think, "Are there trusted debt collection agencies near me?" Give us a try! At Magellan Solutions, we focus on fast debt recovery, and at the same time, we take pride in enhancing the customer's experience. Contact us!
TALK TO US!
Contact us today for more information.