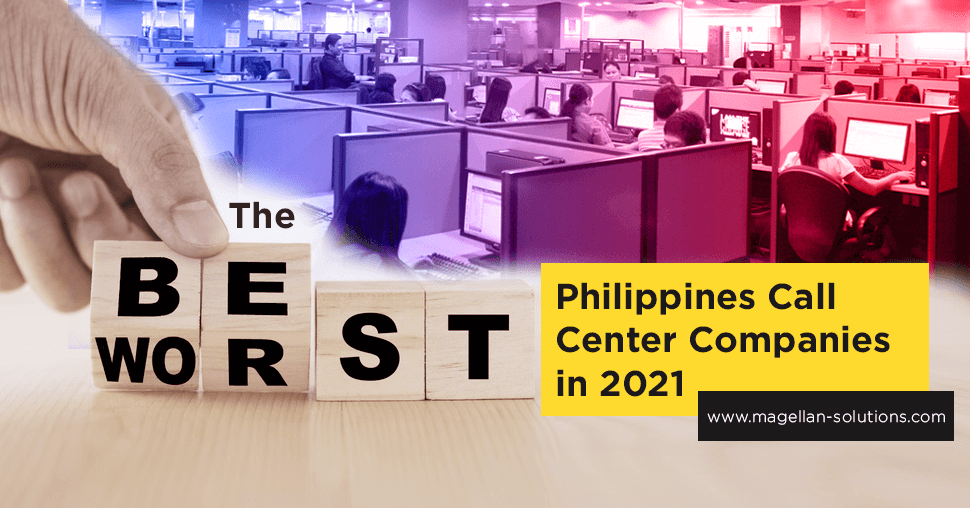 Let's take a look at the best and worst Philippines Call Center Companies this 2021
There are more than 700 Philippines call center companies – many of which work specifically for small and medium enterprises.
As a result, it might be hard for any start-up business owner to look for the right BPO company for their operation. 
It's already a given fact that call center Philippines offers the most affordable pricing without compromising the quality of the service.
After all, low pricing is the main reason why business owners choose to outsource their function to an offshore BPO company.
However, SMEs require a special system compared to big corporations. Unlike the Fortune 500, these enterprises are still looking or finding their branding identity in the market.
Therefore, they need someone that can guide them throughout the outsourcing process. Not just a BPO company that can supply them with people who they can manage.
That's why more than the pricing, small business owners should be more meticulous in finding the right outsourcing partner.
So, here are some of the other factors that SME owners should look for in a call center company. 
Customer-based Organization. – Does the BPO firm consider your customers as their customers too?
Collaborative Effort. – Do they get you involved in any decision-making process pertaining to the development of both the agents and customer service?
Goal-Oriented.

– Does the call center company have a pitched end-goal for your business after analyzing the data you provided?

Endless Development.

– Do they offer ways to improve your operations rather than just providing software and equipment you can use?

Credibility

– Can they ensure the safety of your data?

Flexibility.

– Can they work on various functions for your start-up business?
With this in mind, let's take a look at the 12 best and worst call center companies in the Philippines:
Top 12 Best Call Center in the Philippines
In gathering the list of call center companies in the Philippines, our team made sure to check everything to weigh in the compatibility of each organization with SMEs.
1. Magellan Solutions
Magellan Solutions is the best call center you can get if you're a start-up enterprise. They offer a shared BPO service which is the most affordable call center business model.
Magellan Solutions' vision is "to be the best partner in providing Business Process Outsourcing services to small and medium businesses (SMEs)".  
This philosophy is perfect for SMEs since they are an organization that will fully help them in their progress.
Furthermore, the organization also work towards these 3 Company Missions:
Continuous process improvement

A consultative approach in providing a unique customer experience

The development of our employees to be successful
Why You Might Want to Outsource with Them?
Partnering up with Magellan Solutions guarantees progress with your business. Their organization is all about improving what's already the best every time.
On top of that, they also follow these core values whenever they're working with a business partner or their customers:
Teamwork – We value team accomplishments that advance the success of our clients

Initiative – Proactively generate and act on improvement ideas

Dedication – We strive hard to achieve our shared goals.

Integrity – We maintain the highest standards of fairness and ethics in all our transactions with our clients, employees, and the community we serve.

Flexibility– We are adaptable to the needs of the clients.

Humility – We acknowledge our weaknesses and strive to improve.
Moreover, Magellan Solutions is one of the recipients of Bureau Veritas ISO 27001 Certification. This ensures that they strictly follow all safety protocols to protect your data in their facility.
Finally, the management considers their employees as their family. It is the reason why they have one of the lowest attrition rates in the call center industry at 18.7%.
2. Helpware
Helpware is an international outsourcing company with different offices in US, Mexico, Germany and Philippines. 
Hence, their main tagline is "We put culture in the forefront"
As such, they could offer outsourcing services from companies in all regions. They use the diversity of their employees as an advantage for their outsourcing operations.
Why You Might Want to Outsource with Them?
It is a great fit for SMEs planning to open their business to the world audience. They will have access to agents in Asia, Europe, and Latin America.
Helpware creates customized teams for customer service and back-office functions of their business partners.
Here are the core values they live by in their organization:
Deliver – We do what we say we'll do for our Partners: Always find a path

Experience – Wake up each day and find a way to optimize every interaction.

Passion – We protect our Culture: We deliver from our "core" – Truly amazing people.

Savviness – Attuned and sensitive: Focused driven through emotional intelligence.

Energy – Never stop transforming: Process, Procedure, Technology.

Happiness – Freedom to smile: It translates into everything we touch and always remind that each day we have the same opportunity to share joy.

Understanding – Unashamedly driven by integrity and proud of the "why" behind every interaction.
These core values mirror the abilities of the organization to transform a start-up business into a world-class institution.
Helpware also builds customized teams in Customer Service and Back Office for industry leading startups and modern companies.
3. 
Big Outsource
Big Outsource is a BPO company that offers assistance from Customer Engagement to Multimedia and Creative service.
As a result, it gains popularity to start-up businesses that want to have a customer service and marketing team. 
They can provide graphics, video and audio campaign material for their partners.
The Big Outsource vision is to be a "preferred premium outsourcing solutions provider and partner for business owners of all types, sizes and colours seeking to create an impact in a hyper-competitive global business environment."
Why You Might Want to Outsource with Them?
One of the most celebrated characteristics of Big Outsource is their ability to preserve the excellent work of their employees.
They do this through elaborate strategies that involve providing their staff with a healthy and enjoyable working environment.
In addition to that, they're also empowering the employees by giving them performance-based bonuses. 
They believe in implementing an equal career opportunity for everyone, regardless of seniority.
To cap it all off, they're executing all their work using these five effective steps:
Grasp of the global outsourcing business 

Learn legal and business framework of outsourcing

Understanding of human resource and recruitment approaches 

Specialized knowledge and experience of the outsourcing industry 

Broad linkages across the different public and private sectors
4. Eastvantage Business Solutions
Eastvantage is a Euro-Filipino outsourcing firm that offers the following service to SMEs:
Customer Care Support

Business-functions Support

Software Development and Maintenance
Why You Might Want to Outsource with Them?
They believe in a more simple and straightforward business solution for their partners. This is perfect for first-timers who don't have an idea about outsourcing.
These business owners can get the gist of the service and benefits despite having no experience in outsourcing at all.
Speaking of start-up friendly BPO, Eastvantage will also help you establish the KPIs you need for your call center team. 
You no longer have to be blindsided by the result of your outsourcing investment since you have metrics to go by.
Eastvantage has at least 500 employees situated in their headquarters in Manila, Philippines. 
As the center of the world call center industry, it ensures that you will get the best call center agents for your business operation.
5. OutForce
OutForce is an Australian-owned outsourcing company based in the Philippines. 
Their main advantage is their ability to effectively connect human and digital factors to produce an exemplary result for their partners.
Why You Might Want to Outsource with Them?
OutForce's commitment is to create new and effective solutions that will help their clients access the global market.
This organization is also an SMEs-focused BPO company based on their mission:
"To help startups and SME nation globally to achieve their true potential through the modern way of Outsourcing"
As a start-up business owner, you know you're in good hands when the BPO's goal is to maximize the potential of your enterprise.
Here are some of the services they can offer to start-up businesses:
IT support 

Telemarketing 

Telesales

Customer service

Finance services
And as part of their good qualities, OutForce offers no lock-in contracts for their partners. Meaning, SMEs have the choice to change their operation if they think it's necessary.
This is a great option in the contract considering SMEs' needs might change over time if they see any progress with their business operation.
6. Outsource Access
Outsource access is an American-owned, mid-sized BPO call center in the Philippines. Aside from customer service, they also excel in the following service:
Virtual Assistants 

Executive Assistants, 

Account Specialists, 

Data Scientists, 

Digital Marketers, 

Social Media Experts
All these functions are essential in today's modern call center company. An SME outsourcing all these services will ensure a fully-functioning business even if they're overseas.
Why You Might Want to Outsource with Them?
These virtual assistants can also assist you in other functions since they have support from almost 200 tactical skill staff. 
Meaning, the solutions in your company is a collaborative effort from the team of Outsource Access.
On top of that, they have a process in selecting the best VA for your business operation. It ensures the compatibility of the agent who will work on your tasks.
In terms of pricing, you can get a fully-vetted, managed and trained outsourced staff member for $1,695/month.
7. 
Direct Sourcing Solutions
Direct Sourcing Solutions or simply DSS is an outsourcing company that has an experience partnering with companies in US, Asia, Australia, New Zealand, and UK.
Just like the companies mentioned in the list of call center in Manila, they also provide tailor-fit service for their business partners.
DSS core values reflects on their passion to provide a positive result for their clients:
Using these virtues, DSS could create a favorable solution to any SMEs worldwide.
Why You Might Want to Outsource with Them?
Their recruitment team makes sure that every person working for DSS has skills and knowledge in the outsourcing industries. 
DSS considers their agents a part of the outsourced company they're working with. It means they're held accountable with every action they do for your enterprise.
But then again, it is part of their "tailored-fit" service. They will run all these processes by you before actually doing it in live operation.
8. Centro Global Solutions
The main selling point of Centro Global Solutions is their investment with their people – who are key to their success to-date.
They offer omni channel call center service for their clients from North America, Europe, the Middle East and the Asia Pacific regions.
Why You Might Want to Outsource with Them?
This feature is perfect for SMEs trying to connect with their customers who use different platforms. 
The fact that they're successful in implementing this process means it could work for any start-up business.
Centro Global Solutions always aim to exceed their business partners' definition of "excellent". 
On top of that, their focus is also in building a strong relationship with your business to your target customers.
Below are the industries where Centro Global Solutions excels at:
9. MVP Asia Pacific
MVP Asia Pacific is a Clark-based BPO company with at least 300 people working on every business function.
Despite their small-scale structure, they can do tasks ranging from call center to any back-office function.
Why You Might Want to Outsource with Them?
Here are some of their expertise:
Customer Service & Data Entry,

Administration & Virtual Assistants,

Finance & Accounting,

Architecture & Drafting,

Real Estate & Management,

Software & Web Development,

Engineering & Product Design,

IT & Cyber Security,

Marketing & Graphic Design,

UI/UX Design & User Testing
The massive number of services they can offer is advantageous to any SMEs. It means business owners no longer need to look for multiple companies for various tasks.
Beside this impressive flexibility, MVP Asia Pacific also advertises a 75% overhead costs right after you outsource with them.
10. Transec BPO Solutions Inc.
Transec BPO Solutions Inc. is one of the newest outsourcing companies in the list. 
Established in 2010, they were able to provide quality solutions for their clients through efficient recruitment of skilled professionals.
Why You Might Want to Outsource with Them?
Expect these 5 results when you outsource with Transec:
Augmenting internal workforce

Scale faster with efficiency

Reduce operating costs

Gain operational expertise

Widen the talent reach
Transcec work methods involve hiring industry experts that will assist business partners with their needs. 
Of course, the organization will apply integrity and proper work attitude to achieve any results set by the clients.
11. Custard Apple Outsourcing  Inc.
Custard Apple Outsourcing Inc. or CAO expertise is in the information technology industry. However, it doesn't stop them from offering top-notch call center service for their business partners.
Why You Might Want to Outsource with Them?
They were able to successfully launch several call center campaign using their company's core values:
INTEGRITY – CAO adheres to strict and moral ethical codes.  We put a premium on good practice and we penalize actions that are against the law.

EXCELLENCE through Continuous Improvement – aiming for excellence from input to the output. Our technical and professional expertise strives to excel and will stop at nothing to improve and be the best solution provider.

PROFESSIONALISM – values on-time delivery and dedicates to strategizing absolute and progressive work environments.

CLIENT or CUSTOMER ORIENTATION – knows the nature and scope of our clients to better-met or even exceed their expectations. Disappointment is not an option. We aim for our client's satisfaction.

TEAMWORK – working in a healthy and harmonious peer-to-peer relationship, CACCS' Cooperative effort works toward upholding open and honest communication between peers to achieve common goals.

FLEXIBILITY – as an avant garde of versatility, we are diverse in providing solutions to our clients.

EFFICIENCY – we work within constraints which displays the high-degree of skill within the given amount of time

RESPECT – respect for ourselves, for work and authority, for other people and everything that involves life.
With this in mind, CAO clients guarantee a positive and quick turnaround when they outsource their call center service.
12. eTelecare Services
eTelecare is one of the leading customer management companies for SMEs. They focus on creating a strong relationship between the brand and your customers.
Why You Might Want to Outsource with Them?
They do this through this eTelecare Services Customer First Principle:
Do it right the first time

Apply the L-E-A-R-N experience

Every encounter with the customer is an extraordinary experience

First things first

The agent sharpens the saw

TEAMWORK
Besides professional work, eTelecare Services is also doing community outreach in their area. 
This is a great training ground for their agents to develop empathy which they can use in the customer service industry.
Top 12 Worst Call Center in the Philippines
This list of the worst call center company in the Philippines is not in chronological order.
Despite this, our team will still mention some good attributes of the following companies but will ultimately mention what they lack.
1. 
Infinit-O
One of the main issues our team finds about the Infinit-O's mission and vision is the message they want to convey.
Why You Might Not Want to Outsource with Them?
Their mission statement says "Creating Endless Opportunities for our Partners
to realize their full potential."
While this sounds appealing, there's no follow-up at all on how they're going to do it. 
Although the intention is okay, they should've included how they can create endless opportunities for their clients.
Overall, they lack any details in regards to their process and services. 
But one of the things worth mentioning here is their statement about reducing the overall cost of operation up to 70%. This is while performing in the most optimized and efficient way possible.
2.
Offshore Intelligence Global
Offshore Intelligence Global is a Philippines-based outsourcing company specializing in various BPO functions like call center and admin works.
Why You Might Not Want to Outsource with Them?
They have a lot of promising statements regarding the services they can offer. However, it lacks emphasis on focusing on the SMEs. 
Considering that they are a 600 seater BPO company, it'll be difficult for them to target Fortune 500 companies. 
So, having little to no statement about SMEs makes them one of the worst call center companies on the list.
However, some SMEs might get interested with their offer since they can decrease client's staffing by 30% in just 3 months of outsourcing.
On top of that, their marketing and lead generation service looks exceptional. They've managed to create a successful healthcare application into the Australian marketplace.
3. Boomering
Boomering is a BPO company established in 2017. They might still improve their services but for now, they're one of the worst call center companies in the Philippines.
Why You Might Not Want to Outsource with Them?
For starters, the organization's statement says:
"Boomering provides clients the ability to create a diverse workforce to extend their reach and significantly reduce costs."
This looks like an interesting offer since they're giving their partners the liberty to choose their own team. 
However, it'll be a dangerous offer especially for SME owners who do not have experience hiring offshore agents. 
They might end up hiring agents who are not fit with their current business model.
Besides that, there's no clear path on how they will address several SME outsourcing concerns like creating an onboarding process and training programs.
But then again, they're just a start-up BPO company so let's give them a benefit of the doubt. 
There are some potential offers from Boomering like establishing KPI and transparency towards any result from the campaign.
4. 247 CSR
247 CSR is a BPO company operating for more than 12 years now. However, it doesn't look like they have a decade of experience when it comes to outsourcing.
Why You Might Not Want to Outsource with Them?
Just by looking at their website, you know that they're not making any efforts in selling their services. 
It might be because according to their website, most of their clients are from referrals of previous partners.
Still, their service offerings are not as clear as the other companies on this list. Here's their answer in the question on why you should choose them:
"Founded over 12 years ago in the Philippines 247CSR.COM has been built up from client referrals. Trained and Managed with Western leadership it has become our mission to provide excellent low cost voice and non-voice services to our clients."
Just by looking at this statement, you know that they only rely on their 12 years experience and the rest are generic statements about affordable pricing and excellent service.
Picture of their facility is also not a work-conducive area. There's very limited photos of their workplace but you can tell that it's only a small office space.
However, the good thing about their service is they're upfront about the pricing. 
It's a good thing especially for SMEs that need the price point right away without contacting the call center firm.
5. 
Xtenserv
Xtenserv started as one of the pioneering internet cafés in Angeles City in 1998. They're now serving several clients from Australia, Europe, and US.
At first glance, Xtenserv is actually a candidate as one of the best call centers in the Philippines. 
However, their lack of at least one certification from a standardization body creates a problematic scenario for their operation.
Why You Might Not Want to Outsource with Them?
Their facility doesn't have enough security measures to avoid any data breach. Agents don't have any private desk or divider. Some can easily peek at the information they're accessing.
Although they tried to design the place to make their employees at home. Still it's not enough if you can't secure the information of your customers.
Be that as it may, we can appreciate the company's effort to create a family-like relationship with their agents. 
This can be a great advantage especially if the SME is aiming for a higher customer satisfaction rate. Agents can channel these friendly vibes to their consumers.
6. 
BMG Outsourcing
BMG outsourcing is an Australian-owned company established in 2012.
Same as the other companies mentioned on this list, BMG Outsourcing offers little to no specification about what they can do for your company.
In addition to that, they're not a full-pledged SMEs focused BPO company. Meaning, they might apply some rules they have for big companies towards your business.
Some of these might be required minimum of agents for the call center operation and longer contract.
Why You Might Not Want to Outsource with Them?
There's no telling how they can manage a smaller operation since there's no offer about any BPO process. 
However, they actually provide services from different industries like accounting and financial industry. 
So, the silver lining here is that they have enough experience to manage a small scale operation due to their long list of clients.
7. 
TAiO Connect
TAiO Connect is actually an impressive BPO company for SMEs. However, they have the lowest guaranteed manpower cost reduction at 60%.
Why You Might Not Want to Outsource with Them?
Although it was not part of the criteria earlier, it is still a critical component especially for SMEs looking to minimize their expenses.
Besides, companies on the list of the best call center companies also offer the same services as they do. The only difference is that they have more cost reduction than TAiO Connect.
However, it is commendable that this BPO company updates their statement when it comes to the current pandemic situation. 
This is the only call center firm where they have a proposed solution on how to continue operating despite the lockdown situation.
8. Staff Domain
Staff Domain is also of the BPO companies that has an impressive service to offer.
However, they do not have any statement about their goal as an organization. Mission and vision is crucial as SMEs need a guarantee that they share the same goal as their business partner.
Why You Might Not Want to Outsource with Them?
Flexibility when it comes to language is also an issue since they can only provide English on their customer support. Some companies above can offer multilingual call center service.
But they have an exceptional facility and outstanding agents available. 
These can be a deciding factor for some SMEs looking for convenience and top-notch technology. Regardless if they share the same goal.
9. East Joint Marketing Solutions
East Joint Marketing Solutions started as a BPO company that offers services to US companies in 2008. Until they begin taking partners in different regions in 2016
However, their rich experience is not reflecting on what they can offer. 
Why You Might Not Want to Outsource with Them?
They still have 100 employees under their management. It's small and might not be enough to work on different tasks like customer service and back office.
Furthermore, they don't have a definite statement on what exactly they can do for your business. 
They don't have a mission and vision nor any message that will indicate their intention towards your organization.
10. Outsource-Philippines
Outsource-Philippines is a Manila-based BPO company established in 2003. They offer wide-range of services from customer service to knowledge process outsourcing service.
While their flexibility seems to be a great factor to consider as one of the best call centers, Outsource-Philippines lacks specification when it comes to their identity.
Why You Might Not Want to Outsource with Them?
Their aim is to "help clients achieve their business goals through accurate and efficient service." However, they do not have any particular process to discuss how they can execute it.
Although their pricing offer is also promising since they can reduce the operational cost by up to 70%.
11. Clearvision Outsourcing
Clearvision Outsourcing started in 2012 and they specialize in the following services:
IT and IT enabled solutions

Social Media Marketing

Digital Video Production

Virtual Office Assistance

Business Process Outsourcing

Web design and development, Systems engineering

Organizational and HR development
Why You Might Not Want to Outsource with Them?
Normally, we'd say that this is good enough not to be part of the worst call center list. However, their website design doesn't seem to reflect what they're offering there.
The website itself has a very basic vibe yet they have a Web Design service. On top of that, it is not exactly clear what are the benefits when you choose to partner up with Clearvision Outsourcing.
12. Outsourcing Solutions Inc.
Outsourcing Solutions Inc. claims that they are one of the oldest outsourcing companies in the Philippines. 
Unfortunately, their more than 2 decades of BPO experience did nothing to improve the services they could offer.
Why You Might Not Want to Outsource with Them?
There are no specific offers to choose from and the statement is not clear on what exactly they could do.
On top of that, they can only offer a 60% reduction in the operational cost which is not enough if you're a start-up business.
Interested in Outsourcing with the Best Call Center Company in the Philippines for SMEs?
Aside from the information we gave above, Magellan Solutions still have a lot of things to offer.
We may not the biggest call center company in the Philippines for small businesses but we have tons of service to offer like:
With all these services plus more, it feels like we're one of the biggest call center company in the Philippines for medium businesses.
Our Business Developers can help you in setting up your key performance indicators (KPI). KPIs will guide you and monitor the progress of your business with us.
We also offer guaranteed flexible pricing options based on several factors like service and number of agents you need. 
Magellan Solutions understands that start-up businesses have limited funds in outsourcing services.
Our applicants went through a thorough application process. After that, our hired employees will undergo training to enhance their skills.
Contact us today for a 60-minute consultation at zero charge. Fill out the contact form now!
TALK TO US!
Contact us today for more information.