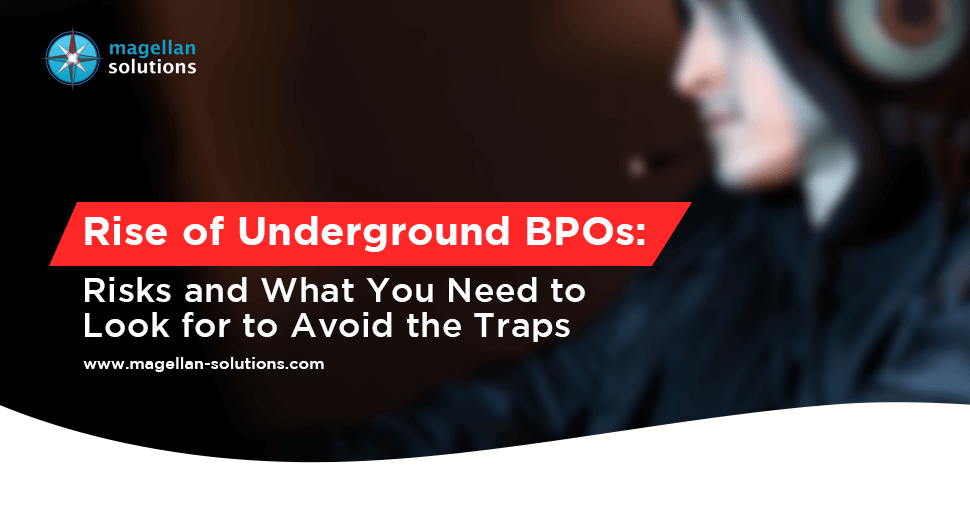 Underground BPOs: Risks and Traps to Avoid
With the ongoing Ukraine-Russia war, the World Bank believes that a global recession may be on the horizon, putting businesses at risk again. Meanwhile, the inflation soared in the Philippines to 6.1 percent in June 2022, its highest level in almost four years. With the skyrocketing prices of essential goods and commodities, can you manage to cope up if there's another bump your business might face? 
While business process outsourcing (BPO) is hailed as a major economic pillar of the country, it might be jeopardized because of the rise of underground BPOs. Since these underground BPOs are only a phone call away, BPO employees need not worry about losing their benefits or quitting their jobs. Especially now that the licensed BPO companies are being required to work on-site.
If you want to know if it is worth dipping your toe in this growing underground BPO, keep on reading. 
What is an Underground BPO and How Does It Work?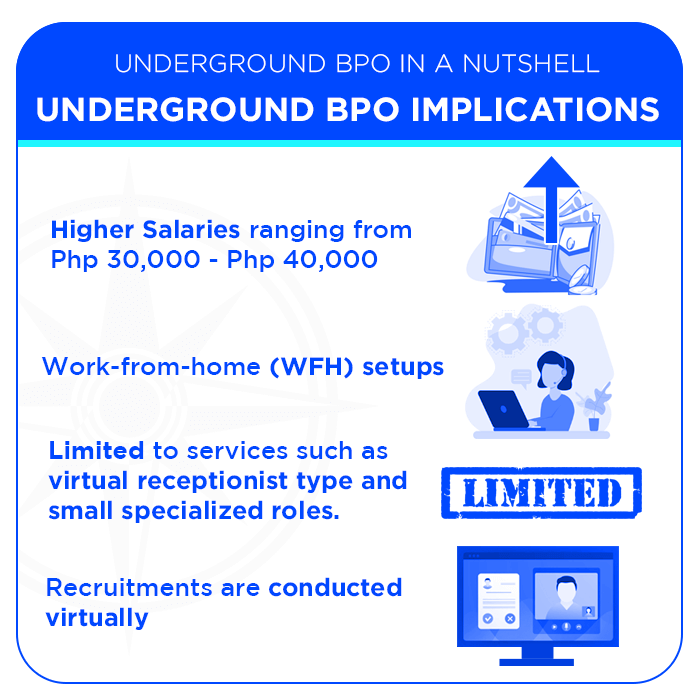 Sources: Philippine Economic Zone Authority (PEZA) & IT & Business Process Association of the Philippines (IBPAP)
These are BPO companies that do not have government registration and permit. They offer work-from-home (WFH) setups while paying employees relatively higher salaries. Unfortunately, there is no security of tenure on the part of employees.
Underground BPOs are only limited to services such as virtual receptionist type and small specialized roles. It is not appropriate for lead generation, customer service, and synchronized large-scale back office operations. 
Even if they entice licensed BPO employees with perks, underground BPOs are unreliable and incompetent. They're unreliable because they don't pay taxes or protect their employees.
BPO scams virtualize their application processes, making it harder for the government to monitor their recruitment and other operations.
While these underground BPOs operate under WFH setups, the BIR (Bureau of Internal Revenue) and BOC (Bureau of Customs) are conducting ocular inspections if indeed the registered IT-BPOs are implementing 100 percent on-site work. Licensed BPO companies have been warned to resume onsite activities by the Fiscal Benefits Review Board (FIRB) or risk losing their tax incentives.
Underground BPOs: Cause for Alarm
According to the Philippine Economic Zone Authority (PEZA), as the number of illegal operations in the IT-BPO industry increases, the government would lose more tax revenue because these unregistered businesses fail to fulfill their obligations and do not provide employees with secured tenure.
Long-term lockdowns caused the growth of unregulated underground BPOs in the Philippines, which not only snatched up talent but also provided workers with nothing more than a risky paycheck.
These underground BPOs provide hefty salaries between PhP 30,000 and PhP 40,000. Since the pay is high and it's a WFH setup, BPO employees are much more willing to shift to these underground BPOs without knowing the implications. 
According to PEZA, not allowing the hybrid scheme for registered BPOs will result in the government suffering a big loss.
Now, registered BPOs and PEZA are currently engaged in a battle to reclaim their tech employees, but they are losing the initiative. BPOs can only take use of their tax benefits under the regulations in effect in the Philippines if their employees return to office. 
Why Underground BPOs are successful in recruiting employees from IT-BPO companies?
According to PEZA, these underground BPOs are able to recruit talents immediately because of the high salary offers and WFH setup which BPO employees prefer rather than going back to office. 
Not only there would be issues when it comes to their credibility, problems with connectivity will surely arise as well. 
In a nation that is labeled as Southeast Asia's highest income tax rate and with a high number of Covid-19 cases, these BPO employees from underground BPOs prefer to stay at home and keep their entire paycheck despite the risk that comes with it. 
Underground BPO Main Hurdles: Risks Regarding Information Confidentiality and Data Security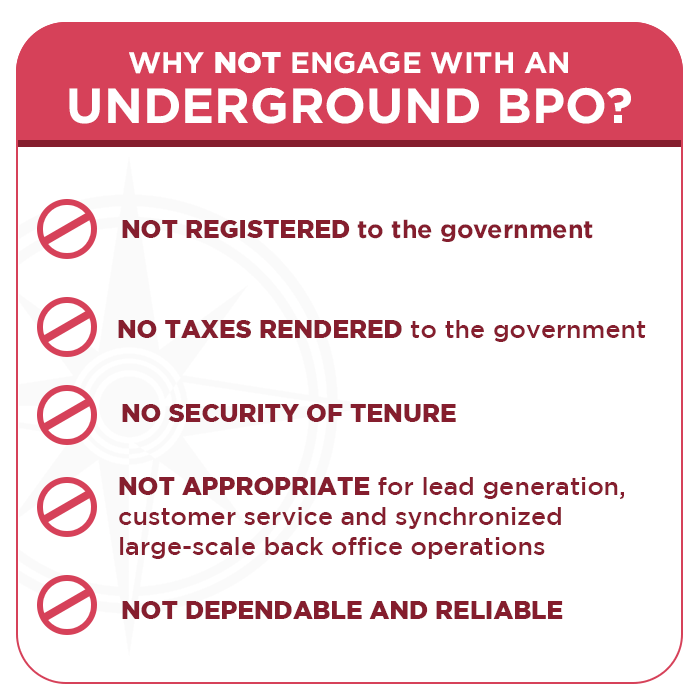 Data security is becoming more crucial than ever, thus many people are interested in learning how BPO companies handle it. Many businesses worry that hiring a third-party BPO company might put their data at risk. 
Just like how these underground BPOs are not registered to the government, they also do not have certifications that are essential for confidential information and data security. 
NOT Payment Card Industry Data Security Standard (PCI-DSS) certified 

NOT ISO 27001 certified

NOT Health Insurance Portability and Accountability Act (HIPAA) compliant

NOT General Data Protection Regulation (GDPR) compliant
Since these underground BPOs cannot be held liable for any significant issues, there is no method to control data privacy regulations.
Your company's private information is vulnerable to danger without high-quality data protection, which could be detrimental to your business' success.
One of the key benefits of working with a BPO company is the availability of data-related services, including data security. When skilled experts manage your company's confidential and sensitive data procedures, you immediately increase efficiency and accuracy while lowering expenses.
These regulated BPO firms not only protect their company but your needs as well. At least when you hire them, you know that you are putting your money in a legal basket. With the great service these BPO companies, freelance call center agents, and freelance BPOs provide, you will surely get the worth of your money. 
Conclusion
Generally, whenever you enter something may it be a business, relationship, or new place, you always check references from others in order to know what you're dealing with. With that, you will be able to devise a strategy or solution on how to dance with the waves. 
It is obviously way better to hire call center services, freelance BPO, or freelance call center agent for your outsourcing needs. You definitely do not want to engage in an underground BPO that is no match with licensed BPO companies that have satisfactory feedback from customers. 
With licensed BPO firms, you know that they will surely act in your business' best interest. Underground BPOs that merely offer a cost-value proposition should be avoided since they frequently fail. You get what you pay for, which is not worth it at all.
Magellan Solutions Can Assist in Providing the Appropriate Outsourcing Services for Your Business' Needs
Make an impact for your business and get the results you've always wanted.
Magellan Solutions will surely help you with your business needs and goals at a fraction of price without compromising quality. 
With 18 years of expertise in the field, we take great pride in offering only the best call center services. On top of that, we are an ISO-certified and HIPAA-compliant outsourcing company. We provide a great variety of top-notch outsourced business solutions. 
Give us a call and let us assist you for your business needs. 
TALK TO US!
Contact us today for more information.