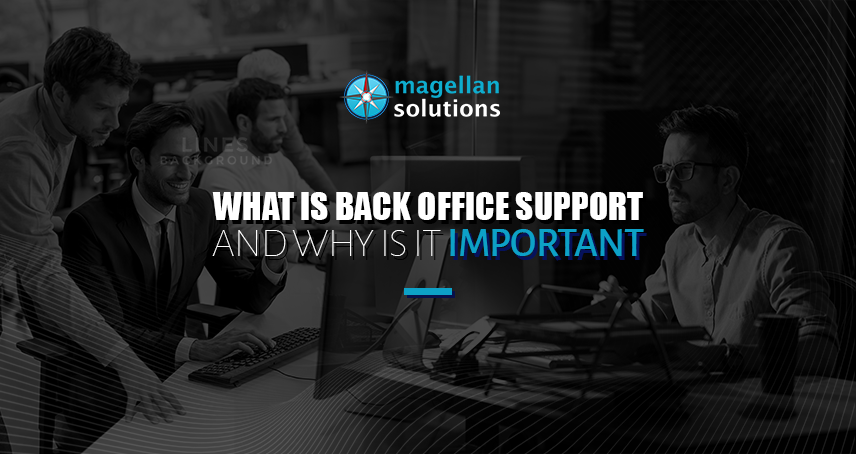 With so many businesses looking for
Back Office Service
BPOs, it's only natural to wonder how important they are.
Outsourcing back-office support has numerous benefits for a company. 
Not only can you increase your operation's load whenever you choose, but you can also delegate some of the job to someone else. You can also save money and other resources.
But that is just the tip of the iceberg for the benefits of having a back office support service provider. 
Furthermore, in this article we will explain what back-office support is and why it is important for businesses of all sizes.
What is Back Office Support?
Back office support is the part of a company that is in charge of running the company rather than dealing with customers or creating a profit. 
This is an old word that alludes to a time when a store's showroom and sales area were located in the front while the accounting, manufacturing, and administrative sections were located in the back. 
Despite the fact that, with the exception of very tiny businesses, this conventional style has been superseded over time, the phrase has stuck around. 
Back office is the polar opposite of front office work, which refers to a company's more direct revenue-generating activities.
Back office support is defined in a variety of ways by different companies. 
In general, if a department deals directly with customers, it is located in the front office, and if it does not, it is located in the back. In certain firms, the concept is slightly different: the portions of the corporation that make money are in the front office, while the ones that don't are in the back office support. 
Both definitions are correct, and they stem from different business tactics used throughout the early stages of a company's development.
Why Outsourcing is Good?
A lot of people are apprehensive about the prospect of outsourcing. Despite this, this new business model, which has been adopted worldwide in both the private and public sectors, offers a number of advantages. A business intelligence solution enables an organization to achieve business objectives while also adding value, tapping into a resource base, and mitigating risk. In other words, choosing to outsource everything from individual items to entire systems management allows the company or organization that is outsourcing a job (the "client") to concentrate on what it does best.
While the popular public perception of outsourcing is that it is used to save money by taking advantage of lower-cost labor in a foreign country (known as "offshoring"), outsourcing can be used both domestically and internationally to reduce costs. It can also provide the client with access to expertise and a level of productivity that is not otherwise available to them. In situations where there is a skills or production shortage (as is frequently the case in information technology) and the service provider is able to provide a solution, an outsourcing solution may be appropriate for both parties.
Statistical data on the subject is eye-opening, to say the least. Deloitte, a global accounting and consulting firm, recently released its free 2014 Global Outsourcing and Insourcing Survey, which examines the political implications, regulations, outsourcing destinations, technology, and vendor management of outsourcing and insourcing operations. For example, the online course platform udemy.com recently published some eye-opening statistics about its users in 2013. In that year, outsourced IT services accounted for 43 percent of the total IT sector. In the following year, this figure increased to 60 percent.
In addition, Deloitte predicts that outsourcing will continue to grow at rates ranging from 12 percent to 26 percent across the functions investigated.
As an Entrepreneur, Why Outsource?
As an entrepreneur or the owner of a startup business, you are most likely a hardworking, never-say-die type of person who strives to make every aspect of your company flawless. Because of those characteristics, we have a tendency to take on more than we are capable of handling (and more than we are willing to admit). Eventually, however, when business is booming, it may be necessary to consider outsourcing your operations.
As difficult as it may be to delegate your work to a third-party company or contractor, we understand that doing so is in the best interests of the company both financially and in terms of human resource capacity.
Important functions such as payroll, accounting, distribution, and transcription services are frequently outsourced to third-party companies so that business leaders and their employees can concentrate on the tasks for which they have been hired. Many businesses outsource because they are short on human resources or have budget constraints, or because of economic factors such as low unemployment. Entrepreneurs can reap a variety of benefits from outsourcing their work.
Alternatively, businesses can reinvest the money saved in other aspects of their operations. Each and every entrepreneur and startup that collaborates with investors will recognize the advantages of this decision-making process. The fact that your company's primary focus is on revenue-generating activities will be welcomed by the majority of potential investors. Because you can effectively delegate certain business processes to third-party vendors, you can devote the time and energy necessary to train and lead your team as your company grows.
Despite the fact that outsourcing can be a frightening thought for some entrepreneurs and startups, in the majority of cases, it simply makes sense. Make it possible for the outsourcing company to assume and manage the risk in their areas of expertise on your behalf, so you can return to your desk with a clear understanding of where your company is and where it needs to go in the future.
How to Outsource?
Are you thinking about outsourcing but aren't sure where to begin? An easy-to-follow guide to the ultimate key-driver of business success, presented in step-by-step format.
1. Make a Plan and Get Ready
The importance of conducting thorough research when seriously considering outsourcing should not be underestimated. Set up a meeting with your management team to discuss the objectives you hope to achieve through this venture, as well as a contingency plan in the event that the venture is a failure. In addition, don't forget to notify the individuals who will be impacted by your relocation – your employees, your investors, and your customers (if needed).
2. Form a Strategic Partnership with a Reputable Outsourcing Company.
Now that all of the advantages and disadvantages have been carefully considered and the plans have been finalized, the search for a business process outsourcing provider can begin (BPO). Finding a reliable outsourcing company is easier said than done; in fact, it can be quite difficult. Stay away from flashy websites, low prices, or salespeople who seem too good to be true because their promises are too good to be true. Check references, the company's track record, client testimonials, infrastructure, pricing, and management before making a decision. Keep in mind that finding a provider who understands and meets your business needs will be of the utmost importance to your success.
3. Delegate and Reorganize your Work
Once the agreement has been signed, it is time to delegate. Your selected outsourcing company will begin the process of hiring and training your new employees. During this time, patience is required because it will still be some time before you can officially launch the new setup because your new employees will need to go through training. Active participation throughout the entire process is highly recommended for maximum efficiency and support benefits. Additionally, transfer employees who will be impacted by this change to a different department where they will be able to contribute more.
4. Maintain a Presence That Can Be Controlled
It is possible that others will require a longer period of adjustment, but this should not be a major source of concern as long as they keep up with the program's requirements. Maintain a record of the progress of both new and current employees. It is necessary to recognize and reward top performers, while re-training and coaching must be provided to those who are not performing satisfactorily with their assigned tasks. Don't be afraid to speak up with your provider if you notice something you don't like, and don't forget to express your appreciation for the progress they've made as well.
5. Assess the Overall Performance
Throughout the adjustment period, solicit feedback from your customers on a regular basis. The performance of the provider at the end of the adjustment period can be used to assess the progress of your company's development. If you are pleased with the outcome, you may wish to make changes to your business contract with your BPO provider in order to extend it. If this is not the case, you can either work with the provider to make improvements or terminate the agreement.
What are the most often outsourced
back office jobs
?
With the attraction of offshore back-office services, a number of back-office operations are unquestionably seizing the opportunity to gain from outsourcing.
Here are some of the most outsourced BPO services:
Data Entry
This job requires retrieving data from a specific media and inputting it into a computer system via a data entry interface in a different medium. 
In simple words, it is copying and pasting data from one system to another. The tough part comes when data needs to be studied, categorised, or interpreted or business rules applied before being entered into a system.
Payroll 
Calculation errors in payroll are typically caused by a lack of experience in the payroll practice. When the crew is distracted, they are more likely to make mistakes.
One of the benefits of outsourcing is the ability to focus on a specific work that the client requires. 
Offshore employees are also given suitable training in order to improve their experience and skills. Outsourcing payroll activities allows firms to minimize payroll taxes while also avoiding human error. This ensures that employees are paid correctly and on schedule.
Human resource
Human resource outsourcing aids businesses in organizing their recruitment procedures, strengthening their personnel, and increasing employee satisfaction and retention. 
It also supports the development of a stronger human resource strategy and the establishment of systems and workflows. 
All of these advantages are possible because outsourcing HR services adds greater experience and access to more advanced technologies.
IT
One of the most important jobs in any firm is technical support, which is also one of the most diverse outsourcing fields. 
Outsourcing IT services will lead to the most up-to-date technological tools for a corporation. It also offers remote assistance, which might be difficult for a small organization to manage. 
Access to cost-effective storage, high-level security, and contingency plan services are also advantages.
Marketing
A startup, a small firm, or a huge company all understand the importance of brand marketing. However, it takes time to do so.
An outsourced marketing team will create and implement marketing programs across all channels, allowing the company to focus on its core duties. 
Furthermore, businesses can relax knowing that their marketing plans and execution are handled by professionals.
The decision to outsource back-office operations is vital in order to reduce the workload of the in-house staff and focus on more critical parts of the business. 
Why is Back Office Outsourcing Important?
When we talk about back office outsourcing, it is important to also discuss the significance of it.
So here are the nutshell explanation of why you should start offshoring back office outsourcing services in a current competitive marketplace:
Cutting Cost
Maybe the most obvious benefit of offshoring to the Philippines is that it helps you save money. 
Creating the infrastructure to handle your back-office requirements is costly and time-consuming. After you've built this infrastructure, the expense of maintaining it might be rather substantial. 
When you factor in labor costs, staff turnover, and investments in cutting-edge technology and training, you end up with a sizable and ever-increasing figure for many of your business expenses.
It is significantly more cost effective to outsource your back office support. 
You may take use of an existing, well-maintained infrastructure, as well as reduced labor costs overseas, to create a much more cost-effective solution that allows your company to thrive. 
Consider it an in-house staff with none of the costs of hiring, training, technology, office overhead, and so on.
Focus on Competencies
Back office assistance is essential, but devoting the time and effort to design and manage it yourself diverts attention away from your company's primary skills. 
It can be aggravating to spend so much time on administrative activities rather than on business development. 
You and your team will have more time to focus on the most important areas of your business by entrusting these critical but secondary operations to competent professionals.
Outsourcing helps you get the best team and you do not need to worry about it anymore. Basically, it both helps you save money and resources.
Gain Quality Talent
Speaking of 'best team,' offshoring BPOs allow you to get quality employees.
Finding employees with the talents and experience you require can be difficult, particularly in a tight labor market, but outsourcing allows you to hire excellent talent without the inconvenience. 
A BPO can engage administrative professionals who are adept at handling a variety of back-office support needs, whether you're adding to an existing workforce or outsourcing practically all of your back-office tasks. 
These professionals are then trained on all of the latest technology, tools, and best practices on a regular basis to ensure that you receive nothing but the best service to keep your business competitive.
While the talent market in the United States may be tight, leading outsourcing destinations such as India and the Philippines are in desperate need of workers.
The Top BPO Company in the Philippines
Magellan Solutions is the leading SME-focused back office support in bpo industry.
With over 18 years of industry experience, we offer high-quality customer service support and call center services. On top of that, we are a certified ISO 27001:2013 and HIPAA-compliant company.
At Magellan Solutions, we combine technology such as ACD, CRM, and IVR with agent skills. We make sure that our agents have all the necessary tools, equipment, and knowledge to serve customers. 
We believe that progress shouldn't break your bank, so our services remain flexible and competitive.
Contact us now, and we will discuss with you how we can help your business succeed. Complete the contact form below and talk to us for free!
TALK TO US!
Contact us today for more information.