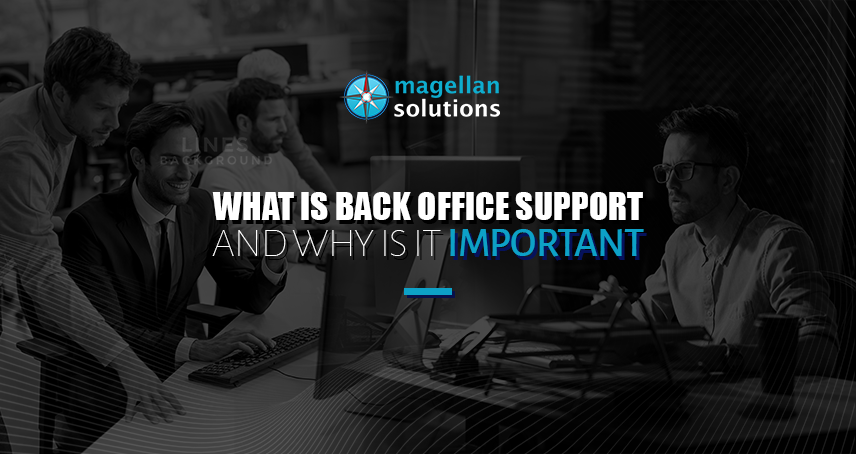 With so many businesses looking for
Back Office Service
BPOs, it's only natural to wonder how important they are.
Outsourcing back-office support has numerous benefits for a company. 
Not only can you increase your operation's load whenever you choose, but you can also delegate some of the job to someone else. You can also save money and other resources.
But that is just the tip of the iceberg for the benefits of having a back office support service provider. 
Furthermore, in this article we will explain what back-office support is and why it is important for businesses of all sizes.
What is Back Office Support?
Back office support is the part of a company that is in charge of running the company rather than dealing with customers or creating a profit. 
This is an old word that alludes to a time when a store's showroom and sales area were located in the front while the accounting, manufacturing, and administrative sections were located in the back. 
Despite the fact that, with the exception of very tiny businesses, this conventional style has been superseded over time, the phrase has stuck around. 
Back office is the polar opposite of front office work, which refers to a company's more direct revenue-generating activities.
Back office support is defined in a variety of ways by different companies. 
In general, if a department deals directly with customers, it is located in the front office, and if it does not, it is located in the back. In certain firms, the concept is slightly different: the portions of the corporation that make money are in the front office, while the ones that don't are in the back office support. 
Both definitions are correct, and they stem from different business tactics used throughout the early stages of a company's development.
What are the most often outsourced
back office jobs
?
With the attraction of offshore back-office services, a number of back-office operations are unquestionably seizing the opportunity to gain from outsourcing.
Here are some of the most outsourced BPO services:
Data Entry
This job requires retrieving data from a specific media and inputting it into a computer system via a data entry interface in a different medium. 
In simple words, it is copying and pasting data from one system to another. The tough part comes when data needs to be studied, categorised, or interpreted or business rules applied before being entered into a system.
Payroll 
Calculation errors in payroll are typically caused by a lack of experience in the payroll practice. When the crew is distracted, they are more likely to make mistakes.
One of the benefits of outsourcing is the ability to focus on a specific work that the client requires. 
Offshore employees are also given suitable training in order to improve their experience and skills. Outsourcing payroll activities allows firms to minimize payroll taxes while also avoiding human error. This ensures that employees are paid correctly and on schedule.
Human resource
Human resource outsourcing aids businesses in organizing their recruitment procedures, strengthening their personnel, and increasing employee satisfaction and retention. 
It also supports the development of a stronger human resource strategy and the establishment of systems and workflows. 
All of these advantages are possible because outsourcing HR services adds greater experience and access to more advanced technologies.
IT
One of the most important jobs in any firm is technical support, which is also one of the most diverse outsourcing fields. 
Outsourcing IT services will lead to the most up-to-date technological tools for a corporation. It also offers remote assistance, which might be difficult for a small organization to manage. 
Access to cost-effective storage, high-level security, and contingency plan services are also advantages.
Marketing
A startup, a small firm, or a huge company all understand the importance of brand marketing. However, it takes time to do so.
An outsourced marketing team will create and implement marketing programs across all channels, allowing the company to focus on its core duties. 
Furthermore, businesses can relax knowing that their marketing plans and execution are handled by professionals.
The decision to outsource back-office operations is vital in order to reduce the workload of the in-house staff and focus on more critical parts of the business. 
Why is Back Office Outsourcing Important?
When we talk about back office outsourcing, it is important to also discuss the significance of it.
So here are the nutshell explanation of why you should start offshoring back office outsourcing services in a current competitive marketplace:
Cutting Cost
Maybe the most obvious benefit of offshoring to the Philippines is that it helps you save money. 
Creating the infrastructure to handle your back-office requirements is costly and time-consuming. After you've built this infrastructure, the expense of maintaining it might be rather substantial. 
When you factor in labor costs, staff turnover, and investments in cutting-edge technology and training, you end up with a sizable and ever-increasing figure for many of your business expenses.
It is significantly more cost effective to outsource your back office support. 
You may take use of an existing, well-maintained infrastructure, as well as reduced labor costs overseas, to create a much more cost-effective solution that allows your company to thrive. 
Consider it an in-house staff with none of the costs of hiring, training, technology, office overhead, and so on.
Focus on Competencies
Back office assistance is essential, but devoting the time and effort to design and manage it yourself diverts attention away from your company's primary skills. 
It can be aggravating to spend so much time on administrative activities rather than on business development. 
You and your team will have more time to focus on the most important areas of your business by entrusting these critical but secondary operations to competent professionals.
Outsourcing helps you get the best team and you do not need to worry about it anymore. Basically, it both helps you save money and resources.
Gain Quality Talent
Speaking of 'best team,' offshoring BPOs allow you to get quality employees.
Finding employees with the talents and experience you require can be difficult, particularly in a tight labor market, but outsourcing allows you to hire excellent talent without the inconvenience. 
A BPO can engage administrative professionals who are adept at handling a variety of back-office support needs, whether you're adding to an existing workforce or outsourcing practically all of your back-office tasks. 
These professionals are then trained on all of the latest technology, tools, and best practices on a regular basis to ensure that you receive nothing but the best service to keep your business competitive.
While the talent market in the United States may be tight, leading outsourcing destinations such as India and the Philippines are in desperate need of workers.
The Top BPO Company in the Philippines
Magellan Solutions is the leading SME-focused back office support in bpo industry.
With over 18 years of industry experience, we offer high-quality customer service support and call center services. On top of that, we are a certified ISO 27001:2013 and HIPAA-compliant company.
At Magellan Solutions, we combine technology such as ACD, CRM, and IVR with agent skills. We make sure that our agents have all the necessary tools, equipment, and knowledge to serve customers. 
We believe that progress shouldn't break your bank, so our services remain flexible and competitive.
Contact us now, and we will discuss with you how we can help your business succeed. Complete the contact form below and talk to us for free!
TALK TO US!
Contact us today for more information.