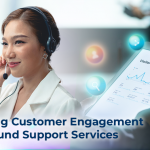 Maximizing Customer Engagement with Inbound Support Services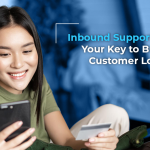 Inbound Support Services: Your Key to Building Customer Loyalty
Customer support is essential to building customer loyalty and enhancing customer experience. In fact, 84% of businesses that give importance to customer service tend to have an increase in revenue.
However, attaining exceptional customer service is still a challenge for most businesses. Some focus their marketing efforts on reaching out to customers randomly to sell their products or services. Yet, not all consumers are good with this marketing strategy.
Telemarketers must be able to develop a strategy for serving customers who are already interested in what they can offer. This is where inbound telemarketing comes in. Let's dive into inbound telemarketing and find out how it can help businesses like you! 
What is Inbound Telemarketing?
Inbound telemarketing is a type of direct marketing. It involves reaching out to customers and, providing them solutions and support. 
Look at telemarketing as receiving a call from someone pushing a product or service. However, instead of you reaching out to them, interested customers will contact you.
Often, the reason is to inquire about your product or services. Thus, inbound telemarketers focus on providing interactive communication through call personalization. 
Inbound Telemarketing Benefits
Here are the benefits of direct marketing:
Inbound Telemarketing is Your Key to Higher Quality Leads
This type of telemarketing mainly involves answering questions from prospective clients. They've reached out to engage with your brand, possibly. These people are likely to have researched your business before contacting you. They're contacting you because they're convinced of your product or service. 
However, what happens if they call you and no one answers? What happens if they reach out and you need help getting to them promptly? Most likely, the chances of a successful business transaction decrease. 
But with a dedicated inbound telemarketer, this will be fine. Inbound telemarketers will answer all queries, helping you secure a potential customer. 
Enhanced Customer Satisfaction
Agents know how to listen and empathize with customers. This may lead to an increase in customer satisfaction. 
In return, they are likelier to stick with you and recommend your business to others. It's like getting free marketing from your happy customers, don't you agree?
Inbound Telemarketing Help with Brand Building
Inbound telemarketing can boost your brand awareness. It attracts your audience to visit your website and other social media platforms where you post your content. 
When customers find that you provide relevant and informative answers to their concerns, they'll most likely consider your brand a trusted source.
Inbound Telemarketing vs. Outbound
Telemarketing offers two distinct approaches. Each has advantages and disadvantages depending on your business's marketing and sales goals.
Initiation of Contact
Inbound telemarketing involves responding to incoming calls or inquiries initiated by potential customers. These customers may have seen an advertisement, visited a website, or received a referral that prompted them to contact you. 
Meanwhile, when you initiate the call to a predefined list, it's an outbound call. These contacts may have been from a database, a directory, or a purchased list.
Customer Intent
Inbound telemarketing engages with individuals interested in the company's offerings. These customers are more likely to have a specific need, problem, or goal the company can help them with. 
Outbound telemarketing targets a broader audience. This includes those who may have yet to show prior interest. These customers may need to be made aware of the company, its products, services, or a clear motivation to buy.
Customer Engagement
Inbound telemarketing results in more engaged and receptive conversations. This is mainly because customers have initiated the contact. These customers are more open to listening and learning about the company. 
Outbound telemarketing often needs more support. Mainly because there's skepticism from recipients. Those that you contacted may also be annoyed or irritated by your call. Hence, they hang up or decline the offer. 
Cost Efficiency
Inbound telemarketing can be more cost-effective because it targets a more qualified audience. This reduces the need for extensive cold-calling efforts. Inbound telemarketing also has a higher conversion rate and a lower cost per lead. 
Outbound telemarketing may require more resources to reach potential leads. It also has a lower conversion rate and a higher cost per lead than inbound telemarketing.
Examples of Inbound Telemarketing
Phone answering service.

A phone answering service entails taking incoming calls from clients and responding with knowledge, advice, or assistance. 
Up-selling and cross-selling service.

This is when customers ask you for what they can buy in relation to what they already purchased from you. For instance, they bought a bike from you. They want to know the necessary accessories that they should buy with it. For them, you'll likely be able to give them a direct answer hence, they contact you. 
Customer feedback service.

Another example of inbound telemarketing is gathering feedback, comments, or recommendations. This measures your customers' satisfaction level and the likelihood of repeat business with you. 
Magelllan-Solutions- Your Partner For Inbound Excellence!
Magellan-Solutions stands as your reliable and trusted partner in this journey. We have a team of professional and experienced agents trained to answer calls. And that's not all. Our team has the drive to engage with customers and exceed their expectations. 
End result? You can focus on growing your business. Let us take care of delivering quality customer experiences for you! 
If you're unsure how to develop client engagement solutions for your business, give us a ring!  Contact us to learn more about our inbound telemarketing services.