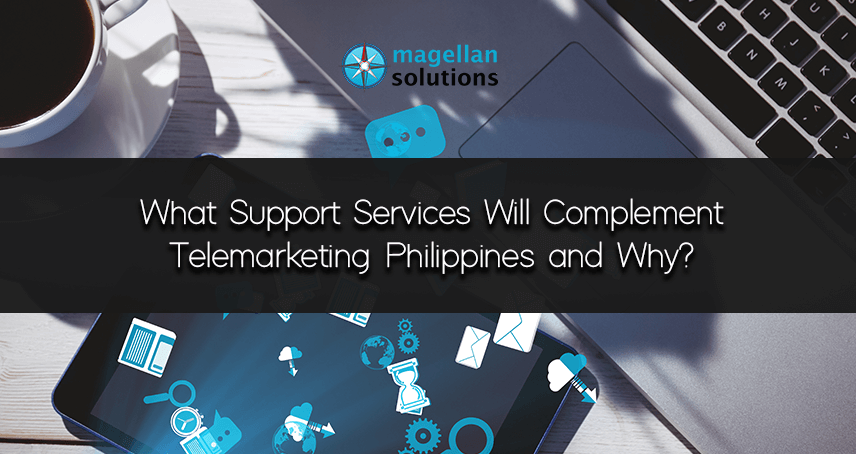 Now that you have a Telemarketing Philippines partner, what's next?
The answer is simple, get a service that will improve it and take it to another level.
If you are not aware yet, to really optimize telemarketing services in the Philippines, you need to combine it with other services such as phone answering and lead generation services.
So in this article, we will help you identify those services that can complement your outbound telemarketing services Philippines and offer you rationales why.
Why does Telemarketing Philippines Need a Complementing Service?
First and foremost, why do telemarketing companies Philippines need other services? Isn't telemarketing an already standalone BPO service?
Well. Essentially, telemarketing call center Philippines can be a little restraining.
Yes, telemarketing is a telephone-based service that can help your company generate interest from the market. If you only need a cold calling company, then telemarketing Philippines outbound can stand on its own.
In fact, 70% of global consumers have a favorable view of brands that contact them with proactive customer service notifications. So cold calling works.
But it lacks the nuances needed to feel complete, efficient and effective. How about the information shared by clients, the customer feedback, and the requested schedule appointments? Those areas need maintenance as well.
So our point is: BPO services are codependent with each other.
Telesales company Philippines creates prospects, lets people know about what you have to offer them, and provides the opportunity for both customer and business to find out more about each other. 
While other functions help convert those opportunities into business for your company.
Without the other services, everything will feel lacking and incomplete.
So anyway, here are five services that we think your telemarketing Philippines partner will need.
Services that Complements Telemarketing Philippines
There are a boatload of services out there but only a few of them can complement  Filipino telemarketers.
Here are some of them:
1. Phone Answering Service
A BPO company's phone answering service assists businesses in quickly responding to live calls. 
However, the types of questions and concerns you will receive vary depending on the service you will receive and the industry to which you belong.
Getting an answering service can be a value-adding experience for your business. It is much easier to pay someone else to pick up the phone than have your employees multi-task to do it. It helps you save time and resources with only a few dollars.
Furthermore, a high-quality phone answering BPO can significantly improve your brand image, customer satisfaction, and retention
When you have a phone answering service alongside your telemarketers, you'll never miss an important call or message again.
In fact, you will be able to convert concern and complaint calls to sales seamlessly. And you will be able to receive messages on time even if you are in a business meeting. 
It is a helpful and value-adding asset for your business.
Here are other services you can avail under Phone Answering Service:
24/7 Answering Service

Virtual Assistant Call Answering Services

Internet Telephone Answering Services

Answering Services for Small Business

Emergency Answering Service
2. Appointment Setting Services
Let us say your customer is interested to hear more about your product or service, but he does not have the luxury of time. He wants to meet with you and take a little of your time to discuss it. The only problem is, your telemarketer does not have your schedule. What will you do?
Yes, you can ask your customer to call some other time. However, according to 36% of survey respondents, the most aggravating aspect of a bad customer service experience is an agent who lacks the knowledge or ability to resolve their issue. 
Customers hate it when they have to repeat the issue over and over again. That is why it helps to have an appointment setter to help your customer feel secure with your brand.
Appointment setters' goal is to convert prospects into interested buyers. They must first contact potential clients to introduce the company and discuss its products or services in order to do so.
Because this is more of a "marketing" job, it's critical that an appointment setter has a business marketing background and is knowledgeable about the company, particularly its products and/or services.
Nowadays, it is difficult to find someone with this skill and capabilities. That is also the reason why most businesses hire a call center outsourcing Philippines company.
If your organization relies on leads, it is important to spend money on appointment setting services. This is especially important for businesses that spread themselves too thin and suffer from lack of production in one or various other areas.
Here are other services you can avail under Appointment Setting Services:
B2B Appointment Setting Services Outsourcing

Outsourcing Lead Capture Services

Outsource Telemarketing Booking Appointments
3. Lead Generation Services
Cold calling is not the only way to market and generate leads, there are plenty of ways.
A comprehensive lead generation service can give you a number of ways to do it.
So basically, lead generation is a marketing process used to capture the interest of the public to a specific service or product. 
The goal is to develop a sales pipeline that will allow lead generation companies to target ready buyers for their clients more efficiently. 
The most popular forms of lead generation are Online lead generation, B2C lead generation and B2B lead generation services. 
It goes hand-in-hand with telemarketing as Lead generation services is a more concentrated form of marketing. Its sole focus is to pique the customer's interest and to give the telemarketing team a head start.
Here are other services you can avail under Lead Generation Services:
Database Service Management

Cloud Data Management Services

Data Quality Management Services
4. Data Management Services
With a growing sales pipeline, you will need more people that will handle the boat load of data.
Yes, you can have technology take care of that. But they will never sort out automatically like you intended to. You will always need people to monitor it. And call centre services Philippines can help you with that.
Within a business or organization, data management entails several operations and the process of gathering, storing, and distributing data. 
Data mining, data cleansing, data entry, data processing, and data verification are some of the functions it performs. Your company will have access to high-quality data thanks to effective data management. 
As a result, you'll be able to make more informed and efficient business decisions.
Telemarketing and DMS are complementing each other because telemarketers need data to make a sale. Without it, there is no grounds that the agent can use to make a leverage.
66% of telemarketing Philippines outbound call center believe customers will place a high priority on the accuracy of the data provided.
Even more so, all data that a telemarketer collected must be organized. ISO certified companies need to protect data, and in order to do that, they must be able to identify it properly.
Here are other services you can avail under Data Management Services:
Database Service Management

Cloud Data Management Services

Data Quality Management Services
5. Omnichannel Services
Here is a fact for you: Two in every three consumers think that omnichannel customer service is getting better.
Marketing your brand is not limited to phone calls. Eventually, you will have to venture into other mediums.
Client interaction takes place across multiple platforms in a multi channel contact center. Voice, chat, email, and social media are some of them. 
Omni channel customer engagement solutions aim to connect with a broader range of customers across multiple touchpoints.
Say for example, your customer is interested after you made that cold call. However, they do not have a good telecom service, so they will venture into other mediums to connect with you.
How can they do that if you do not have an omnichannel service?
Basically, this service allows your telemarketing partner to expand their target audience as they can engage with different prospects from various platforms.
Furthermore, customers can easily find you anywhere through multichanneling.
Here are other services you can avail under Omnichannel Services:
Omnichannel Call Center

Non-voice Omnichannel Contact Center Solution

Email Multi channel Contact Center Solutions
Partner with the Top
Contact Center Services Philippines
If you need to hire telemarketer Philippines, we are your best option!
Magellan Solutions is a BPO company based in the Philippines that focuses on supporting small to midsize businesses. 
With over 18 years of industry experience, we offer high-quality customer service support and call center services. On top of that, we are a certified ISO 27001:2013 and HIPAA-compliant company.
At Magellan Solutions, we combine technology such as ACD, CRM, and IVR with agent skills. We make sure that they have all the necessary tools, equipment, and knowledge to serve customers. 
We are also the leading lead generation Philippines among all B2C and B2B lead generation companies in Philippines.
We believe that progress shouldn't break your bank, so our services remain flexible and competitive.
Contact us now, and we will discuss with you how we can help your business succeed. Complete the contact form below and talk to us for free!
TALK TO US!
Contact us today for more information.