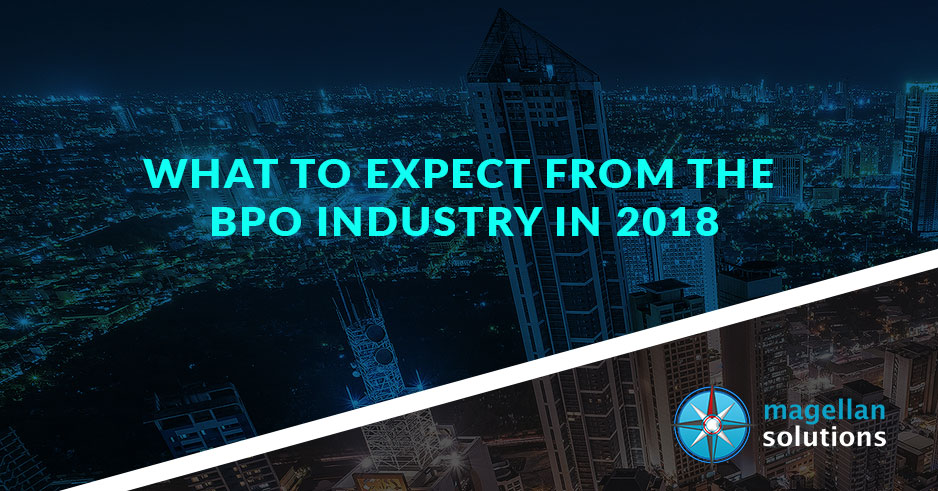 Despite slightly slowing in 2017, the Philippines maintains its position as the fastest growing country among the emerging economies in the Southeast Asian region.
The full-year GDP growth averaged 6.7 percent, which is only 0.2 percent short than the 6.9 percent recorded in 2016. Nonetheless, it still met the 6.5 to 7.5 percent target for 2017.
Socioeconomic Planning Secretary Ernesto Pernia noted that despite the moderate decline, it was still a good performance "given the fact that it is already normal for post-election years to witness decline in economic growth."
The country's external sector remains as the major driving force for the Philippine economy, Finance Secretary Carlos G. Dominguez III stated.
He added that our adequate foreign exchange reserves, declining external debt ratio, and sustained flows of remittances and revenues from business process outsourcing (BPO) industry "give investors comfort about the Philippines' resilience to future external shocks."
The BPO industry, or the practice of contracting certain business task to third-party service providers, is an economic lifeline for the country as it employs about 1.15 million Filipinos.
Here are some business process outsourcing predictions for 2018: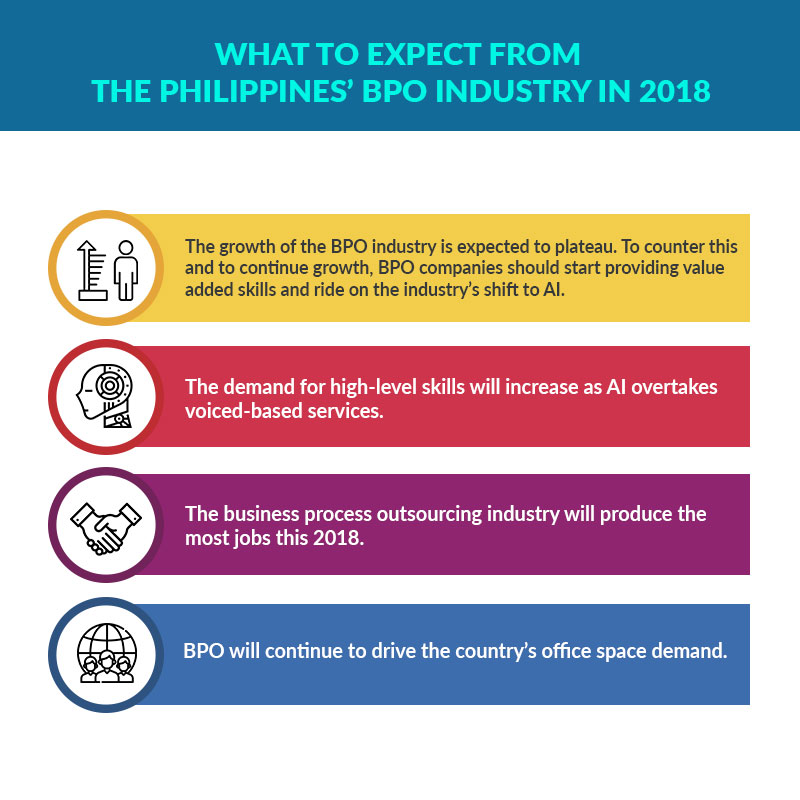 PH BPO nears 'plateau' as industry matures
Simultaneous with the Philippine BPO industry's maturation, its growth is also expected to 'plateau'.
The growth of the sector also expects an annual slowdown until 2022 due to security risks in the country and the larger scale, slow-moving industry growth globally.
From the local compound annual growth rate of 17 percent it experienced in the past six years, it is anticipated to drop to nine percent.
National Economic Development Authority Undersecretary Rosemarie Edillon said that "[The BPO industry] is still growing, it's not contracting," adding that the sector has already reached some steady state.
To continue growth, Socioeconomic Planning Secretary Ernesto Pernia stated that BPO companies should start providing diversified and value added services by upgrading skills and riding on the industry's shift to artificial intelligence.
Demand for high-level skills will increase due to challenge of AI
As artificial intelligence started to replace process-driven jobs, BPO companies should shift their focus from call center services to higher value industries such as big data analytics, healthcare information management, and app development.
The Information Technology and Business Process Association of the Philippines (IBPAP) stated that AI could possibly replace around 40,000 to 50,000 "low-skilled" jobs in the next five years.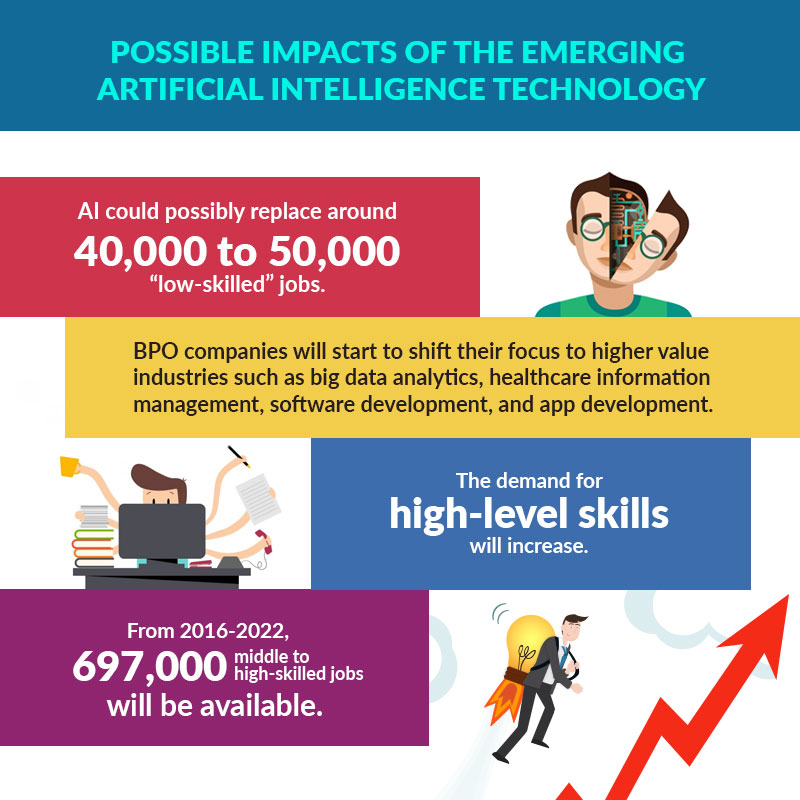 To secure future investments in the Philippines, BPO companies should ride on the shift to AI.
Socioeconomic Planning Secretary Ernesto Pernia emphasized that machines will overtake voiced-based services in the next three to five years.
However, IBPAP president Rey Untal assured that moving to higher level industries will give Filipino BPO workers a competitive advantage.
"Contrary to popular belief, the automation of processes is not meant to replace people, it's supposed to help them," Untal said, adding that high-level jobs have higher pay and more secure tenure.
Alongside thousand of low-skilled workers who can lose their jobs from 2016 to 2022, Untal noted that around 697,000 middle to high-skilled jobs will open.
To prepare for the arrival of AI, BPO companies are working with the government to assist call center agents upgrade their skills that will meet the requirements of higher level industries.
Despite threats of AI, BPO jobs continue to be in demand
The business process outsourcing industry will remain as the top generator of jobs this year in spite of the looming concerns over the industry's shift to artificial intelligence.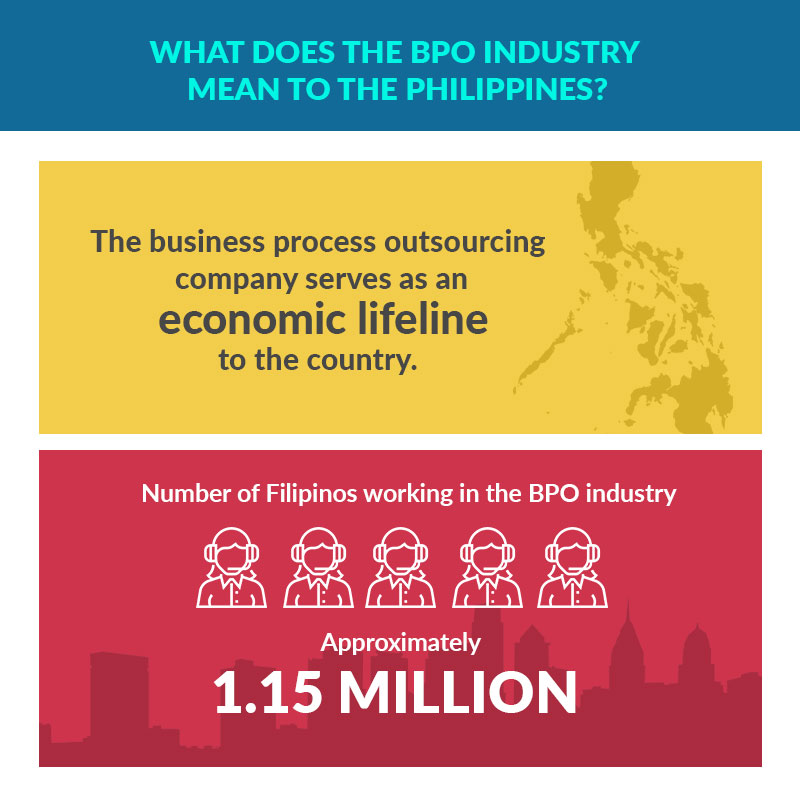 This year, BPO companies will continue to hire customer service representatives, telesales and telemarketing staff, technical and help desk support, and other IT-related positions.
Aside from call center jobs, other BPO specializations that are in-demand this 2018 include finance, accounting, and information technology.
BPO will continue to drive PH office space demand
Many BPO industries are still interested in setting up office spaces in the Philippines, especially those from the customer service and health care sectors.
Even the threat of AI to replace jobs will have little effect in decreasing the demand for office space. This is because technological innovations will increase the demand for jobs, therefore increasing the demand for office space as well.