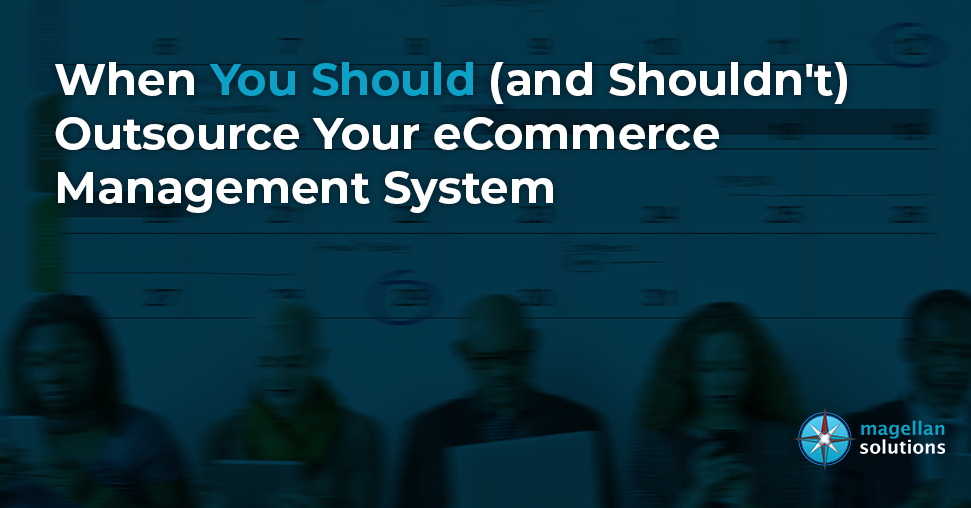 When is the Right Time to Outsource Ecommerce Management?
By 2022, the Asia-Pacific region is expected to have the world's biggest and fastest-growing ecommerce (electronic commerce) market. It is expected to make $1.77 trillion in sales. Ecommerce management should be a big part of retailers' plans for growth if they want a good source of income that can help them deal with changes in the market.
It's important to make a strategic decision about operations and management when running an ecommerce site. Like whether to build a team in-house or hire a partner from outside the company. When making a choice, it's important to think about how resources are split, how risks are handled, how costs vary, and how flexible the choice is.
Depending on the brand's strategy and how it works, it may make sense to outsource all or part of the management and operations of ecommerce. Before outsourcing to an experienced ecommerce partner, it's important for businesses to know what they might get out of it.
Now that the holidays are coming up fast, an ecommerce company needs to step up their game to make more money and reach more people. A company can only be successful in the long run if the online seller only focuses on sourcing products based on quality, price, demand, and customer feedback and gradually moves to outsourcing for all other tasks.
WHAT DOES OUTSOURCING ECOMMERCE MANAGEMENT MEANS?
Ecommerce refers to the exchange of goods and services. The sending of money or data over an electronic network, most notably the internet. Customers use their own devices to access an online store, browse the selection, and place orders for goods or services.
Management of an online business is what ecommerce management is. Its purpose is to make sure that it meets its goals of making high-quality goods, getting new customers, and keeping the ones it already has.
Today, more and more e-commerce businesses are using outsourcing as a way to cut costs, lighten their workloads, and eventually make it easier for them to grow.
Ecommerce outsourcing is the process of giving certain business tasks to a different company, person, or organization that specializes in that task.
WHEN TO OUTSOURCE ECOMMERCE MANAGEMENT?
Under the following conditions, an ecommerce business should think about outsourcing:
COMPANY'S GROWING TOO FAST
As soon as an ecommerce business starts to grow, the seller wants to step up all operations. It's time to hire an ecommerce management company to help you run your business. This will give you the freedom to cut back on your work when you need to without wasting time or money.
STRATEGIC PLANNING REQUIRES TIME
Most of the seller's time is spent on admin tasks. Leaving him or her with little time to plan. The main goal of a good online merchant should be to plan strategically for long-term growth. So when you hire an ecommerce management company to handle your online business, you'll have more time to think of new ideas.
MUST REDUCE COSTS
You must scale back activities to reduce costs during an economic slump. The flexibility of outsourcing ecommerce and management allows for cost reduction without layoffs and function scalability as and when needed without adding to costs.
FOCUS ON CORE COMPETENCY
It is costly and time-consuming to maintain a staff for a task outside of the core skill, which restricts growth. A seller can focus on what they do best by outsourcing tasks outside of their core competencies.
A NEED FOR INNOVATION
You cannot sustain growth without innovation. Consequently, one should not use up the time needed for innovation on mundane chores. As a result, outsourcing all repetitive operations will free up time for creativity.
SKILLS & NEEDS MISMATCH
When a task linked to your ecommerce firm needs to be done but there is not enough skill on staff to complete it, you should outsource the work to an ecommerce management company.
CAN'T BEAT THE DEADLINE
Even if the in-house team is running behind schedule on a task that is part of their core expertise, you can outsource your ecommerce management to make the deadline without sacrificing the core competency.
WHY OUTSOURCE YOUR ECOMMERCE MANAGEMENT?
Here are the reasons on why you should outsource your ecommerce management system:
ACCOMPLISH YOUR WORK EFFICIENTLY
If someone leaves the outsourcing team while they are still working on a task, you're still okay. The main job of outsourcing companies is to make sure that your project goes smoothly. They can replace people easily.
FLEXIBILITY
Only those organizations can handle a change in the way the global ecommerce market works because they can grow or shrink their operations. This kind of freedom is only possible by outsourcing ecommerce management.
FOCUS ON CORE TASKS
If an ecommerce business owner wants to be successful, they should focus on products based on price, quality, and customer feedback. The owner can quickly outsource e-commerce, management, and any internal processes they aren't very good at running.
REDUCE COSTS
The main benefit of outsourcing ecommerce service is that it lets you do things more for a lot less money.
ACCESS TO TECHNOLOGY ADVANCEMENTS
Outsourcing companies are now aware of trends and eager to find the most cutting-edge people and technologies in the world. By doing this, they can help you reach your goal.
COMPETITIVENESS
In the global ecommerce market, the cost of labor varies a lot from country to country.
By outsourcing ecommerce management, you can keep your labor costs low and stay competitive if you run an ecommerce business in a country where labor costs are high compared to countries where labor costs are low.
FAST & EFFICIENT
Ecommerce organizations can increase the speed and efficiency of their business processes. They can do this by outsourcing ecommerce management and utilizing the equipment and knowledge of the outsourced vendor.
REDUCE THE STORAGE & MANAGEMENT OF DATA
Data is an important part of any business or organization. The main purpose of data storage is to help you run your main business. But not all businesses, especially small and medium-sized ones, can make their own secure system for storing data.
To avoid spending big, it is important to outsource data storage today. You don't have to worry about how to build a system for storing data and how to handle a lot of data anymore.
NOW IS THE TIME TO OUTSOURCE YOUR ECOMMERCE MANAGEMENT SYSTEM
In a world with constantly changing rules, new technology, and consumer tastes, brands must continue to focus on coming up with creative products. Working with a partner could help you take care of operations and management. In this way, you can focus on what you do best in this competitive market.
Ecommerce is changing the way people all over the world do business. Even though ecommerce has become more popular recently, it has changed a lot over the years.
Outsourcing ecommerce management is without a doubt one of the best ways for ecommerce companies to cut costs, improve efficiency, and stay competitive in the long run.
MAGELLAN SOLUTIONS PROVIDES A COMPETENT TEAM FOR YOUR ECOMMERCE MANAGEMENT
Do you want your business to have more reach and have increased sales? If you outsource your ecommerce management with Magellan Solutions, you will be provided with top-notch business solutions at a fraction of price.
With more than 18 years in the BPO industry, we are an ISO-certified, and a HIPAA-compliant contact services provider.
Contact us now and let us assist you with your business goals right away.
TALK TO US!
Contact us today for more information.