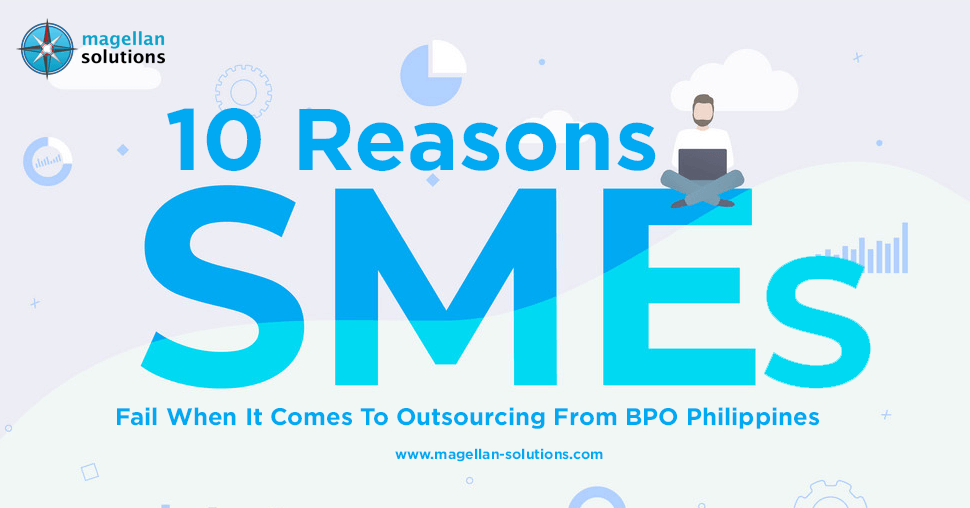 The Failure Stories From
BPO Philippines
Are Many, But What Stands Out?
Failure is a part of processes, even for outsourcing companies. It is somewhat of a bore to say that 'no one is perfect', but we have to tell it straight. We're not perfect as well.
Magellan Solutions' research shows that 50% of outsourced projects either fail outright or just fail to meet expectations. 
Even with almost 20 years of experience under our belt, we still hear clients and customers alike with disappointment.
Outsourcing, even if it is an established industry, is an experiment and a risk. But we can assure you that we make sure that our experiment leads to good results.
And as for the risk? You've experienced it first-hand already by simply beginning a business. And it is successful as it is. But with outsourcing to providers such as Magellan Solutions, the success is sure to grow even more.
Why do some SME partnerships with
companies that outsource to the Philippines
fail?
Outsourcing can be an effective tool to help managers and organizations make progress toward productivity and effectiveness.
But outsourcing is not always a less expensive or even successful alternative.
We have prepared below 10 of the common reasons why SMEs experience failures in outsourcing companies in the Philippines:
1. No strategic objective.
While cost reduction is a legitimate goal, it should not be the only one. Saving is an end outcome of outsourcing, not the primary reason. 
When cost reduction becomes the primary objective, you are often driven to select the cheapest provider regardless of capability or resources. 
It's only when strategic objectives are met that outsourcing finds continued success.
2. Unclear requirements/expectations.  
When you outsource, you must be clear about:
Process

Tools

Talent

Timelines

Testing

Outcomes

Ownership

IP

Commercials
For example, once a programming requirement is frozen, the outsourcer cannot ask for a mid-development demo if it was not included as an original requirement.
3. Poor transition. 
Requirements and processes are often moved thousands of miles away from where they were originally carried out. Bridging the distance means the transition process should be rugged and accurate. 
Agreeing on the terminology, identifying the processes, and capturing the metrics make the difference. The role of quality in transition cannot be overstated. 
However, tools to manage transition are becoming better as outsourcing grows. Ensure that your provider uses updated tools and quality standards that are suited for your industry.
4. Rapidly changing needs of the buyer. 
Outsourcing begins with small steps but quickly acquires giant strides. When the buyer's needs change, the provider is sometimes unable to change as quickly. 
A provider who is not nimble and flexible and does not understand your business environment can lead to failure.
5. Poor communication. 
It is extremely difficult to keep tabs on teams that are spread out. But it is even more difficult to keep tabs on a team that is not under your direct supervision and is located perhaps 5,000 miles away and follows completely different work norms, ethics, standards, etc. from your own. 
Communicating frequently and clearly and sharing all business-related information is essential. It helps keep the relationship healthy and therefore improves the outcomes of outsourcing.
Buyers often feel that "communication" is a task for the provider. The provider settles down to the mandated reporting schedule. This could be a weekly presentation of performance metrics or reviews of development followed by some cursory remarks and views as "adequate communication." 
When this happens, expect misalignment of missions and failure to follow.
6. People factors. 
The provider has difficulty retaining talent. 
This means that either the provider will not have the team required to deliver the task or the constant churn will create teams that have no sense of loyalty or purpose. Such teams will lose focus and disengage.
7. Overmanagement/micromanagement. 
The provider may often have excellent skills and capabilities, but outsourcers are naturally paranoid and tend to over-manage or micromanage. 
For the provider, this can become a real headache and over a period of time, its patience will erode. You could be headed for a flashpoint that can destroy the outsourcing relationship.
8. Role clarity
Like any great leader, most CIOs should start by emphasizing the need for complete clarity about their own role in the outsourcing process. They are the bridge between the CEO and the rest of the company.
A CIO must understand the business implications of the project. There has to be a specific business case for each project. It might be overhauling the online presence of the company by redesigning the website or adding a new mobile app to help a business unit better communicate with customers. 
Either way, the implications of the outsourced project must be clearly understood by the CIO and properly communicated to the internal and outsourced teams.
On the other hand, a CIO should be equally adept at understanding the technical components of the project. Until she understands the nuances of the project, it will be very difficult to guide the team. 
9. Forgetting the Target Audience
Any product you produce for a client must be catered to its target audience.
For example, a website must be user-friendly. It may seem most convenient for an outside agency to focus on SEO keywords, but jamming a page with keywords will make the customer experience worse.
People will generally raise an eyebrow if you have seven different adjectives just for one title, as it appears disingenuous. What might look good to companies won't always look good to customers.
Remember to target the audience when your agency outsources.
10. Lack of personalization.
Every client is different, each with their own needs for their business. Making sure to treat every client professionally and with respect is essential for a healthy working relationship. Knowing the hard facts about a company is important, and so is remembering details about the people that work there.
Switching to a white-label partner after working directly with an agency can be difficult for clients. They often can feel their needs aren't being met and that the agency they're working with doesn't understand their priorities and personnel.
Know the people you are working with directly by name. Remember how they like to be contacted. Some clients will value a highly professional atmosphere; others may prefer a more humorous, personal workplace.
Understand your clients and make sure they feel appreciated.
There are more successes in the
business process outsourcing industry in the Philippines
than failures
Countering the reasons above, there are many success stories and some of the most popular applications have been developed while being outsourced. 
Have you ever heard or read of the following that started as outsourced projects? 
Slack

Fab

Skype

Klout

Github

AppSumo

Branchout 

MYSQL

AlertBoot

SeatGeek 

Squawker

JPay.com

Splunk

Opera 

Pingar

Axeda

Solix

Cloudmunch

Gliffy

Net2Text 

Proximate Global Inc., 

Milburn 

Mindspark
How to get the right people?
It's just as crucial to hire a great call center agent as it is to have the correct call center software.
During the hiring process, candidates can be screened based on a variety of factors such as personality, skill, fit, and motivation. Regardless of your list of requirements, understanding what makes a good agent is beneficial.
1. Able to communicate properly with the customer
Over the past few years, the way we communicate with one another has grown considerably. As a result, it's no surprise that many businesses are transforming their contact centers to become omnichannel.
As a result, their agents are able to connect with customers across many channels in real-time. An agent may, for example, assist customers by phone, email, social media, live chat, SMS, and other means.
A contact center agent should be comfortable providing service on every channel.
2. Organized
Agents that operate in a crowded call center need to be extremely organized. They must be able to multitask (for example, checking the knowledge base, updating the CRM, and taking notes in your helpdesk) while still attending to the demands of the customer. Staying organized will help them reduce errors during this process, allowing them to complete after-call work more efficiently and effectively handle customer demands.
Hire employees who have a track record of being organized and have met all application process requirements (i.e., arriving on time for meetings, submitting necessary paperwork, etc.) to ensure your call center agents are organized. Once they've joined the team, make sure they have the tools and environment they need to stay organized (i.e., call center software that connects with your business tools and an effective CRM and helpdesk solution). These factors can have a significant impact on client satisfaction as well as your bottom line.
3. Flexible
Not only do call center agents in a busy call center handle dozens of calls per day, but they also interact with customers with challenging personalities. To make sure your agents are flexible enough to meet the needs of your diverse customer base, hire agents that can go with the flow.
They should be able to handle a chatty customer one moment and an angry customer the next. They should be able to roll with the punches and let the bad stuff slide off of them with ease (after providing a solution, of course). In addition, you may also need to have some of your agents work challenging hours: holidays, nights and weekends. Make sure that you remember this when scouting out new agents. Flexibility is key.
4. Empathy
True empathy exhibited while on the job in a call center builds authenticity and positive rapport with worried, uncertain or distraught callers.
Knowing that their needs are understood and valued can set many customers at ease throughout the duration of a call, simplifying issue resolution significantly.
5. Knowledge Retention and Recall
In the fast-paced environment of a contact center, agents require an excellent memory. They must be able to memorize and recollect all facts pertaining to their company's operations. Callers expect prompt responses, and any hesitation or lack of conviction on the side of an agent reduces their trust in the accuracy of the information.
Call center agents need to rapidly recollect information as callers don't have the time to wait as they obtain the answers to caller requests. Prior to hiring, conduct a test to assess a candidate's capacity to retain and recall information, as well as to ensure that they have the call center abilities indicated on their résumé.
6. Creative Problem Solving
Traditionally, contact centers have supplied their agents with scripts to work from and many organizations still employ this technique. While this may work for regular issues or problems, it limits an agent's capacity to swiftly handle unique questions or requests. Callers are put on hold as the agent asks around for a solution. This has a negative effect on caller satisfaction and ultimately on the organization itself.
Agents in call centers must be able to tackle any problem that arises. This often involves a degree of inventiveness on their part to come at a solution that will satisfy the caller while retaining the best interests of the firm. Here again, you can check on a candidate's problem-solving talents by contacting their staff.
Outsource with Magellan Solutions, the quality
BPO services in Manila, Philippines
The above statements are only a few examples of the many successful outsourced projects. 
Magellan Solutions guarantees that you will see your own company in the list of companies that grew from a small enterprise into THE company that everyone is trying to be on par with.
Leave us your information below and get started with a quote for our services!
TALK TO US!
Contact us today for more information.