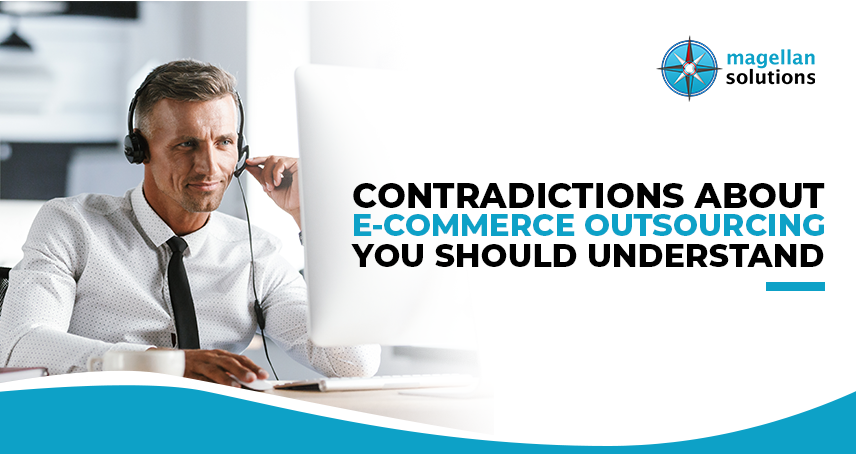 In case you have not realized, eCommerce Outsourcing has many contradictions. But should you avoid it?
The answer is a big NO. Instead, you should understand and follow it.
What is a contradiction, anyway? Contradiction is a combination of statements, ideas, or features of a situation that are opposed to one another.
The business world is full of contradicting ideas, terms, processes, goals, and laws. For example, the phrase "Business Ethics" is a straightforward and on-point idea. But on closer inspection, it is a contradiction. Business is about making a profit. Ethics, however, is playing by a set of widely accepted rules. It means doing things as they ought to be and, by nature, not necessarily cost-beneficial. 
ECommerce Outsourcing comes from the idea that SMEs should have the opportunity to level the playing field with big companies. But, for some reason, small and medium businesses are afraid of enlisting an outsourcing partner because of its confusing and contradicting concept.
So in this article, we will discuss three popular contradicting concepts about eCommerce outsourcing. And we will deconstruct them for you.
Three Contradictions in eCommerce Outsourcing
1. By giving away non-core processes to an eCommerce Outsourcing, you are gaining more.
In a sense, outsourcing does entail losing certain aspects of your operations. But the word giving away is a little misleading. You are not giving away processes to eCommerce outsourcing. Instead, you are sharing a part of it with a BPO company to yield positive results.
What is truly happening in eCommerce Outsourcing is you are sharing the duties that you cannot handle on the hands of someone more fit to accomplish those tasks. Again, enlisting an outsourcing partner does not mean you will not have all of the rights to your process anymore. The truth is, you still own 100% of your procedure.
Outsourcing allows you to have trained employees to work for you without breaking a sweat. They might not work directly for you, but they must follow your goals and help your business in certain areas to grow. It is still your voice that dictates the direction of the operation.
Furthermore, eCommerce Outsourcing lets you earn more by sharing non-core tasks in your company. Here are eCommerce tasks you can let your BPO partner take in:
Service
Sub-service

Website and Graphic Design

Website Banner Design

Email Design

Product Photo Editing

Landing Page Design

Ecommerce Website Development and Maintenance

Product Information Management

Description Writing

Data Entry

Data Cleaning

Catalog Management

Customer Service

Order Processing

Digital Marketing

Search Engine Optimization

Social Media Marketing

Search Engine Marketing

Email Marketing

Product photography

Content Creation

Lead Generation

B2B Lead Generation

B2C Lead Generation
Imagine having people that can handle these tasks for you? By allowing BPO companies to share the responsibilities of taking non-core processes, you are gaining access to various perks. These includes:
In hindsight, you are just losing the non-core tasks in your company with eCommerce Outsourcing. But you are earning more than expected. 
It is a contradicting concept, and it is a daunting tradeoff to make. Letting other companies inside your system poses a threat to your business structure. But most of the time, it creates new opportunities and possibilities.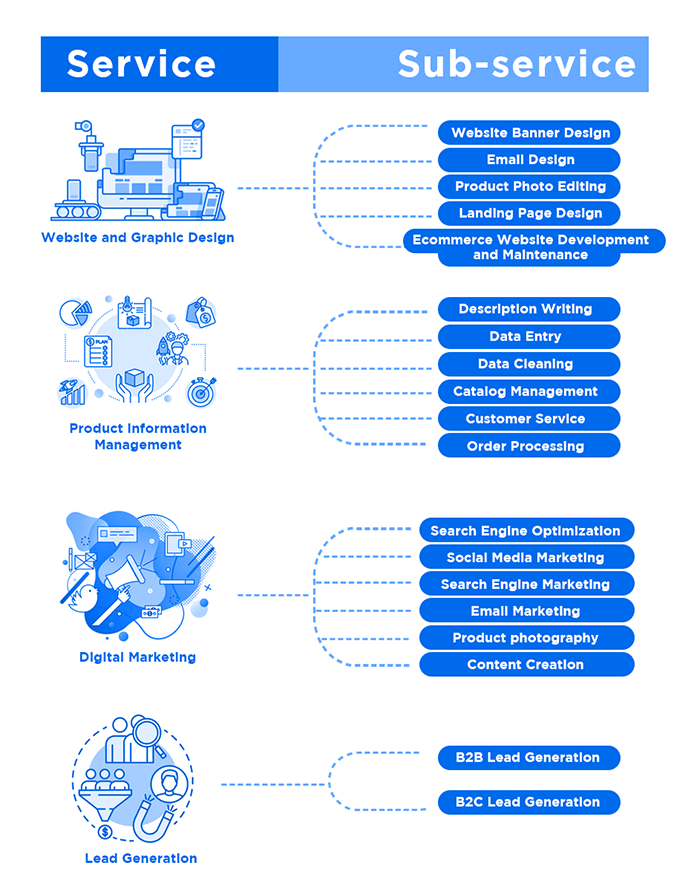 2. By embracing a new business strategy, you reduce the chances of risk
On the topic of opportunities and possibilities, eCommerce outsourcing can help your company mitigate risks by letting it be part of your business.
Usually, in a business setting: new partners, investors, and strategies pose a risk or a threat to the business. Especially for SMEs since they have a lot to lose. A small company that was not able to reduce the impact of risks can face bankruptcy and closure.
But in contradiction, BPO takes risks for your business more than it can provide it. How?
For example, if a company by any chance faces problems due to natural calamities, technical crises, or market fluctuations. Then the offshore outsource partners can still keep working on their assignments. Hence, the business flow was never interrupted, and customers can still expect high-quality service to continue. Additionally, it brings the company back on track.
Losing a potential customer is also a risk for SMEs. But eCommerce Outsourcing companies can immediately offer products and assistance that can help you retain and convert customers.
Furthermore, outsourcing becomes a cost-cutting tool for small businesses. Back in 2019, cost reduction was only a priority for 12% of small businesses. But in a study by Deloitte in 2020, 70% of 40 executives across their clients, service providers, and lawyers globally say that they use outsourcing as a cost-cutting tool. In essence, outsourcing plays a vital role in companies as a risk-mitigating business strategy.
Outsourcing your eCommerce needs can reward your company with better business processing support that will allow you to scale and remain competitive.
3. By sharing customer data to an outsourcing company, you are protecting more of it.
The 2018 Cost of a Data Breach Study by Ponemon reports that the global average cost of a data breach has risen by 6.4%. And the average outlay of it is nearly USD 8 million.
In the age of technology and data, security becomes the number one standard in choosing a business partner. And with the growth of the numbers of data breaches around the globe, one might think it is more secure to keep data for yourself.
That is why businesses are afraid to be partners with BPO companies. Especially e-shops that are handling boatloads of customer data. Although the fear is understandable. But thinking that BPOs are not secured is wrong.
BPOs made a lot of ways to help e-shops handle data efficiently. These are some of the best practices BPOs apply:
Not letting the use of a personal computer or laptop for work-related tasks. BPO companies usually provide their employees with equipment. In a work-from-home setup, data is either stored in the desktop's hard drive or cloud drive with encrypted security. Storages must be password protected at all times.

Passwords, everywhere. No one can access another agent's computer account without passwords. Documents such as word attachments and PDFs are also password protected.

BPO companies maintain a Quality Assurance and Data Protection Officer inside the production floor at all times. Besides making sure that the quality never dips, they are also responsible for enforcing proper data security. Their job is to ensure that every employee complies with a set of strict data protection standards.

Desktops provided by companies have built-in secured VPN and firewall that protects data 24 7. In a work-from-home setting, employers provide employees with a portable broadband connection for a smoother workflow.

Call centers have a single CRM system used to record customer issues, capture information, and track issues via tickets. So any unauthorized access to a customer account can be recorded.

BPOs maintain an internal

security policy

. Authorities and managers of the organization should have a clear set of policies to establish guidelines and standards for the work process and data security.

More importantly

, BPO companies equipped themselves to handle data securely with the best systems, software, and programs available, verified for safety, security, and privacy.
One good trust indicator for eCommerce outsourcing companies is credentials and compliance with well-known organizations like ISO, PCI DSS, and GDPR.
Thinking that webshop outsourcing companies are not secured is a myth. BPOs follow stricter rules than usual since they must also comply with guidelines presented by their clients. Even more so, some of them take the initiative to have other organizations conduct audits on their processes.
It may sound contradictory, but by allowing BPOs to manage your customer data, you are taking steps in protecting it even better than before.
Conclusion
Preconceived ideas can polarize you into thinking that hiring a BPO is scary since you need to give up crucial parts of your company's operation. But there is always a tradeoff on every risk presented to you.
Following the contradictions is a concrete action that will restore some of your problems and eventually enable you to move beyond your dilemma of shrinking capacity and increased demands.
In essence, by looking closely at the tradeoff of risk and opportunity (the definition of contradiction), you will be able to make better decisions.
ECommerce Full Outsourcing
in the Philippines
Are you looking for a reliable outsource ecommerce call center? Or a BPO company that has a deep understanding of eCommerce services? Look no more!
We are Magellan Solutions.
We are the premier BPO service provider to SMEs. You can guarantee the best results with our wide range of eCommerce services and our unwavering focus on quality over quantity, industry discipline, state-of-the-art technology, talents, and business transparency.
We have 18+ years of industry experience. And we are also an ISO 27001-certified, GDPR-compliant, and HIPAA-compliant firm. At the heart of what we do are data protection and professionalism.
If you want to experience a difference in your business, shoot us a message! Our business development team will be with you ASAP!
Contact us today and get a free 60-minute business consultation. Please fill out the contact form below.
TALK TO US!
Contact us today for more information.