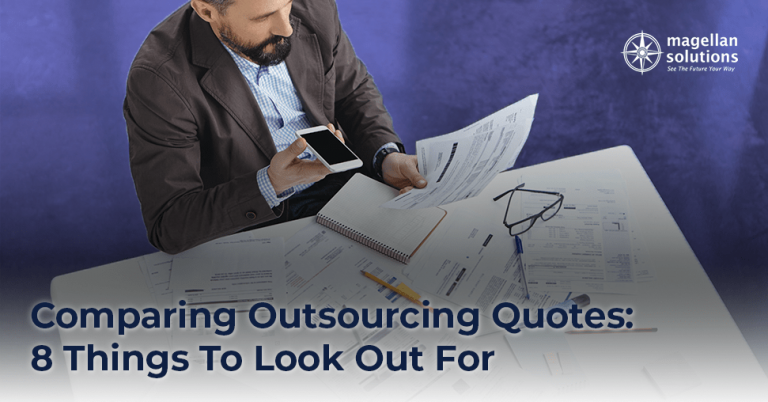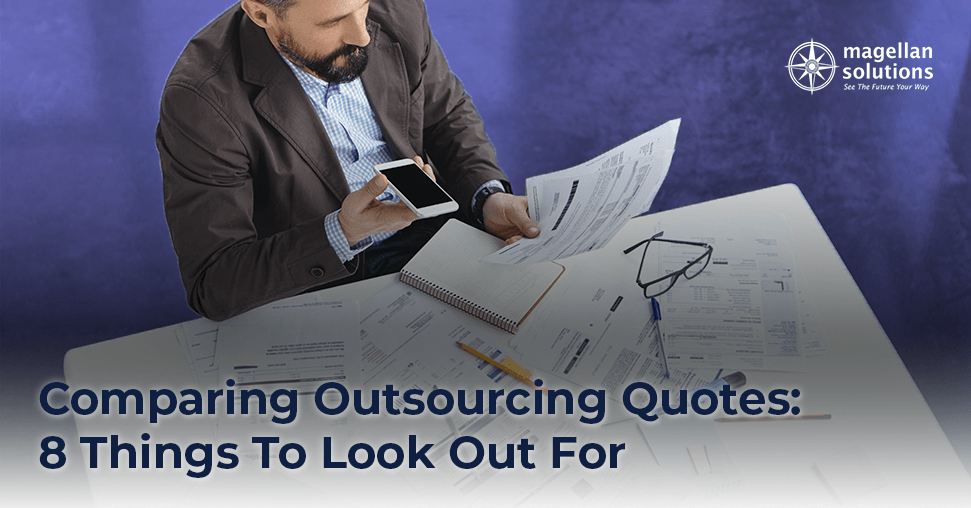 Comparing Outsourcing: 8 Things to Look Out For
Before selecting an outsourcing company, there are a lot of factors to keep an eye out for. The success of an organization depends on how important it is to take these factors into consideration before outsourcing. In order to decide whether outsourcing is the best option for you, it is essential that you understand your needs. You want to be certain that your needs are addressed when evaluating outsourcing quotes. 
You should base your decision on which one offers the finest customer service. A distinguished company will take pride in giving exceptional customer service. 
The final cost will be impacted by any additions or modifications. You should also investigate each company's qualifications and experience. Finally, to identify the finest choice for your needs, make sure the quotation is comparable with other potential outsourcing companies.
These considerations will help you compare outsourcing quotes and find the most appropriate for your business.
In this article, we will discuss why businesses outsource their tasks and what factors you should consider when comparing outsourcing quotations. 
Why do Businesses Outsource?
Many companies outsource because they lack the time, money, or knowledge to handle everything themselves. Through outsourcing, a business may concentrate on what it does best and assign the rest to others. Also, this may be a great approach to gain exposure through partners who may later develop into reliable clients.
Do you want to know more about the benefits of outsourcing and why businesses make it a part of their strategy? We will examine some general outsourcing statistics below.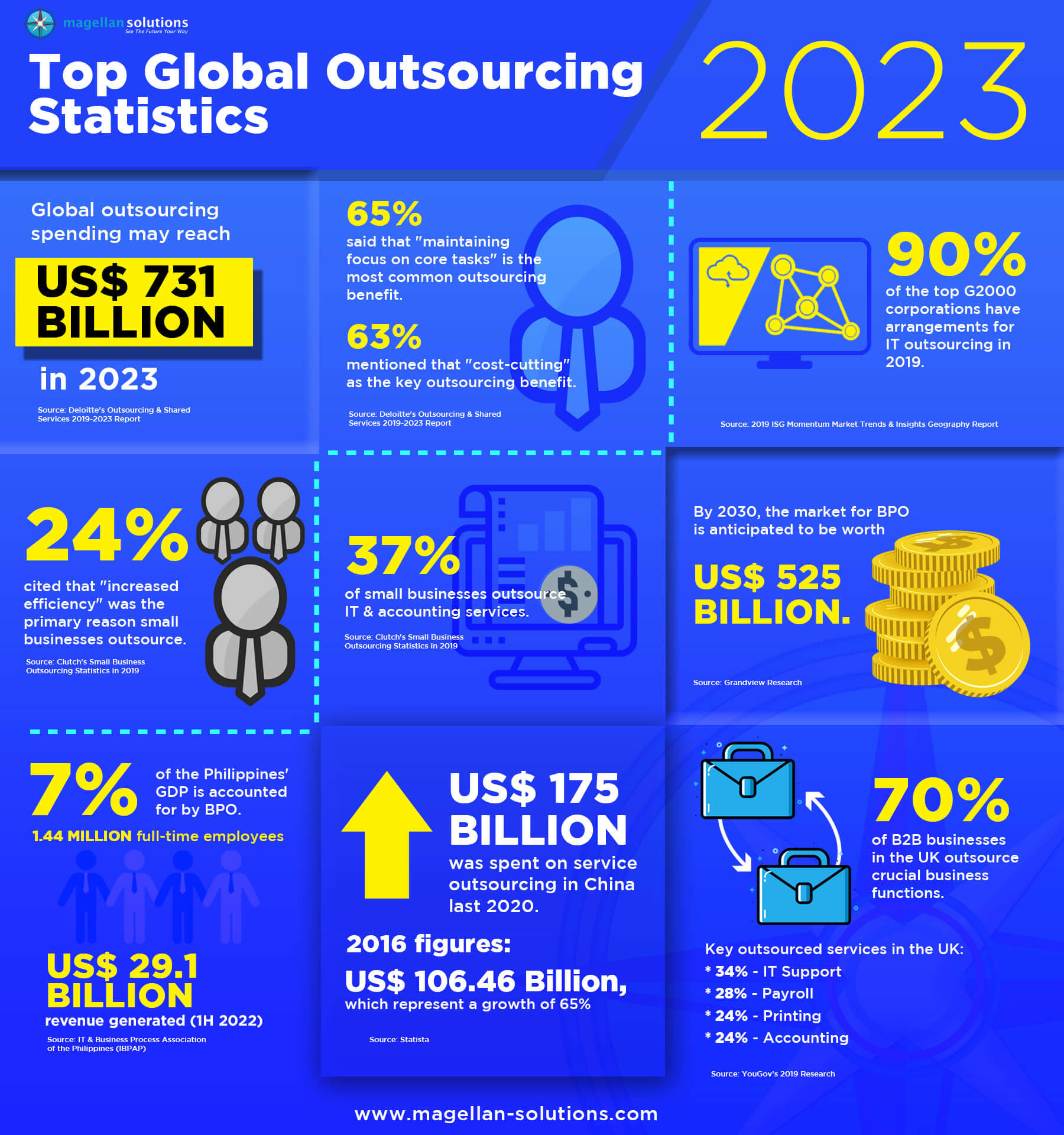 Source: Magellan Solutions
Around US$700 billion was spent by corporations on outsourcing in total in 2022. In 2023, spending on IT outsourcing is projected to increase by 22% to US$519 billion. Spending on business process outsourcing (BPO) is anticipated to reach US$212 billion in 2023, up by 19% from 2019. 
Based on the Deloitte's Global Outsourcing Survey, 65% of the respondents answered that "maintaining focus on core tasks" is the most common benefit of outsourcing. The majority of respondents cited cost-reduction as the primary advantage of outsourcing. 

As stated in the

2019 ISG Momentum® Market Trends & Insights Geography Report

, more than 90% of the top 2000 global corporations have arrangements for IT outsourcing in 2019. Less than three-fifths of the G2000 companies have a contract for business process outsourcing, making it less widely used than IT services.

"Increased efficiency" was cited as the primary reason for outsourcing by 24% of small businesses

surveyed by Clutch

. 
Other key reasons why small businesses outsource: 
Increased pool of knowledge (18%)

Flexibility (16%)  

Focus on core competencies (15%)

37% of small businesses outsource IT and accounting services. 
Other common tasks outsourced by small businesses: 
Digital Marketing (34%)

Development (28%) 

Customer Service (24%)

Human Resources (24%)
By 2030, it is anticipated that the market for business process outsourcing would be worth US$525 billion, as demonstrated in

Grandview Research

. It is predicted that the rate of growth of business process outsourcing will be higher than 9% each year until 2030. Such development is anticipated to be primarily driven by the financial services, IT, and telecommunications sectors.

According to the

IT and Business Process Association of the Philippines (IBPAP)

, 7% of the Philippines' Gross Domestic Product (GDP) is accounted for by business process outsourcing. With nearly 1.44 million full-time employees, the industry generated US$29.1 billion in revenue in just the first half of 2022.
These figures resulted from the growth of e-commerce, financial technology, health care, and technology, as well as the pent-up demand from international clients and increased confidence in work-from-home arrangements.
As reported by

Statista

, around US$175 billion was spent on service outsourcing in China last 2020. Its market value in 2016 was US$106.46 billion, which represents a growth of 65%. 

Based on

YouGov's 2019 Research

, 70% of B2B businesses in the United Kingdom outsource crucial business functions.
Key outsourced services in the UK:
8 Things to Look Out for When Comparing Outsourcing Quotes
Outsourcing has been hailed by many businesses because of its advantages. Among the benefits of outsourcing include: saved time, reduced costs, focus on core tasks, increased productivity, and access to resources and skills.
Defining outsourcing goals is a crucial component for the success of the project. To ensure a successful outsourcing partnership, there are some aspects you need to look at. 
We have listed below some key factors worth noting when choosing an outsourcing partner for your business goals.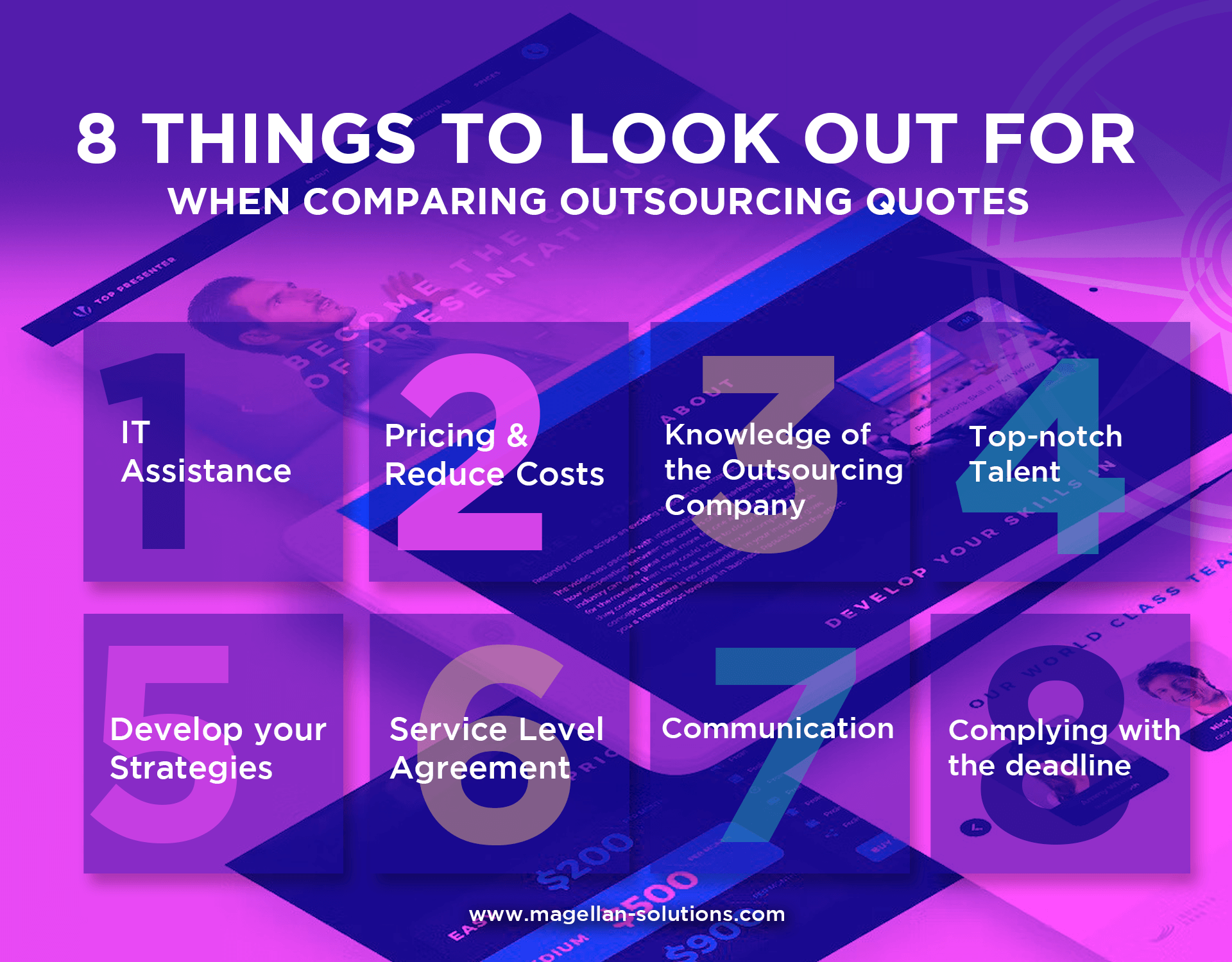 Source: Magellan Solutions
#1) IT ASSISTANCE 
The efficiency of a company also depends on both infrastructure and technology assistance. You must evaluate an outsourcing vendor by finding out who has the tools and capabilities to carry out your company's operations with ease. Make sure that your potential outsourcing provider is using advanced technologies. This enables progress and effective project management.
#2) PRICING & REDUCED COSTS
By lowering operating expenses, outsourcing can make your business more profitable. To assess whether outsourcing is financially beneficial, you should determine whether it will reduce the costs. It is crucial to evaluate the services provided by the outsourcing vendor to guarantee that your business will benefit from it. 
When comparing prices from different outsourcing vendors, it is essential that you go with a reputable company that offers quality services at a reasonable price. Do not just hire an outsourcing vendor that offers the cheapest alternative because there might be a chance that it cannot deliver the results you need for your business. 
#3) KNOWLEDGE OF THE OUTSOURCING COMPANY
A potential outsourcing partner's experience and portfolio should be examined. Together with confirming that your objectives are in line with the vendor's processes and services, you will discover how the outsourcing company runs its operations and stays up with trends.
However, a business that has already proven its expertise in the specific service you need might charge more but will usually produce superior results.
#4) TOP-NOTCH TALENT 
An effective outsourcing company has a team of experts who are qualified to produce optimal results. Choose a BPO company that can supply you with employees whose skills meet your expectations. Managing the projects will be simpler for you because you have a dedicated outsourcing team. 
#5) DEVELOP YOUR STRATEGIES
For a project to be successful, roles and outcomes must be clearly defined. It is crucial to establish the objectives and standards. It will be difficult for you to demonstrate the worth of the hired assistance without them.
Having an established plan for the outsourced staff will prevent miscommunication. As a result, when you outsource services, you may expect to have a high return on investment (ROI).
#6) SERVICE LEVEL AGREEMENT (SLA)
You and your outsourcing partner will enter an SLA that will specify the standards and services you anticipate from your provider. Make sure the terms and conditions of your SLA are precise before you sign it. It is advisable to consult a legal expert for advice if you are unsure of the details of your SLA.
With regards to privacy and safety measures, you would likely benefit from putting a confidentiality clause in your SLA. Establishing rules on confidentiality helps ensure that the contractor does not misuse your company's information.
#7) COMMUNICATION
Communication is a vital component of any relationship. If you are working with an offshore team in a different time zone, be sure that your vendor can respond to concerns or queries right away. To be able to comprehend and meet your business requirements, the vendor must have excellent communication skills.
#8) COMPLYING WITH THE DEADLINE
In addition to cost, timeliness is a crucial consideration. Deadlines that are missed by the vendor may cause significant delays for you. Before you sign a contract, find out the vendor's quality assurance procedures and contingency plans for missed deadlines.
On a Final Note…
Flexible and affordable solutions are provided through outsourcing services. Before choosing, there are a few factors to consider based on the kind of outsourcing services offered. Companies nowadays are cautious with regards to comparing outsourcing quotes. 
The talents, expertise, and reputation of a company in the field should all be considered when comparing outsourcing quotes. Aside from those mentioned above, it's also important to think about the work's location, duration, and volume. Upon noting these factors, you will guarantee that your business is in good hands. 
Magellan Solutions Provides Outstanding Outsourcing Services
Magellan Solutions will give you top-notch outsourcing services because we value your business. We will do everything in our power to earn your satisfaction with our work while still maintaining a reasonable price. 
As a leading provider of call center services for over a decade, we pride ourselves on offering only the highest quality outsourcing services. On top of that, we are an ISO-certified and HIPAA-compliant outsourcing company. We provide a great variety of quality outsourced business solutions. 
Give us a call and let us discuss your business goals.