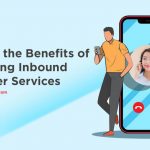 5 Business Benefits of Outsourcing Inbound Call Center Services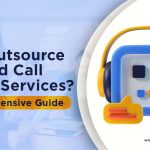 Why Outsource Inbound Call Center Services? A Comprehensive Guide
Fun fact: 71% of clients will suggest a business if they had a good experience with their services?
In today's business environment, impressing customers isn't just a perk. It's becoming a strategic necessity to outperform their competitors. 
However, captivating your customer's interest is not as simple as it might seem. 
One of the ways companies achieve customer service excellence is by providing a responsive, empathetic platform and this is what inbound customer support services aim for.
Let's dig a little deeper as to how this service delivery approach can be a game-changer in customer satisfaction.
How Does Inbound Customer Services Promote Customer Satisfaction?
Inbound customer service isn't just about answering queries and giving assistance to their concerns. It certainly impacts positive customer experience, but it's more than that. Here's what having an inbound customer service can do for your business.
1. Leave a Positive Impression on your Customers
When a customer calls you about a service you offer, it's your chance to assist them tailored to their needs. The more you personalized the interaction, the more they will feel valued. 
Simply addressing them with their first name helps you build rapport. As long as you make them feel heard, it will foster trust even without getting a resolution. 
The best marketing strategy relies on satisfied customers sharing their positive experiences with other people. Remember that when customers give their feedback, it's for their whole experience, so make sure to give importance to after-sales service.
2. Grow Brand Awareness
When a customer availing of your services doesn't receive the necessary information or support they need, chances are they might find other options. You don't want this to happen.
It's easier to attract new customers as there are now marketing strategies, but keeping them loyal is challenging. One way to retain customers is by sharing valuable information about your brand. This can be achieved through inbound customer service. 
Inbound customer services don't only cover answering inquiries, but it allow cross-selling and upselling that encourage sales growth and may further expand your company's reach.
3. Effective Problem Resolution
One of the basis of an excellent customer experience is efficient problem resolution, and this is what inbound support services aim for. Your customers invest their time and efforts in reaching out to you. It's just right to address their concerns timely and proactively.
Prompt and accurate resolution of customers' concerns is attainable by having well-trained agents who possess excellent problem-solving skills and deep product knowledge.
You may encounter customers who have regrets doing business with you with the issues they've encountered, but by showing empathy in resolving their concerns, you may turn those dissatisfied clients into loyal consumers. 
4. Accessibility and Convenience
Having multi-channel support where customers can easily contact you can be your asset and may set you apart from other businesses. Customer loyalty starts when they find it easy to engage with your business, no matter their concern. 
If you offer an inbound support solution, you can provide multiple contact methods through your toll-free number, social media, email, and chat support. You can also create self-service options with an informative website with FAQ pages. 
Accessibility is an ingredient of excellent customer service that is often overlooked. Your customer's inability to locate your contact details may result in missed opportunities and frustration. 
5.Continuous Improvement
Through inbound customer support services, companies are geared towards improving customer experience. Use your customer's complaints, suggestions, and feedback as a basis to identify your company's strengths and areas 
of improvement. 
Your commitment to improving your services is shown when you take action. Your clients will feel that raising a concern will not be a waste of time, increasing their trust in your brand.
Another thing, with inbound customer service, actual customer satisfaction ratings are measured through various metrics such as Net Promoter Score (NPS), Customer Satisfaction Score (CSAT), Customer Effort Score (CES), etc. 
These data will help you further analyze customer preferences and will guide you in mapping your marketing strategies and visualizing what you can still offer to your target market.
Magellan-Solutions: Your Platform to An Effective Inbound Customer Support Services 
Do you need assistance in managing and improving your customer interaction? Look no further!
Magellan-Solutions has been one of the leading providers of inbound customer support services for over 17 years—a go-to partner of small and medium businesses in maximizing customer satisfaction.
So, if you're experiencing higher call volumes and don't have the resources to accommodate them all, it's a sign to call us today. We'll show you the inbound call center benefits you can gain from us to improve customer engagement to have happy and loyal customers.