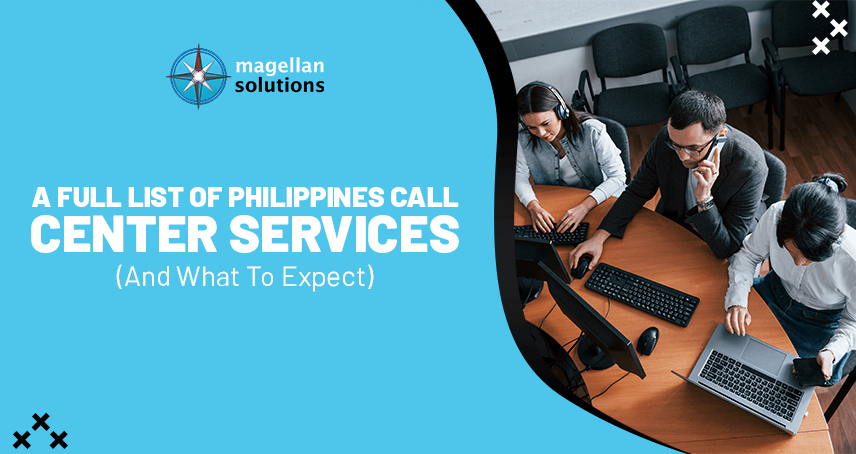 What are the different
Philippines call center services
and how much do they cost?
In today's digitally disrupted market, traditional revenue sources are becoming more elusive. Furthermore, sustainable growth requires a new operating model. One that's anchored around the customer and driven by intelligence to deliver exceptional experiences and outcomes.
There are different services provided by call center.
What do you get when you outsource inbound call center services?
Inbound Calling
24/7 Answering Service

A 24-hour

call center services outsourcing

provides you the same quality that customers expect on a regular shift. We are here to assist you even in your after-hours telephone service.

Nearly all their procedures are covered by insurance and the average cost is about

$100-$150

per patient/call.

Virtual Receptionist Service
Usual duties of a virtual receptionist can range from:

• Taking messages and directing callers to the right people

• Intercepting unwanted sales calls

• Providing important information to customers

• Managing call center services inbound sales inquiries.

pricing

:

• No calls – $20/month

• With calls – $2.99 per call

Phone Answering Service

• We can get you skilled and top-quality agents that have call center experience.

• We provide call center services to improve your CRM and CSAT score.

• We can ensure that the quality of work never decreases with our comprehensive, in-house quality assurance team.

Typical call plan pricing range

:

• 100-150 minutes – $150 and $300

• 200-250 minutes – $250 and $500/month

• 500 minutes – $525 and $1,050/month

Customer Support Outsourcing

Our

call center services inbound

assist your customers in making cost-effective and correct use of a product. It includes assistance in planning, installation, training, troubleshooting, maintenance, upgrading, and disposal of a product.

Pricing ranges from as low as

$4-5

per hour up to a more typical

$10-15

per hour for those with moderate experience.

Common customer support call centers role and their rate:

• General Customer Service $10-$25

• Clerical/Secretarial Duties $10-$30

• Sales Assistant $15-$65

• Dedicated Customer Support $10-$22

Outsourced Technical Support

Security is one of the main reasons why we are the best tech support provider for SMEs. Furthermore, our overall operations heavily rely on 24/7 computer tech support. Our facilities and data privacy protocol have

ISO and HIPAA

which is the benchmark in security standards.

Average cost

$70-80

per hour.

Omnichannel Contact Center

You can expect an excellent outcome from the

best call center services

when you open up your

business on different platforms

. Saying that you can benefit "greatly" from outsourcing on multichannel contact centers is an understatement. When you hire multichannel contact solutions, you reap benefits equivalent to more than quadruple the amount you paid.

•

Phone support:

$8-$14 per agent

• Chat: $15-$60 per month

• Social media: $399-$5,000+ per month

• Email: $2.50-$5 per contract

Multilingual Call Center Services

We are one of the best

Philippine call center services

for SMEs. As we can provide call answering services in your customer's native language. Our call center translation services give a lasting impression of easy and comfortable interaction between your international customers and your business.

Rates start at

$10

per hour
Aside from being call center service providers, we also help with other BPO services such as:
Outbound Calling
Telemarketing Services

Telemarketing is the

direct marketing of goods or services to potential customers

over the telephone, Internet, or fax. It may also be referred to as "telesales" or "inside sales."

Average price between

$12-$20

per hour.

Lead Generation Services

Marketing process of stimulating and capturing interest in a product or service for the purpose of developing a sales pipeline, allows companies to nurture targets until they're ready to buy. Applicable for any

call center service provider

with

B2B & B2C

markets.

Average cost between

$35-$60

per lead.

Appointment Setting Services

Appointment setters

call leads, qualify them as prospective customers

and decision-makers. Schedules then set an appointment for them with a salesperson or representative.

The cost of appointment setting services is either billed between

$0.82 – $1.13 per minute

or by the appointment. Billing per each appointment set can range from

$9 – $25 depending on the industry

.

Cold Calling Services

Contacting individuals who have not previously expressed interest in the offered products or services. Cold calling typically refers to

solicitation

by phone or telemarketing, but can also involve in-person visits, such as with door-to-door salespeople.

Average price between

$12-$20

per hour.

Outsource Telesales

It is quite hard to make clients listen. Let alone

convince them to make a purchase

or avail of your service. Our telesales agents are persuasive and persistent yet polite. All calls with your prospective clients are handled in a professional and pleasant manner. Aggressive and crass is not in our telecalling marketing vocabulary.

Ranging to

$28-$40

per hour.

Market Research Services

The process of

evaluating

the feasibility of a new product or service, through research conducted directly with potential consumers. This method allows organizations or businesses to discover their target market, collect and document opinions and make informed decisions.

Average cost:

$15,000 – $35,000

.

Survey Processing Services
Survey processing stages:

• Survey Design

• Survey Setup

• Survey Reporting

• Survey Data Analysis

•

E-mail / online surveys

: $3,000-$5,000

• Phone surveys: $5,000-$15,000 with an average cost of $40 per interview/surveyed.

• Mail: Costs per response is between $20-$40
Moreover, we are contact center service providers with different BPO services. We also list down industries that may find our BPO services advantageous for their firms.
Account Receivable Services for our Insurance BPO Services
Here at Magellan Solutions, we create invoices, generate statements, manage and reconcile customer accounts. We provide support for your business by freeing you from the tedious processes involved to generate such financial documents and information. 
Account Payable Services for our eCommerce Outsourcing Service
Amounts due to vendors or suppliers for goods or services received that have not yet been paid for. The sum of all outstanding amounts owed to vendors is shown as the accounts payable balance on the company's balance sheet. 
Back Office Services for our Travel Outsourcing Services
A portion of a call center services outsourcing company is made up of administration and support personnel who are not client-facing. Include functions such as Settlements 
Clearances

Record maintenance

Regulatory compliance

Accounting

IT services 
Call Center Outsourcing Services for our Telecom BPO Services
Our call center support services can ensure your customer's calls are handled in a professional manner. We are the contact center outsourcing provider for services such as customer support, answering services, technical support, and order taking to name a few.
Certificate Intelligent Document Processing for our Legal Outsourcing Services
Intelligent Document Processing outsourcing (IDP) (IDP) or intelligent capture, is a set of technologies. IDP is the next generation of automation, able to capture, extract, and process data from a variety of document formats. It uses AI technologies to classify, categorize, and extract relevant information, and validate the extracted data.
Community Moderation Services for our eServices Call Center
Online platform screen and monitor user-generated content based on platform-specific rules and guidelines to determine if the content should be published on the online platform, or not. In other words, when content is submitted by a user to a website, that piece of content will go through a screening process. It is to make sure that the content upholds the regulations of the website, is not illegal, inappropriate, or harassing, etc.
Data Management Services for our Education Process Outsourcing
Even as a call centre services company, tasks may still involve collecting, keeping, and using data securely, efficiently, and cost-effectively. Data management services in an organization involve a broad range of tasks, policies, procedures, and practices.
Debt Collection Services for our Retail Outsourcing Services
Process of pursuing payments of debts owed by individuals or businesses. An organization that specializes in debt collection is known as a collection agency or debt collector outsourcing.
Loan Processing Call Center for our BPO Real Estate Services
The loan processing BPO greatly reduced the loan duration process by eliminating steps that software can do. Accuracy is almost 100% because the computer will analyze all the data you need to process. Besides that, our mortgage resource specialist undergoes training to prepare them for the loan processing industry.
Outsource Form Processing Services for our 3D Rendering Services
We incorporate check payment process automation using top-of-the-line technology and tools. Furthermore, professional check processing experts are adept at this particular service and can deliver it all at a moment's notice. 
Recruitment Process Outsourcing for our HR Outsourcing Services 
Recruitment Process Outsourcing (RPO) /span> is when a company transfers all or part of its permanent recruitment to an external provider. An RPO provider can act as an extension of a company's HR or Resourcing function, sitting on-site with the client providing a holistic hiring solution.
Staff Leasing Services for our Healthcare BPO Support Services
Staff Leasing is a business delivery model between a client and a provider. Magellan Solutions take care of recruiting staff for a client's particular needs, along with providing equipment and overseeing operations for the client. Furthermore, we ensure that employee leasing will be delivering the quality of work that is expected of them from the client.
Virtual Assistant Services for our Mobile App Customer Support
VA outsourcing from the best outsourced contact center can accommodate large volumes of calls for SMEs globally. Furthermore, we ensure customer satisfaction by letting a highly qualified virtual assistant phone answering service be the front liner for your business. We also provide better real estate virtual assistant services without the cost of hiring and training new employees. Our virtual assistant services rates are perfect to adapt to the need for the growth of start-ups and SMEs.
What
US based call center
may not offer with a cost-saving solution
As one of the top customer support call centers in the country, we aim to synthesize the optimal blend of people, processes, and technology to help clients.  We rewire your organization with a new, more connected operating model. One that creates hyper-relevant customer experiences, heightens collaboration among both internal groups and external partners to drive successful and sustainable growth. 
Choose the best Philippines call center services by filling up our form below. We'll get back to you ASAP with the best services we offer!
TALK TO US!
Contact us today for more information.