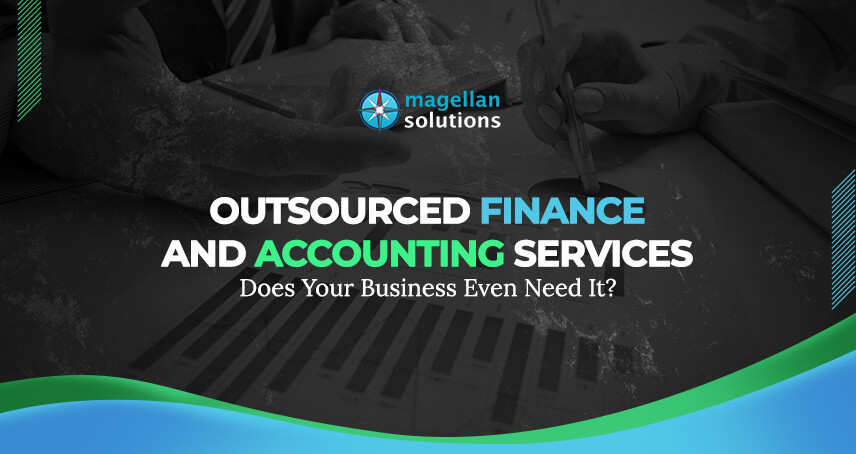 Why Your Business Needs Outsourced Finance and Accounting Services
The Problem with Accounting AI and the Role of BPOs
Over 70% of leaders in finance and accounting, advisory, and tax services think that Artificial Intelligence (AI) will affect data-driven insights, according to the EY 2020 Global Tax and Transformation survey.
AI is widely used in businesses. Accountants don't need as much time on tedious, repetitive, and ultimately straightforward time-consuming tasks. The growing demand for more accurate and efficient accounting in private and public corporations is driving up demand for AI in accounting.
According to the Acumen Research and Consulting report, the AI in accounting market size is anticipated to reach US$ 53,893 Million by 2030, with only US$ 1,511 Million allotted for 2021. The need for AI specialists and accountants is growing. AI will become more valuable in accounting.
Are you going to follow that trend?
WHAT IS ARTIFICIAL INTELLIGENCE, AND HOW DOES WORK?
AI or Artificial Intelligence is imitating human intelligence in devices that need to behave and think like humans. It is widely used for projects that create systems with unique intellectualized capacities. Such as the power to reason, find meaning, make generalizations, or learn from past mistakes.
AI aims to improve learning, reasoning, and perception through computers. It is currently applied in a variety various from healthcare to finance.
AI is based on the notion that human intelligence can be described in suso a computer that can easily duplicate and carry out tasks, no matter how straightforward or complex. 
Not every human activity can be performed by a robot. In reality, using a bot may complete a large portion of the high-volume task fast and accurately. A bot cannot learn good judgment or critical thinking, though. That is why tedious tasks such as content moderation are not recommended for AI automation yet.
HOW IS AI APPLIED NOWADAYS? 
AI is currently used widely in a variety of applications. Popular AI implementations include recommendation algorithms that suggest what you might like next and chatbots that can be found on websites.
AI is utilized for various purposes, including language processing, autonomous cars, and gaming. AI automates production processes, reduces variant cognitive labor, such as finance and accounting, and makes weather and economy forecasts.
3 BENEFITS OF AI IN ACCOUNTING
Here are some benefits of automation in the accounting industry. 
MANAGING THE CALCULATION OF TAXES AND EXPENSES
Top AI firms on three algorithms that classify sales into the appropriate jurisdiction for managing tax calculations and automating tax collection.
Additionally, their software can assist you with employee cost reports and advise you on the best course of action based on the nature and scope of each expense.
ACCOUNTS PROCESSING
Because digital workflows are integrated into the algorithms, AI-powered invoice automation management systems can speed up the processing of invoices. They identify the correct accounting codes for each invoice and immediately apply them.
QUARTERLY OR MONTHLY CLOSING PROCEDURE
The business has more time to decide what to do with the numbers the quicker you can obtain accurate data. Algorithms are able and reconcile data from a variety of sources.
10 HURDLES ACCOUNTING AI FACE AND HOW BPO CAN SOLVE THEM
As more businesses implement AI in finance and accounting, they encounter a set of c. We've listed the hurdles accounting AI overlooks below and how business process outsourcing (BPO) prevents them.  
#1) TRUST & CONFIDENCE
A crucial component of trustworthiness in AI accounting is the confidence that a system's decision-making process will, nonetheless, act in a way that supports human interests even if it cannot be understood.
The majority of the time, people do not trust AI's judgment. This is the case because most individuals are unaware of how advanced algorithms operate or how they draw conclusions.
Today's most excellent BPO analytics monitor operations in real-time and immediately alert users to potential issues. 
To guarantee efficiency, precision, and accuracy in data, BPO companies in the Philippines utilize cloud-based accounting software.
#2) PRIVACY AND DATA PROTECTION
Another significant issue with AI accounting was privacy and data protection. One of the most prominent causes of ethical worries is privacy. The usage ofAI'srsonal information by AI is adv to a new level of strength and speed that may not be transparent to users or easily understandable as the technology develops and determines the sources of its data independently.
Since confidentiality is crucial in the BPO industry, BPO firms are subject to data protection laws and rules. Compliance with strict security measures ensures businesses that their data and sensitive information are protected and safe from threats. 
#3) TRANSPARENCY IN FINANCIAL REPORTS
Because it is regulated by SEC standards, management of financial disclosures continues to pose a problem for businesses of all sizes.
Neural networks, the foundation of AI accounting, are frequently called "black boxes" because they are built using proprietary code and frameworks. They are occasionally implemented in discrete, opaque hardware devices, which software companies are reluctant to disclose to the general public.
Businesses outsourcing their accounting tasks in the Philippines can guarantee seamless transactions and compliance. BPO companies in the Philippines offer accounting outsourcing services; these compliance standards are properly documented, recorded, and reported for audits.
#4) CASH FLOW
Managing your cash flow takes too much time and effort; if not updated, this can pose a challenge in forecasting your cash flow. 
You can always outsource your finance and accounting tasks if you lack the necessary accounting expertise and time, and you can also talk about ways to increase your small business's cash flow. 
You can keep track of the money going in and out of your organization with the help of outsourcing companies.
#5) FEAR OF JOB LOSS
The rise of AI has heightened the Fear of job loss as machines are expected to replace human workers in many fields. The use of AI in finance and accounting is subject to risk. As employees maneuver client IT systems to conduct audits, jobs have become more complicated and specialized. Technology has increased employment.
Despite the pandemic, BPO companies in the Philippines are helping ease the nation's unemployment rate. Since BPO companies offer various outsourcing services, there is an endless selection of employees. 
#6) EMPLOYEE RETEResignations and the lack of accountants increase risks in Financial Reportingntants. Shortage in staff means an unrealistic workload and burnout that accounting professionals are scared of.
This is no longer an issue for businesses that outsource their accounting tasks in the Philippines because outsourcing companies make sure to retain employees for your company. 
#7) FEAR OF BIASED JUDGMENT
Because CFOs doubt the recommendations provided by the "black box," AI isn't widely used in finance and accounting. The concern is that risk analysis produced by AI will result in erroneous positives or negatives. Sometimes, AI takes out critical judgments like arising problems or risks from the process. 
Running AI pilots simultaneously with standard techniques and comparing notes is crucial. With the help of BPO providers, biased judgments are prevented. 
#8) TAX LAW MODIFICATIONS
AI is utilized to anticipate collections and conduct audits as well. In the case selection stage, it is used to identify fraud tendencies and avoid breaches through risk analysis.
With the new administration in the Philippines, changes in tax laws and regulations are inevitable. This affects accountants and tax analysts since they must incorporate the new tax provisions and revisions. 
Regarding these issues, outsourcing tax services and accounting tasks in the Philippines is the ideal option. Aside from having skilled staff with these tax rules, outsourced personnel can also aid in digitizing accurate and accessible data using accounting software. This ensures faster delivery and will help your internal team manage a challenging tax year.
#9) UNREALISTIC EXPECTATIONS
There is no magic solution for accounting AI. Sometimes, if a process is in place but only works correctly 50% of the time, the person on the other end may have such a low level of faith in it that it is not even worthwhile to use AI. It is constantly required to be corrected.
Employees utilizing accounting AI as a preliminary tool can better tolerate errors while the system is being trained. 
#10) UPSKILLING
No matter how we feel about it, automation affects employees and is here to stay. The company and your staff will benefit from improving your skills in using technology.
While your outsourcing company concentrates on equipping your outsourced employees, without a doubt, your top objective should be upskilling your internal employees. With this, you can assume talent with enhanced abilities.
THE FUTURE OF ACCOUNTING AND AI
AI is increasingly prevalent daily, particularly in the accounting sector. It has the enormous potential to replace manual labor and free up human beings to pursue innovation and creativity.
AI offers accountants numerous options to increase their productivity, provide more insight, and benefit businesses more.
In the longer run, when machines progressively replace human decision-making processes, AI creates prospects for even more drastic change for the future of accounting. 
Another critical point is that AI is still developing, but it already gives well-trained accountants the tools they need to add more value to their clients and employers.
CONCLUSION
There is a call for accounting educators to modify their thinking and build the skills and competencies related to innovative technologies. AI is already impacting and will continue influencing the accountant's function. 
Accounting is a tedious job, and some people even call it boring. But spending numerous hours crunching figures is not a simple task. Undoubtedly, intelligence will have a significant impact on the future of accounting. Implementing any new technology is a powerful transformation that affects jobs in the industry.
Applying AI to financial data and processes can be successful if you set reasonable expectations and use the same quality control procedures that workers must adhere to.
MAGELLAN SOLUTIONS CAN PROVIDE YOU TOP-NOTCH OUTSOURCING SERVICES AND ACCOUNTING SOFTWARE SOLUTIONS
Magellan Solution makes the lives of accountants easier by utilizing automation.
Furthermore, we have all the comprehensive capabilities you'd want from a top-tier accounting system at a fair price. With 18 years of expertise in the field, we take great pride in offering only the best call center services. On top of that, we are an ISO-certified and HIPAA-compliant outsourcing company.
Give us a call, and we'll discuss your business needs.
TALK TO US!
Contact us today for more information.