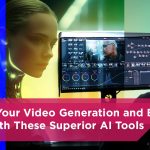 Elevate Your Video Generation and Editing Game with These Superior AI Tools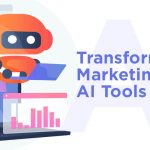 Transforming Marketing with AI Tools
Sales optimization is essential for businesses to flourish in a competitive market. It goes beyond attaining targets. Sales optimization enhances customer experiences, fosters brand loyalty, and drives long-term success. The following can make all the difference in achieving sales targets:
Simplifying sales processes

Improving customer engagements

Making data-driven decisions 
Artificial intelligence (AI) tools are crucial to modernizing sales processes and strategies. With AI, businesses can harness data-driven insights to understand the following:
Customer behavior

Preferences

Buying patterns
AI-driven lead generation enables sales teams to focus on the following: 
High-potential opportunities

Boosting conversion rates 

Sales efficiency
AI also enables individualized customer interactions by: 
Making product recommendations

Boosting brand loyalty
This article covers AI tools for sales and gives companies a competitive edge. We provide readers with the knowledge they need to enhance their sales processes. Businesses can succeed by exploring these AI solutions' crucial aspects and capabilities.
Benefits of Using AI Tools in Sales Optimization
AI-Driven Lead Generation and Prospect Targeting
By analyzing vast amounts of data, AI tools for sales transform the lead generation process, allowing businesses to identify potential customers. AI relies on sophisticated algorithms to predict purchasing behavior and categorize prospects based on their actions. This will enable sales teams to focus on the most promising leads, leading to increased conversion rates and sales productivity. By streamlining their sales process and delivering personalized messages, businesses can ultimately achieve revenue growth.
Personalized Customer Interactions and Tailored Recommendations
Companies can create individualized customer interactions that improve the entire buying experience. By analyzing customer data, AI tools for sales can understand the following:
Individual preferences

Previous interactions

Purchase history
It allows sales teams to tailor their approach. AI makes sure that clients receive information that aligns with their preferences. Customers will likely return and recommend you to others. 
Data-Driven Sales Forecasting and Predictive Analytics 
Businesses can make data-driven decisions thanks to AI-driven sales forecasting and predictive analytics. AI tools for sales can predict sales performance by analyzing historical data and market trends. It empowers sales teams to do the following:
Allocate resources effectively

Identify potential challenges

Seize growth opportunities
Businesses can proactively change their plans when they have access to real-time insights. It can help them stay ahead of market dynamics while maintaining a competitive edge.
Outstanding AI Tools for Sales
#1) Twain
Twain can analyze data effectively. It gives sales teams immediate knowledge of customer preferences and behavior. By analyzing customer interactions and purchase history, Twain can do the following: 
Enables sales reps to identify high-potential leads

Tailor their approach for personalized engagement
Twain's intelligent lead scoring and intelligent ranking streamline the sales process. It helps sales reps focus on the best opportunities. It boosts sales efficiency and leads to higher conversion rates.
Natural language processing (NLP) and sentiment analysis make Twain unique. Twain enables sales teams to have a deeper comprehension of client sentiments. It allows them to address issues and establish stronger relationships with customers. This strategy affects sales performance and improves client satisfaction.
Its capability to customize content based on customer interests ensures that sales reps provide relevant information. It connects with their needs and encourages engagement.
#2) Regie.ai
Leverages AI-driven chatbots to engage prospects 24/7

Generates leads

Answers queries promptly

Round-the-clock availability 

Automates appointment scheduling

Saves valuable time for sales reps

Streamlines the sales process
It empowers sales teams to capture information anytime, reducing response times and enhancing customer satisfaction. 
Regie.ai nurtures leads throughout the sales funnel through personalized interactions and content recommendations. It builds trust and rapport with potential customers. This ongoing interaction improves the conversion of leads into customers, positively impacting sales performance and revenue generation.
#3) MarbleFlows
MarbleFlows' user-friendly workflow management system enables seamless automation of the sales process. MarbleFlows streamlines the sales process so sales teams can concentrate on high-value tasks. Its integration with CRM systems ensures:
Data consistency

Efficient lead tracking

Optimizing sales efficiency and productivity
Businesses can make wise decisions and deploy resources wisely. Sales teams have the tools to stay competitive and quickly adapt to changes in the market. It promotes enhanced sales performance and revenue increase.
As a sales team, you can tailor workflows to align with your unique sales procedures. This ensures a personalized approach that aligns with your overall goals. With rule-based automation, you can create customized client interactions based on specific triggers. This allows sales representatives to send targeted offers and messages that enhance customer engagement and increase conversion rates.
#4) Kustome
The consumer data platform from Kustome combines customer data from many sources.. These comprehensive datasets do the following:
Empower sales teams to understand their customers better

Engage in more relevant and effective conversations
Kustome streamlines the sales process by personalizing interactions based on customer data. Sales representatives can close deals faster and develop deeper relationships.
The distinguishing feature of Kustome is its AI-driven consumer segmentation and predictive analytics. Sales teams can target particular consumer segments with specialized offers and communications. Additionally, its predictive analytics pinpoint possible upsell possibilities and churn risks. It empowers sales representatives to:
Anticipate customer wants

Increase customer retention

Generate additional money
Kustome improves cross-selling and upselling opportunities, raising revenue and average order values. Sales teams can target particular consumer segments with specialized offers and communications churning.
#5) Outplay
Outplay is a tool that simplifies outbound sales activities. It supports sales engagement by offering customized email sequences and LinkedIn automation as part of its multi-channel outreach features. With Outplay, sales representatives can effectively communicate with prospects using various communication channels. The app optimizes sales reps' time by:
Automating follow-ups and scheduling tasks

Increasing productivity

Improving overall sales efficiency
Outplay provides a distinct advantage through its real-time analytics and email campaign optimization. Outplay enhances prospect engagement and improves email outreach efficacy by suggesting optimal email times. 
Furthermore, you can gain valuable insights into how potential clients engage with your outreach efforts through real-time analytics. This enables sales representatives to nurture leads and effectively tailor their approach to each individual.
Stay Ahead in the Competitive Market with AI-Driven Sales
There is no denying AI's power in sales optimization. Businesses can target high-potential prospects and personalize customer experiences. Sales teams can do these things by using AI's data analytics and predictive capabilities:
Identify growth possibilities

Make wise decisions

Fine-tune their plans for outstanding sales performance 
Emphasize that AI-driven sales solutions have transformed the traditional sales landscape. It offers a competitive advantage that drives revenue growth and brand success.
Staying ahead of the competition is crucial for firms seeking long-term success. The competitive landscape demands continuous innovation and efficiency. Businesses may position themselves on top and thrive in a dynamic market. It enables proactive market adaptation, data-driven decision-making, and client engagement.
Using the potential of AI is essential for gaining a competitive edge. By embracing AI-driven sales tools, businesses can do the following: 
Optimize their sales approach

Nurture leads effectively

Provide an exceptional customer experience
Optimize Your Sales with AI: Achieve Unstoppable Growth
Embrace the power of AI in sales and unlock opportunities with Magellan Solutions. You can streamline your sales processes and target high-potential leads. We will help you deliver personalized customer experiences that drive higher conversions. Take advantage of the groundbreaking potential of AI for sales optimization.
Our expertise and experience in outsourcing make us an ideal partner for your business. Work with Magellan Solutions to streamline your business and deliver excellent results. 
For two decades, we have been a top-tier provider of call center services. Additionally, we are an ISO-certified and HIPAA-compliant company offering an extensive range of high-quality outsourcing services. Reach out and discuss how we can help you achieve your business objectives.
Contact us and start your journey toward business growth and success. Optimize your operations like never before.