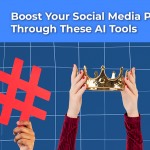 Boost Your Social Media Presence Through These AI Tools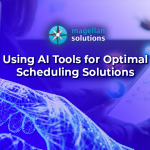 Using AI Tools for Optimal Scheduling Solutions
Artificial Intelligence (AI) is more than just a buzzword in today's digital age. Instead, it's a powerhouse tool transforming the service provision game. 
True to this, over half of marketing leaders already harness AI's potential. Another 27% are gearing up to do so within the next two years.
Why the AI frenzy? Because AI can do what humans can't. It personalizes customer journeys, fine-tunes strategies, and unearths insights hidden within data mountains. 
How efficient, you ask? 90% of MIT technology review respondents believe AI improves customer satisfaction—meanwhile, 72% swear by its ability to boost loyalty.
Yet here's the real kicker: AI promises an 11.4% revenue surge via customer engagement. You heard that right: AI can help you grow your profit. 
What specific AI are we talking about? It's none other than Chatbots! 
Don't know any chatbots to help with your customer engagement campaign? We've got your back. Here are some of the best AI chatbots to help with customer engagement and business profit!
1. ChatGPT
OpenAI's sophisticated language model drives the ChatGPT AI chatbot. It enables interactions that are similar to those of humans. 
ChatGPT offers a variety of applications, from customer assistance to content creation. It can comprehend and react to a wide range of user inputs. Moreover, it increases productivity and user engagement.
Through its API, ChatGPT boasts easy platform connectivity. Websites, programs, and other digital interfaces can all use it. Because of its adaptability, enterprises can easily integrate ChatGPT into their current systems.
2. Google BARD 
Google BARD produces human-like responses in conversational instances. BARD is exceptional at handling difficult conversations and giving detailed answers. By using binary autoregressive decoding, it creates smooth and clear conversations.
Google BARD would function well within the Google environment. It integrates seamlessly with platforms like Google Chat, Google Assistant, and more. 
3. ChatSonic
ChatSonic enables companies to design unique AI-powered chatbots. It has an easy-to-use interface for creating chatbot conversations. These conversations can be used on websites, mobile apps, social media, and messaging apps. This means businesses can talk to their customers in a friendly and personal way, no matter where the customers are.
Finally, its adaptability to many mediums allows businesses to interact with customers wherever they are. It provides reliable and personalized interactions.
4. Jasper
Jasper is a smart tool that makes customers happier and helps businesses. It chats with customers and gives them answers that fit their needs.
Here's what Jasper is good at:
Knowing What Customers Want:

Jasper can quickly figure out what customers are asking for and give them the correct answers.

Understanding How Customers Feel:

Jasper can tell if customers are happy or upset, so it can respond in a way that matches their feelings.

Handling Complicated Conversations:

Jasper is for more than just simple chats. It can handle tricky conversations with lots of twists and turns.
What's cool is that Jasper works well with the tools your business already uses, like the ones for helping customers and keeping track of relationships. This means you can easily add Jasper to your customer service team and improve things for your customers.
5. Bing AI
Microsoft's AI-powered chatbot, Bing AI, helps people have exciting and natural conversations. It makes use of Microsoft's language-understanding tools to deliver accurate replies. It performs tasks like answering questions, providing recommendations, and assisting with various inquiries.
Microsoft platforms and services, such as Bing Search and Microsoft Teams, can incorporate Bing AI. This allows businesses to improve user interactions within Microsoft applications.
6. YouChat
Businesses can use the YouChat chatbot platform to create talking computer helpers. It's excellent for many jobs because it can chat using text or speak out loud.
YouChat can work with different places.  For one, you can put YouChat on your website so it can chat with people who visit your site. People can type or talk to get help from YouChat.
If you use messaging apps to talk to customers, YouChat can join in. It talks like a person, making it easy to help customers on these apps.
YouChat can also talk through voice devices like smart speakers. Customers can ask questions or give commands, and YouChat will talk back.
By working in these different places, YouChat makes it easy for businesses to talk to customers wherever they are. This makes customers happy and keeps them coming back.
How The Best AI Chatbots Elevate Customer Engagement
First, these AI tools such as chatbots take customer interactions to a new level of personalization. They monitor user behavior and preferences using advanced algorithms and machine learning. It creates personalized replies that speak to each person individually. 
Besides improving client satisfaction, this customization fosters stronger ties. Organizations can scale individualized interactions with a large client base.
Seamless Multichannel Support
Today's customer journey involves a variety of channels, including email and social media. The top chatbot AI tools interact effortlessly between these platforms. No matter where customers connect, it delivers uniform and coherent interactions. 
Such a feature improves accessibility. Customers can contact you on their preferred platform, and you'll respond consistently. These chatbots allow for a consistent customer experience that makes a good impression.
24/7 Availability and Instant Responses
Customers never have to wait for support because of AI chatbots' 24/7 availability. These chatbots respond promptly to questions, regardless of time zones. This means that clients receive the data they require when they need it. This accessibility increases customer satisfaction and boosts operational effectiveness. 
Data-Driven Insights and Analytics
The AI chatbots will gather and analyze interactions to provide the following:
Valuable insights into customer preferences

Pain points

Emerging trends
These data-driven analytics allow companies to make wise decisions and anticipate customer needs. Businesses can maximize their efforts at client interaction to maintain a competitive edge.
Transform Your Customer Engagement with Magellan Solutions Today! 
AI chatbots are unfolding a practical and customer-focused future in various customer-centric enterprises. Businesses are leading a revolutionary movement that prioritizes flawless encounters.
Partner with Magellan Solutions and take your customer engagement strategy to new heights. Our expertly designed AI-powered chatbots provide more than just programmed responses. It offers distinctive, human-like experiences that connect with your customers. 
Our expertise and experience in outsourcing make us an ideal partner for your business. Work with Magellan Solutions to streamline your business and deliver excellent results. 
For two decades, we have been a top-tier provider of call center services. Additionally, we are an ISO-certified and HIPAA-compliant company offering an extensive range of high-quality outsourcing services. 
Reach out to us today. Let's discuss how we can help you achieve your business objectives. Together, let's start your journey toward business growth and success.