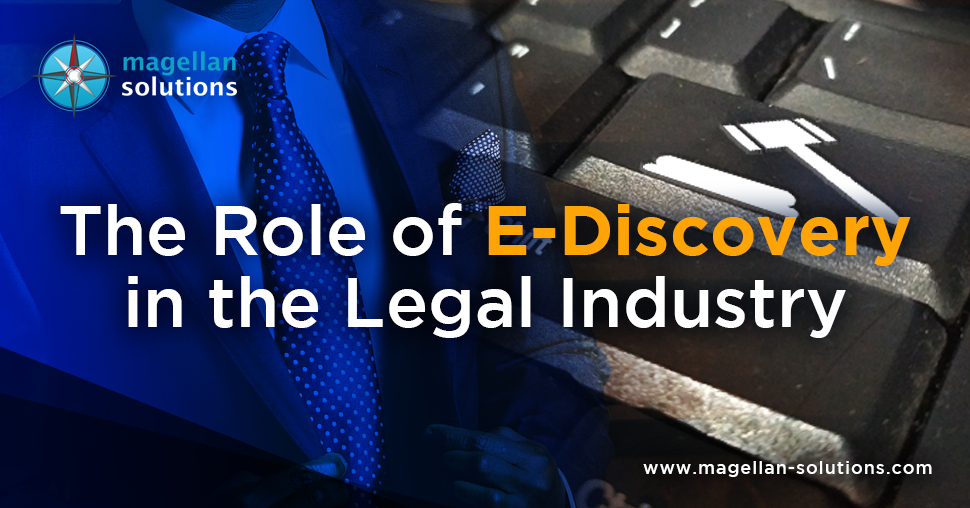 Can you think of an industry that technology doesn't affect? It's hard, isn't it? 
Nowadays, almost every industry and profession benefits from some form of a process improvement. The legal industry isn't shy of joining this bandwagon — and for all the right reasons.
Law and technology often meet in televised court proceedings and electronic court reports. But, the most crucial role of tech in law is in the form of e-discovery. Never heard of it? Don't worry, because we'll explain that to you here.
What is e-discovery?
Have you ever researched something on the Internet? Well, e-discovery is just that. 
E-discovery — as you might have guessed — is short for electronic discovery. Just like how email is short for electronic mail.
As the name suggests, it is the process of researching things on the Internet. It is often done for law-related purposes, as preparation for a court trial.
The output of e-discovery is called electronically stored information (ESI). In turn, relevant ESI is used as evidence in court or investigations.
What is legal research outsourcing?
E-discovery is a form of legal research. As such, legal research outsourcing is one way to complete the research process. Here, you hire someone else to gather legal information for your case. This service is usually outsourced to freelancers or outsourcing companies.
With legal research outsourcing, you can focus on building your case. And your outsourced team would have the right legal research tools. This means that they can safely handle ESI, electronic documents, and electronic records.
How does e-discovery compare with traditional research?
Traditional research and e-discovery is like libraries and the Internet. They can coexist, but one is more efficient. E-discovery lets you gather and secure information without paperwork. Meanwhile, in traditional research, you need to read heaps of books and documents.
The basic e-discovery steps:
Type the subject or keywords in a search engine or social media site

Add filters (e.g. location, publication date range, languages, etc.)

Skim through the results for any matches

Click on the matched results, and see if they contain relevant information

Save, bookmark, or screenshot all relevant pages; or copy-paste content into a document.

Compile collected data and store in a secure device or disc.
*These steps can be completed in a few minutes or hours, and from the comfort of your desk.
Traditional legal research:
Locate all resources that may have the information needed (resources can be: registry, library, school records, people, etc.)

Go to the resource location

For files, records, and publications, you need to find the necessary materials, and copy or take note of information on paper.

For people, you need to speak with them and record the audio or take notes of the information they provide.

Make sure all relevant and necessary data is on paper.

Compile the sheets into a file or folder, and store in a secure place
*This kind of research may span several days, weeks, or even months.
How does e-discovery affect the legal process?
E-discovery significantly boosts the speed and quality of legal processes. Like in the example above, it saves a lot of time and effort. And you can research more in a short amount of time. Also, you can secure electronic data with ease.
Yet, a smoother process comes at a price. A 2009 study found that e-discovery increases the costs of legal processes. This is because you need to pay for specialists and tools, so you can secure electronic data.
But over the years, and with technological advancements, e-discovery is now less expensive. It has now become a more prevalent practice, too.
What are the benefits of e-discovery and legal research outsourcing to law firms?
Everybody is online now, making the Internet a gold mine for evidence. As such, e-discovery is now essential in law. And law firms now need this service.
But is legal research the core function of your firm? It's not, isn't it? Thankfully, you can outsource the job.
When you outsource your research process, your law firm will…
Be able to focus on core activities:

yes, research is essential. But it's not the only thing a law firm does. When you outsource legal research, you do not have to do this job yourself. And your in-house team can now focus on more important tasks.
Instantly hire well-trained experts:

you get to hire professionals right away. You do not need to spend on recruitment, training, and employee premiums.
Get the best e-discovery tools:

your outsourced team has the best e-discovery tools. And they're up-to-date with the latest trends and techniques, as well. They know how to safely store and handle ESI, too.
Offshore outsourcing to the Philippines
Is it safe to outsource abroad? You might find yourself asking this question when thinking about outsourcing. The answer is "yes", especially if you know where to outsource. Offshoring is even proven to increase the market growth of law firms.
For one, the Philippines has a booming business process outsourcing (BPO) industry. So, to get ahead of competition, BPO companies offer competitive prices. But this does not reduce the quality of their services.
Filipino service providers also communicate well. And they can adjust to the local laws and cultures of their clients.
A leading legal research outsourcing company in the Philippines
Magellan Solutions is an outsourcing company in the Philippines. We offer a wide range of services, including legal research outsourcing. In fact, Clutch (a market research firm based in Washington State) recognizes our legal outsourcing services.
We do our best to provide high quality services. At the same time, we want our services to be accessible even to smaller enterprises. So, we tailor our rates and specifications according to your needs.
We also make sure that our staff are ready for your firm. Before we form your team, we thoroughly train them in e-discovery and legal processes. They also undergo an orientation, so they can learn more about your firm, and the cases you handle.
Our company holds the ISO-27001 certification, as well. This means that Magellan Solutions can safely handle your data. And we can secure the quality of your ESI.
To maintain all of that, we perform regular quality assurance and monitoring. We regularly check the quality of our output. And we also assess the performance of our researchers. This way, we can guarantee that your legal practice receives the best support.
Magellan Solutions LPO services
Aside from legal research, you can also outsource other legal tasks to us. Here are our other legal process outsourcing (LPO) services:
Legal appointment service: receive calls and set appointments 24/7. This service also equips you with a virtual receptionist, who's available round the clock.
At Magellan Solutions, we are eager to help your legal practice. Would you like to outsource any of these services to us? Contact us, and get a quote today!  
TALK TO US!
Contact us today for more information.