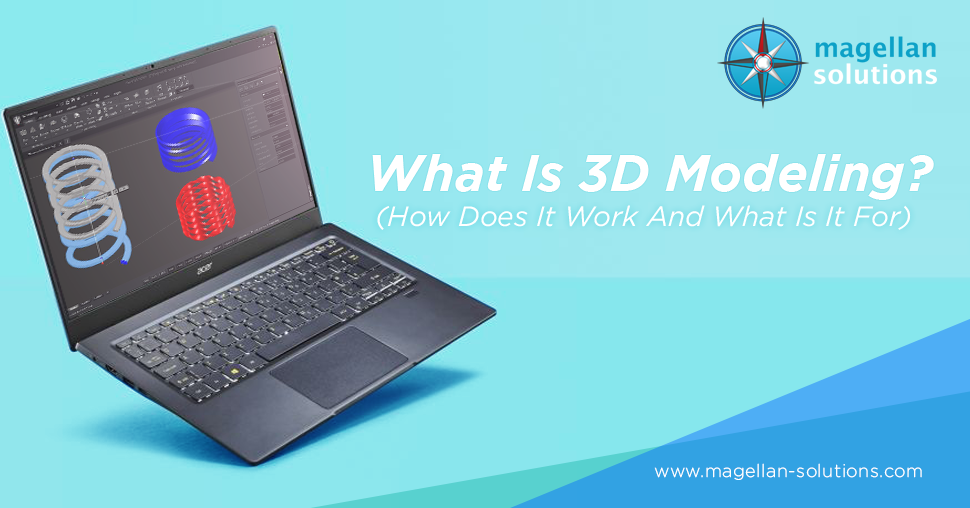 So what is 3D modeling? 
It works by manipulating points in a virtual space to form a mesh: the basic foundation in creating a surface. 3D modelers typically use geometric primitives like cylinders, cubes, and spheres to start the 3D modeling process. Using this basic shape, they work their way up until they come up with a complex and precise 3D digital representation of an object.
There are different techniques employed in 3D modeling. Some of the prominent examples include polygon modeling, 3D sculpting, 3D scanning, spline modeling, and procedural modeling. A 3D modeler can use any of these techniques depending on the nature and goal of the project.
In simpler words, 3D modeling is the result of creating digital objects with volume. This is where the usual process of producing objects — appliances, devices, buildings, and many more — usually begins. A specialized 3D modeling software is programmed to compute the specifications of an object, making the entire process more efficient and fast compared to 2D drawings.
Because of its versatility, many industries use it to produce or enhance their final products.
What Is 3D Modeling Used For?
3D modeling has various applications.
Interactive renderings of infrastructure

Construction

Site layout

Machine control

Effective planning and designing

Proper documentation

Quality deliverables
Entertainment
Creation of CGI characters

Application of special effects

Speeds up production

Stage design
Video game
Marketing and Commercial advertising
Better product pitches

Interactive 3D tours in the real estate sector

Product design

Better visualization of event program and set-up

Visual representation of brand activations
The other applications of 3D models are:
3D BIM modeling
Building information modeling (BIM) refers to the process of creating digital 3D models of buildings and infrastructure. It contains graphical and non-graphical information that helps improve the accuracy of design, engineering, and building data. Using BIM enhances collaboration and productivity through the complete flow of information it provides across different project teams.
3D BIM modeling is mainly used in architecture, construction, engineering, and mechanical industries.
Some of the popular structures that used 3D BIM modeling are Crossrail at Tottenham Court Road (Europe), Istanbul New Airport (Turkey), and Baku National Stadium (Azerbaijan).
3D CAD modeling
3D CAD modeling is a popular choice for architects, designers, engineers, game developers, and manufacturers. It involves the use of computer-aided design (CAD) software to create a virtual reality object with the same properties as the physical object. This virtual model shows how the product would look like and behave once produced in the real world. Moreover, it allows 3D professionals to evaluate the rigidity, quality, or structural integrity of the project when introduced to different environmental factors.
Because of the comprehensive information it provides during the product development and design process, almost all industries make use of 3D CAD modeling.
Its design process has five main phases, namely: conceptualization, visualization, analysis, manufacturing, and management.
The conceptualization phase allows designers to edit designs as quickly as possible whenever modifications are needed. It works by showing the dimension, features, and other valuable details on history-based management.
Meanwhile, the visualization phase gives designers, key decision-makers, and even customers the ability to view designs from every angle and scale. If it's used as a marketing tool, designers can produce photorealistic renders. It works well in selling units in the real estate industry, especially when buildings are not yet available.
The analysis phase is for checking the design against its intended requirements. Advanced CAD software can test visual prototypes through simulation. This process analyzes how the model will react when exposed to heat, collisions, vibrations, loads, and other environmental factors. For instance, testing a rice cooker against all possible elements will let the manufacturer know its resistance to heat.
For the manufacturing phase, using a 3D CAD model is the best way to produce a product. A cheap and fast way to manufacture a product is through the process called 3D printing. 3D models or 3D-scanned objects are prerequisites in 3D printing. Without it, it is impossible to produce anything.
Lastly, the role of 3D CAD models in the management phase is to store all data for documentation purposes. It also facilitates easy data transfer and communication among stakeholders.
3D modeling for earthwork
3D modeling for earthwork requires a steeper learning curve than most 3D modeling applications. It takes into consideration the natural terrain and other physical restrictions of the landscape when building infrastructures. By determining the earth's composition, architects and engineers can construct a safe and durable structure.
Earthwork modeling is usually the first step of engineers and architects when building infrastructures. Its real-life applications include the building of dams, railway beds, causeways, levees, and canals.
3D modeling and animation
3D animation gives more life to characters and objects in movies, TV series, and commercials. It improves viewer experience and obtains higher engagements.
However, its application isn't limited to the entertainment industry. It is also widely used in game development, marketing, web, and multimedia industries.
3D modeling and animation combined are also utilized to improve business efficiency and facilitate better customer communication. Since it's digital, modifying designs only takes a few clicks. Animated 3D models also make it easier to present complex ideas since it depicts an accurate representation of reality.
If you still can't grasp the idea of 3D animation, try to think of the latest Disney Animation or Pixar film you've watched. Frozen, Moana, and Coco are some top-rated movies that incorporated 3D modeling to create the characters you've come to love.
3D modeling and rendering
While 3D modeling is the creation of three-dimensional objects in a virtual space, 3D rendering is the process of turning those 3D models into 2D images. Both of these processes are part of the entire 3D work process.
After producing the 3D model, items (such as bricks, trees, and people) and proper lighting are applied in the image to create an interactive scene. Rendering the image can take a few minutes or several hours, depending on the complexity and quality of the image.
3D rendering allows a convenient way to demonstrate the original design idea of exhibitions and conferences. It is also used in printed promotional ads, architecture, scientific projects, video creation, and e-commerce stores.
3D modeling and scanning
3D scanning is the process of capturing the actual shape and features of a physical object and transforming it into a digital copy. Using advanced methods like 3D laser scanning, structured light scanning, and photogrammetry, 3D designers can produce precise images that require minimal modifications and furnishings.
Unlike 3D modeling, designers need not to start a design from scratch. They can simply edit the file for final touches and other additional designs.
3D modeling and 3D printing
3D printing refers to the production of a physical three-dimensional object from a digital model. It is nearly impossible to produce it without a 3D or CAD model. Compared to traditional manufacturing methods, it uses fewer materials.
The 3D printing industry continues to grow, as 3D printers become more sophisticated. From printing spare parts and bobbleheads, 3D printing is now used for advanced functions such as 3D printing of body parts and even body organs.
3D Modeling Software
A quick Google search can show you the vast selection of 3D modeling software you can use to start your project. Here are some examples:
For architecture:
SketchUp

ArchiCAD

Revit

AutoCAD Civil 3D

Solidworks

Rhino3D

3D Studio Max
For video games/animation:
Autodesk Maya

ZBrush

Cinema 4D

Blender

Autodesk 3ds Max
For 3d printing
TinkerCAD

SketchUp

Blender
Outsource Your 3D Modeling Tasks
Outsourcing is the business activity of subcontracting 3D modeling tasks to a third-party company. It allows you to save costs, hire world-class 3D designers, get access to unavailable resources, and achieve faster turnaround times.
It is especially beneficial if your company needs to work on short-term projects. Outsourcing 3D modeling services provides flexibility that enables you to scale up or down depending on your business needs. You can also use it if your internal team needs support due to growing projects in your firm. Instead of hiring new staff who have bigger paychecks, outsourcing to an offshore location like the Philippines is more cost-efficient. The entire process of sourcing will also be taken care of. All you need to do is to focus on your core business.
The quality of projects will also be well-taken care of. Most BPO companies have project managers to regularly monitor the output being produced to adhere to international standards.
Read this FREE guide to learn more about 3D modeling outsourcing.
Interested in outsourcing your 3D model works? Contact us now!
TALK TO US!
Contact us today for more information.