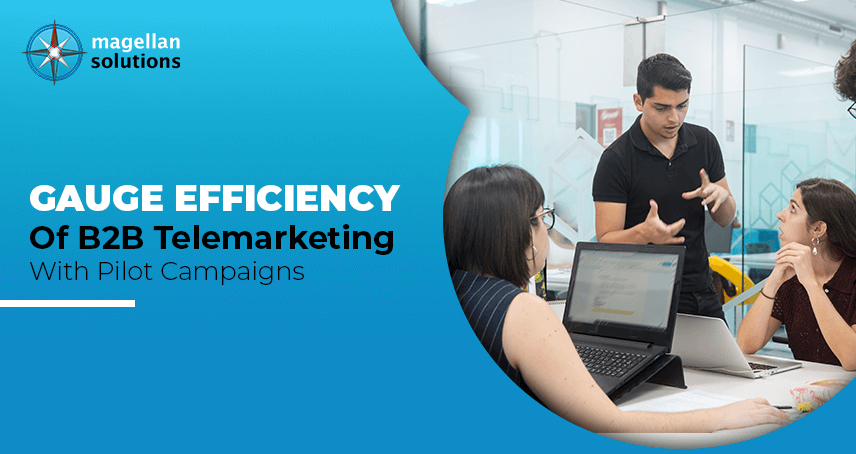 Minimize the Risks of Outsource B2B Telemarketing Through Pilot Campaigns
Uncertainty is part of B2B telemarketing. When outsourcing outbound B2B telemarketing or in general outsourcing, it requires a test of faith. As it is a balancing act between rewards and business risks.
Whether you are new in outsourcing or just looking for a B2B telemarketing partner, a pilot campaign is always a good idea. 
Why Is Pilot Campaign Good for
B2B Telemarketing
?
When it comes to B2B telemarketing, 99.2% leads never become customers. That is why, it is never wise to jump the train without testing it first. This is where pilot campaigns are good for B2B telesales and B2B cold calling services. 
As it can help you gauge your outsourcing provider's capabilities to handle your account and targeted audience. What most businesses miss is that a pilot campaign is also a perfect strategy for the following purposes:
Assessment of your current market situation

Method to test the response of your target customers with your marketing messaging

Evaluate your marketing distribution methods 

Identify and delve into potential market you are yet to tap
Outsourcing requires investments such as time, money, resources, and business risks that come with it. Now in a pilot campaign, you are practically minimizing these factors. 
This will help you understand if your outsourcing partner can indeed deliver your required qualified leads at a given time frame. As well as the potential costs and your expected results like the quality and quantity of the leads and ROI.
Best Practices To Follow In Setting Up A
B2B Telemarketing
Pilot Campaign
When it comes to pilot programs, your outsourcing partner focuses on a sample of your targeted prospects. How small or big a sample depends on your requirements and targeted market. 
Pilot campaign is again a testing ground for your B2B telemarketing provider. For your business, this is a valuable opportunity to test, measure, and improve every aspect of your telemarketing campaign. 
This also means to minimize the financial risks that come with outsourcing. Best practices in setting up your B2B telesales or B2B cold calling services are the following:
Ask the Right Questions
There is no cookie cutter when it comes to outbound B2B telemarketing pilot campaigns. First thing to do is ask yourself these questions:
What are your objectives? 

Do you want to

drive sales

?

Do you want to tap into a new market base?

Do you want to cut costs in your telemarketing efforts?
Asking these questions will help you set measurable metrics applicable to your business. 
Set the Appropriate Lead Sample Size
In doing this step, always remember that too small is difficult to get statistically reliable results from. While too big it is quite costly once it fails. Remember these two factors when doing so:
1. Lead sample size should be enough to produce statistical validity for the lead sample to be tested. It is also enough to test your outsource B2B telemarketing call center's skills and abilities with accuracy.
2. Lead sample size should give enough experience for your outsource B2B telemarketers with regards to sales pitch and marketing messaging. This enables them to deliver conversations with confidence, proficiency, and gusto.
Most B2B telemarketing providers often deal with smaller sample sizes. As too big may involve too many variables and may be difficult to measure. Also a pilot program with too big samples is more expensive. It also tends to deplete your pool of targeted customers. 
Set A Time Frame
Setting the time frame is also crucial for pilot programs. 4-8 weeks may be too short to return reliable insights. Worst, it may return inconclusive or inaccurate results. Results not helpful to your business to determine if B2B telemarketing is a working strategy for you.
A good benchmark is to invest 12 weeks into the pilot campaign. But it also depends on other factors. Like your sample size, product or services, and the lead quality you wish to converse with and convert into sales. 
In a pilot campaign, the difference of average quantity of leads from the first month versus the third could increase by at least 54%. That is why it is best to give it ample time to realize its full potential. 
B2B Telemarketing
Pilot Campaign Running, What's Next?
Aside from testing your outbound B2B telemarketing provider, pilot campaigns provide two important results. These are reporting and mid-course corrections. 
For reporting:
You and your B2B telemarketing service provider should analyze the results. Analyze the data and make adjustments to refine your messaging, further zoom in on target audience, and other campaign elements.
This requires detailed and quick reporting. You may ask your partner to provide you with information such as:
Number of calls that resulted to

new leads

Appointment set

with decision-makers from the calls

Completed surveys

Rejections

No contacts made
Furthermore, these are the Key Performance Indicator (KPI) you can start looking to assess the performance and productivity of your outsourcing provider. These indicators are also good to assess, evaluate, and measure the pilot campaign performance.
KPIs for Pilot Campaigns

What it Does

Sales Per Hour (SPH) 

Formula: 

SPH = x no. of sales made / no. of hours

This is a general metric for

B2B telemarketing

providers to measure success rate. For a pilot campaign this is also a good indicator as you can determine what's effective even on the earliest stages of its course.

However, it is good to remember that this is the proverbial test drive of your campaign. Therefore you should let it mature for a bit before you can get a reliable SPH.

Contact Per Hour (CPH)

Formula: 

CPH = x no. of total contacts made / x no. of total hours

This is to determine the average of targeted leads your

B2B telemarketing

team can contact per hour. For your pilot campaign, this will help to determine the best time contacting leads. 

With this KPI, you can identify peak hours or peak day and adjust accordingly to your advantage. 

Also, lower CPH does not always mean the negative. Conversion takes time. Lower CPH could mean more sales or the opposite. 

Conversion Rate (CR)

Formula: 

CR = x no. of total contacts / x no. of total sales

This is to evaluate how your provider is doing when they reach the decision maker to proceed with the sales. For a pilot campaign, this will also help you determine how fast your

B2B telemarketing

provider can reach decision-makers. 

You can draw up insights such as working scripts, appropriate rebuttals or to fine tune the right market to call. 

Average Talk Time (ATT)

Formula: 

ATT =  x total of hours talking to customers / x total of customers talked to

This helps identify areas of opportunity to improve the script, or if the message is passed to the customer early in the conversation. 

For your cold calling campaign, high ATT could mean the script is weighing down the conversation thus needed fine tuning. 

Dials Per Hours (DPH)

Formula: 

DPH =  x total dials / x total hours

In

B2B telemarketing

, less contacts means less conversion rate. This is one of the most important metrics there is. From the pilot campaign, this will give you insight into the efficiency of dialing techniques. It's results could affect all other metrics as well, so you better keep an eye on this KPI.

Good to note that higher dials are often associated with low contacts per hour. 

Each dial should be productive not only on quantity. This will also give you insight whether your provider is making an effort to reach the decision-maker after they hit voicemail. 

Return of Investment (ROI)

Formula:

ROI = x total sales revenue / actual cost of the pilot campaign

This is a crucial KPI, especially for pilot campaigns. Depending on your requirements, you can have this halfway of the course. This is to ensure you passed the ramp up time to actually determine whether the pilot campaign is set for success or not. 
For Mid-course corrections: 
The key here is open communication between your business and provider. This should help you determine their impression of the calls. Determine what's working and not. Call calibration and identifying effective B2B cold calling services techniques is what you can do here. 
Pilot campaigns should help you determine its likelihood of success in the long run. As well as to help you determine if you are with the right partner or if it is worth investing for a full blast campaign.
Looking for an
Outbound B2B Telemarketing
Partner? Your Search Is Over
We are Magellan Solutions. Our 18 years in the BPO industry provide us with impeccable B2B telemarketing experience. We employ the best agents to reach out and converse properly with your targeted leads. 
Magellan Solutions is ISO 27001-certified and HIPAA-compliant. No matter what business you are in, we promise data security at its finest. 
We strive to reach and exceed your requirements at best. Our business development managers can help you set up pilot campaigns with your perimeters set as clear as the day. 
We want to challenge ourselves and sustain your desired deliverables. Contact us today and let's aim for a long-term partnership once we prove ourselves to you. Fill up the form below!
TALK TO US!
Contact us today for more information.