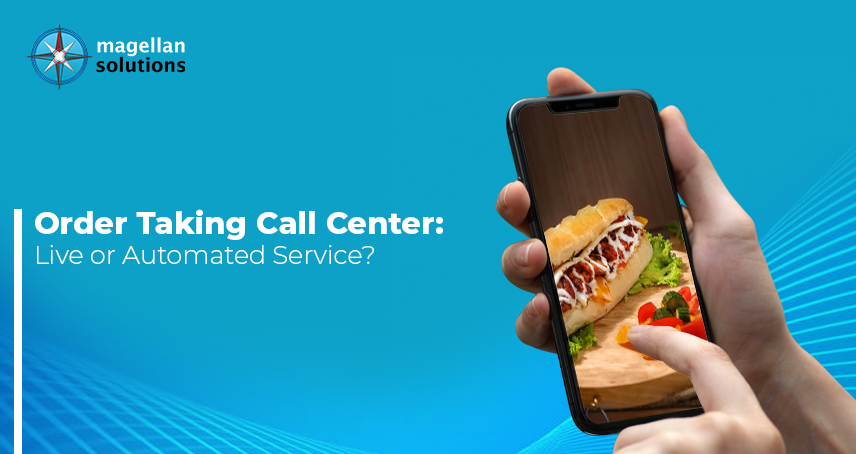 When it comes to order taking call center service, you have to choose whether to have people to interact with your customers or rely on technology to place their orders.
Sales service is an important part of any business selling product. That's why it is important to dedicate time to plan your order taking call center. Many consumers prefer to order their food online or over the phone rather than going outside. As an example, 73% of customers order food at least once a week.
However, having an existing order taking service is not enough to improve productivity. 70% of buying experiences depend on how agents treat them during the phone call. So, having an agent is not enough if they don't know how to communicate properly.
That is why many businesses shift their attention to using chatbots. Most companies believe that it reduces errors made through human interaction. However, there's still some risks when going to a fully automated service.
Let's take a look at some benefits when having a live agent vs setting up an automated order taking process.
Live Inbound Order Taking Services
Majority of customers still want to talk with an actual human being before ordering. Somehow, the presence of a live operator makes you legitimate in their perspective. Having just an automated service feels like you're just getting an order without processing it.
Besides, older customers who don't know technology love the feeling of having a real person to talk to. Live person can surely assist them properly throughout the process. They can also relay if they have a problem or  concern about the product or the service.
You can not automate empathy and emotion in the order taking service. By having an automated service, you assumed that customers ordering have knowledge on your product.
Therefore, you leave behind those prospects that might inquire first before ordering anything. Live order takers will surely answer their questions and persuade them to order right away.
But, there's a downside in hiring a lot of agents. According to a survey, only 34% of agents in a company have the full enthusiasm and commitment to serve your customers. Meanwhile, 13% of employees have a miserable work experience due to a lot of reasons. Some of it are poor relationships with managers and absence of employee coaching.
You can resolve this employment issue by outsourcing your order taking service. BPO companies have several managers to monitor your agents. They also have regular training and coaching to guide agents properly.
Automated Telephone Order Taking Process
Customers nowadays simply just don't have a lot of time to wait on their phone. They need some system that will process their order without taking much of their time. So, businesses prefer to cut costs by not adding the number of their agents to tend to their customers. At the same time, set up an automated service for most of their tasks.
Here are some order taking tasks that you can automate in order taking call center:
Updating payment option. – A chatbot can change the CC info of an order which is way safer than providing these details to a live agent.

Assigning calls to the right department. – Interactive voice response (IVR) helps customers to reach their intended department like floral , deli, etc.

Product availability. – You can put a record of all your available products. It avoids customers from waiting too long only to find out that their item is not available.

Business information. – Some customers want to know your store's physical address so they can go directly. Instead of inquiring to a live agent, you can just put it in the automated message.
Aside from making the process faster, automation brings a lot of benefits for many companies. Self service order taking reduces errors coming from your live operators. Thus, there's nobody to blame if some information is mistakenly recorded in their order.
You can also control your budget when going fully automated. Most of the BPO companies offer a cost-per-call pricing. Having an automated system makes conversation shorter therefore lowering the cost-per-call.
However, these kind of service makes your customer service incompetent. Customer service is still an important factor of consumers' retention of your service. That's why 80% of companies still prioritize their customer service above anything else. So, you might need to balance out your automated order taking process and live operator.
Hybrid Order Processing Call Center
As stated, both types of order taking service has its pros and cons. Therefore it is important that you provide options for your customers. SMEs on the other hand, don't need to rely on fully automated processes due to their volume of customers. Usually, big corporations and Fortune 500 companies have these kinds of services.
Yet, you can still have a hybrid order processing call center. You can automate processes that have more possibility for human error. Automation can also secure your customers' privacy as it prevents any information leak due to agents' mistakes. 
If you're looking for a partner in setting up an automated order taking service then go to Magellan Solutions. We have more than 17 years of experience providing excellent BPO assistance for more than a dozen industries.
We also offer guaranteed flexible pricing options based on several factors like service and number of agents you need. Magellan Solutions understands that start-up businesses have limited funds in outsourcing services.
Contact us today and get a free 60-minute business consultation. Please fill out the contact form below.
TALK TO US!
Contact us today for more information.