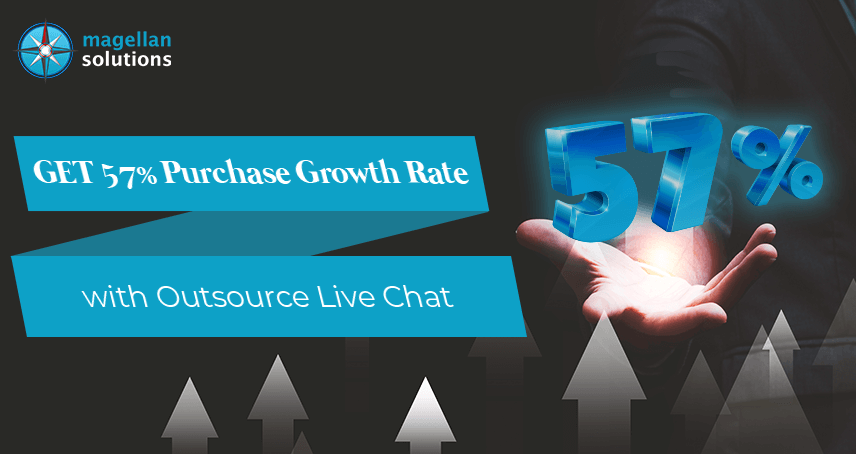 Why Should You Utilize Outsource Live Chat
Consumers around the world opt forto consume products and services that has a sense of personalization involved.
Today, businesses connect to their customers through various channels. These can be done via telephone, email, website, social media, and live chat. For this reason, the market expects a fast and easy communication with different brands and companies.
On top of after sales support, nurturing existing customers and going after new ones is the standard business practice.
This helps brands build rapport and grow their market reach and increase their loyal customers.
Live Chat Satisfaction Rate Per Industry Before Pandemic
Consumers prefer personalization when they choose to deal with your business. Outsource live chat is a proven great addition to that personalized customer experience. Over the past few years, 41% of customers prefer chat support services as their top choice for customer support. 
A clear indication of that is customers report being 85% more satisfied when they use chat support services throughout their buying cycle. Inobtrusive embedded live chat support on the customer's buying journey is commended. While overbearing ones tend to frustrate consumers. 
There is a clear significance on customer satisfaction rating on various industries using live chat support. These are the following:
| | |
| --- | --- |
| Industry | Satisfaction Rate |
| Real Estate | 98.56% |
| Transportation | 90.86% |
| Technology | 90.13% |
| Education | 88.69% |
| Government & Non-Profit | 88.64% |
| Manufacturing | 87.71 |
| Healthcare | 86.26% |
| Consumer Products & Services | 86.2% |
| eCommerce | 86.06% |
| Banking & Finance | 84.46% |
| Recreation | 80.39% |
| Telecommunications | 79.79% |
| Travel  | 75.88% |
This is based on Statista's survey before the pandemic. It is also good to note that 51% of consumers say they will likely buy again from a brand that simply offers live chat support. 
Things to Consider Before You Partner with
Live Chat Service Providers
Market segmentation is useful for any business strategy. Whether for business growth, sales or ROI increase. Such is also true when it comes to outsourcing, especially for chat support services. 
One thing closely related in live chat usage is age. However, it is also bad to assume only Gen Z and Millenials use this to look for answers on a business' website. It is also dependent on the kind of service or product you offer. 
Use of Live Chat Per Age Group
| | | | |
| --- | --- | --- | --- |
| Age Group | 18-34 | 35-54 | 55+ |
| Many times | 18% | 7.4% | 10.5% |
| A few times | 19% | 32.9% | 22.3% |
Depending on the age group of your target customers, there is little difference in frequency of usage for people that use the internet when dealing with your business. 
Furthermore, live chat is clearly better in answering simple queries about a product or services. As telephone and email support are still the preferred channel for complex questions. 
Live Chat effect on Consumer Behavior
| | |
| --- | --- |
| Rating | Findings |
| 57% | Consumers push through with their purchase when they can find answers through live chat. Without leaving the page they are looking at.  |
| 40% | Buyers who use live chat are more likely to make a purchase than those who do not use this feature at all |
| 44% | Consumers says offering of live chat in the middle of the purchase journey is a top feature a business can offer |
These numbers are a good jumpboard if you choose to partner with live chat service providers. As these can give you a benchmark on what to expect when you set it up for your business.
How
Outsource Live Chat
Can Help Your Business 
Chat support outsourcing companies use live chat software that you can integrate in your CRM system. At the same time, they can assign agents who are trained for these software to handle it for you. 
These live chat software can also offer insight on your market and customer behaviour as it collects data to recognize patterns. Something that your marketing department can pull valuable insights from to realign your overall sales strategy. 
Live chat does not mean you have to interact with everyone, that is why market segmentation is important before using this system. Good thing with live chat services, chat support outsourcing companies can customize it for you.
Customization is crucial when it comes to chat support services. As they can set up triggers when live chat will prompt to your customers. This could be based on time they spend on your specific web page, the products they are spending more time to look at, etc.
Live chat is your business' way to engage with your customers. Even before they reach the final decision favorable to you. This is a proactive live chat to eliminate barriers and minimize abandonment rate.  
Industries that Benefits the Most with
Chat Support Services
In a study by Zoho, 61% of B2B companies use live chat and 33% for B2C companies. This finding is irrespective of their industry, market size, and age. 
However, key industries emerged. These are the following:
Industry
Benefits

Fashion

Live chat is the equivalent of an in-shop's assistant

Provides second opinion when it comes to sizing, color options, and style

Guides customers to the relevant product according to their needs

Decrease in product returns and dissatisfaction

Creates a better picture of each customer therefore offers a more personalized interaction as time goes by

Manufacturing

Provides sense of availability and immediacy

Won't disrupt the customer's research process 

Enables quick connection with your experts to answer technical queries about the product or service

Ease of support between subcontractors and suppliers

Improves supply chain management as the chat is forwarded to the right department

Eliminates language barrier as canned responses is based on your customer's choice

Energy

Provide energy expertise on site such as energy calculator with live chat operator to answer related queries

Use templates for frequently asked questions

Easily define complicated terms 

Chat routing depends on the market segment such as business owners, real estate agents, residents

Education

Helps build connection with prospective students at the very beginning

Enables your institution approachable to parents and enhance parent-teacher relationship 

Perfect for international schools to offer support in various languages

Provides student body a voice and healthy feedback

Banking & Finance

Provides customer with vital human support

Clear up doubts and tailor deals and financial options for customers based on their website activity

Allows customers to choose the desired departments or personnel they want to talk to

Enables tailored answers based on the mood and tone of the customer

Insurance

Enables quick answers for a rate quote or insurance coverage

Assist customers all throughout their buying process

Enables consultation between your agents and consumers to come up with complementary products or services

Minimizes hard selling and pushy behavior

Electronics

Help customer to understand tech terms and provide product recommendations without being intrusive

Encourage transparency when it comes to pricing, shipping costs, and delivery details

Provides instant tech support without sending a technician

Clever chat routing enhances quick connection between your customer and the expert team the seek

Automotive

Offers layman explanation on complex parts and jargons in relation to the product or service

Enable unobtrusive upselling techniques and nudge customers to premium deals
Classification of Live Chat Use By Industry Based on Satisfaction Rating
Best Performance with Live Chat

Significant growth on satisfaction rate

Average Performance with Live Chat

Little growth difference on satisfaction rate

Can Perform with or without Live Chat

Diminished satisfaction rate

Technology with 8.17%

eCommerce with 0.63%

Telecommunications with -9.08%

Consumer Products and Services with 6.69%

Recreation with 1.1%

Manufacturing with -8.19%

Government & Non-profit with 3.45%

Travel  with 0.72%

Healthcare with -6.76%

Real Estate n/a

Transportation with -2.2%

Banking & Finance with 3.75%
This is based on the difference of using live chat between 2018-2019. Positive growth implies that industries utilize live chat and has gained positive impacts on their overall business operation. 
While little growth difference within a year of use is on average performance when using live chat.
Diminished satisfaction rating implies that live chat support does not contribute significantly in the overall growth and ROI.
Magellan Solutions Is Your
Chat Support Outsourcing
Provider
Small to medium enterprises mostly use outsource live chat. A study shows that 71% of business respondents only have less than 10 employees when they first adopted live chat. This medium becomes even more effective the earlier you can integrate it on your system. 
This is where Magellan Solutions come in. As we specialize our chat support services for SMEs and startups. Here, we can help you set up your live chat services based on your requirements. 
We also offer custom-fit solutions with flexible pricing options to ensure you get the best of your investment. Our live chat support agents are trained in using these software and are adept at customer service practices. 
Your business is safe with us as we are ISO-certified, GDPR and HIPAA-compliant. 
Drop us a message today so you can avail your free 60-minute business consultation. Fill up the form below!
TALK TO US!
Contact us today for more information.