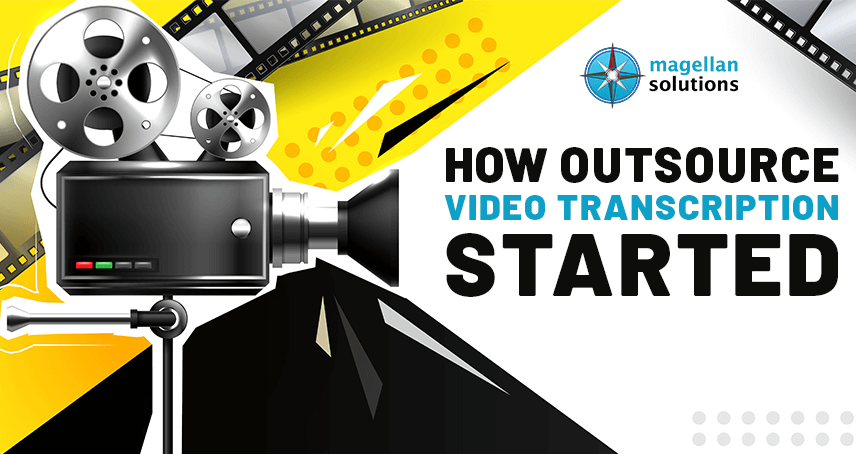 How
video transcription outsourcing
came to be
Closed captions began in 1973 on PBS broadcasts . Now it is hard to imagine a world without them. Think about all the restaurants, bars, businesses, and gyms that have multiple TVs.  People in those facilities can all enjoy various shows at once with the help of closed captions. Whether your show is on cable or is for a local project, Magellan Solutions' transcription service is what you need.
Closed captioning your videos with our video transcription service helps your brand create a better online presence. With the written word now associated with your video, it will appear in search engines. Google, for example, can index it. With the help of search engine optimization, people are more likely to come across your video when you utilize our video transcription services when you post them online. Furthermore, if you need some marketing material for your company, the transcripts of your videos make for a quick way to have quotes to post on social media.
What you can expect of Magellan Solutions'
transcription outsourcing services
The most well-known streams that are in trend nowadays in the terms of visual media are pretty vast. For following a smooth track and ultimately leading to the final destination and for business interactions for the present and future approach, a company prefers the transcripts of each and every video.
Our experienced video transcription experts always provides transcription solution for:
We have the in-house capability to deliver back a transcript of the highest quality. Our assurance for quality is proven with our prestigious clients situated across the globe resulting in repetitive business.
We are acknowledged in having
accurate transcription services
Transcription accuracy for videos is important. Mistakes can cause confusion to the audience instead of enhancing the viewing experience. Timing of subtitles is imperative. Readability is critical as well. In addition, captions and subtitles also differ in formatting depending on the video streaming platform. A thorough understanding of subtitling guidelines is a must. 
We receive your source digital text files via email or your preferred cloud service. In the case of physical documents or manuscripts, these should be sent to us via courier.

Physical documents will be scanned and then transcribed as per your requirements. The transcriptions will then be formatted as per your specifications.

Your file's transcription will be checked for accuracy by our editors before final submission to you using your preferred channel.
We understand the cost of making videos is very expensive.  We also understand that the cost increases as production time goes on.  Fortunately, our video transcription service gives you quality content at a reasonable price.
After we provide you with your needed video transcription service your file can be converted into an SRT file and used for closed captioning as well. Check us out if you are looking for anything we haven't mentioned here.
TALK TO US!
Contact us today for more information.