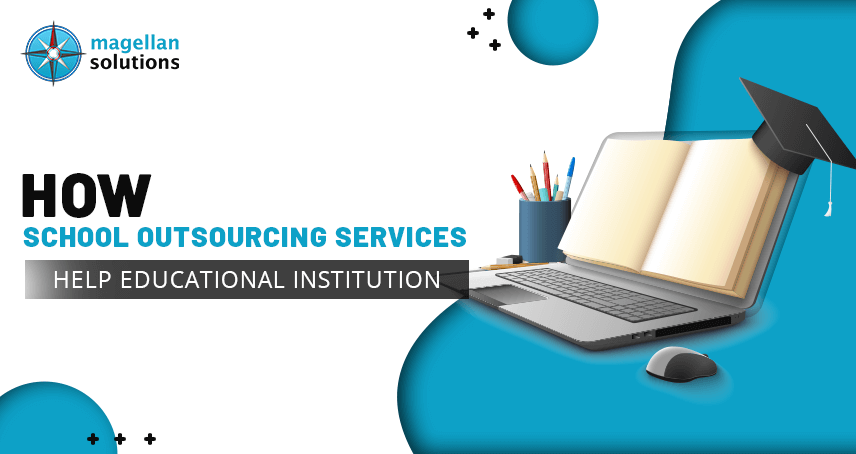 School Outsourcing Services Works For Educational Institution of the Future
Schools and businesses alike have the need to streamline operations. As well as become efficient and reduce the bottom line. Educational institutions can learn from businesses. This is to do outsourcing education services to achieve and make these things happen.
Managing a school no matter what its size is daunting. Nowadays, there is a greater emphasis on education quality and delivery. Which most institutions cannot focus on due to many reasons. 
Such examples are budget restraints to hire extra staff. Administrative staff overwhelmed with various repetitive tasks, and so forth.
Outsourcing Education Services For Education Institutions
Background processes and administrative tasks may cripple your institution when it becomes unmanageable. Here are the following areas where outsourcing services in higher education can provide support.
Area of Management

Education BPO Service You Can Get 

and 

How it Streamline the Process

Student Information Management System 

Student registry is a vital part in running your school. After all, they are the lifeblood of your institution. 

Management of tons of all students' information is quite tedious. Keeping it up to date requires speed and accuracy. 

For data entry services, your outsourced team can process and convert tons of information into readable online formats. 

Also you can get data cleansing services to remove outdated data, complete or eliminate erroneous information. As well as to de duplicate repetitive data. 

This service can help augment or improve your existing student registry. It is also the first step to create a database. If ever you want to convert from paper documents and steel cabinets into an online database. 

For database creation and management, it requires tools, software and infrastructure to make it safe and effective. 

When you do school outsourcing services, you can get the service of a dedicated information technology team to do the database management system for you. 

You no longer have to hire an extra in-house team or staff just to manage this for you. 

Accessibility is no longer an issue as well, as they can create cloud-based databases accessible anywhere. Extra layer of security is also possible as they can provide credentials to access with authorized personnel only. 

This is only possible if your education BPO partner is ISO 27001-certified. That's why you must look for one bearing this certification before you partner with them. 

Solicitation and looking for sponsorships and donors

Schools do not run only on student's tuition alone. Sponsorships and donors also help to keep a healthy cash flow. 

Solicitation and looking for sponsorships and donors requires time and effort. Not to mention tools to make it effective.

Education BPO can provide you with appointment setting services. This will help you to contact and connect with sponsors and donors to get whatever support you may need from them.

An outsourced appointment setters can call your target sponsors and donors in a much efficient way. As they use various CRM tools to connect with them, minus the time you have to spend on each.

You no longer have to train these staff to make them effective in conversing with your target sponsors. As you are guaranteed they understand your institution to extend accurate information to your targeted donors.

Also appointment setting requires verification and follow up on interested sponsors or donors. This way, you are assured you will meet only those who understand and believe your mission and vision as an educational institution. 

Solicitation is not year-round. Sometimes it's for a school event that requires funding. Outsourcing can help you get the extra support for your solicitation needs and only when you need them.

Front Desk and Students & Stakeholders Assistance

Call center service is also helpful for educational institutions. This is for you to provide the necessary support or assistance to your student body and stakeholders. 

Education BPO can provide you with this service to ensure your school' phone line is available whenever someone wants to reach you. 

Enrollment assistance is possible through this channel as well. Depending on your needs, you can get a service package wherein an outsourced team will man each touch point students and stakeholders use to reach you. 

Other than the usual telephone, you can provide live web chat, social media chat support, and email support. 

For the front desk, you can get a virtual assistant to handle incoming calls, schedule appointments and other overall administrative tasks. 

Financial and Accounting

This is also an area where education BPO can provide impeccable support. 

For tuition management, you can outsource a dedicated team to collect this for you. Aside from this, you can also get accounts payable services and accounts receivable services. 

This is to ensure you never miss any receipt and books are balanced to ensure everything is accounted for. 

For your accounting needs, education BPO can provide you a team with financial management and accounting degrees. Thus you are assured these outsourced staff know what they are doing and can provide your expected service deliverables. 

They also use software like Quickbooks and other accounting tools to streamline the overall processes. They are also experts in using these and you don't have to concern yourself with training. 
Benefits of Outsourcing in Higher Education
These are the reasons outsourcing services in higher education is a smart strategy. This is   to keep up with the changing demands.
Focus on the Educational Institution
Outsourcing your needed back office support from an education BPO provider helps you to manage administrative tasks. When this is manageable, your in-house staff can now focus on their tasks. Outsourced team can work with them and in-house staff will do the quality assurance to make sure everything is done and delivered. 
This way, you will have more time to focus on issues related to your students and faculty.  As well as address the issues that hinders your mentors and teachers for them to be effective. 
Outsourcing services in higher education help you acquire the needed support you need in specific areas. This strategy strengthen the grip on streamlined and efficient background processes. All these to keep your school running top speed.
Access to Experts
BPO companies that offer outsourcing education services are experts in the particular service that you need. 
For your accounting needs, they can provide staff with accounting and financial education and experience. 
For back office support, you can get staff with education degree and understands how education sector works. Whether for repetitive and tedious tasks, it is best to know there are staff who understands your core competencies and the system. 
This means they have the staff and infrastructure to deliver your needed support.
For your database management, they have the best tools and IT staff with the necessary education and experience to deliver your needed services. 
While for your call center services, it is a fact that the Philippine BPO companies excel in this area. Language expertise and English-fluency is no longer a problem when you outsource from this country.
Education BPO provides training to these staff to ensure they can represent your school to whomever they are talking to. Plus the training to fully understand your educational institution. This is to ensure they can only extend the best and accurate information to your students and stakeholders. 
Focused Staff
Overwhelming paperworks robs your mentors and educators of focus on things that matter. Also administrative support drowning in tedious tasks cannot provide the necessary support your teachers may need from them.
Sometimes, hiring additional staff is not an option. Thus you force your in-house team to double their tasks which may lead to poor quality. 
Staff you can help when you outsource:
School Administrators
Dealing with students and their information is time consuming. As well as to ensure everything is up to date. From student's grades, information, curriculum, enrollees and so forth. 
An accurate, secure, and updated school management system courtesy of your outsourced provider will help them pull up records in a snap. 
Handling of data and uploading in the database itself is no longer a worry for them. As your outsourced team can do data entry for your institution. Also database clean up and removal of erroneous records. 
You are assured they are only dealing with accurate and timely information and records. This can help them focus to provide support to students and stakeholders.
Teachers and Mentors
With accurate database of student records and even curriculum records, teachers can have their needed information. Such as number of students enrolled in their particular class. Freeing them from tedious recording of class roll can help them focus to deliver what you are paying them for: quality education delivery to the students. 
Financial Managers
Keeping accurate records of receipt and invoices is not the focus of these staff. They are here to ensure your school has the necessary funds to keep it running. Outsourced accounting team can do these menial tasks and can provide the support they need.
Outsourced team will only provide processed and financial reports that will give insight to your financial managers. This is to ensure they work on accurate information and can give you accurate projection to keep a healthy cash flow. 
With necessary support from the outsourced team, you can redirect your in-house staff and budget allocations to all-important core operations. Additional support, albeit virtual, divert your human resources on activities that have greater value. By doing this, you improve your education quality and service delivery.
Magellan Solutions Provides School Outsourcing Services
With 18 years in the industry, we have provided support and ventured into different business models across industries. Education sector is one of them that we believe can reap benefits of outsourcing services that we offer.
Magellan Solutions has services tailored for this sector that we can further customize based on your needs. Our industry experience and expertise enables us to create processes with speed and accuracy guaranteed.
Take back your focus and improve how you deliver the best thing that you offer: impeccable education to your students.
Contact us today and let us know how we can help. Let us provide your needed support. Fill up the form below!
TALK TO US!
Contact us today for more information.