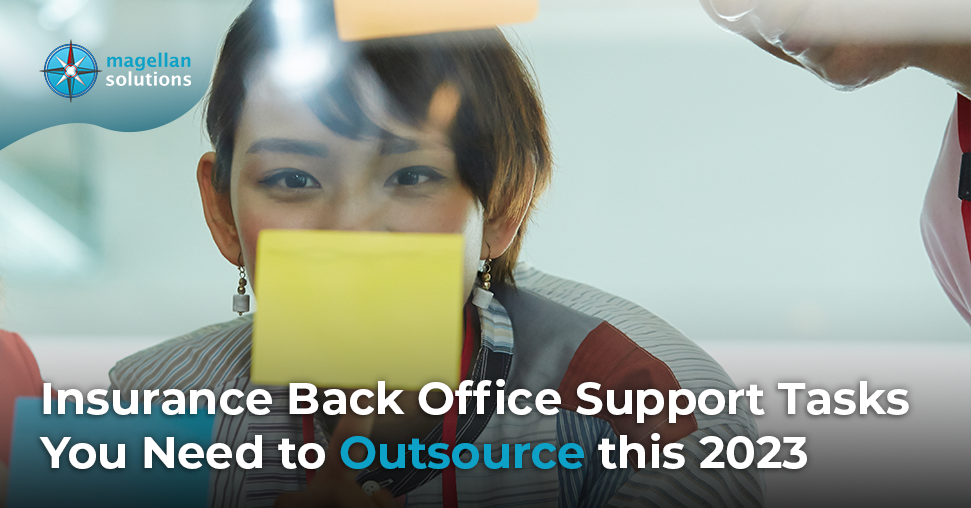 Insurance Back Office Support Tasks for 2023
Why do people get insurance back office support? Simple. Staff and insurance firms can find it hard to keep clients happy. And outsourcing can help businesses increase customer satisfaction.
Insurance companies use various ways to improve their business processes. If they do not adapt, they might lose a lot of money. They will have trouble reaching their business goals. Mostly because of things like old technology, changing customer tastes, and changes in regulatory standards and compliance requirements.
Insurance companies need back office support for a lot of reasons. But they usually don't know that they need it. So we listed them down below.
INSURANCE BACK OFFICE FUNCTIONS YOU NEED TO OUTSOURCE
Here are some of the insurance back-office functions that you need to outsource. 
ACCOUNTING & FINANCE
Outsourcing finance can significantly impact any business in any industry. That is why accounting tasks need to be managed by experts. And it must be handled well. 
The function is frequently challenging for insurance companies to oversee. So firms always ensure that the BPO firm they are working with has people who are able handle insurance back office support. 
SCANNING OF INSURANCE DOCUMENTS
The data gathered through various forms must be preserved, scanned, and stored properly. For the workforce of insurance companies, handling a huge amount of paperwork is a demanding task. 
Luckily, most insurance agency outsourcing firms support document scanning and conversion services. They can even provide you with people that would and can focus on that job alone.
CUSTOMER SERVICE SUPPORT 
Another non-core task that is vital to the operations of an insurance company is answering incoming calls. 
Customer support services are better outsourced to companies that operate offshore. Why? Because it is cheap and the talent you can get is wide.
IT SUPPORT
A lot of insurance back-office support works better with the help of specialized software. But these techs will break down someday and you will need someone to fix it.
Outsourcing IT can provide you with the necessary support based on your needs. This type of service is usually around the clock. So any time you find something troublesome, someone can help you out quickly.
CLAIMS PAYMENT PROCESSING
Processing insurance claims is a lot of work. You need to conduct a thorough investigation and call a lot of people. Most of the time, people find it tedious in determining the loss or damages sustained, identifying any parties responsible, and gathering itemized invoices. 
Just imagine, you need to fill out the claim form, review policies, and make arrangements for payment. These are tasks that get often mishandled. 
Hence, providing timely services to clients can increase client satisfaction. While, of course, allowing you to save time and money.
TELEMARKETING 
Other tasks that can be delegated to outsourcing companies include telemarketing. 
Obtaining new leads for insurance policies is difficult. You cannot really expect everyone to bite on your offer immediately, some people need a little convincing. And there are people willing to do this.
Outsourcing can help you  get a qualified agent or salesperson to monitor the calls.
DATA ENTRY & DATA PROCESSING 
A lot of data that is collected and processed regularly could be a problem for insurers. They would have to enter, digitize, and process data for things like payments, filing, audits, record-keeping, reimbursements, and more. 
Firms that have been around for a while will use data mining technologies for big data. Every piece of data will go through several levels of quality assurance and validation to make sure it is correct.
Massive volumes of data are produced by the insurance industry, which must be processed using specialized software. Or an expert with data processing. Either way, you can get both with outsourcing.
BENEFITS OF OUTSOURCING INSURANCE BACK OFFICE SUPPORT 
Insurance firms gain a lot more from outsourcing their operations than just time and effort savings. Here are a few advantages of insurance agency outsourcing. 
INCREASED EFFICIENCY
Your onshore staff will have more time, money, and project scope if you outsource back office work to the Philippines. Your insurance back office support staff will be much more productive, which will be good for your business.
REDUCED COSTS
By sending their work to other countries, insurance companies can get cheap labor. This is because outsourcing companies already pay for things like equipment and salaries for support staff. At the same time, you can also save money on these costs.
INCREASED CUSTOMER SATISFACTION
Outsourcing insurance back office support makes an insurance company more efficient as a whole. When business processes are improved, the customer experience and satisfaction as a whole get better.
SCALABLE & MORE GROWTH OPPORTUNITIES
If you hire an insurance back office support team in the Philippines to do your work, your local team will have more time to work on increasing earnings, business growth, and development opportunities. Your business can grow in a sustainable way because the help of your offshore staff gives your onshore team more capacity.
ACCESS TO CUTTING-EDGE TECHNOLOGIES
The insurance business is so productive because outsourcing companies use high-tech tools and software. As part of these technologies, AI-powered analytics tools can be used to figure out how risky something is and come up with ways to avoid it.
MORE SEAMLESS PROCESS FOR EXPANSION
When companies use the services of an outsourcing company, they can take advantage of new marketing opportunities. They not only cut costs by hiring cheap workers in developing countries, but they also set up businesses there.
IS IT TIME TO OUTSOURCE YOUR INSURANCE BACK OFFICE SUPPORT?
Because technology changes so quickly, businesses are looking for ways to make their processes more efficient. Outsourcing your insurance back office support can speed up and improve your business processes, especially if some of them are too complicated for you to handle on your own.
Companies can plan for the future and save money on hiring and training employees by thinking about outsourcing insurance back-office tasks. This is because technology is likely to be a big part of the insurance business in the future. Most insurance BPO service providers have enough resources to deal with any problems or changing trends that the industry might face in the coming years.
In fact, these technologies cannot be made or used any other way. There is no going back to the insurance market before technology, even though it can be hard to use the best parts of new technology.
QUALITY & AFFORDABLE OUTSOURCED INSURANCE BACK-OFFICE SUPPORT FOR YOUR BUSINESS NEEDS
Need to outsource your insurance back office support asap? Magellan Solutions can provide you top-notch outsourcing services for your business' goals. 
With more than 18 years of experience in the field, we're proud to offer only quality call center services for SMEs. On top of that, we are an outsourcing company that is ISO- and HIPAA-compliant. 
Call us to discuss your business' needs, and we'll help you every step of the way.
TALK TO US!
Contact us today for more information.