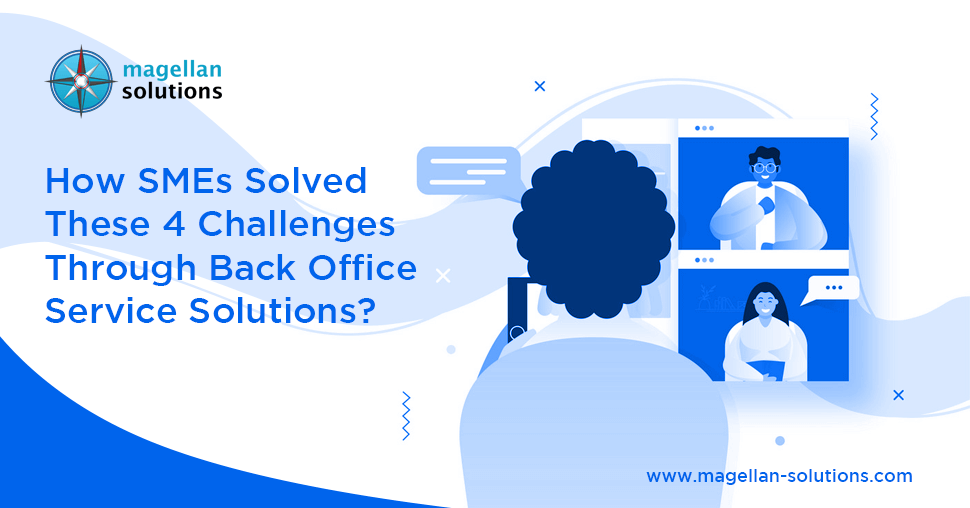 SMEs found an answer with their problems using back office service solutions.
It is not easy to run a start-up business. That's why many business owners are looking for some alternatives to manage their expenses and talent efficiently through back office service solutions.
According to a study, 20% of SMEs failed to achieve their goal during their first year operating. While only a third of the business survives after 10 years running. 
Furthermore, the number of individuals planning to start a small business goes up to 7% in just three years. 
Meaning more and more businesses will fail to survive without proper guidance.
Without studying the outcome of other businesses, you won't be able to succeed in your own venture.
In this article, we will discuss the top 4 challenges faced by SMEs and how outsourcing back office functions can solve these issues.
Lack of Financial Access
The dollar volume of bank loans for SMEs declined by 20% since the recession in 2007. 
Thus, it is riskier to provide loans to SMEs since the success rate is not that impressive. It is the reason why start-up businesses are having trouble looking for loans for their capital. 
In addition to that, these start-up businesses are only applying for a small amount of loans. 80% of SMEs apply for a loan with an amount not exceeding $500,000.
Many banks prefer to provide loans to big corporations. This is due to the fact that the process fee for loans of SMEs is just the same as a multi-million dollar corporation.
Of course there are some alternatives like community bank loans. They have 3 times faster approval for small business applications. 
However, there are only a few local community banks to support millions of micro loan applications.
That's why outsourcing your back office support will lessen the fund you need for business operations. Companies that outsource overseas can cut their labor cost from 70% to 90% while maintaining a quality service for their customers.
You don't need to submit any loan applications if you have very little expenses for your business to run. Saving cost is better than gambling for a bank loan that has higher interest for small businesses.
Fierce Competition
The current record shows that there are more than 31.7 million SMEs. Making up for almost 99.9% of all US businesses.
This data shows how many businesses compete for one customer every transaction. That's why you need a better strategy in order to win them. 
Ergo, you need to improve your market share in order to have better profit.
A business with a 10% market share or below has an expected return of investment (ROI) of about 9%. Meanwhile, there's an expected ROI of 30% for businesses with more than 40% market share.
Outsourcing your back office function will definitely boost your market share. BPO companies have different business models to run your business smoothly. 
They have technologies to coordinate with all your suppliers and have a faster business process. 73% of businesses outsourcing sees an improvement with their efficiency and effectiveness towards their operation.
Besides that, you can gain access to a wider range of customers when you outsource parts of your business. You no longer have to fight for a small number of prospects against your local competitors.
BPO companies have the ability to widen your marketing strategy and target international customers through 24/7 operations.

Lack of Knowledge About Information Technology
There is a significant number of businesses shifting to the online market. The estimated global sales for the eCommerce industry is $6.542 trillion by 2023.
Moreover in 2027, the projected growth of online companies is up to 14.7%. 
These trends are an indicator of how information technology is an important tool in today's business strategy. In fact, there are 12 million – 24 million eCommerce sites worldwide.
Despite this tons of website operating, only 4% – 8% have an annual profit of $1,000. Meaning businesses are not doing a great job optimizing their online presence.
B2C Online Transaction
When your target business transaction inclined more on the B2C side then you must know that 60% of millennials do their shopping online. Which means you have to design your product presentation to suit the taste of modern customers.
It is also worth noting that 93% of millennials have browsed different online deals using their mobile devices. An indication that you should optimize your eCommerce website for smartphone users. 
It is also better to have an application to access your product and services conveniently.
B2B Online Transaction
Approaching a B2B online transaction requires a different strategy. According to a study, 86% of B2B buyers are easily overwhelmed by a lot of content on a website. 
Therefore, they have a tendency to leave and look for other companies.
Below are some features B2B buyers wants to see in an eCommerce site:
| | |
| --- | --- |
| Website Features | Percentage of B2B Buyers that wants to see it |
| Customized Portal Content | 45% |
| ROI Calculator | 44% |
| Augmented Reality | 38% |
| Video Chat Messaging | 33% |
| Instant Messaging with Sales Reps | 22% |
It might be hard to keep up with a lot of strategies especially if you're just starting with your business. 
That is why outsourcing back office functions like IT support will help you maximize the potential of your company.
Some BPO companies can also provide support if you want to develop a mobile application for your business. This will help your business, especially since more than 90% of Americans have mobile phones.
Insufficient Entrepreneurial Experience
SMEs begin outsourcing as early as 6th month in operation. This goes to show how start-up businesses consider offshoring as part of their early plans. They know the importance of having well-oiled back office operations.
Yearly, all companies in the world accumulate almost $480 billion of loss due to ineffective back-office. Imagine how much you're losing just by having insufficient support for your operation. Not to mention if your front office gains more than you lose in back-office support.
This is the reason why 34% of companies prefer outsourcing the back office service. The constant innovation of BPO companies with their services allow SMEs to focus on their core tasks.
58% of SMEs outsourcing to increase the level of service quality. Meanwhile, 20% say they're outsourcing to discover new opportunities for their business.
On top of this, outsourcing providers have experience assisting other companies that have the same product or service as yours. They can definitely apply what they've learned from other businesses to improve yours.
Most Outsourced Back Office Support Services For SMEs
Most SMEs do not have an idea where to start or what function to outsource. So, here are some of the most commonly outsource back office support service:
Data entry is an important task for any small business. It allows them to determine what their customers want through data. 
Analyzing this information enables 49% of businesses in creating better service. Meanwhile, 16% stated that it improves how they implement key strategic initiatives.
As important as it is, SMEs only have a limited workforce to focus on this repetitive task. You have to enter data on a daily basis and you might not be able to focus on business management tasks.
Therefore, outsourcing data entry service is a smart move for business owners. BPO companies can handle large amounts of data through their advanced software. 
On top of that, they also have a system to accurately analyze every data. Thus, eliminating the possibility of any human error during data computation.
Research shows that outsourcing your finance gives you a 36% chance to grow as a company. 
Having an internal payroll system is a hassle process as you have to consider a lot of things like number of hours, commission payment, etc.
However, outsourcing it makes the work easier. There are a lot of Certified Public Accountants (CPA) in BPO companies working on bookkeeping and other accounting tasks. 
You no longer have to pay so much in getting a professional account as offshore BPO can take care of it for you. 
Besides that, it will be hard to influence third-party providers so you can avoid any fraudulent transaction in your financial department.
81% of small business owners are personally managing their own human resource department. It is because most of them don't have the luxury of paying a human resource manager $75,000 per year.
Unfortunately, more than 30% of these owners have no idea if they're doing it correctly. Not carefully handling HR matters will give your business a horrible attrition rate. 
As a result, you need to spend more hiring other people and training them.
So, outsourcing your HR department gives you a lot of flexibility in your manpower and financial aspects. You will gain 32% additional opportunities for your business by just offshoring human resource tasks.
Outsourcing your marketing process gives you tons of opportunity to introduce your product or service to other customers outside your local area. BPO companies can provide your different platforms to support you in various lead sources.
One of the best things that could come out from offshoring marketing campaigns is your access to call center services. You can do cold calling with your potential clients and interact with them on how to improve your service.
They can also provide you agents to work on your B2B email communication. It is important as 92% of internet users have their own email accounts. Email is also the most preferred communication when dealing with other business owners since it is more formal.
Outsourcing your IT support improves how you operate your overall business process and not just the back office department. Having an efficient digital system gives you more time in planning your business strategy.
In addition to that, BPO companies also provide strict security protocols to protect your sensitive information. It ensures you and your customer that no information will leak outside the facility. 
Some also have cloud-sharing for easy access of any data.
As a result, there's a 31% improvement in the overall performance of your business. This is a big number especially for a start-up business.
India Vs Philippines: What Do the Experts Say About Their Back Office IT Services?
Speaking of IT services, India and Philippines are the top 2 outsourcing destinations for all industries in the world. So which country can provide you a top of the notch IT service?
For starters, the Philippines' BPO-IT industry is one of the fastest growing industries right now. 
According to many experts, the advantage of the Philippine IT-BPM industry is largely because of the strong skills of the Philippine labor force.
Filipinos are the best agents in voice-based services such as customer tech support. Not to mention the overwhelming number of IT graduates with a 15% yearly increase. 
There's no doubt that the Philippines should be your top choice in outsourcing back office IT services.
Meanwhile, India's best advantage is the number of technologies they can innovate. The number of BPO workers in this country is so enormous that you won't run out of IT support agents.
However, this sizable number is also their disadvantage. There are a lot of IT experts in India that choose to hack company servers instead of working for them. In fact, 46% of Indian firms are victims of cyber crimes.
In a recent event, one of the leading eCommerce portals in India reported a technical glitch in their system. 
As a result, the portal exposed their vendors to its sellers. Thus, more 400,000 sellers were able to download tax reports of other vendors on their website.
So as an SME owner, you should weigh in which country you should entrust your back office support.
Where to Find Back Office Support Companies for SMEs in the Philippines?
If you  are a small or medium business looking to outsource your back office support then go to Magellan Solutions. We have more than 17 years of experience providing service for SMEs from different industries.
Here are some back office services we offer:
We are an ISO certified BPO company that strictly follows a high standard of service from recruitment to on-boarding process. 
Besides that, we guarantee a fortified protection for your data. Our tech support team has different security protocols to prevent online breaching.
Our Business Developers can help you in setting up your key performance indicators (KPI). KPIs will guide you and monitor the progress of your business with us.
We also offer guaranteed flexible pricing options based on several factors like service and number of agents you need. Magellan Solutions understands that start-up businesses have limited funds in outsourcing services.
Contact us today and get a free 60-minute business consultation. Please fill out the contact form below.
TALK TO US!
Contact us today for more information.