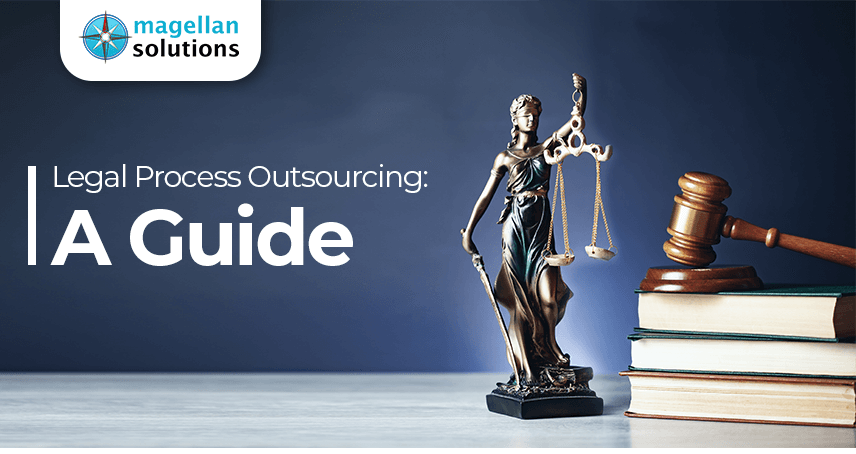 Legal Process Outsourcing: A Guide
This Legal Process Outsourcing Guide will help you determine if Legal Process Outsourcing from Magellan is right for you.
Legal process outsourcing is when a law firm uses a third-party service provider to do various tasks and functions. These tasks are often supplemental to their in-house processes that result in faster and streamlined legal services for the clients.
A lot of law firms from single practice to legal giants use legal process outsourcing one way or another. This is because legal outsourcing has been proven to provide lawyers and firms to retain excellent performance and efficiency in delivering legal services.
Types of Legal Process Outsourcing Examples
A reliable LPO provider can take over tasks that are often repetitive and time-consuming to process in-house. These are the following services or functions you can outsource to an LPO provider. 
E-Discovery

Document Review

Discovery (e.g subpoenas)

Legal Research

Legal Writing

Drafting (e.g. Briefs and/or Pleadings)

Appearance counsel and Per diems

Patent Services

Summaries Writing (e.g Case, Deposition)

Demand Letters

Document Writing (e.g. Wills, Leases, and Trusts)

Corporate Documents

Data Entry and Management

Billing and Financial Services
These functions and services are often outsourced to a third-party provider to save on costs. Often, local lawyers or paraprofessionals from an LPO provider in the Philippines process these discrete legal services.
Lawyers and law firms leverage LPO in order to save time, cut costs, and reduce the workload of the in-house legal team. 
LPO Benefits and
Why Philippines is a Great Destination for Legal Process Outsourcing
The Philippines has been the top destination for outsourcing. Now with the competition focusing on higher or more valuable outsourcing such as KPO or LPO, this country continuously provides the needed support for law firms and legal practitioners.
These are the notable benefits and reasons why the Philippines is the great place to look for LPO providers.
1.  Expands your area expertise
Albeit virtual, Philippine LPO providers can give you paralegals, legal professionals, and even practicing lawyers to provide your needed support. For instance, there are different law practices that your law firm may not be an expert in. 
Outsourcing some law practices where you have a disadvantage to contract lawyers will be beneficial for you to deliver excellent services to clients. This is possible even without hiring a full time employee to fill the gap.
2. Enables flexible staff for client cases
LPO provides services only when you need them. This means you can get qualified legal help for any kind of project or court case. While Philippine LPO provides discrete and supplementary legal services, this serves as an advantage for your law firm.
As you can scale up or down the support you can get from these outsourcing providers to fill in the gaps. This ensures you can get everything covered while remaining efficient.
3. Cost-saving through flat-fee billing
While this still depends on the paying scheme of your chosen LPO provider, you are still assured that you are saving a lot if you outsource in the Philippines. In addition to that, flat-fee billing lets you get the services of knowledgeable and talented paralegals and legal professionals to assist you in discrete projects or even an entire case on a flat fee or flexible payment terms.
This way, you are only paying for the services that you need at the moment and no hidden fees you are not aware of. This practice lets you save more on efficient legal support.
4. Benefits your clientele through lowered legal service fees
Legal services ain't cheap so they say and so is running the practice itself. However, outsourcing gave a new meaning when it comes to cost-saving. These savings you can invest further to improve your overall legal service delivery or you can pass to your clients by making your legal assistance even more affordable. 
5. Encourages work-life balance
Running a legal firm, be it a solo practice or a law firm is often tedious. That is the truth about the legal industry. Good thing, outsourcing relieves you from tedious and repetitive tasks that could affect your performance and service delivery. 
Outsourcing legal services provides the extra help that you need without the overhead costs of a full-time associate or support. 
6. Reduced turn-around time
Law firms often drown themselves with tons of paperwork. That has been the practice in the legal industry. To which outsourcing helps minimize the needed time especially in functions such as e-Discovery and document reviews. 
LPO providers often leverage tools and software to deliver your required services at a much faster time. They can help you to automate repetitive tasks. This trims the time to deliver the legal services you ought to provide to your clients. 
How to Outsource Legal Process
 in the Philippines
Outsourcing legal processes in the Philippines is often lucrative and beneficial. But you have to understand that not all LPO providers operate the same and provide the same payment terms. 
Having said that, you can ensure to get the most out of this practice by doing the following necessary steps.
Evaluate your needs
This is a crucial step when it comes to LPO as you need to evaluate and assess your practice or law firm's needs. Once you determine your needs, finding the right provider that will suit your requirements will be a lot easier. 
As there are a lot of LPO providers in the Philippines alone, it is your own discretion to partner with one that truly understands your needs. Also has the capacity and workforce to provide your required services, on top of flexible pricing.
Determine which tasks to delegate
Outsourcing means delegation and it would be helpful to make it successful when you decide which tasks you will delegate early on. This should save you time in looking for the right LPO provider.
As you can focus on third party providers that are experts on tasks that you need the necessary support. 
Assess potential LPO partners
After you determined which legal services to outsource, you can now assess which provider can suit your needs. You can do so by looking at their services, client portfolio that matches your needs. This way you can determine which firm will do well to accomplish your practice and firm's goals.
Track and measure progress
The goal of LPO is to help your practice or law firm to improve your overall efficiency and expand your legal capabilities and delivery. You can track and measure how your LPO provider meets your needs and expectations. 
This will provide you an accurate picture whether they can provide your needed support and thus you are not wasting any time or money in outsourcing. 
Feedback is necessary
Feedback and effective communication is important for a successful partnership. This is paramount especially if your partner is thousand miles away like in the Philippines. Providing feedback where areas to improve is necessary to ensure a smooth partnership from start to finish. 
Choose Magellan Solutions For Your
Legal Process Outsourcing
Needs
We are a premier BPO company in the Philippines that provides extensive outsourcing needs, including LPO, for our partners worldwide.
We are banking on our 18 years in the BPO industry wherein we continuously provide excellent outsourcing services for the legal industry.
Magellan Solutions is an ISO 27001-certified and HIPAA-compliant provider that ensures your data and information is always safe with us.
Contact us today and let us help you improve your legal service delivery. Fill up the form below!
TALK TO US!
Contact us today for more information.