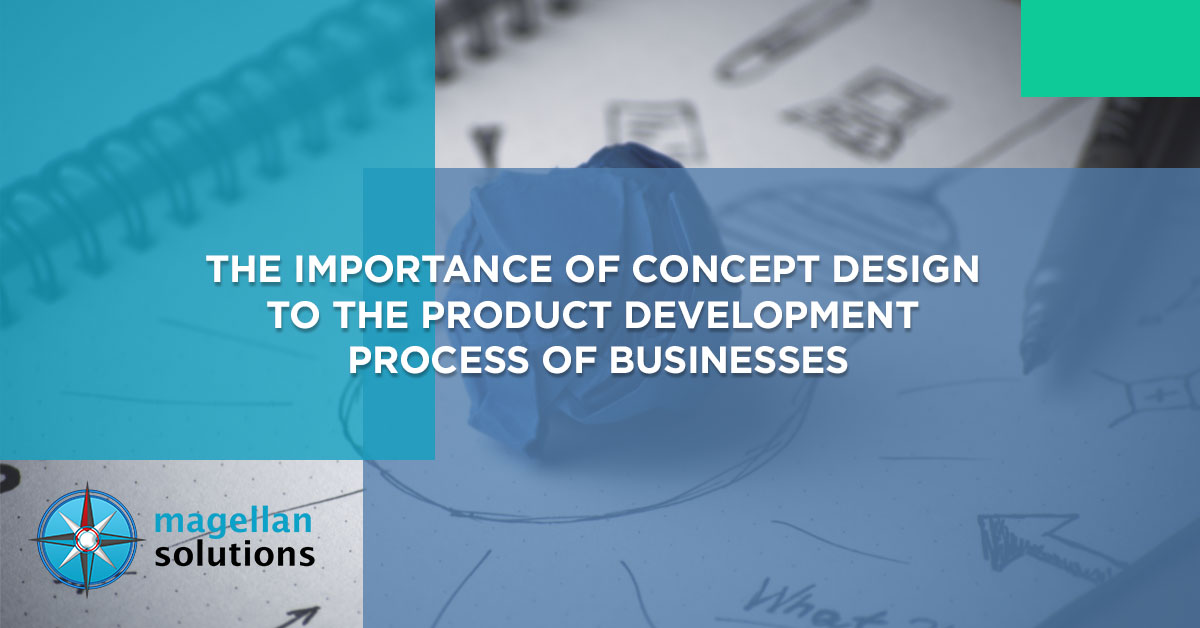 Why Focus Your Attention to Concept Design?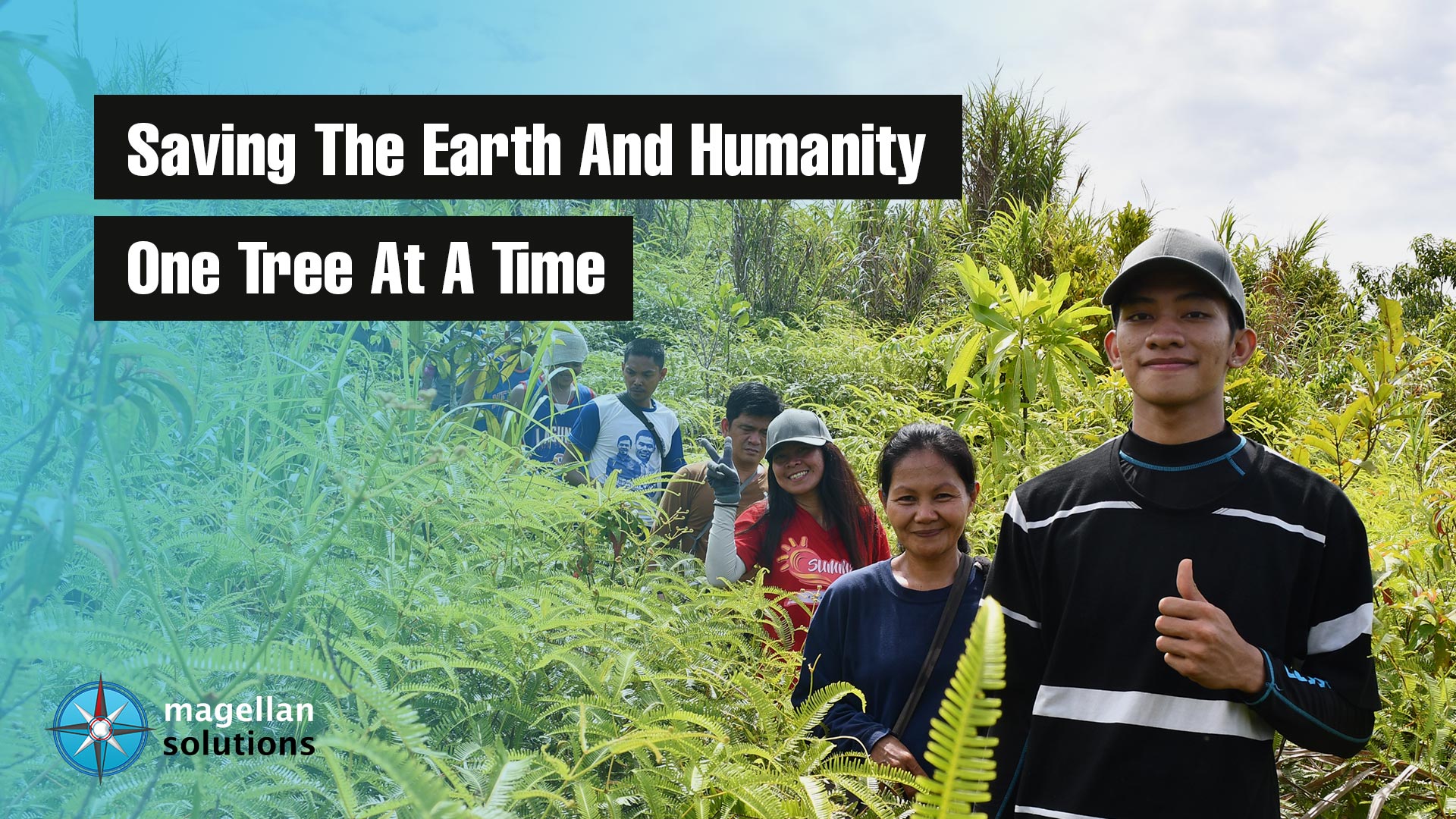 Saving The Earth And Humanity One Tree At A Time
What is the best way to attract new clients?
In the legal industry — and perhaps in any other industry — offering high-quality services for a much cheaper price is a guaranteed method of stimulating market reach. But in a field where competency is crucial, legal firms and other business entities often have difficulty meeting that particular demand due to the skyrocketing rates of legal professionals.
As consumers try to keep on shoving prices down, legal firms started to look for strategic options that would help them keep their expenditures to a minimum while ensuring that the quality of their work is either maintained or enhanced. As a result, there are law firms that discovered the benefits and the impact of offshore legal process outsourcing and their legal functions to legal process outsourcing (LPO) providers.
How Does Legal Offshoring Affect Market Growth?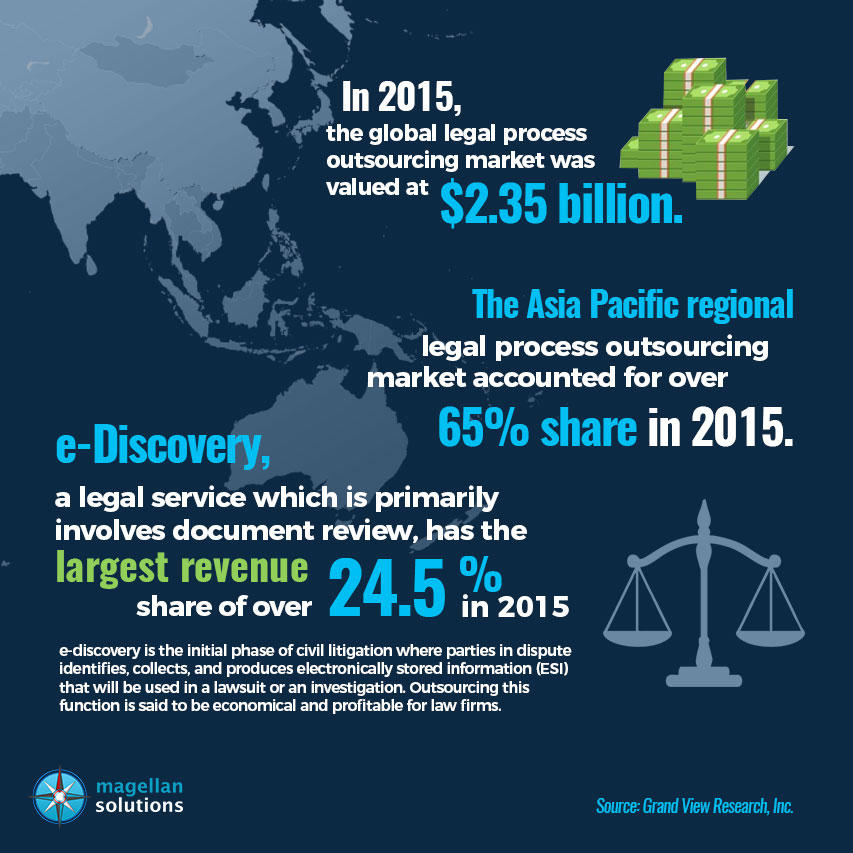 The legal process outsourcing market is experiencing steady growth due to law firms' increasing need to provide standard services while keeping their expenses at bay. In fact, it is even projected to grow up to $27.19 billion by 2024, according to a report by business consulting firm Grand View Research, Inc.
But in what way can it exactly contribute to the market growth (in terms of client reach) of legal institutions?
Trust and a positive image are essential in acquiring, attracting, and retaining both new and current clients. Legal matters are very sensitive. Clients are keen when choosing whom they would entrust their case. LPO offshoring aids law firms in providing quality service by increasing their productivity and operational efficiency. It also gives them the capacity to supplement unanticipated legal needs.
The high-level competency and experience of an offshore LPO reflect on the services a firm provides. This results in an improved relationship with clients. When a client is satisfied with the service he or she is provided with, chances are high that he or she would recommend the same firm to other people. Word of recommendation, along with a positive image, work best because it testifies the effectiveness of the legal firm in handling simple to complex cases.
Is Offshoring a Feasible Option?
Offshoring refers to the practice of relocating services to countries with inexpensive labor pools such as India and the Philippines. Their salary is unlike the income of their Western counterparts, which often costs legal firms a lot of money.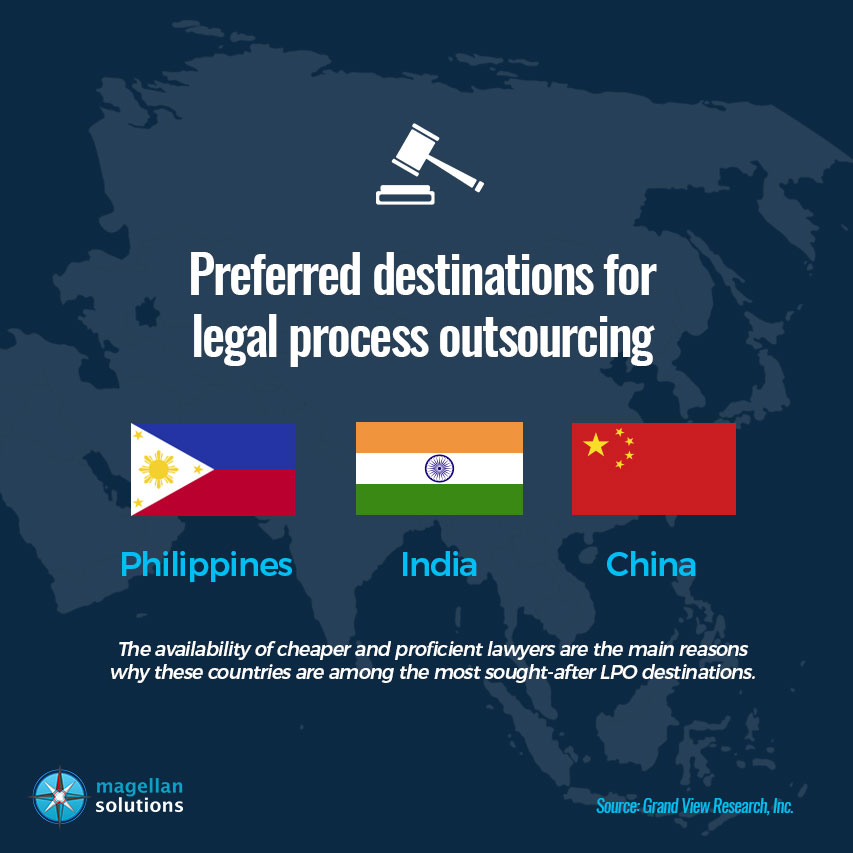 But while offshoring LPO outputs have been a practice for quite some time now, there are still firms that are hesitant in getting some of their jobs done outside their geographical location. Their skepticism is often attributed to confidentiality and security issues, differences in legal systems and regulatory policies, and the diversity of language being used.
They believe that onshoring and nearshoring is still the better choice. It gives them better control over operations and data security. However, those options contribute less to reducing costs since the wage of employees working for those service providers is almost similar to their in-house personnel. This means that onshore outsourcing is a lucrative option. It only gives firms additional time and not the ultimate capability to cut their expenses. Offshoring, on the other hand, allows organizations to cut costs through labor arbitrage — the wage differential between in-house legal personnel and a staff from a low-wage country.
As long as law firms are meticulous in choosing a legal process outsourcing provider, offshoring is a viable option that they can use to their advantage.
The Impact Of Offshore Legal Process Services
Aside from the cost, offshoring legal works bring about several benefits, as follows:
Offshoring gives global expertise a tap
Legal process outsourcing in offshore locations allows law firms to gain access to high-level talent and niche expertise that exist within their firm. Outsourcing to the Philippines promises a highly-trained, motivated, and qualified workforce that enables law firms to fill gaps in internal competencies. This is particularly helpful for small boutique firms that want to provide a specific service but don't have an in-house capability to do it.
Offshoring enhances a law firm's efficiency and reduces turnaround time
Legal process outsourcing is an effective way to boost employee performance. By offshoring repeatable tasks that do not require highly-specialized legal knowledge and experience, in-house personnel can concentrate on doing high-value tasks. The workflow will become more organized and productive. Through the strategic utilization of in-house and offshore resources, organizations can complete a project in a shorter time frame.
Offshoring guarantees continuous operations by following a 24/7 work model
Some law firms might think that it is not a good idea to outsource services to LPO providers that operate in different time zone. But that time difference can actually allow them to provide a continuous workforce. Many legal process outsourcing companies offshore follow a standard 24-hour work cycle. It guarantees the accomplishment of time-consuming work efficiently.
Offshoring offers greater flexibility
Offshoring helps organizations tailor their capabilities according to the workload and demands of their clients. They can focus on doing high-value tasks needed for the case that they are handling while an offshore legal service can do all the preliminary or supplementary works. This helps even small law firms to scale up and level with larger firms in providing quality legal service. Apart from the service, offshoring also makes staffing in an organization flexible, which is helpful in reducing overhead. Through this, law firms do not need to pay the fixed cost of salaries and benefits a full-time, permanent employee needs.
Common Legal Process Outsourcing Services
Shown in the image below are the typical services that can be outsourced to an offshore legal process outsourcing company.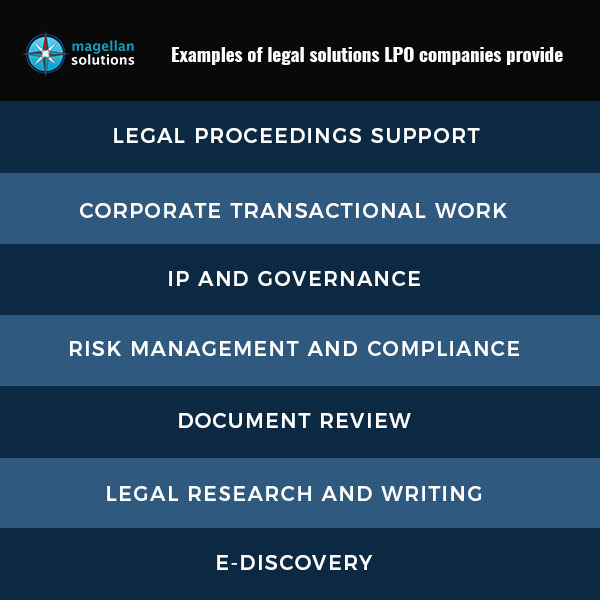 As mentioned, offshore LPOs provide legal solutions that are qualitative in nature. These are used to supplement more complex and high-value tasks that in-house legal practitioners handle. This means that the legal firm still has entire control over the final outputs.
As of 2015, e-discovery has the largest revenue share (over 24.5 percent) among outsourced legal services. This service primarily involves document review, which is needed in legal proceedings.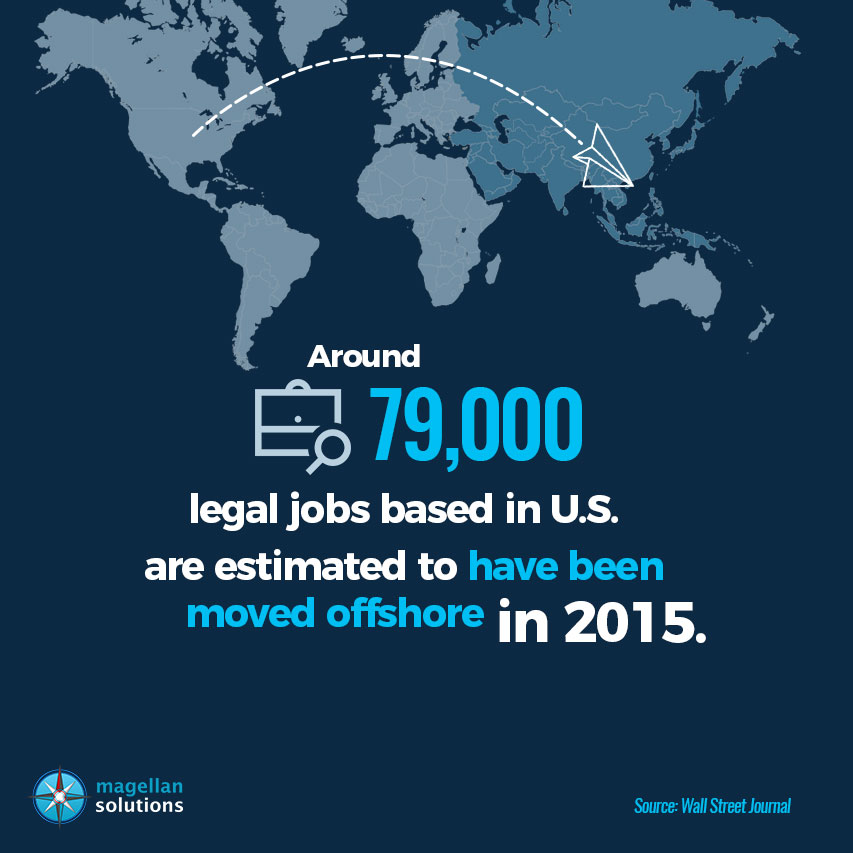 Considerations When Choosing an LPO Provider
Choosing the right offshore LPO provider is crucial to the overall success of this initiative. Here are some considerations that law firms should consider before going offshore:
Choose a legal process outsourcing company where individuals work in a style identical to in-house lawyers.

Weigh the overall legal needs to determine which among the services are suitable for offshoring.

Consider the inherent risks, especially one that involves confidentiality. Make sure that the LPO provider follows the required security and risk management protocols. There should also have proper training and screening of personnel in place. It is also important that the LPO is not doing other administrative services to clients that can cause legal conflicts.

The cost should be tailored to the size and type of a specific legal arrangement. This should allow the firm to save while ensuring that the quality is not compromised. Moreover, the LPO provider should also be capable and flexible enough to handle the services a law firm needs.
To keep up with the pace of the global legal market, law firms should always strive to innovate. Providing services to their growing clientele may not be enough when they handle it all alone. Sometimes, they need the help of other professionals working in the same field, be it onshore or offshore — whatever would work for them. Through this, they can meet what their market demands — a key to thriving in the industry.
Do you have any legal service needs? Offshore some of your legal services with us now! Contact us for more details.