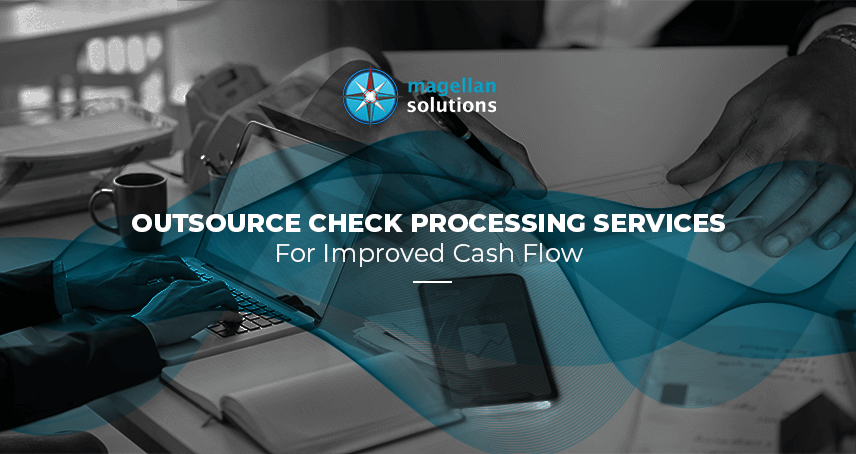 Outsource Check Processing Services Can Help Improve Your Business Financial Flow
Dealing with tons of checks on a day to day basis is challenging. Not to mention, the human error that inevitably you can come across with. Quickness and accuracy is a must when it comes to dealing with this process. 
If you find yourself short-handed on dealing with paperwork involved in this almost endless transaction, maybe it is time to consider outsource check processing services.
Outsource check printing and mailing is not only cost effective. It will also help you focus on your business core tasks. 
Outsource Check Processing Services
You Can Get From Us
Improving cash flow and its proper management is beneficial for businesses of any size. Check processing vendors like Magellan Solutions offer the following services. 
Data Entry of Checks Received
We process and digitize checks received from phone, fax, internet, even scanned or hard copies. We extract all necessary data and information and organize them into editable digital formats.
Checks Scanning Service
For this process, we scan your checks to extract data such as check number, account number, routing number and others. This can serve as your backup for future reference and cross verification.
Checks Validation and Verification
We can help you verify the account holder's name and history, account number, and routing information. In case of discrepancies, our staff can help you contact the issuing banks to mitigate the risks.
Check Transaction Validation
We ensure check transactions are validated properly. At the same time, ensure its safety and original transaction information are unmodified by fraudulent techniques. Our ISO 27001 and PCI DSS assures you we are equipped with such protocols when doing so.
Recurring Check Payments Management
If you deal with recurring payments, we can allocate a dedicated staff responsible to deposit checks and receive payments on time. Your outsource check printing and mailing from us ensure everything is managed properly.
Benefits of
Check Processing Services
Custom fit solutions 
We know there is no one size fits all services. The same applies with our outsource check processing services as well. Here, our business development team will help you to get customized services that perfectly fit your needs. 
Systematic Processes
Our Quality Management System and ISO-27001 certification ensure our processes are of high quality with speed combined. Our quality control measures are in place to ensure we provide services for you at top quality.
Best in Class Infrastructure
We combine the best IT system, software, and safety protocols. As well as highly trained professionals adept at using advanced tools for your outsource check printing and mailing. Especially for check validation services you may need.
Quality Services at Affordable Rates
Our transaction is crystal clear from the get go. As we customize your desired services, we assure you we can work around your desired spending as well. All the while you are assured our services are high quality all the time. 
Magellan Solutions Is Your
Check Processing Services
Provider
Our 18 years in the business assures you we have the necessary industry experience to deliver quality services. We also bear the necessary certifications such as ISO, GDPR, PCI DSS, and HIPAA-compliance. 
We can assure you data and information security is on top of our priority when we deliver your required services. 
Contact us today and get your free 60-minute business consultation. Let us help you in managing your business cash flow. Accuracy and speed guaranteed. Fill up the form below!
TALK TO US!
Contact us today for more information.