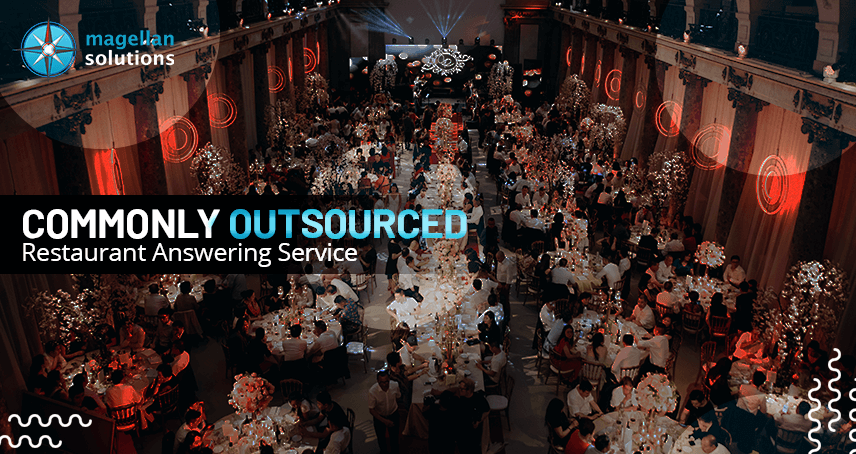 Commonly outsourced
restaurant phone answering service 
A bustling kitchen and dining room full of hungry customers is the goal of every restaurateur. Unfortunately, it can be difficult to run a tight ship and maintain open lines of communications with prospective diners. The demanding nature of the restaurant industry often means employees are stretched thin, wearing multiple hats and putting out fires wherever they turn. This means phone calls are unanswered. Thus, communications with customers are limited. A phone answering service for restaurants could very well be the solution you require to keep customers informed and diners happy.
Let Magellan Solutions book your tables and make the right impression 24/7/365 with: 
Restaurant Answering Service
No more missed calls. Each one is answered professionally, the way you want it. With our agents, you get every reservation every time.
Party Reservations
Get professional treatment whenever customers call. Before you open, during peak hours when your staff is overwhelmed, or even after you close for the day.
To-Go Orders
To-go orders are an important part of your revenue. We take them correctly by treating customers as they should be treated. All while saving you time and money.
Customer Service
We give your customer service that makes them smile. 24 hours a day and 7 days a week. Magellan Solutions deliver your customer service experience that will surely bring customers back.
Setting up with only
the best phone system for pizza restaurant
Convenient voicemail and call answering services for restaurants are just two of the many ways your business can benefit from Magellan Solutions. We can help an area manager for even a large pizza chain to solve a persistent communication challenge. If you do not have computers set up in all of your branches then outsourcing your answering service will be a load off your shoulder. You no longer have to rely on an extensive, time-consuming phone tree to communicate between stores.
We installed a group mailbox through which managers could leave a single message. They can then have it forwarded to all team members. Store managers, in return, will receive a text to alert them when a message is sent. In locations that do not have online capabilities, our voicemail-to-email function helps them by not having to call in.
Our existing and previous partners were extremely satisfied with this solution. They no longer have to make 20 or more calls a day to relay information between stores. As a result, more time was available to dedicate to big-picture issues, and the chain has since expanded their operations considerably.
Restaurant telephone systems
with Magellan Solutions
Different restaurants have different needs. To better accommodate a wider range of customers, Magellan Solutions offers several flexible packages. Some of the ways we can help your business include:
Setting up an automated voice mailbox where customers can leave reservation requests, make changes or cancel an existing reservation. This level of convenience can help free your team to serve current diners instead.

Installing voicemail-to-text or voicemail-to-email services that automatically alert front-of-house staff when a message is received.

Creating a toll-free number that serves as a single point of contact for reservation requests for a chain or franchise restaurant.
Allow us to handle the phones while you manage, market, and create the kind of meals and dining experiences that will make for happy patrons. Leave us a quote today by filling up the form below!
TALK TO US!
Contact us today for more information.