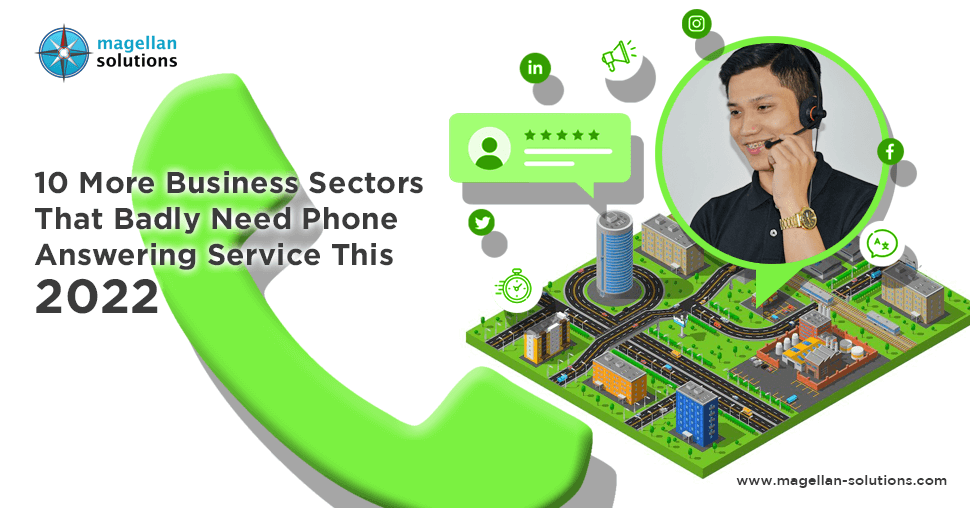 Business Sectors That Need Phone Answering Service This 2022
Do you spend so much time answering calls, texts, and emails back and forth with your customer? Maybe it's time to invest in a phone answering service, especially if the number of client engagements you receive in a day is overwhelming. In a business, incoming calls are unforeseeable; that's why there are times when no one's available to answer them. 
Nowadays, a telephone answering service provider isn't limited to taking phone calls. Since most businesses utilize different platforms to promote their business, outsourcing companies also expand and can handle various tasks such as lead intake, online scheduling, and social media messaging even after normal work hours to cater to every customer. 
10 BUSINESS SECTORS THAT CAN BENEFIT FROM A PHONE ANSWERING SERVICE
The service you get from a phone answering service provider varies depending on what industry you're in, but they share a common goal which is to provide excellent customer service. 
Have you ever wondered which sector badly needs a phone answering service? Here are the 10 business sectors that can benefit from it.
#1) E-commerce Companies
Customer interaction is important for firms that run on the Internet. 
To keep customers happy and to protect your business's reputation, you must deal with questions and complaints right away. Whether you're a small brand or a big one, expect questions, orders, and returns to come your way. 
A phone answering service can be the best way to keep in touch with your customers via multiple channels like website chat or phone systems. It improves customer experience, and it will keep you updated on all of the firm's transactions.
Also, there is no free trial in business. Since e-commerce is a fast-paced market, business owners are forced to do more than one thing at once. Outsourcing some business tasks, like answering the phone, to professionals lets you focus on your main goals.
#2) Medical Offices Providers 
Hospitals or clinics must have a phone line that is open 24 hours a day, 7 days a week. In busy medical offices, receptionists or people who answer the phone are usually in charge of getting the patient's information before making an appointment with the doctor. Sometimes, they can even solve the patient's problem right away. 
But since there are rules about doctor-patient privacy in the health field, some health facilities don't let people use the phone answering service.
To address the issue of patient confidentiality, some facilities just entrust incoming calls to nurses or even doctors. With the responsibilities that these professionals have on their plate, it can't be avoided that attending to phone calls can be neglected. Good thing, there are outsourcing companies that are HIPAA (Health Insurance Portability and Accountability) compliant. 
When a health facility avails a telephone answering service from a provider that is HIPAA-compliant, it's easier to manage call overflow, and it's an assurance that patients can talk to real people and be assisted and connected to the concerned doctor or specialist. Just think of having your own auto attendant.
#3) Legal Offices
A law firm is one of the busiest offices in the world. Lawyers have to work on the cases that have been given to them. Hence, they don't have much time to answer questions about the law over the phone. 
Phone answering service Australia is trending because of law firms. By hiring them, you don't have to deal with all the calls and emails that need to be answered right away!
Law firms that avail of telephone answering services opt for a receptionist that also has legal expertise. Service providers train the agents and make sure they know about legal issues and the different things that customers call about most often. When a receptionist talks to a client, they need to sound like they are part of the law firm and not just an outside service. These builds trust and credibility. 
#4) Real Estate Professionals
A real estate agent's life is all about getting in touch with clients over and over again. That's not the only thing they do. Most of the time, they don't spend much time in the office since they have to meet with the client and property owner on-site. They can't take more  clients' calls then.
So that you don't miss out on other opportunities, it's best to use a call answering service to manage call flow and turn leads into sales all the time.
A phone answering service is helpful in the real estate business because it allows both clients and property owners to ask questions. Phone services can help you follow up on concerns at any time, as well. This is important because real estate agents often have a busy schedule helping one customer after another. The phone operator can just relay the message of the call.
#5) Restaurant
Have you ever tried to call a restaurant to make a reservation, but no one answered their business phone numbers? 
The hospitality business is a tough one. During busy times, employees are spread thin, so it's hard to keep the phone line open to talk to potential diners and answer questions if there isn't someone whose only job is to take calls.
Also in a busy restaurant, employees often have to do more than one thing at once, which can make it hard to talk to potential customers. This is where live receptionists come in.
Phone answering service Australia is in demand since a lot of people rely on food deliveries there. Not only that, they use it as well in navigating menus and planning their trip to their favorite restos.
These days, restaurants not only have phones, but they also use social media to market themselves. If you work with an answering service, they can handle all of your calls and messages on all of your different ways to talk to a live person. With this, you'll be able to take more reservations, give better customer service, and keep customers up to date on any new information or deals.
#6) Computer/Software/IT Companies
The people who work in IT are known as the "back liners." Even though they might not be the best communicators compared to other industries, this sector is in high demand because technology is getting better. Australia has a phone answering service that works with more IT companies. In this industry, if you hire an outsourcing service provider, they must know a lot about tech and be able to teach computer troubleshooting.
It takes time to answer questions that need a walkthrough. That's why there's nothing wrong with using a phone answering service with agents who are happy to help people of all ages with their tech problems, from teenagers to senior citizens.
#7) Hiring and Staffing Firms
If a recruiter posts a job opening, you can be sure that there will be a lot of questions and applications. Not all of the people on the list of applicants will be good enough. It might be a waste of time and money to look at every application, so let an answering service do the sorting for you so you can focus on and get in touch with the best applicants.
Not only do phone answering services help with hiring but having support from the Human Resources department 24 hours a day, 7 days a week also boosts their reputation and shows that a company has HR that can handle worker concerns quickly.
#8) Insurance Agents and Agencies
Insurance agencies also have a process that involves finding leads, making constant phone calls, and following up, all of which take a lot of time and money. Agents are overwhelmed by how many people they talk to in a day, whether it's a new prospect, an existing customer with questions, or a client they've already talked to and need to follow up with. They don't have to do it alone if they don't want to get tired.
Messages and phone calls can be taken care of by an answering service that is available 24/7. The good thing about hiring an outsourced answering team is that they can help both small and medium-sized businesses that don't want to spend as much on an in-house team.
#9) Growing and Transitioning Businesses
There's a notion that only established companies are suitable to avail of outsourced answering services because of the cost. One of the advantages of working with an outsourcing service provider is that they can help you with scalability. A startup business undergoes a major transition, and, in some cases, the growth rate isn't suitable for the projected growth which may affect the overall operation. 
By employing a scalable answering service, the rapid growth of your company won't sacrifice your work capacity and customer service, especially for businesses that require constant consumer communication. Availing the services of an outsourced answering service doesn't only assist you with customer service, but it can help determine which tools can help the growing business.
#10) Service Businesses
Service professionals often work in the field or do official business out of town. Hence, they don't have time to answer calls, check messages, or even make appointments. Customers usually call or send a message to service businesses to make appointments for the services they need. If you don't have virtual receptionist services to help them, you might miss out on the chance and give your firm a bad name.
If you work in the service industry, an outsourced answering service can be helpful because while you're out on the job, someone else takes care of your business calls so you can keep making money. Some service businesses, like plumbing repair, health care, personal services, etc., also need help 24 hours a day, 7 days a week.
Magellan Solutions as Your Phone Answering Service Provider
Magellan Solutions offers a 24/7 outsourced answering service. Our team consists of experienced live operators that can cater to any business. Whether you are located in North America, Asia, or Australia, we got you. We value our client's investment and make sure to deliver quality answering services. 
Answering service for small businesses for over 18 years, we've equipped ourselves with HIPAA and ISO certification. Contact us today and learn more about the services we offer!
TALK TO US!
Contact us today for more information.