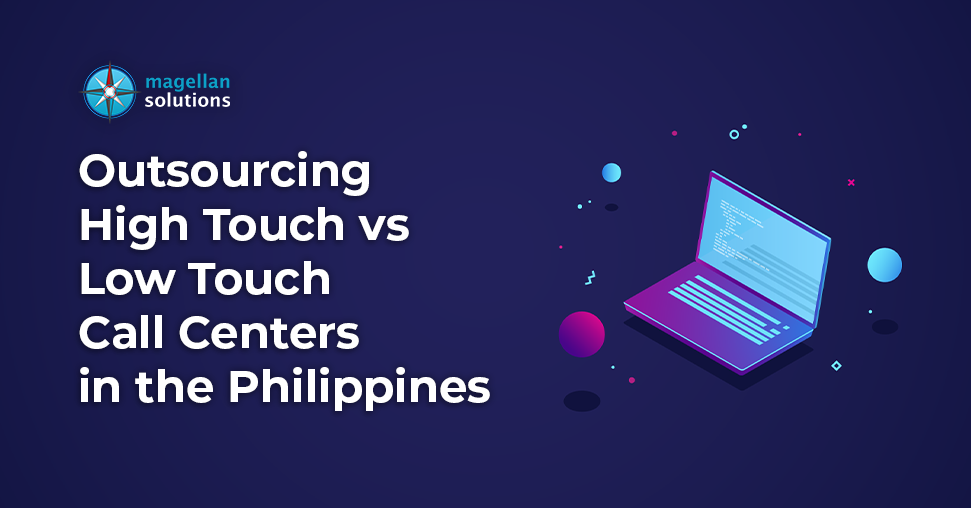 Touch is a powerful tool in building trust. In today's virtual world, we tend to forget sometimes that we are humans who are in need of human touch. Scientifically speaking, touch releases oxytocin—a brain chemical which affects trust behaviors. While physical touch helps build relationships, businesses nowadays tap virtual touch as a strategy in making personal connections with their customers.
Customers normally veer away from companies who do not adjust to their attention needs by producing mediocre customer experience. It is then a necessity for businesses to have personal attention or touch which can be categorized as either low touch or high touch.
High vs Low Call Center Requirements
Low touch outsource activities require little or no personal interaction (for example, automated data center operations, disaster recovery services, or automated document scanning services). High touch activities, on the contrary, require a high degree of interaction at various levels between a specific individual or team at your company and the customer (for example business process reengineering or application implementation).
Outsourcing high touch or low touch service solutions can move overall expenses to a level that is commensurate to what a customer expects while the company maintains value to its clients at the same time. Beyond these and more importantly, the company's culture is strengthened.
Your choice of where to outsource an interaction strategy depending on your company's needs will impact efficiency and productivity in customer service field as well as in other areas such as learning, information sharing, collaborative processes, and relationship between managers and collaborators.
If expertise and cost are the primary reasons you consider outsourcing, then the Philippines is the best location you are looking for. Also, you must have recognized at this point that your company isn't able to do the work itself and that your company can not fully excel in all areas of the business. Outsourcing high touch or low touch processes not core to your business is your best and only option. Then again, these service solutions are better done in the Philippines.
Remarkable client-servicing
• Adopting the idea of a one-stop shop, Philippine call centers provide the customers everything they need. Call center agents from the Philippines give answers, close sales and offer solutions to customers using different channels.
Efficient customer journey management
• Today's call center providers are using these channels to connect to their customers: face-to-face, voice call, emails, snail mails, websites, text messaging, social media and blogs. Customers are not just using one channel when connecting with your company, but are using almost all of them to do so. With efficient customer journey management system, customers can move from one channel to another while their entire journey is captured. Philippine call centers have the efficient means to manage customer engagement process in a personalized manner that fits well with the cultural background of the country.
Excellence in sales and marketing areas
• Sales and marketing are just two out of many areas that Philippine call centers excel at. With time-tested sales strategies used by Philippine providers, the image of outsourcing in the Philippines remains to be among the best-reputed outsourcing locations in the world.
Exceptional customer service
• Majority of call centers in the Philippines provide exceptional customer service along with a cost-effective operating model while operating in a market with complex products. Customer loyalty for them is based on how they can support your business in sustaining a particular level of experience for each of your clients. Call center agents in the Philippines, because of their emphatic nature, are able to personalize customer transaction that will impact brand loyalty.
Data management expertise
• Filipino agents are experts at data entry for corporations and governments around the world. With world class security and use of modern data capture techniques, almost every Philippine call centers ensure you have the right information to power your business, whatever its size is. They offer solutions that address all aspects of data management—from scanning to encoding to remote access as well as data storage.