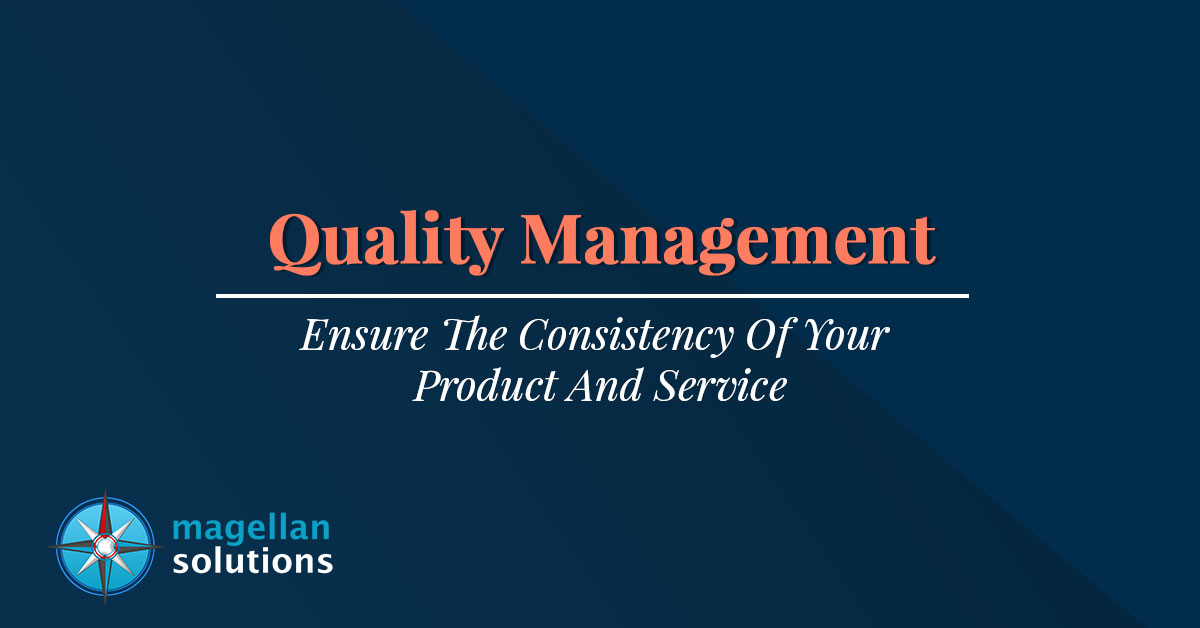 Consistency is a key to customer satisfaction. You have to provide your customers with the same — or improved — products or services if you want them to continue dealing with your business. The consistency of the product can be made possible by integrating quality management systems into your business operations.
An overview of quality management
Quality management system (QMS) refers to the formal process of reviewing and documenting the procedures, products, services, and responsibilities of a business with the goal of attaining your business' policies and objectives. This process allows you to determine the areas in your business that require improvement.
This is often an all-inclusive endeavor for businesses in the cosmetics, healthcare, and life sciences industries. Nevertheless, it has an equal importance for all businesses in any types and sizes since it is one way to guarantee quality.
Product quality — which can be measured through performance, reliability, and durability — is crucial to your business because it increases your competitive advantage over your competitors. Quality management is designed to produce highly-consistent, quality products that would meet customer and regulatory requirements. During the process, it identifies and get rids of any defects and inconsistencies by executing regular changes and improvements in the system.
Three crucial stages constitute quality management: quality planning, quality assurance, and quality control.

The scheme of ensuring quality that would meet customers' expectations is devised, outlined, and organized in the quality planning stage. Quality assurance, meanwhile, monitors whether products and services under development meet quality standards, or if it is following the laid out plan or not. It allows you to determine if you are doing the right things at the right time, thus boosting your confidence that everything will go according to plan. Quality control, which is carried out after the production, determines whether the finished product has met the standards. Along with these process is the documentation. Sufficient documentation is critical since it allows you to determine the weak and strong points in the quality management process.
Among the most popular guidelines and legislation for quality management are the good manufacturing process (GMP) guidelines and the ISO 9001:2015. GMP guidelines are concerned with the development, manufacturing, and control of a product that ensures quality. ISO 9001:2015, on the other hand, is an international standard — and by far the most recognized standard — that itemizes requirements for quality management systems.
Quality management systems must be highly-tailored on standards because it plays a significant role in assisting your business in your strategic decision-making process. Moreover, abiding by the established standards, policies, and procedures are critical in maintaining quality.
Guaranteed consistency and other benefits of quality management
Conforming to standards through quality management systems secures consistency in your products and services. With consistency comes stabilized manufacturing process, lower market complaint rate, lesser technical-related adverse events, and most importantly, higher customer satisfaction ratings.
Aside from consistency, implementing quality management systems in your business has several advantages. An increase in customer satisfaction often leads to higher revenue, profitability, market share, and export opportunities. Unlike other businesses that disappeared after a short period of operation, maintaining consistent product quality allows your business to grow and expand. Your customers will stay with you instead of looking for other entity that offers the same products or service with you.
Aligning your processes to established industry standards through quality management also allows you to improve your processes while presenting opportunities to cut costs. It also reduces wastages by minimizing errors during the process.
Quality management system secures consistent quality of your products and services. This process is so vital to the success of your business that experienced specialists must do it. But it doesn't mean as well that you need to hire in-house professionals. Outsourcing this service to a third-party provider like a BPO company is a way to go. Not only will you save more by doing this, it also allows you to have access to the latest equipment used for this process and the expert insights of competent specialists.
Outsource this service now! Contact us for more details.