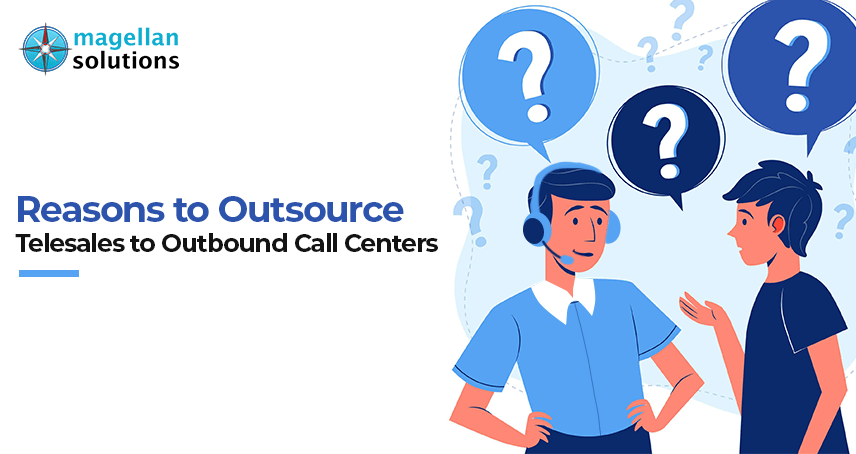 Why Outsourcing Telesales is the Best Choice for Your Business
The digital age has completely transformed work. Almost every aspect of business is now digitized – records, databases – even manpower and staffing. 
Businesses are recognizing that the future of effective business operations is through technology and offshoring.
Going Beyond Calls
While it had been present for quite some time, due to recent years seeing the internet more accessible for both business and leisure, call center services now offer more than just entertaining and initiating calls. 
It grew to provide services beyond addressing concerns and making sales – branching into areas such as executive support and content creation.
But given the current prevalence of outsourced services, is it more than just a trend? Is it a legitimate transformation of the work setting? And if so, do you need it?
Why You Need to Outsource
Outsourcing telesales is bringing your services directly to your leads through a trustworthy, efficient telemarketing call center service. 
It is taking the initiative to put your goods/services right where prospect clients could see it – a proposition that both a large-scale and smaller/medium size enterprise could benefit from.
In recent years, it was widely believed that only large-scale companies need full call center services to serve as a point of contact for their clients. 
Good news is, there are now telemarketing call center for SMEs, offering a range of quality services – customer services, technical support, telemarketing, collections and the like – all custom made for the size and type of your business, with shared oversight in training and handling the manpower just as your business needs it.
There are so many ways a reliable service could change your business for the better.
Outsourcing Telesales improves customer retention.
Outsourcing telesales are more than just initiating calls. It goes beyond offering new services or repeat transactions, and basically reminds customers of your business – of how good the services are and of how pleasant and smooth the transactions had been. Outbound calls are not just asking for your customers back; it's giving them a chance to enjoy your services again.
And what better way to ensure customer loyalty than having reliable, seasoned outbound telemarketing services to handle transactions with your prospect leads? Outbound call centers have agents well-trained in B2B or B2C telecalling to communicate with both prospect and repeat customers on your company's behalf. Give your customers the best by bringing them the best service out there.  
Outbound telemarketing services are a good investment.
Telemarketing call center services are tailor-made to handle all your telemarketing the most efficient, most profitable way possible. From selective hiring, to contractual working arrangements, to formulating metrics that ensure returns, call center services are designed to effectively yield results that return investment and maximize profit.
Save time and money.
One thing that puts off SMEs from acquiring their own call center services is the notion that it is too costly or too big for a business their size. 
Little do they know that outsourcing telemarketing services saves on housing and other incidental costs, which, in turn, helps allocate funds better into other functions of the business. 
Also, there are telemarketing call center services that are specifically catering to SMEs, guaranteeing large-scale quality, but just the right size for your enterprise.
Offshore staff are also offshore partners.
It's easy to assume that offshore staff are just as their name suggests – offsite manpower that does what is within their assigned responsibilities and nothing else, leaving onsite issues for onsite staff to handle.
Nowadays, a number call center providers have been going the extra mile and taking a more active role in their services. 
For example, a call center provider for SMEs in the Philippines have included sharing oversight – sharing the responsibility in training and handling outsourced manpower with their clients – into their company mission. Acquiring a quality outbound call center service is more than just having another supplier; it's having a partner that supports your business as it grows.
Agents are not just agents but consultants.
Hear "telemarketer" and you immediately think of pre-written scripts and spiels to be fulfilled until the end of the call. While there is a grain of truth in this, outbound call center telemarketers are trained to accomplish more than just spiels; they are also encouraged to market the services in a way that they see fit. 
Telemarketers don't just speak for you and your business; they conduct business on your behalf. It would be wise to find a provider with an excellent track record in generating leads with a good conversion rate. 
Telemarketing call center services are flexible.
Business tends to fluctuate due to many different factors – ever-changing seasons and trends, socio-economic conditions and the like. Hiring in-house staff for a seasonal business might be tricky and might cost you more in the long run. Outsourcing outbound telemarketing services from a reliable call center provider may be the best option, as many offer contracts that fit the duration and the nature of your SME.
SMEs Can Outsource Too
To sum up everything, there is no enterprise too small for quality telemarketing.
Make the most of the digital age and grow your business further by constantly acquiring new customers and encouraging return transactions through a reliable telemarketing call center service.
Magellan Solutions provides outbound call center services for Telemarketing.
Magellan Solutions has been providing quality call center services for the past 18 years, eventually branching out from inbound and outbound call centers to providing a wide range of offshore staffing services, which include virtual reception services, back-office services and 24/7 help desks, among a few.
We are an ISO-certified, GDPR, and HIPAA-compliant company with years of distinguished experience in helping our clients return investment and maximize profits through effective lead generation. Our dedicated telesales team go through specialized training to effectively generate leads with high conversion rates.
We are a provider that's also your partner in growth. Get only the best telemarketing services for your business and for your clients, too. Want to know more? Feel free to contact us here.  
TALK TO US!
Contact us today for more information.