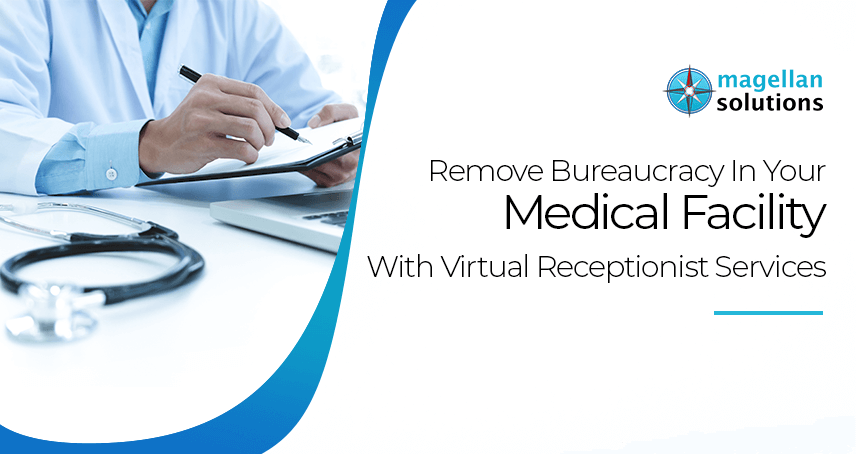 Improve how you deliver healthcare services with virtual receptionist services
Bureaucracy is still rampant in the medical sector. One effective way to reduce or eliminate that in your practice is through virtual receptionist services. 
The medical industry is always hounded by dissatisfaction of patients. In fact, 25% of patients change their healthcare provider due to the facility's longer holding time. At the same time, 53% of patients do not appreciate automated prompt response when talking about health-related matters.
In order to satisfy your patients, you have to ensure you can provide their expected quality of delivery, aside from the medical services itself. 
Virtual Receptionist Medical
Services You Can Get
For starters, you can get 24/7/365 phone answering service to ensure patients can reach your facilities, no matter what time of the day. It is a fact that round-the-clock availability is expected from any medical provider. If you have this particular service, you already have an edge against competitors.   
On the other hand, virtual answering service does not only utilize automated response but instead uses it to improve proper routing of patients to the right medical practitioner. Also they are able to use medical clinic software to provide efficient services. All the while serves as the first point of contact, between the patients and your medical facility.
In addition to that, virtual receptionists service can handle tasks associated with an in-house receptionist. As they can handle calls, arrange, confirm and follow-up on appointments. 
Also they can carry out medical insurance verifications, prescription refills, and plan for patient referrals.
Top Benefits of
Virtual Answering Service
Patient-medical practitioner communication is the key to ensure your medical facility stays afloat amidst the cutthroat industry. Here are the benefits to further encourage you to get virtual receptionist services.
Maximize Your Medical Practitioner's Time
Medical practitioners such as doctors often thrive in the referral system and attend to multiple patients with different medical issues. Thus you need to ensure that your facility does not encourage incompetence and inefficiency when setting up schedules for your patient and doctors. 
Also by getting a virtual answering service, you can ensure your doctors can maximize their schedule in checking up the patient. As well as their maximum ability to ensure quality medical services.
Better Customer Care, Better Medical Service Delivery
Lack of care is a no-no for patients. That is why they switch medical facilities when they feel your facilities do not prioritize their needs, aside from the healthcare services they want to get from you.
Through your 24/7/365 phone answering service, you can closely monitor incoming calls of patients. This results in better calls management, efficient scheduling of patient-doctor ratio, and quantitative objectives that improves customer service overall.
More Cost Effective, Maximize In-house Staff
Hiring for an in-house receptionist often comes with a lot of overhead costs that may not be smart for your healthcare facility. But outsourcing virtual receptionist services frees you from that hassle. 
Through outsourcing virtual receptionists, you can utilize their services without dealing with so many unproductive costs. At the same time, it improves your in-house staff and lets them focus on what they do best. 
Magellan Solutions Provides
Virtual Receptionist Services
for the Medical Industry
We have 18 years in the business processing outsourcing industry and continuously provide quality virtual answering service for the medical sector. Our services remain high performance and curated to suit your requirements, no matter what they are.
Our virtual receptionist medical possess the right skills and is knowledgeable with the medical industry and its jargons. We continuously provide our staff with excellent training to ensure they remain updated with the latest practices in customer service.
Magellan Solutions is an ISO 27001-certified and HIPAA-compliant virtual receptionists service provider. Here with us, you can get your needed services on top of quality and security.
Contact us today and let our Business Development Managers improve your medical facility through our services. Fill up the form below!
TALK TO US!
Contact us today for more information.