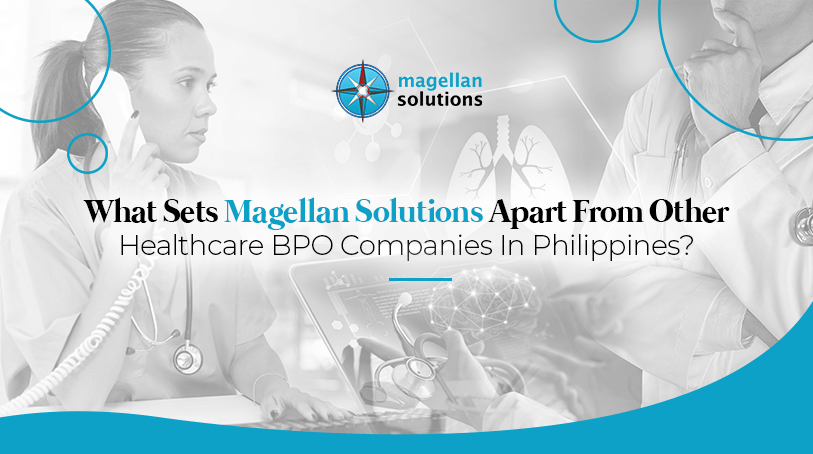 Healthcare BPO in the Philippines – Why We're the Best
Healthcare enterprises like hospitals and clinics may serve a bigger purpose, but they are businesses still. It's a delicate balancing act – especially for an industry where margins are low and expectations are high.
In order to grow and thrive, every business has to consider managing costs as well as output.
Magellan Solutions' Healthcare BPO is a business solution – and a resourcing strategy – that can definitely benefit both sides of the business equation.
Why Magellan Solutions' Healthcare Process Outsourcing Makes a Great Solution
To shorten the billing cycle and capture every possible revenue, healthcare organizations may benefit from our revenue cycle management (RCM) for help. 
Our RCMs efficiently balance costs and deliverables better than any other solution/provider. We maximize value for your business, as well as contribute to the fast-growing, ever-evolving BPO industry and outsourcing solutions.
Through Magellan Solutions' RCM, we can help you achieve being the best healthcare BPO provider. We provide effective solutions to the following challenges often met by healthcare businesses in the market:
       

Shortage of skilled talent to meet the growing need for medical and non-medical personnel.

       

Size constraints that make it difficult or impossible to increase staffing, or even to add a full-time specialized position.

       

Budget constraints, regardless of business size, that affect operations and capital investment decisions.

       

Complex and ever-changing compliance requirements.

       

Well-informed patients who expect top-quality, personalized care at an affordable cost.

       

Fierce competition, not only from other providers but a widening range of peripheral businesses that are entering the

healthcare arena

       

Non-medical concerns such as cybersecurity, with threats to digital health records and other patient data as well as the organization's own business and financial data.
Magellan Solutions is a Benefit for Your Business in More Ways Than One
In recent years, providers have successfully expanded patient services and quality by outsourcing clinical services. 
However, the trend is now shifting toward outsourced business processes. Many have evolved into different niche solutions that are function/industry-specific.
Traditionally, non-medical functions such as housekeeping, dietary services, or security are now commonly outsourced. Despite this, there is still business functions work must be performed onsite, which means outsourcing opportunities must remain local.  
However, there are a multitude of other roles that rely heavily on technology. This opens the door to a wide range of healthcare outsourcing opportunities. 
While these tasks are not core business functions of healthcare, they are vitally important to running an efficient operation.
The 8 Benefits of Magellan Solutions' Healthcare BPO Industry
With our myriad of services available, and our impeccable expertise in each, Magellan Solutions can offer higher quality solutions compared to other healthcare process outsourcing:
Some of this expertise include: 
1. IT leading the way
Digital transformation has become essential across all industries. 
Our team of IT professionals enhance patient care and facilitate electronic recordkeeping and data security. 
However, as critical as technology and tech services are, IT is not a core function. That makes it an ideal outsourcing opportunity to us. 
2. Growth of RCM 
According to Black Book, between 2015 and 2018 alone, the demand for full revenue cycle management outsourcing increased 86%. 
Globally, this sector is expected to grow from $52 billion in 2019 to $258 billion by 2027, a rate of 13% annually. 
Because of its continuous growth, we guarantee that Magellan Solutions is the best partner for your RCM needs. We can handle everything, from hiring and monitoring your team.
3. Competition for good talent 
Competition for well-trained, experienced personnel is tough. Furthermore, personnel costs represent a major component of any organization's budget. 
If implemented properly, Magellan Solutions can help cure many of the most challenging symptoms providers face today. We can improve operations efficiency and productivity to support desired growth while mitigating growing pains.  
Lastly, we deliver higher quality customer service and patient outcomes compared to other call centers.
4. Better cost control 
Acquiring and maintaining technology is a major expense. Requiring substantial capital investment for upgrading or replacement and never-ending maintenance costs. 
Here at Magellan Solutions, we can shift this burden and help healthcare organizations improve both cash flow management and capital investment strategy.
More so, we decrease out-of-pocket HR expenses for recruiting, training, and maintaining skilled personnel for as much as 70% savings. We reduce turnover, saving direct costs of employee replacement and retraining and indirect costs of productivity lapses and mistakes.
Outsourcing with us can also shorten the revenue cycle, significantly improving cash flow. It can also increase overall revenue through improved collections.
5. Competitive edge 
Magellan Solutions provides a wealth of talent and increased capabilities, not possible for in-house personnel. 
Thanks to our inherent flexibility, healthcare organizations can gain valuable scalability. Agility is mission-critical in healthcare to facilitate planned growth, support fluctuating needs and adapt to unforeseen changes. 
Furthermore, we expand capacity to generate greater revenue by taking on more patients and/or offering a greater range of medical services.
6. Better outcomes 
We can increase quality and efficiency in numerous ways. But it does not mean giving up control. Rather, it means shifting the "who and where." 
Here at Magellan Solutions, we focus on broader management issues and on improving the service quality.  
We want to relieve staff of routine administrative work and free their time. We are aware that organizations' priority is to focus on patients and their care. As a result, we improve both health and morale for medical professionals and staff.  
Happier staff means less turnover and therefore further savings. Happy patients are more likely to remain loyal and even help promote the provider to others, increasing long-term revenue.
7. Avoid critical mistakes 
Errors in the healthcare sector, especially in the patients' medical records, can cost lives. 
According to Healthcare Business Tech, close to $125 billion is lost every year due to poor billing practices. Medical bills also contain a large number of errors as changing billing rules and regulations are rarely updated on time. 
We strictly adhere to rules and regulations set by the Health Insurance Portability and Accountability Act (HIPAA). This is to ensure that patient records remain private and are not wrongly entered.
8. Lowering costs 
In an industry as competitive as healthcare, the main aim of businesses is to look at ways to reduce expenses. 
Magellan Solutions helps save a significant amount of money when organizations choose outsourcing their tasks to us.  
We handle a large team of professionals on the behalf of the healthcare company thereby saving the company the cost of acquiring additional staff and training them. Our team keeps organizations updated with the latest changes in regulations and standards.  
Various healthcare companies consider us for cost savings and have better control over the cost of the outsourced function.  
Take your Business to New Heights with Magellan Solutions Healthcare Process BPO
Improve the quality of life by improving the quality of your healthcare enterprise. 
As a proud leader of 18 years in the global healthcare outsourcing industry, Magellan Solutions brings extensive, directly relevant experience partnering with providers and a wealth of highly skilled talent to address your specific needs. We help save as much as 70% compared to in-house employees. 
Contact us today for a no-cost evaluation of your opportunities. Drop us a line today.
TALK TO US!
Contact us today for more information.