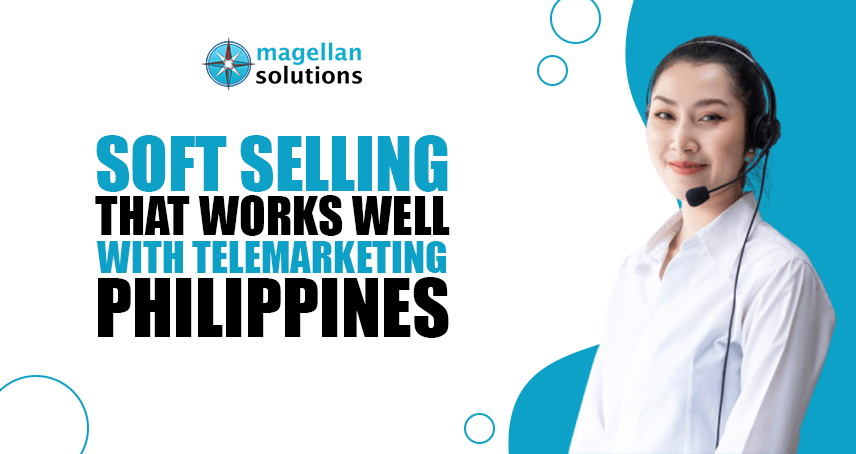 There are various forms of soft selling techniques that complements the cold calling strategies of Telemarketing Philippines
Telemarketing Philippines is known to deliver valuable results for businesses worldwide. That is the reason why telemarketing services in the Philippines are thriving and an enticing destination when it comes to lead generation. 
However, there is a misconception that contact center services Philippines only provides excellent B2B cold calling. In fact there are so many factors at play why you need to hire telemarketer Philippines to generate leads.
Non-voice Soft Selling Techniques that Complements
Telemarketing Call Center Philippines
' Cold Calling Strategies
Aside from voice services and engaging conversations to your prospects, telesales company Philippines use various soft selling techniques that complements the cold calling strategy. What are these?
Business Website
Your business website can provide existing customers and especially prospects with a soft path to present your products or services. Depending on your requirements, you can do this in-house or outsource staff to create or maintain your website.
What makes a good website that complements the effort of your chosen b2b lead generation companies in Philippines are the following:
Offers attractive information, tips and helpful suggestions about the products or services

Presents information that are engaging and attractive without oversharing or overpowering the prospect

Strategically placed buttons that contains call to action or special offers to entice the prospect

Plugin and contact forms that prompts visitors and prospects to enter their data in return of receiving items such as newsletter, regular offers, or product updates
Free Samples or Demo
More customers respond to brands positively that offer free samples or demos. This technique can help you build rapport and engage customers in a larger expanse of products or services. 
Online coupons or discount vouchers are more useful especially with the implementation of lockdowns and social distancing. This can further pique the interest of the prospects as Philippines outbound call center can work this out all throughout the calls. Like some sort of reward for the prospect for engaging with the cold calls. 
This in turn leaves an impression to your prospects that you are very keen to leave your mark even after the calls with Filipino telemarketers. 
Videos
Video content creation offers demonstrations and instructions of your services or products. This can show your prospects how to properly utilize your products or services which outbound telemarketing services Philippines has introduced beforehand.
You can keep these videos soft by avoiding any direct pushes to buy. Instead, the core goal is to offer the prospects with valuable information. This is also a good way to establish your brand or company as a trustworthy expert. This is also a good way to include additional sales promotions and contacts. 
Video production could be under your in-house marketing department. However, if you lack the manpower, you can get your call center outsourcing Philippines to create this for you. As they can provide content creators and the skills to create videos for your company that goes well with the telemarketing strategies.
Social Media
This is a surefire way that can complement call center outsourcing Philippines' B2B sales calls. Through these platforms, you can drive audience and prospects to your sales landing pages. 
Also shared content and using it to your advantage is an effective way to reach a wider audience which most likely leads to more sales.
You can use social media to achieve these top three objectives:
Create buzz
Develop and publish messages (e.g. text, video, and images) that is distributed via user-to-user contact 
Foster Community

Build ways for existing and potential customers to engage with one another about a shared interest in a brand, product, or service.
Facilitate two-way communication
Your social media pages should encourage user participation, feedback and dialogue instead of a tight-knit controlled environment by your brand.
Importance of Soft Selling Techniques that Complements the Efforts of
Telesales Company Philippines
B2B cold calling is effective to generate leads or to simply raise awareness for your products or services to target prospects. 
Yet soft selling techniques used in various ways is also an effective tool to ensure prospect's are still hooked even after they end the call with your Filipino telemarketers.
What is the importance of soft selling in various forms beneficial for your brand? Here are the following:
Focus building relationship with existing and potential clients

Gives time to your prospects to really think about your offer after the call through supplementary information you provide

Leverage client testimonials that reinforce the brand image, words of appreciation in website banners, social media posts, and videos that entice more clients onboard
Magellan Solutions Is Your Top Pick for
Telemarketing Services in the Philippines
We have 18 years in the business that proves our excellent service delivery across various industry verticals. We only employ the best Filipino telemarketers who can absorb and truly understand your brand, products and services.
This is our proven technique to ensure we can relay all the necessary information to your prospects and drive the results you always wanted.
Magellan Solutions uses the best CRM tools to ensure our services remain smooth and efficient all throughout your campaign.
We are ISO 27001-certified and HIPAA-compliant. As it is our pride to protect your data and information at all cost, all the time. 
Contact us today and let us start a partnership that only works for your business advantage. Fill up the form below!
TALK TO US!
Contact us today for more information.