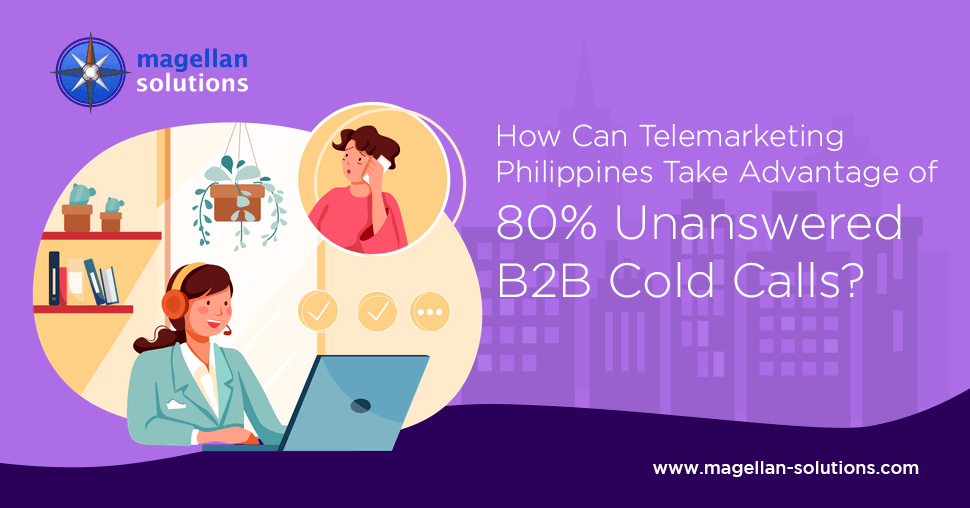 Take Advantage of 80% Unanswered Cold Calls!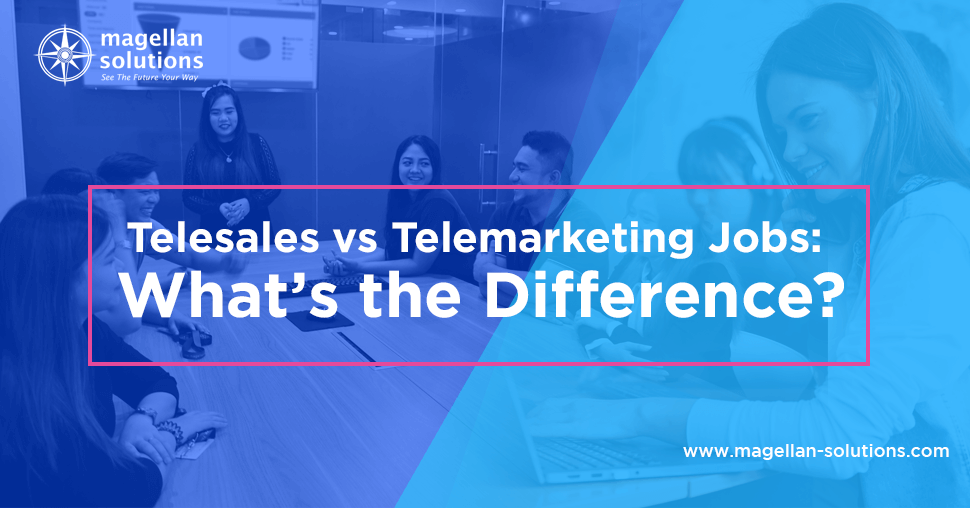 What's the Difference Between Telesales vs Telemarketing Jobs and How Does it Help Your Business?
Here's a shortlist of 7 telemarketing companies in the Philippines that will guarantee to fill all your outbound requirements.
Scanning through a thousand telemarketing companies in the Philippines can be an exhausting task for any SME owner.
That's why we will make your life easier by listing down the seven best telemarketing service providers that can ensure your success.
Before we start, here are some of the factors we consider to qualify that a telemarketing call center Philippines is one of the best for SMEs:
Affordability

Flexibility of the Service

Track Record

Affiliation

Company Culture
So without further ado, let's examine these seven telemarketing companies Philippines.
Magellan Solutions Inc.
PROS:
Magellan Solutions

offer a more affordable shared service team than

 a dedicated call center team.

Aside from

telemarketing Philippine's outbound call center service, Magellan Solutions could provide several BPO services like inbound call center and back-office support.

With

over 18 years in the industry

, they have telemarketing experience working with more than

16 industries like automotive, eCommerce, telehealth, and legal.

Magellan Solution is an

ISO Certified call center company

that ensures the security of any information you can provide them.
CONS:
Due to the pandemic, some activities to keep the morale of their employees were pushed over to the online platform. Still, they managed to maintain an

18% attrition rate in 2020

.
Virtual Workforce Professionals
PROS:
Virtual Workforce Professionals has worked with several industries and have a

96% Job Success Score. They have business partners from different regions, like the US and Australia.
Their base price ranges from $6 to $25,

depending on your desired service. 

Virtual Workforce Professionals is one of the

top telemarketing service providers in Upwork.

They have a powerful

 sense of responsibility for their employees

. The management provides call center opportunities for people living in rural areas through their "Rural to Urban Migration" program.
CONS:
Unfortunately, their service only focuses on the

Philippines' outbound call center

and virtual receptionists. Not a very good feature, considering SMEs might need to outsource other functions apart from

pay-per-lead telemarketing.
Exxpert Communications Inc.
PROS:
Max pricing for their

pay-per-lead telemarketing campaign is $25

.

Exxpert Communications Inc. is an

8-year call center company specializing in SEO marketing and services.
The organization values teamwork as the main recipe for a successful telemarketing campaign.
CONS:
Their specialization in SEO marketing and CRM development makes it hard for them to provide other BPO services.

There is no affiliated organization to prove the company's credibility, such as certification from various standardization bodies.
Connectors
Pros:
They use various software and CRM to optimize telemarketing operations. Thus,

further reducing your workforce cost.

Konnektors started their operation in 2018, but they already have several clients from North America, Singapore, Australia, and New Zealand.

The organization ensures that there are always

12 different contact points per prospect.

The organization consists of young and goal-driven employees who aim to be the

best Business Development Service provider in the Philippines

.
Cons:
As Konnektors is a newly established company, its offerings are only limited to the marketing aspect of the business. Again, this might not be preferable for SMEs looking to outsource multiple functions.
New Media Services
Pros:
New Media Services

offer tons of offerings in the communication and multimedia sectors

. Their services include video production, business process outsourcing, and web design.

In their 14 years in business

, they assisted more than 300 clients with their 500 outsourcing projects.

They have several headquarters in Melbourne, Manila, Amsterdam, Tampa, and Zurich.

Despite their diverse culture, New Media Service was able to

maintain the same goal

for all their employees all over the world.
Cons:
Pricing might be an issue for SME owners. It is because New Media Services also have offices in Australia and Europe. This will cost you more compared to a Philippines-based call center.
Prospects DM
Pros:
The average for their inbound and outbound

pay for performance telemarketing

service is

$25 per hour

.

They offer call center service to 9 industries

like Automotive, Retail, and Healthcare.

PDM believes that training their employees to be industry experts is the key to a successful telemarketing service.
Cons:
There's no record of any affiliation with any standardization body, which is critical for securing records in telemarketing campaigns.

Unfortunately, Prospects DM's services only focus on inbound call center and lead generation service.
Executive Boutique
Pros:
Executive Boutique offers several BPO services on top of their telemarketing assistance. It is excellent for SME owners who might need any additional outsourcing services.

They have experience working with at least

11 industries,

including manufacturing, insurance, and financial sectors.

Moreover,

they have HIPAA-trained agents

to comply with international standards when it comes to data privacy.

Finally, they believe continuous improvement in their skills and technology goes hand-in-hand with achieving any goals.
Cons:
Despite their excellent services, their price range is from $100 to $125. Not an ideal pricing for a call center company that assists small and medium businesses.
Conclusion of the Top Telemarketing Companies in the Philippines
All in all, Magellan Solutions can provide you with an all-around service for your telemarketing campaign.
There's no definite disadvantage when you outsource with MS. The management provides practical solutions to every problem.
Aside from that, you can guarantee continuous operation despite any situation since their agent can work remotely with minimal supervision.
Moreover, Magellan Solutions have Bureau Veritas ISO 27001 Certification. This ensures that the management commits when it comes to protecting your information.
Meanwhile, Executive Boutiques' service is comparable with Magellan Solutions. Their service offer is also exceptional. SMEs can enjoy multiple BPO assistance aside from telemarketing.
However, the pricing of these organizations is ridiculously high compared to its counterpart. 
Magellan Solutions' price point for telemarketing is $12 per hour. While Boutique Executives' cost per call leads is $100 per hour. I was making them the most expensive telesales company Philippines on the list.
Hire Now the Best Company that Provides Exceptional Filipino Telemarketers
Aside from the above information, Magellan Solutions has many things to offer.
We have various services like:
Our Business Developers can help you set up your key performance indicators (KPI). KPIs will guide you and monitor the progress of your business with us.
We also offer guaranteed flexible pricing options based on several factors, like service and the number of agents you need. 
Magellan Solutions understands that start-up businesses have limited funds for outsourcing services.
Our applicants went through a thorough application process. After that, our hired employees will undergo training to enhance their skills.
Contact us today and hire telemarketer Philippines. You will get a 60-minute consultation at zero charge. Fill out the contact form now!
TALK TO US!
Contact us today for more information.