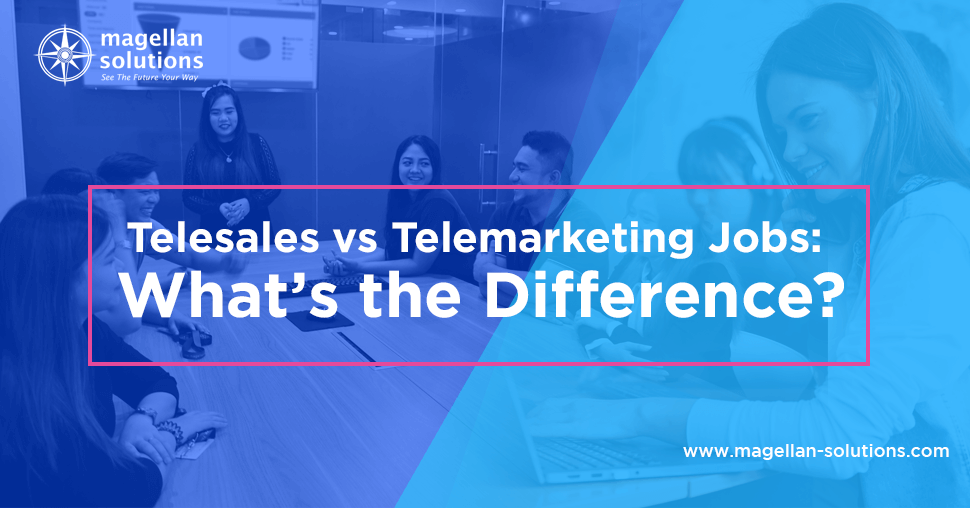 What's the Difference Between Telesales vs Telemarketing Jobs and How Does it Help Your Business?
What is Inbound Telemarketing?
How Can Telemarketing Call Center Shape Help MSMEs?
Have you ever wondered how important a telemarketing call center is in the Micro, Small, and Medium Enterprises (MSMEs)? 
According to the Congressional Policy and Budget Research Department (CPBRD), the MSMEs are the backbone of the Philippine economy. The latest data (2019) presented by the Philippines Statistics Authority (PSA) noted that out of 1,000,506 business enterprises in the Philippines, 99.5% (995,745) are MSMEs. 
Having the MSMEs contribute so much to the nation's gross domestic product (GDP), employment, and total value-added, it is essential to fuel these businesses with equipped and future-proof strategies which telemarketing can provide.
WHAT IS TELEMARKETING & HOW DOES IT WORKS?
So, what is telemarketing? And how can it help you and your business?
DEFINING TELEMARKETING
Call center telemarketing is a strategy firms use to increase their bottom line. Telesales has always been done over the phone. But now, businesses talk to customers in many different ways.
Telemarketing is when you use the phone to find leads, close deals, or get marketing information. It can be a good strategy for small businesses because it has many of the same benefits as talking to clients directly. All while keeping costs as low as possible.
HOW DOES TELEMARKETING WORK?
Call center telemarketing is used for a variety of things. In addition to its most typical function of advertising goods and services, you can use it to gather data, create leads for sales, and conduct surveys. 
The main objective of telemarketing is assessing a potential customer's degree of interest. Businesses can learn if a specific customer is interested in their goods or services by phone. 
With technological advances, political parties worldwide have used telemarketing to their advantage. They use it to conduct polls to ascertain the voting preferences of the public, particularly during election campaigns. 
Telemarketing campaigns can be pretty powerful if they are done correctly.
COMMON TYPES OF TELEMARKETING 
Below are the three basic types of telemarketing: lead generation, inbound, and outbound call centers. Let's find out the difference between the three.
#1) OUTBOUND TELEMARKETING
The agent contacts the consumer directly with an offer in a call center outbound telemarketing company. The usual goal is to make a sale. They're often called sales services. Since more actual selling is involved than in inbound operations, representatives working on this side of telemarketing typically need more excellent training and product knowledge. 
#2) INBOUND TELEMARKETING
Customers initiate the first point of contact with a company in an inbound telemarketing plan for call centers. With call center inbound telemarketing, people may contact the business whenever it's most convenient, which may ultimately increase profitability.
#3) LEAD GENERATION
Lead generation is mainly about getting leads through telesales. It is one of the most well-sought telemarketing operations. The ways to get information are various. You can do cold calls, email, or talk to people. Firms employ lead generation to help them get the attention of prospects.
ADVANTAGES OF TELEMARKETING
As a powerful marketing tool that offers a variety of benefits, telemarketing is very in demand. So, to understand why, we have listed below the help of a telemarketing call center. 
COST-EFFECTIVE
Firms use telemarketing call centers to lower the cost of selling. Compared to having an army of agents knocking door to door, BPOs are cheaper. And also safer during the pandemic.
Getting in touch with clients is also made more accessible. This is because most contact centers have a list of available numbers they can call.
BOOSTS SMALL BUSINESSES 
A telesales or telemarketing call center can be a beneficial technique for small firms because it delivers many of the same advantages regarding direct client contact while taking up less time and money.
WIDENED BUSINESS REACH
A telemarketing call center allows businesses to sell and market products over long distances. Because of this, SMEs have the opportunity to connect with more prospects and build a more comprehensive network of distributors. 
It can also be used to find a lot of different business opportunities. If you want your firm to reach other countries, this is for you. Don't worry about your existing customers, though, because you can still manage them with the help of a call center partner.
IMPROVED EFFICIENCY
When you outsource telemarketing, a whole team takes care of getting leads. These people know a lot about the industry and have the skills to develop new campaigns for any situation. One perk of getting a BPO company is the expertise it can offer. To say that they're the best is arguable, though. But one thing is for sure. They can give you results.
QUALITY CUSTOMER SERVICE
Building a base of loyal customers is vital to ensuring the business will succeed in the long run, thus increasing its value. Customer satisfaction is a heavy factor with SMEs. It can either make or break you. Fortunately, according to data, good customer service can lead to more customers and repeat business.
FACE-TO-FACE INTERACTION
Customers usually want to talk to a natural person with experience in the field. This helps build a relationship with the customer that will last for a long time. A call center is ideal for installing trust. It's accessible, and anyone can quickly contact someone.
FLEXIBILITY
A telemarketing call center is one of the most adaptable types of direct marketing. Knowing and comprehending what people want and are willing to purchase is essential. A telemarketing call center has many advantages, including continuously refreshing the client database and understanding what customers search for in a product or service, brand, etc.
ASSESSMENT OF THE RESPONSES
Knowing how effective your advertising is will enable you to measure response. Plans may be based on the outcomes, which may be compared to those already established.
10 TELEMARKETING TIPS TO FUEL & BOOST YOUR BUSINESS
Telemarketing may not have the best reputation. But if you use it right, your business can start making money quickly. Below are ten telemarketing tips to help you with your business plans.
#1) MOTIVATE YOUR CALLERS
Callers must be knowledgeable and competent to advertise your company on the phone. It's about having a strong interest in the topic, being aware of the problems that customers face, empathizing with them, and knowing how to address them.
So, be sure your callers are motivated and well-trained to engage customers in conversation rather than boring them to death with technical jargon or a lengthy, tedious sales pitch that isn't relevant to their needs.
#2) KNOW YOUR TARGET AUDIENCE
Customer data is your friend. The key to telemarketing success is pinpointing your target market with precision. If you know their pain points, you can sell them anything.
#3) NEVER DO SOMETHING ILLEGAL
You must follow specific guidelines depending on who you want to call and where you're calling from. In addition, if you record your calls, review the call recording regulations in your area.
#4) SOFT LEAD GENERATION
Soft lead generation usually determines if a prospect wants to do business with your company. This is done with the help of a carefully planned method. And a list of essential profiling questions must be answered before the leads are finished. 
This "soft-sell" method works better than direct sales tactics.
#5) DO SOME RESEARCH AND POLISH YOUR ARGUMENT 
Knowing your audience is great, but it is useless if you don't have something to offer them. Therefore, learn what the customer worries about and how you may help by conducting some study. Discover the reasons they buy and the difficulties they face.
#6) UTILIZE YOUR REFERENCES
Consider the people you can call upon as leverage. You can still modify the call if you cannot name-drop or do not have these clients by highlighting your expertise while speaking to a decision-maker in the sector you are targeting. 
#7) RECOGNIZE THE HOOK
There are lots of providers of the same goods and services. As a result, you need your call to be distinctive. The information presented and the caller plays a role in this.
#8) EVALUATE YOUR PERFORMANCE
Check your agents' progress and ensure your ratio of successful outbound calls to deals closed is within acceptable bounds. Again, using current calling software makes it simple to get through reports for each agent and campaign you run. In this manner, you can tell which agent is working hard and who isn't.
#9) USE THE SUITABLE TOOL FOR THE JOB
Several telemarketers calling all day are not common in large companies. They optimize their procedures to get the most calls in the allotted period. They frequently employ dialing software from my company's call center. Powerful features found in these systems include automatic call distribution, interactive voice response, and auto dialing.
#10) YOUR TOOLS SHOULD BE CONNECTED
It's great to pick up the phone and talk to someone who wants what you're selling. Adding that customer to the pipeline is even better so you can learn more about them for your database. In other words, telling your agents the whole story isn't complicated, and you should do it.
IS IT TIME FOR YOU TO OUTSOURCE YOUR TELEMARKETING TASKS? 
Telemarketing services are the fastest way to meet new people and spread the word about your business. It is also a great way to expand and innovate if you don't want to use traditional sales methods. BPOs can also help you adopt a progressive strategy. They can be your lifetime partner if you want to.
Now that small businesses have access to a lot of new technology, telemarketing is no longer just for big companies. It can be for anyone.
MAGELLAN SOLUTIONS PROVIDES QUALITY TELEMARKETING SERVICES FOR YOUR BUSINESS NEEDS
Magellan Solutions provides top-notch telemarketing services tailored to your organization that'd help you promote and sell your goods and services to boost your sales. 
With 18 years of expertise in the field, we take great pride in offering only the best call center services appropriate for small and medium-sized businesses. On top of that, we are an ISO-certified and HIPAA-compliant outsourcing company.
Call us, and let's talk about your company's needs and business resolutions.
TALK TO US!
Contact us today for more information.