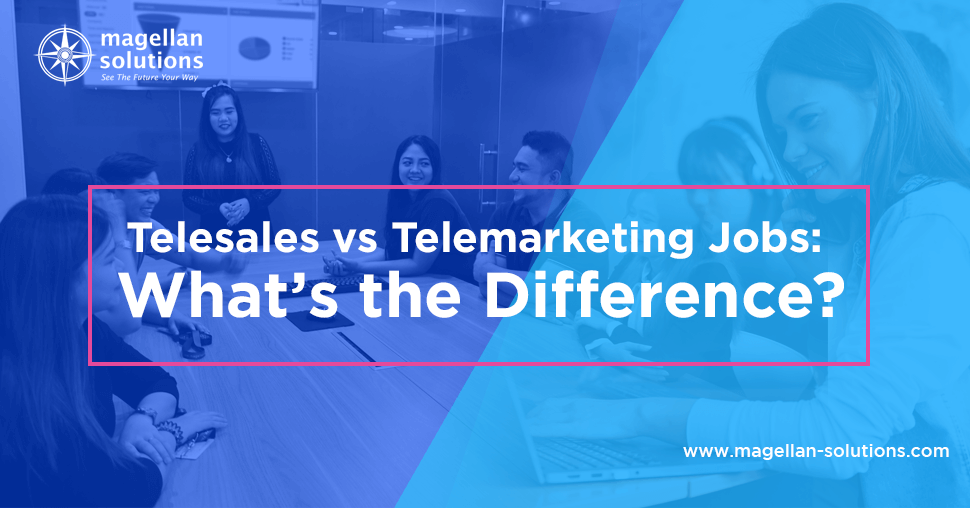 Telesales vs Telemarketing Jobs: What's the Difference
It's common practice to use the terms "telemarketing" and "telesales" interchangeably. However, the ideas and services offered by the two practices are significantly distinct. Most people are unaware of the differences between telemarketing and telesales, so they are unable to use either one effectively.
Almost everything that involves cold calling, lead generation, telephone research and surveys, etc. is now regarded as a component of telemarketing. The distinction between telemarketing and telesales is further clouded by all of this.
In this blog, we will discuss telesales vs. telemarketing and how they work. 
TELESALES MEANING 
Telesales is a telephone-based service that creates interest and opportunities, disseminates knowledge, considers consumer input, schedules appointments, and generates leads.
The goal of telesales, like that of telemarketing, is to persuade potential consumers to make a final purchase. Additionally, telesales come in two types: inbound and outbound.
Outbound telesales involves making calls to potential customers while inbound telesales involves taking calls from current and potential customers.
TELEMARKETING MEANING 
It involves the exchange and gathering of data, the creation of opportunities, and the generation of leads over the phone.
Telemarketing generates leads, informs individuals of the services you offer, and gives customers and businesses the chance to learn more about one another. Telesales turns those chances into revenue for your organization.
You must present your business to a potential customer, provide them with important details, and, if required, set up a meeting or a demo before they will consider buying your goods or services. Telemarketing essentially prepares the ground for selling itself.
TELESALES vs. TELEMARKETING
WHAT'S THE DIFFERENCE BETWEEN TELESALES AND TELEMARKETING?

Telesales agents must be calm during calls and highly persuasive.

Good customer service is expected.

Agents convert customer data into sales.

Outsourcing telesales services allows you to cut costs while expanding your sales team to accommodate your existing needs. You can easily scale back the team as well. 

The precise client data provided by telemarketing operations is the basis for inventive telesales campaigns.

You can stay within your budget by adjusting the scope of your telesales campaign. 

Increases conversion rates and reduces costs per sale.

By delivering information directly to your customer, telemarketing saves the time and expense associated with acquiring new clients or increasing interest in your company, its goods, or services.

Telemarketers conduct surveys in order to identify buying patterns.

Telemarketing agents showcase your company, products, and services in a professional manner to potential customers.

Telemarketing agents generate great leads for the telesales team to convert into sales.

Market research is conducted through outbound calling.

Telemarketers set up more productive appointments.

Inbound calling offers a chance to provide customer support, which may then be turned into more sales or lead generation.

Through telemarketing, you may generate a steady stream of appointments from clients who are specifically looking for what you have to offer.
TELESALES SKILLS & DUTIES
Lead generation, direct sales, and customer relations are just a few of the responsibilities of a telesales agent. Leads will be closed and consumers will be satisfied enough to do business with the company again thanks to an excellent telesales person. Telesales tips and their responsibilities are listed down below. To succeed in a telesales position, you should possess the following telesales skills:
CUSTOMER SERVICE
Telesales representatives call consumers after a sale to ensure they are happy with the product or service in an effort to persuade them to keep doing business with their business. Additionally, they create, update, and gather client records in a database, therefore having excellent typing and phone skills is crucial.
According to their clients' tastes and demands, telesales representatives also update clients on new offers. Providing accurate information about the business, its goods or services, special offers, and other information is a part of their customer service responsibilities. This necessitates that telesales representatives have a thorough understanding of their company and its products.
SETTLING CONFLICTS
Telesales representatives need to be very good at resolving conflicts. Since they frequently interact with clients, they assist in resolving their complaints before they escalate into larger problems. This keeps the company's reputation intact and enables customers to enjoy their products to the fullest.
OBTAIN SALES TARGETS
In accordance with the company's revenue targets, telesales representatives must achieve monthly and quarterly sales targets. In order to get closer to their quotas, they must make a minimum number of calls and close a certain number of sales.
MANAGING ORDERS
To reach sales quotas, telesales representatives take and process orders. They handle repeat business, which opens doors for cross-selling to current clients. Agents utilize scripts to suggest extra goods or services to customers placing new orders based on their prior purchasing habits. This increases sales and profitability and frees up the sales crew to focus on making sales in the field.
LEAD GENERATION
The lead generation for the sales team is greatly aided by telesales agents. To tell them of the company's products, services, and offers, they call potential and current clients. Additionally, those who are reacting to direct marketing and advertising initiatives call telesales agents. To identify customers who are prepared to buy and those who are inclined to acquire their offerings with adequate convincing, they adhere to a script. Prequalification speeds up work for the field sales force and improves conversion rates.

DIRECT SALES
Telesales agents carry out direct sales tasks in addition to disseminating news about goods or services. They can target clients for repeat business by collaborating with telemarketers and the sales team and using information from previous sales. Telesales representatives can also ask qualified leads qualifying questions that can disclose their purchasing intent.
MAINTAINING REPORTS
An efficient telesales person will produce and maintain activity records. The reports include information on the leads, sales, quantity of calls, customers, and other crucial figures that might support revenue growth.
SALES EXPERIENCE 
Sales expertise is required of telesales agents. Employers need employees who can set up appointments, follow up on leads, and successfully achieve sales goals over the phone. They must understand how to use scripts to screen potential customers and persuade current customers to buy more goods or services. In order to resolve customer problems and persuade them to purchase at advantageous prices, a superb telesales agent needs to have strong bargaining abilities.
PROFICIENT IN COMPUTER SYSTEMS & TELEPHONE
An effective telesales agent will be familiar with phone systems. Additionally, they must be proficient with the computer programs and customer relations management tools that are necessary for their jobs.
COMMUNICATION
Telesales representatives that are successful need to be effective communicators. They must be able to engage in meaningful conversation with strangers and keep it going.
Telesales agents may immediately detect the tone and pitch of the person they are speaking to and change their voice in order to establish a more personal connection. They must be able to communicate with customers in their language and convey complex ideas in straightforward terms. Along with speaking clearly, they must pay attention and have the patience to hear the problems of the audience. They may now offer more individualized experiences to increase consumer satisfaction.
FAST LEARNER 
To explain the advantages to customers and persuade them to make a purchase from the business, telesales representatives need to have a thorough understanding of the goods or services they are selling. Because they depend on scripts to close leads, this calls for agents to be quick learners.
INTERPERSONAL SKILLS
Interpersonal skills are necessary for telesales agents. The ability to establish rapport with the other party over the phone is necessary for selling.
In order to turn leads and persuade current consumers to make more purchases, this requires the use of empathy, persistence, and persuasion. Conflict resolution, emotional intelligence, and active listening are other crucial abilities for building a successful business.
GOOD TEMPER
You must be calm under pressure if you want to work in telesales. There can be heated circumstances when the person on the other end of the phone is not interested in speaking. You must be able to take rejection with composure and prevent it from harming your career.
TELEMARKETING JOB DESCRIPTION & DUTIES
Telemarketers focus primarily on turning potential customers to buying their products and services or soliciting donations. They're mainly responsible for maintaining the phone directory of customers, outlining the advantages of their products, and collecting payment information. The duties of a telemarketer and telemarketing job description are listed below. 
TELEPHONE SKILLS 
A productive interaction between a telemarketer and potential consumers is aided by prior telephone sales experience. Strong communication skills are a must for having effective telephone abilities. Speaking, reading, writing, and listening skills are all essential for telemarketers.
MAINTAINING CUSTOMER RECORDS 
Telemarketing agents maintain a list of clients who have been approached and those who do not wish to be contacted again. They keep track of your calls, sales, and other useful data. Telemarketers also contact former clients to follow up on prospective purchases. 
LEAD GENERATION
Locating and qualifying leads on behalf of the telesales team to assist them. Telemarketers collect demographic and location data from clients in order to optimize their lead generating tactics in the future. Telemarketing agents provide the telesales staff with precise and useful data to help them become more efficient. 
ANSWERING INQUIRIES & SOLICITING DONATIONS
Telemarketing representatives deliver rehearsed speeches to persuade potential customers or funders about the company's goods or services or ask for donations. They also pose relevant questions in order to better grasp the needs of the client. 
PRODUCT EXPERTISE 
Telemarketers should be well-versed in the goods and services they are promoting and know how to sell them with an emphasis on the demographics of the customer. 
SALES EXPERTISE
When you know how to communicate effectively and bargain with a potential client, you can sell your goods and services to them. A telemarketer must up his negotiating skills in order to convince customers on making a purchase. Telemarketers should make use of customer inquiries to generate sales.
CONDUCTING MARKET RESEARCH
Telemarketing agents perform market research and gather customer feedback through outbound calls. 
TIME MANAGEMENT & DETERMINATION
When dealing with numerous consumers in a day, telemarketing salespeople need to be adept at time management. Also, during a scheduled period for the business or organization, they must concentrate on sales performance.
DEVELOP REPEAT BUSINESS & PRODUCT PROMOTION  
Telemarketers contact potential and current clients to inform them of the services offered by their company and pique their interest in the brand. Additionally, they advertise new products to clients to encourage repeat business.
COMBINING BOTH TELESALES & TELEMARKETING
Despite having quite different strategies, telemarketing and telesales do not have to be isolated from one another. It shouldn't be telesales vs. telemarketing, combining these two strategies instead will increase the profitability of your business. 
You need top-notch telemarketers in order to collect reliable client data. For your telesales agents to successfully sell your goods and services, the data telemarketers gather is essential.
Because not everyone is skilled in both, there is a requirement for a distinct divide between these two methods. It's possible that you thrive at selling but struggle with marketing. Each of these tactics calls for a particular technique and skill set.
People who work in telemarketing, for instance, need to have a thorough awareness of your business as well as all the relevant industry data and statistics. Additionally, telemarketers need to be informed about the newest and fastest-growing market trends.
Additionally, their in-depth knowledge of consumer personas and interpersonal abilities serve as significant advantages to persuade leads to schedule meetings and appointments. Furthermore, data is gathered through surveys and other marketing initiatives.
Telesales representatives, on the other hand, need to be skilled at foreseeing the demands and pain areas of their clients and prospects. Along with strong communication abilities, telesales reps should also have exceptional business judgment.
Salespeople approach selling differently over the phone than they do in person. The only way to develop good telemarketing and telesales skills is through experience.
CONCLUSION
The main issue at hand is not which option to select. Instead, the main focus is on how the two can be used together successfully.
Obviously, telesales and telemarketing services can be integrated and provided by the same business, allowing them to function strategically as a single team. While the other business converts those leads into sales, the first can create a pool of potential leads. The telesales team closes the transaction while the telemarketers set up the appointment.
Teams from telesales and telemarketing can achieve remarkable outcomes when they collaborate, plan, coordinate, and customize their strategy. The level of engagement and communication that go into ensuring both services are serving the same purpose, the same client, which is you, is a major benefit of utilizing one team to generate a steady supply of leads and another team to generate those leads.
But not all businesses are able to offer the complete spectrum of inbound and outbound telemarketing and telesales solutions. Choose a company who can handle all of your marketing and sales demands.

MAGELLAN SOLUTIONS CAN HELP YOUR BUSINESS ACHIEVE ITS OPTIMAL RESULTS
Now is the best time to consider adding some business strategies for your company and make an impact that will help you achieve your business goals. 
If you are in need of a telemarketer or telesales representative, Magellan Solutions will help you every step of the way and assist you with your business objectives at a significantly reduced cost without sacrificing quality.
With more than a decade of expertise in the field, we take great pride in offering only top-notch call center services. On top of that, we are an ISO-certified and HIPAA-compliant outsourcing company. We provide a great variety of quality outsourced business solutions. 
Give us a call and let us discuss your business needs. 
TALK TO US!
Contact us today for more information.