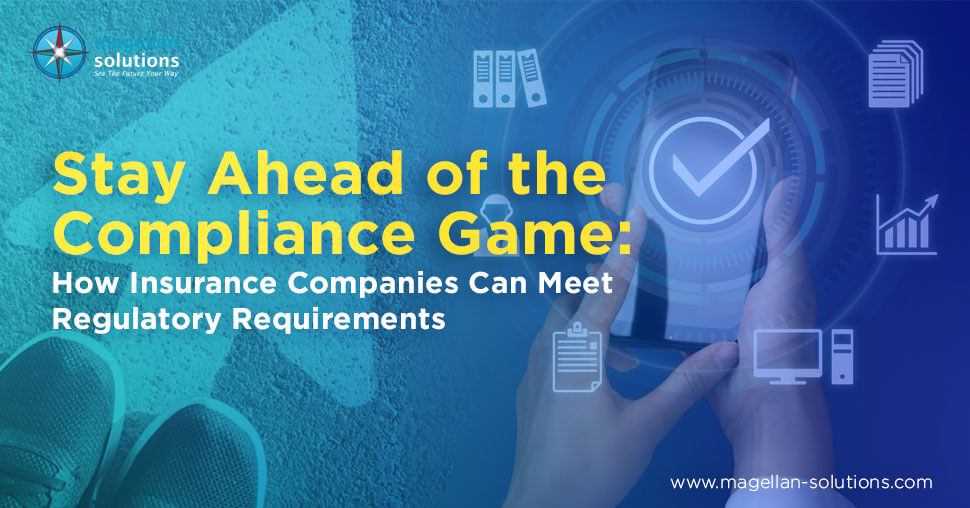 Stay Ahead of the Compliance Game: How Insurance Companies Can Meet Regulatory Requirements
Insurance companies encounter a variety of challenges nowadays. Increasing client demands, ever-changing regulations, and competition are some of the difficulties. Outsourcing administrative functions for insurance companies has been a proven strategy to consider. 
With the rising inflation, insurance companies are looking for ways to reduce costs. By outsourcing administrative functions, insurance companies can focus on the core tasks. Outsourcing will give insurance companies a competitive edge while providing outstanding customer service. 
Today, we will explain the benefits of outsourcing administrative functions for insurance companies. 
WHAT DOES OUTSOURCING ADMINISTRATIVE FUNCTIONS FOR INSURANCE COMPANIES MEAN?
Administrative functions are essential to maintain the successful operations of an insurance company. These tasks ensure the efficient operations of an insurance company. 
Outsourcing administrative functions for insurance companies is one way to increase efficiency. Listed below are some of the administrative functions that you can outsource. 
Customer Service: Email support, call center services, and chat support. 
Human Resources: Recruitment, benefits administration, and payroll. 
Finance & Accounting

: Financial reporting, bookkeeping, and managing the accounts. 

Business Compliance

: Ensuring compliance in regulating laws to avoid legal and financial damages. 

Information Technology (IT)

: Technical support, hardware maintenance, network management, and software development. 

Data Entry & Management

: Input of data about the life, health insurance claims, and mortgage claims of the policyholder.

New Policy Application

: Issuing of proposals, quotation, processing of documents, and maintaining records of payment. 

Policy & Claims Processing

: Policy renewals and cancellations, withdrawals, claims verification and processing, and retirement. 
Outsourcing administrative functions ensures increased productivity. Insurance companies can allot more time and resources to crucial aspects of business. Outsourcing services specialists can also handle these tasks better and faster. 
Moreover, these outsourcing providers also handle business compliance. Following these regulating laws lowers risks and problems.  
TOP 7 BENEFITS OF OUTSOURCING ADMINISTRATIVE FUNCTIONS FOR INSURANCE COMPANIES
Have you ever wondered why outsourcing administrative functions for insurance companies is popular? Do you want to grow your insurance business? As a business owner, you always want to increase productivity and profits. 
The advantages of having an outside source manage certain tasks for insurance businesses are listed here. 
#1) IMPROVED DATA PROCESSING
Data processing requirements expand alongside a business' growth. Hiring outsourcing companies ensure access to advanced technology and machinery. This helps insurance companies perform data entry services with accuracy. 
Insurance companies can manage data and improve decision-making skills. Outsourcing administrative functions help insurance companies handle financial and organization data.  
#2) REDUCED COMPLIANCE RISK
Outsourcing providers also handle business compliance. They face strict quality control procedures. This helps the insurance company ensure compliance with regulations. Complying with the regulations lowers exposure to risks. 
#3) ENHANCED CUSTOMER SERVICE
Outsourcing administrative functions improves customer service. Outsourcing providers can provide 24/7 customer support. Maintaining the quality of customer service is a must for successful companies.
#4) ACCESS TO SKILLED PROFESSIONALS
Hiring outsourcing experts improves efficiency and hours of working. This results in accuracy in data and claims processing, underwriting, and policy management. These specialists also provide advice and solutions to businesses. 
#5) LOWERED COSTS
Outsourcing administrative functions reduces labor and operational expenses. Costs associated with equipment, office space, and salaries are no longer accounted for. Moreover, you do not have to invest in training and technology. 
#6) INCREASED FLEXIBILITY
This allows insurance companies to adapt to changes in compliance and client demands. Insurance companies enjoy increased flexibility in resource allocation and employment. During seasonal fluctuations, flexibility is beneficial to businesses. 
#7) IMPROVED FOCUS ON CORE TASKS
Outsourcing administrative functions allows you to focus on core tasks. The shifted focus improves business efficiency. This also provides opportunities for companies to improve their services. 
WRAPPING IT UP…
Despite the hardships the insurance industry faces, companies outsource to stay competitive. Insurance companies enjoy the resources and skills outsourcing companies have. They can also focus on improving their back-office functions and maximizing profits. 
Insurance companies gain from outsourcing administrative functions. These advantages include increased flexibility, reduced costs, and access to industry experts. By outsourcing administrative functions, you can focus on key duties. While maintaining stability, insurance companies can deliver outstanding customer service as well.  
MAGELLAN SOLUTIONS PROVIDES FIRST-CLASS OUTSOURCING SERVICES
Are you looking for assistance with your office-related duties? It is time to outsource your administrative functions to us and see how your company will go to the next level. 
Our team of experts will guarantee you optimal business solutions. Magellan Solutions is here to help businesses maintain stability and competitive edge. 
For nearly two decades, we have been a top-tier provider of call center services. Additionally, we are an ISO-certified and HIPAA-compliant company offering an extensive range of high-quality outsourcing services. Reach out and let's talk about how we can help you achieve your business objectives.
Contact us and let us discuss your business goals.