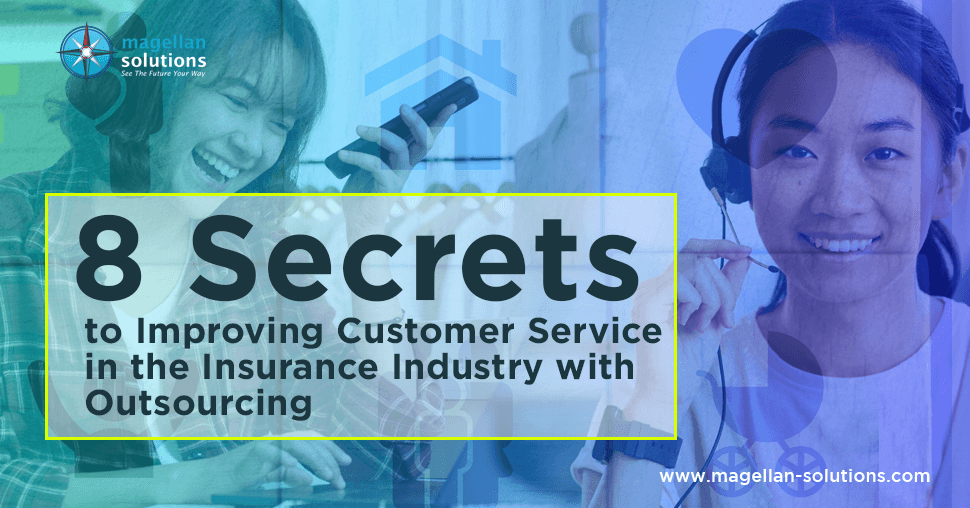 8 Secrets to Improving Customer Service in the Insurance Industry with Outsourcing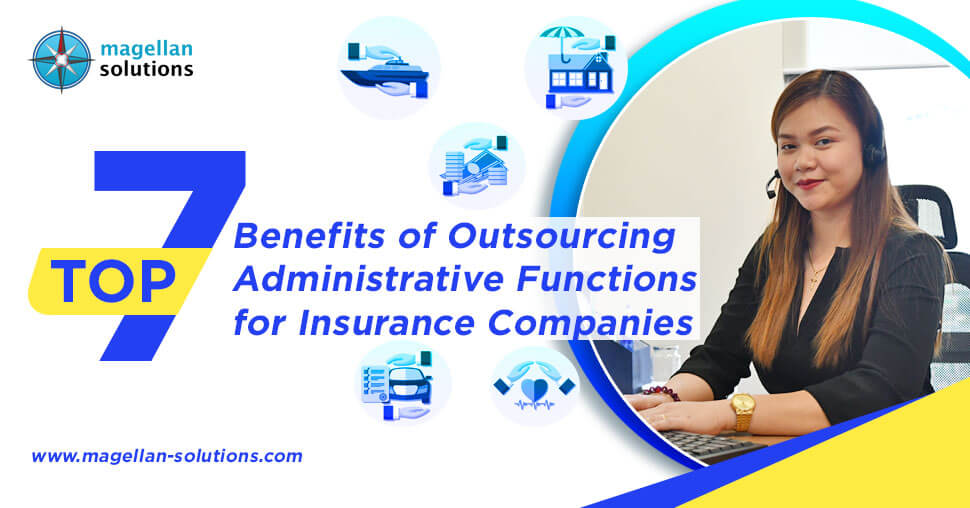 Top 7 Benefits of Outsourcing Administrative Functions for Insurance Companies
Staying current with the laws that regulate data security is of utmost importance for businesses. To mitigate risks, data protection standards are constantly changing. Outsourcing insurance compliance services can assist companies with changes in regulatory compliance. 
Regulatory compliance is a vital component of the insurance sector. Insurance companies should follow the regulations to maintain stability and safeguard the customers. Failure to comply may result in legal consequences, penalties, and negative publicity.
Ensuring regulatory compliance may be a challenging and tedious process. 
Some of the benefits of outsourcing regulatory compliance services include:
Reduced Costs

Focus on Core Tasks

Increased Efficiency

Lowered Compliance Risks

Access to Insurance Compliance Services Experts
This article will explain the importance of outsourcing insurance compliance services. 
WHAT ARE INSURANCE COMPLIANCE SERVICES, AND HOW DOES IT HELP YOUR BUSINESS?
Following regulatory requirements is vital to maintain success and stability. By outsourcing insurance compliance services, insurance companies can ensure business compliance. 
Some of these services include:
Task Management

Risk Assessment

Establishing Policies

Claims Management

Auditing
Insurance compliance minimizes violation risks and enhances the totality of business activities. It recognizes potential compliance threats, ensures regulatory compliance, and updates procedures and policies. 
By outsourcing, businesses can focus on their critical projects and achieve business compliance. 
BENEFITS OF OUTSOURCING INSURANCE COMPLIANCE SERVICES
Outsourcing insurance compliance benefits insurance organizations with regard to business compliance and efficiency. We have listed below the benefits of outsourcing insurance compliance services.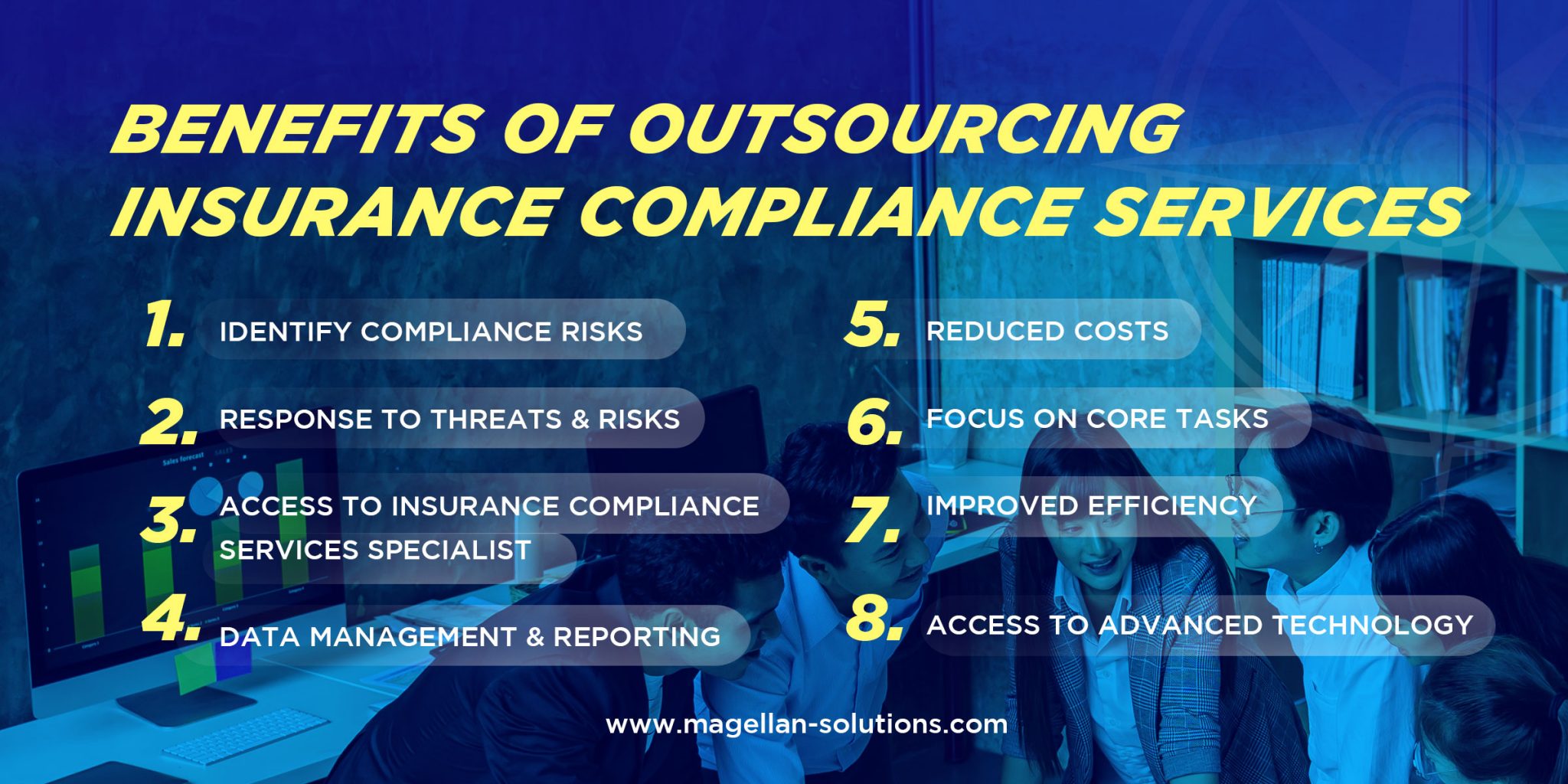 Source: Magellan Solutions
#1) IDENTIFY COMPLIANCE RISKS
When insurance companies do not follow regulatory laws, it can lead to damages. You achieve business compliance if you outsource insurance compliance services. Additionally, it lowers exposure to potential risks. 
Insurance companies would not have to worry about business compliance risks anymore. 
#2) RESPONSE TO THREATS & RISKS
Encountering threats in the business world is inevitable. Establishing a plan for handling attacks can enhance possible breaches and response time. 
Outsourcing insurance compliance services can assist businesses in the following: 
Identifying potential threats

Keeping track of your networks

Overseeing your networks 24/7
#3) ACCESS TO INSURANCE COMPLIANCE SERVICES SPECIALIST
Outsourcing companies can tap the suited professionals for business compliance. These experts can discover compliance risks, provide helpful insights, and suggest solutions. 
#4) DATA MANAGEMENT & REPORTING
Insurance companies need to gather and report data about their customers' claims. They can enhance reporting skills and data management when outsourcing insurance compliance services. Insurance compliance specialists can also produce compliant and timely reports. 
#5) REDUCED COSTS
Outsourcing insurance compliance services lower operation costs. You can allot your resources to other crucial aspects of your business. 
#6) FOCUS ON CORE TASKS
Your in-house staff will have the time and opportunity to improve other areas of the company. You can expect boosted efficiency and improvement in business operations. 
#7) IMPROVED EFFICIENCY 
Insurance companies can focus on their critical duties by outsourcing insurance compliance services. This helps insurance companies in delivering top-notch service and maintaining a competitive edge. 
#8) ACCESS TO ADVANCED TECHNOLOGY
Partnering with outsourcing providers will always ensure access to advanced technologies. Outsourcing insurance compliance services will save your company from acquiring expensive machinery.
Moreover, developing systems and setting up the machines will no longer be a problem for you. The outsourcing provider can also tailor-fit solutions for your business needs. 
#9) POLICIES & PROCEDURES 
Your outsourcing provider can personalize compliance services suited for your business. This ensures consistency in requirements and standards. Additionally, companies need to set specific protocols for sensitive data access. 
TAKING EVERYTHING INTO ACCOUNT… 
Outsourcing insurance compliance services help insurance companies in achieving business compliance. They also benefit in data management and improving reports and audits. 
Insurance companies can also reduce costs, boost productivity, and focus on core tasks. They can lower their exposure to potential risks and keep their business stable. 
MAGELLAN SOLUTIONS CAN PROVIDE OUTSTANDING INSURANCE COMPLIANCE SERVICES
Do you need help with ensuring regulatory business compliance? You should outsource your insurance compliance services to us! 
Our devoted insurance compliance services experts can provide top-notch results for your business. Magellan Solutions can assist you in practically expanding your business. 
We pride ourselves as a leading provider of call center services for almost two decades. On top of that, we are an ISO-certified and HIPAA-compliant outsourcing company. We provide a great variety of quality outsourced business solutions.
Contact us and let us discuss your business goals.