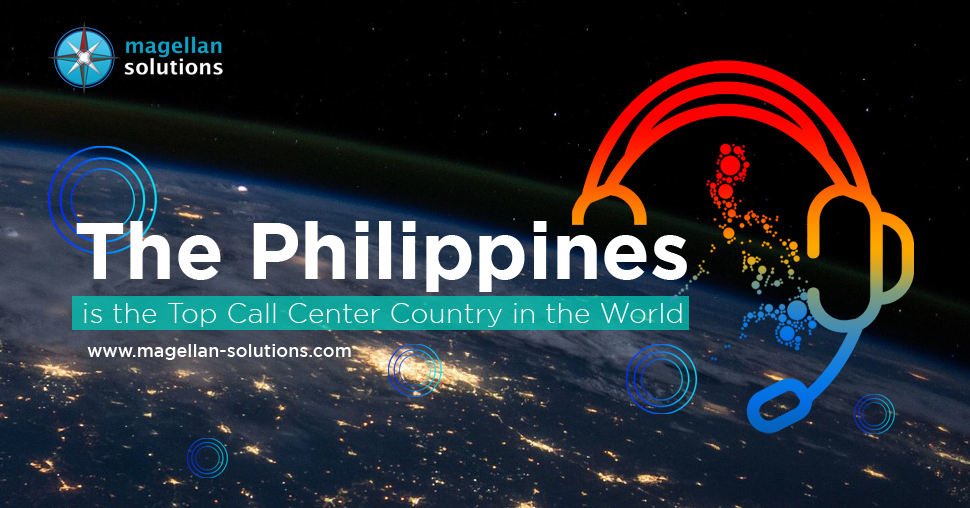 The Philippines' key competencies such as their educated workforce, efficient labor practices, industry expertise, low labor cost, and strategic location propelled the nation to become the top call center country in the world for voice-enabled services. 
The most outsourced services to call centers in Philippines include answering services, order taking, technical support, and customer service.
What sets the Philippines apart
The Philippines is an excellent choice because it is high exposure to Western culture, especially that of the United States. On a regular day, a caller from the US may talk to a seemingly native English speaker, who turns out to be someone from another country. Americans can hardly tell when they speak with a Filipino representative over the phone because the accent and communication skills of Filipino agents are comparable to onshore representatives.
US-based businesses also say that outsourcing to the Philippines reduces capital costs. At the same time, they cannot put enough emphasis on the high degree of attention, care, and warmth of the highly skilled Filipino professionals. Simply put, what makes the Filipino outsourcing industry a success story is customer service managed with the highest level of professionalism and efficiency – at a fraction of the cost.
Top industry authorities, however, say that outsourcing to the Philippines is not only about cheap labor. They say that Filipino agents are worth the extra cost, because customers in the US find them easy to understand, and they are very engaging, even during actual conversations. It also helps that Filipinos are exposed to American culture early on, coupled with years of high school and college education, where English is the primary language of instruction.
Consistent Industry Growth
However, the booming call center story did not start in the Philippines. The offshoring of call center services started big in India, which gathered as many as 350,000 call center agents almost instantaneously.
Now, there are over 1 million Philippine-based BPO workers, with a vast majority of them working as call center agents. These agents usually work at night, talking to most Western consumers. Now seeing the value and strengths of offshore call centers, companies from all over the world, including Australia, New Zealand, UK, and Europe are also outsourcing their operations to the Philippines.
10 Top Call Center Countries in the World
Throughout the years, the Philippines has consistently been considered as one of the 5 best countries to outsource to, along with China, Ukraine, Taiwan, and Vietnam. Meanwhile, it ranks first as an offshore hub for call center outsourcing, the top 10 being:
Philippines

India

Poland

Ireland

Spain

Canada

China

Romania

Germany

Costa Rica
It is also worth noting that the Philippines overtook India as the top call center nation in terms of expansion and revenues. The economical value of outsourcing to a Filipino call center helps even small and midsize enterprises, as the country's call center industry steadily expands as much as 30% a year, compared to 10-15% per year in India.
Criteria for Being Top Call Center Country in the World
There are plenty of factors to be considered when analyzing which country is the top call center country in the world. The criteria is a mixture of numbers and qualities, including:
Labor costs (call center pricing)

English language proficiency

Language empathy

The neutrality of spoken accents

Affinity to Western cultures

Customer centrality

Talent development programs

Government incentives for foreign investors

Industry growth rate

Industry revenue rate

Talent development programs
The Philippine call center industry meets these criteria well, which made it the top call center country for offshore outsourcing. Filipino call center agents have an excellent command of the English language, influenced by the Filipino culture, which promotes empathy and awareness of foreign cultures. The Philippine government is also supportive of the call center and BPO industry in general by providing incentives, such as tax breaks, competitive costs, and talent development programs.
Now, the Philippines is not only known as an outsourcing mecca because of its lauded call center expertise. The country's BPO industry also provides excellent back-office services, such as accounting, legal processing, animation, data entry, and software engineering.
Outsource to a Philippine call center company
Magellan Solutions is a BPO company based in the Philippines. With over 15 years of industry experience, we offer high-quality call center services to businesses of all industries around the world. To guarantee the quality of our service, our company is certified by ISO and HIPAA.
At Magellan Solutions, we train our agents to become customer service experts. We make sure that they have the necessary tools, equipment, and knowledge to efficiently serve customers anywhere in the globe. We want to extend our services even to small and medium enterprises, so we keep our rates highly flexible and competitive.
Get in touch with us now, and we shall discuss how our company can help your business.
TALK TO US!
Contact us today for more information.