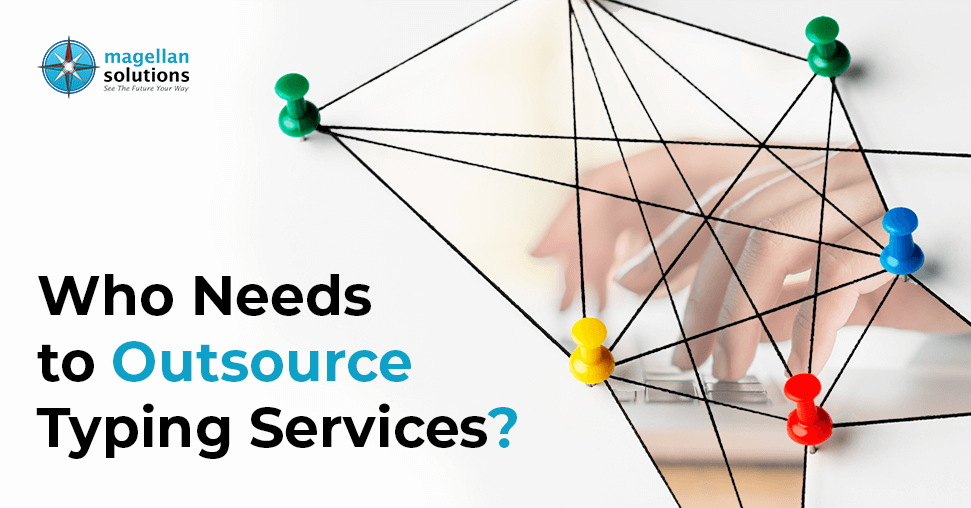 Who Needs to Outsource Typing Services?
By outsourcing typing services, your company can finish a project faster and more efficiently. Not only that, but your organization will also be more productive, flexible, and cost-effective.
A third-party company will take care of the daily routine and repetitive tasks. Any business that hires this service from offshore can make money as long as it runs regularly.
Professional typing services providers gear themselves with the necessary hardware, software, and expertise. As a result typing services are in-demand in a lot of industries. Let us take a deeper look.
TYPING SERVICES: MEANING, HOW DOES IT WORK, & RATES
Typing service is simply converting written texts into digital data. It can also mean converting one kind of electronic data (such as word and PDF files) into another. They can help you compile word documents, even from several sources, into one to generate reports and to support statistical data. 
Professional typing services providers can also do copy typing. They can transcribe audio and video files to MS word or any form of document. Even if you can only get cheap and affordable document typists, they can still do these admin work.
WHICH TYPING SERVICES ARE BEING OUTSOURCED? 
Do you still have time to do your paperwork and other administrative tasks? Don't drown yourself with work! Collaborate with an outsourcing company! 
Here are some of the typing services being outsourced by companies nowadays: 
MANUSCRIPT TYPING SERVICES 
Every month, hundreds and dozens of manuscripts are read carefully by editors, authors, and publishing houses. However, many of them are too occupied to work on backlogs. In order to keep the work running, businesses hire manuscript typing services teams.
ONLINE TYPING SERVICES 
Every business needs online typing services because they need to turn paper documents into digital files that can be shared on the Internet. Expert online typing services can save you a lot of time. They can also help cut down on the costs of running your business..
DOCUMENT TYPING SERVICES
Every day in a business, different types of documents with different files and formats are made. If you want to turn them into digital files, you should hire a document typing services company. This will give you the best results for the least amount of money and time.
REPORTS & STATISTICAL DATA
If you don't know much about the report, it will be hard to back up the data you have. Working with a skilled typist is the best way to make sure that your reports and writings are correct, free of mistakes, and well-organized.
TYPING SERVICES RATES
Typing services rates range from an estimate of US$4 to US$15 per page. They may also charge per hour, which ranges from an estimate of US$25 to US$40 per hour. These rates also depend on the project and other factors accounted for. 
However, typing services rates may differ based on many factors. So better still ask your provider.
BENEFITS OF OUTSOURCING TYPING SERVICES
Have you ever wondered why companies switch to outsourcing? Truth be told, outsourcing typing services has several advantages. Here are some of them:
#1) BOOSTS YOUR MARKETING & SALES EFFORTS
Using customer information, your sales and marketing teams can tailor their messages to different groups of clients. You can read data to optimize your email and social campaigns. It's easier to find good leads and make sale calls.
If you don't hire qualified typing services professionals, your team will carry too much workload. They can help you set reasonable goals for the output you need to produce. It will also help you understand big data better.
In addition, when you have typists on your team, you can handle a lot more data. This makes your company more productive right away.
#2) IMPROVE DATA SECURITY AND ACCURACY
BPOs use trusted software to ensure security. Protecting the privacy and safety of customers is the number one priority of service providers. So In a data-rich service like transcribing services the right tool is needed. 
Also, if there are lots of mistakes in a company's database, you won't be able to handle data well. 
You can prevent this by fixing the data stored in your system. But that is a lot of work.
Outsourcing typing services can help you fix data. They can also collect and manage it for you. When there is a steady flow of business data, it is easier to get people to work together.
#3) REDUCED COSTS
Your business can save money by outsourcing. You might need to spend money finding and employing more employees if the workload suddenly increases. 
When you require new workers by a deadline and only for a limited time, it might become much more challenging. However, if you outsource, you won't need to worry about staffing. If the workload increases or reduces, they have adequate employees to assist you.
7 INDUSTRIES THAT NEED TO OUTSOURCE TYPING SERVICES
Now that we know the benefits of a typing service, let's discuss the industries that badly need it.
#1) GOVERNMENT ENTITIES 
Government groups must make sure that taxpayer money is used in the best way possible. But how can they do it if their data is all over the place?
By hiring someone else to do their typing, they can make sure that government documents are safe and accurate. With this, you will also be able to cut down on the amount of paper in the office.
#2) BANKING & FINANCE
Companies usually hire typing services to help with payroll processing. And this is now a common practice. 
In terms of safety, you can get a data security company to help you manage information. But rest assured, BPOs number one priority is always privacy. It is better if you check for certification to ensure the quality of their security. A pro tip is to look for ISO certified companies.
#3) HEALTHCARE & DIAGNOSTIC CLINICS
Medical professionals mostly use data to improve their services. By hiring an outsourcing business to type your medical records, managing patient data will be easier. BPOs can help you store patient records and ensure that they are updated. They can even help you set appointments for your patient's check-up.
#4) DIGITAL MARKETING
Successful digital marketers know how to give typing tasks to others because they have seen firsthand how giving work to professionals can change things. There will always be a need for administrative workers to help with big projects, and digital marketing will always be important.
#5) REALTORS
Realtors should know how important it is to keep a database of their clients. It takes a lot of time, energy, and attention. For a low price, outsourcing typing services with a lot of real estate experience can improve the accuracy of data in a snap.
#6) RETAIL & ONLINE SHOPS
To keep up with the adamant expectations of the consumer, the retail sector has adopted the trend. The demand for typists is steadily rising because of the growth of the e-commerce industry. However, creating a website and running an online store may be very expensive. You can save money by being familiar with the procedure.
#7) LOGISTICS
Instead of dealing with tedious tasks, a firm can use their time more productively boosting offerings. For each type of data that needs to be sorted, separate projects are recommended. You can hire a skilled typist to input these documents under close supervision, including delivery notes, invoices, invoicing, and customer surveys.
ARE YOU READY TO START WORKING WITH A TYPING SERVICE PROVIDER?
SMEs and multinational corporations are the ones who need typing services the most. In the past, data entry and recording were just handwritten notes. Now, automated and computerized typing services have taken their place. This has allowed a lot of BPO service providers to become successful overnight by offering high-quality typing services at reasonable prices.
If you haven't thought about hiring a typing service before, now is the time to start! There are a lot of companies that offer specialized typing services for every industry. If you need help choosing the right company to outsource typing services to, you only have to reach a service provider that does a wide range of administrative work.
FAST AND ACCURATE TYPING SERVICES FOR ALL TYPES OF FIRMS
Do you have a typing project?
Partner with Magellan Solutions if you're seeking for an established and reliable transcription services provider and affordable typing services.
With 18 years of expertise in the field, we take great pride in offering quality call center and customer support services. On top of that, we are an ISO-certified and HIPAA-compliant outsourcing company.
Contact us right away and leverage the benefits of working with a top-notch outsourcing services provider. 
TALK TO US!
Contact us today for more information.