4 Strategies To Retain Customers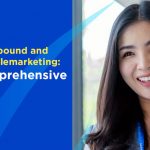 Mastering Inbound and Outbound Telemarketing: Your Comprehensive Guide
Each day, we would have to deal with the usual things that come and go. We have to make sure that we follow the daily grind. We would have to ensure that we get to work on time, do what is required for the day, and then go home. The next day, we do it all over again. That is why it is unsurprising to see many people looking forward to grand holidays and events to splurge and help make themselves happy.
One of the most challenging things regarding such events and holidays is ensuring you get all you need to celebrate that day. You would have to ensure you get all your gifts ready. And then you would also have to ensure that all the food you need is prepared. Malls are filled to the brim, so many people would order the things they need and deliver them to their homes. A technical support call center may just be one of the top companies getting more work during such days because systems can crash because of the rush of shoppers.
During holidays like Christmas and Thanksgiving and grand events like Black Friday and Cyber Monday, you can expect many people to rush to the stores for all the necessary supplies. They want to spend these days with all the money they may have saved because they are worth celebrating. People have no qualms about spending because they have good reasons to celebrate. So a person who may have been working with a technical support call center Philippines has to offer may be more than willing to shell out what his wallet has to feel the spirit of those holidays.
The problem is that when you go to the malls to get all the things you need or to get all those items on sale, you would have to deal with a massive crowd of people who are also thinking of the same thing. It is all about getting the items they need. But the mall could only hold so much. Everything can be chaotic, the lines can be too long, and you would only end up exhausted. Sure, you may not even have bought all that you need. This is the very reason why many people choose to purchase all the things they need through the Internet. An order-taking call center may be the one to handle all the calls that come in so you can easily place your order. All the items you ordered will be processed and sent to your doorstep. People are more than happy to order online because they would not have to deal with the traffic and the crowd. Plus, they can get everything that they would need.
And then there is that surprising thing about humans. When they come across a sale, many people would feel like it is a good buy, even if they do not need it. That is why during such holidays and significant events, malls and shops make sure that they offer some sales so that the chances of people purchasing would be much more meaningful. This is why many people say that they usually go home from a shopping spree with many things that they do not need but bought because they were on sale and looked like a good deal.
It is essential to remember that during these great shopping days, the malls and shops offering you the items you need must work much harder because of the vast number of items sold. An order-taking call center in the Philippines would be more than happy to tell you this is true. During such times, they need to make their customer support a whole lot better. During such times, they also need more people on technical support because computers can break down during the rush of orders and processes coming in. It is always best to have the best permission, especially during rush seasons like these. A person working in a help desk call center would attest to that because they have to provide even better service during these times.
What Bad Customer Service And Technical Support Can Do
Customers can be ruthless – and unforgiving if not appeased. They expect to be treated well. They know how important they are when bringing money to your business. This is why you have to make sure that you treat them well and that you serve them well. You need them. They are the lifeblood of your business, and you surely would not want to see your business go down the drain all because you could not prepare for the rush that comes with big holidays and grand events.
Magellan Solutions knows how important this is for all businesses. So they have devised perfect packages and plans that should help out all companies who do need customer support outsourcing and tech support outsourcing during such dire times. Many owners out there have yet to discover the ease and convenience they can get by outsourcing important tasks like customer service and technical support.
You would not want to bring lousy customer service and technical support to your customers. See, these customers are knowledgeable about how things work. They know that if one company does not treat them well, they can quickly transfer to another that treats them like royalty. As a customer yourself, you definitely can say that this is true. Why stick with one business which does not even seem to give you importance when you can go with another which makes you feel like you are the most important person in that store? You would not want that to happen to your business.
During such rush days, you can be sure that there will be a lot of people calling in and going online and contacting you to be able to place their orders. A customer does not think of these days as special days. It is just an ordinary day, and they need to place an order. They would not give you any consideration. If they feel that contacting you is pretty tricky, they will choose to go to another where they are quickly attended to. A customer service representative will tell you how hectic the calls can be, so you should invest in the right people to do the job.
If you already have old customers and do not attend to them that well, you can expect them to start leaving you and jumping ship. If you think you can still get new customers, you are right. But not right. See, if you cannot keep your old customers with you, your chances of getting new ones can be pretty tricky too. Those old customers will spread the word about how you treat them, and you know that word-of-mouth advertising is compelling. You would not want to be getting a poor reputation. It would take a lot of time to erase that from people's memory.
Some customers would contact you for all the orders that they have in mind. Despite any customer service skills that you may have, if these people find that they have to wait a long time to get attended to or get their order processed, you can be sure that they would lose interest in your company. At the very least, you can lose that order.
These are the very reasons you should ensure that you have everything ready before the rush starts happening. You should already have planned your strategies and created timelines to meet with all the hustle and customers coming your way during these holidays and significant events. These will happen each year, so you should ensure that you are prepared each year.
What You Can Do To Make Sure That You Ride Through The Rush
One of the things that you can do is to plan ahead of time. You know that the rush is going to come. It is something that you should not take lightly. It will go, and you will see that it will. That is why it is best to plan. At the start of the year, know what you would like to achieve during this time and plan. Know what you should do and prepare for it. If you need more people to manage your computer technical support team, find people to do that job. It should help you be ready for the battle that will come to your business, and if you pass that, you can be sure that you will have more customers with you even after the rush has gone.
With the rush coming closer and closer, you would be able to notice that there would be more inquiries and more orders coming. It will not be like a giant tsunami coming in – they will come in waves, and that should help you assess the situation as it comes. However, it is always best to have a technical support specialist around, so just in case anything untoward happens with the computers, someone will always be around to help you with the system. The system is what is very important, especially during these times.
There would be a lot more calls coming in and a lot more inquiries. You have to prepare for that as well. If you have seen many questions on the same things repeatedly, you may want to check out your website and change the information there. Or you can create an FAQ page on the website to reduce calls for such simple questions. On the other hand, you can also create an FAQ sheet for the people you have chosen for your technical support outsourcing. That way, they can quickly answer any questions and thus attend to more customers.
Agents are still people, and there will be times when they feel like a customer's inquiry cannot be resolved right now. Some would even tell customers to call back just to be able to get out of the call. Those are not the kind of agents that you would want. What you would need to have on your team that provides customer service and online technical support would be those willing to help out customers even if the customers can be demanding. You would have to ensure that you train them well and train them to take as many calls as possible without sacrificing quality. You may have gotten out of a problematic call by telling the customer to call back, but that person will call again, which should be another number to the growing number of calls. Go for finding the solution to the issue in just one conversation.
And at the end of it all, the best tip would be to make sure that you always treat each customer with respect. You may have gotten out of a bad one, but do not take that on the following customer because each customer is different. Take a deep breath, smile, and attend to that new customer. Do not let the stress get to you.
How valuable are call center outsourcing services for your business during the holiday season? Share your thoughts today.
TALK TO US!
Contact us today for more information.