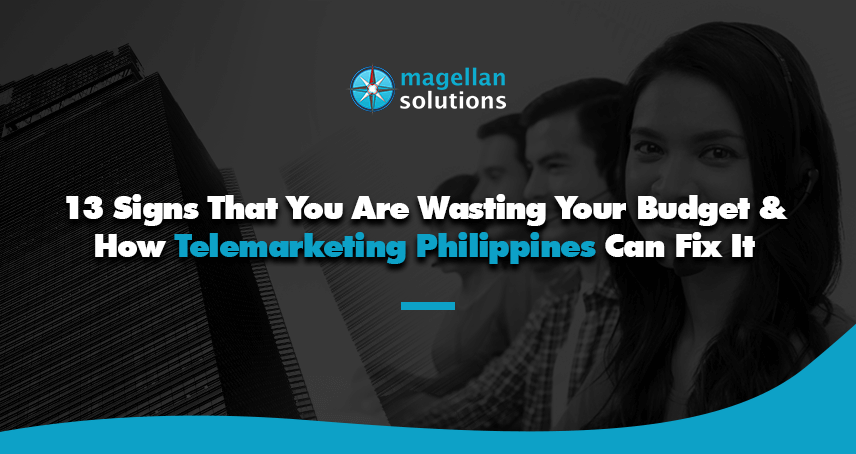 Contact center services Philippines
current research of believed wasted budget on
Telemarketing Philippines
There's an old saying that telemarketing Philippines outbound waste half of the allocated budget. Problem is that clients don't know which half. 
Take this as an opportunity to re-evaluate what you have been doing and how you have been investing your marketing dollars. There is always a way to do more with less.
How does
call center outsourcing Philippines
help you avoid wasting your budget?
A recent study indicates marketers are well aware they're spending money ineffectively but believe the squander is closer to a quarter of their budgets.
In a survey of 1,000 marketers worldwide by Rakuten Marketing, respondents estimated they waste an average of 26% of their budgets on ineffective channels and strategies. And about half of respondents said they misspend at least 20% of their budgets.
Meanwhile, 2.9% believed they're squandering more than 80% of their marketing dollars.
To help you get started, here are some common marketing budget drainers that Magellan Solutions can help to avoid:
1. Spending money to reach the wrong people
The biggest waste in marketing is spending money on activities that reach the wrong audience. This is especially an issue for B2B companies that have a limited target market.
Advertising and large trade shows tend to be the biggest budget items, yet much of the audience is often off-target. You will get a much higher return for your marketing dollars by going directly to the companies and individuals that can purchase your product.
Building a database of your target market prospects is not an overnight proposition. But it will be the best marketing investment you've ever made.
2. Generating leads that Sales doesn't want
The second-largest waste is generating leads that Sales will never follow up on. It is way too common to hear Marketing complain that Sales doesn't follow up on its leads, while Sales complains that Marketing leads are a waste of time. 
Both have to agree on what constitutes a good lead. Moreso, both sides have to be accountable for their share of the equation: Marketing for generating "good" leads, Sales for following them.
It's the CEO's job to make sure that Marketing and Sales are in sync, and lead follow-up is where the rubber meets the road.
3. Failing to follow up on leads
Invest in lead-development personnel. 
Some call them Inside Sales, others call them Telemarketing, but both fail to describe the role that will give you the most for your money. 
The lead-development function is the guardian of the agreement between Marketing and Sales. Its role is to make sure that every good lead generated by Marketing is passed to Sales and save Sales from wasting time chasing leads that are not a good fit for the company.
4. Killing the conversation
Provide Sales with follow-up tools and templates. 
Even when Sales is willing to follow up on the leads it gets, the conversation often dies once the lead is handed over to the salesperson. 
The easiest thing for salespersons to do is to copy an old email or use the same opening sentence they always use when calling on a prospect. This is like starting all over with a new pickup line rather than continuing the conversation that has already begun.
So don't leave it to chance: If you're putting together a campaign, make sure you provide Sales with the follow-up scripts and email templates they can use when the leads start coming their way.
5. Overemphasizing new leads
While Sales might dismiss some leads as "old," those are actually the best leads you can give them. 
Software buyers require multiple touches before they are ready to engage in a serious sales conversation, so your best chance to make a sale is to someone who has already been in touch with your company.
If you continue pursuing only new leads, you will soon find yourself out of companies to go after, and even sooner out of budget.
6. Targeting new leads with late-stage offers
Lead nurturing is crucial. But you still need to acquire new leads that have not heard from your company yet. Since you have to buy access to these leads, the lead acquisition is expensive.
Good lead-acquisition activities are those that appeal to a broad audience of early-stage prospects, such as whitepapers and webinars that are focused on industry issues, not on your product.
7. Direct mail and rental lists
Email promotions to your permission-based list will usually generate response rates that are 5-10 times higher than email to rental lists and 10-15 times higher than direct mail, at a fraction of the cost.
As a result, the cost per response from your email list can be over a hundred times lower than for any other method. 
In addition, the turnaround time for email promotions is shorter, which means you can communicate in a more timely fashion.
A good permission-based email list is your company's biggest marketing asset and your best lead-nurturing vehicle. 
At the same time, if your email is not permission-based, you run the risk of breaking the law and alienating your audience.
8. Failing to use your permission-based list
You don't want to inundate your prospects with too much communication, but most software companies fail to communicate enough. Newsletters and blogs are great vehicles to keep communication flowing.
Your customers are eager for knowledge; so, as long as you keep your content relevant to your audience and tone down the sales pitch, most of them will welcome your emails. 
For those who don't, offer ways to opt-out of specific items so they don't have to remove themselves entirely from your list.
9. Failing to get the most out of your email marketing
A well-designed message can increase response to your emails by up to 50%. That's a huge difference in the return on your marketing dollars.
There is no magic formula for a good email message. To make sure your message is well designed, you have to test every element of the message. From the subject line to the placement of the links and the call to action.
10. In-person seminars
Webinars are much more effective than in-person seminars. They cost less and you can draw a national and even an international audience to a single event. The typical seminar will draw 25-50 people, but it is not uncommon for a webinar to draw hundreds.
A webinar can also be easily recorded for future use as an on-demand presentation, extending the lifespan of the event months or even years beyond the initial take and generating up to twice the responses of the live broadcast.
11. Losing people on your Website
All roads lead to your website. Any serious prospect will be looking at your Web site multiple times throughout the interaction with your company before, during, and after the purchase decision.
The first thing you need to make sure is that your Website content is of interest to your prospects. The second thing is to have calls to action that will get your Web site visitors to engage. View a webinar, download a whitepaper, fill out a survey.
Last, you need to make sure that you can track these interactions. With this information in hand, you can fine-tune your follow-up to match your prospects' interests and avoid wasting valuable marketing and sales resources.
12. Failing to double (and triple) dip
Creating new content is often the bottleneck to new marketing initiatives. 
Once you have created some good content that will engage your customers, don't let it go to waste. Your prospects process information in different ways, so you can take the same content and repurpose it in multiple ways.
For example, turn your webinar into an article, post it in your newsletter and blog, pitch it as a PR placement, or offer it as a podcast.
13. Not knowing what you get for your money
Every marketing activity should be attached to a measurable goal. If it's not, you probably shouldn't be doing it. 
A measurable goal could be the number of leads, number of new contacts, number of meetings, opportunities, deals, and all the way to revenue dollars.
Filipino Telemarketers
Are The Solution
It's certainly hard to build something new without the resources to do so. 
"Spending money to make it" only works if you're spending on the right things. And if you're not, it hurts you twice. Once because you wasted your money and a second time because you now have less to spend on the things that actually help you grow.
Telemarketing call center Philippines like Magellan Solutions is guaranteed help for you to split your budget wisely on necessary things. And if you find something more necessary? You can easily consult us. 
Your opinions matter the most. Thus, we want to build a trustworthy partnership with you when you outsource to telemarketing companies Philippines.
Fill out the form and we'll get back to you with a quote!
TALK TO US!
Contact us today for more information.