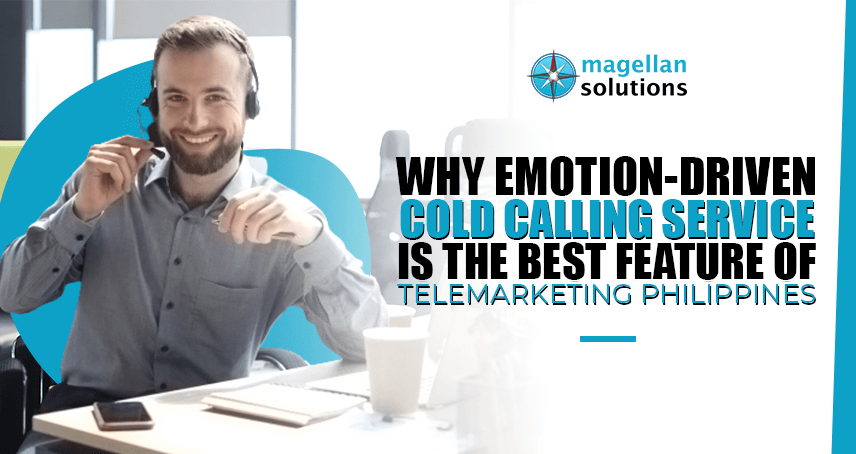 Let's take a look at why Telemarketing Philippines is the best destination for an effective emotion driven cold calling service.
Telemarketing Philippines offer a lot of advantages in the quality and technical side of any cold calling campaign.
We already know that telemarketing call center Philippines provides various technologies that will help SMEs develop their telemarketing campaigns.
So in this article, let's discuss the qualities of Filipino telemarketers that will help your cold calling campaign succeed. 
We will also provide some benefits of using an emotion driven telemarketing strategy.
Different Emotions Used by B2B Lead Generation Companies in Philippines to Persuade Customers
According to recent studies, customers made 95% of their purchasing decisions unconsciously. 
It means they will use their emotion first to decide and will later justify their decision logically after buying the product.
This is the reason why agents should have a basic understanding of customers' emotions and how to take advantage of it.
With this in mind, let's dive in at some emotions that you can use in order to maximize your telemarketing campaign:
Customers Driven by Optimism vs Pessimism
It is not easy to build your connection with any potential clients. 
You need to consider your customer's mood before talking about your product or you will end up losing them for good.
So, it'll be better if you start your conversation on a positive note. For example, instead of asking them about their problem, you can check what their goal is in the future.
Talking about goals and aspirations instead of frustrations will generate a more enthusiastic and productive conversation.
It is a great way to know your customers needs since 87% of prospects say cold callers don't understand their needs.
Moreover, a positive approach means giving your product something that will create a great value in the customer's life. 
Meanwhile, having a negative statement at the start of the call tends to present the service as a "cure-all" for your prospect's pain points. 
Creating this impression on customers leads to greater disappointment if they find out the limitations of your product. 
Hence, it'll be better to set the customers' expectations at the very first call in a friendly manner. 
Having unfriendly agents (60%) and agent's lack of knowledge (46%) about the product are two of the most frequent reasons why customers take their business elsewhere.
Finally, the optimistic approach of agents outperform pessimists by 57%. This is even accurate regardless if pessimists have better skill sets than the optimist agent.
Customers Driven by Money
Everyone wants to gain something during a sales interaction. While you want to make sales, most of the customers also want to know what they can gain from buying your product.
Hence, 66% of telemarketing call centers believe customers will place a high priority on the accuracy of the data provided.
The trick is to show this to your customers. You must emphasize and demonstrate the value of what you're offering.
It is actually easy to spot if a customer is a money-oriented person using these tendencies:
Very ROI oriented

Asks many questions about potential profit

hesitant about the cost of a new product or service

Eager to get to the bottom line right away
When you encounter these tendencies to your potential clients you should focus your presentation into a more data driven topic.
Providing anecdotes of former and current customers who saw significant ROI after closing sales with you improves their interest towards your service.
Furthermore, it is easier to pique their attention if you use money oriented buzz words such as "revenue" "invaluable", "profit", or "earnings" even more than you usually would.
However, you should still create a value adding statement on your sales pitch rather than just shoving them all these figures.
Around 84% of buyers complain that sales reps are annoying in their efforts to convince them to buy using all profitability and ROI.
At the end of the day, you can influence 96% buyers' purchase decisions through the value you can deliver to them.
Customers Driven by Fear
Telemarketers can use this emotion to stimulate the needs of customers to purchase your product. 
You can indicate why they have to immediately turn to your product to solve some of their common challenges.
Please take note that taking advantage of customers' fear is different from being a pessimist during the lead generation process. 
To explain further, you can use fear after you ask some positive questions to your customers.
For example, after asking about the goal of your customer, add the effect of not using their product aside from its benefits.
This way, your customer can understand the urgency of using your product for future solutions.
Furthermore, you can cite some stories of other customers who refuse to buy your product right away. Make them realize that they don't want to be in the same situation as those clients.
It is also an effective way to integrate fear as 63% of customers can remember stories that you give while only 5% remember statistics.
People are inherently wired to protect themselves; therefore, fear won't fail to elicit a reaction.
Once you state these factors, your potential will naturally ask you for additional information about the product. 
This is where you will act as a "problem-solver" more so than being a telemarketer.
79% of business buyers want their cold callers to be a trusted advisor who adds value. Customers want consultants, not old-style telemarketers.
Customers Driven by Trust
Trust is the best benchmark of every telemarketing campaign. 
Establishing trust and credibility with potential customers means you have an effective way of presenting your product.
Unfortunately, only 19% of customers trust telemarketers. It is because most customers' thinks that cold callers will always sensationalize the product without giving them what they need.
Out of all emotion driven telemarketing, trust is particularly unique as no one can fake it. So, telemarketers must really mean what they say and do as they promise.
Being open and honest about your product is the fundamental of building trust with your clients. You should be able to state its limitations so as to what to expect in the product.
Display your company's transparency by offering testimonials, customer reviews, hard data, and publications you or your company have appeared in.
Trust will lead you to loyal customers, and loyal customers are one of the main keys to your company's success.
In fact, customers loyal to their brands spend 67% more than new customers. 
On top of that, 84% of potential clients want to buy from someone they know and trust.
You will know that your prospects wants to build trust first when they have these following characteristics:
They're looking for a secured business transaction

Critical thinker and take decisions making process seriously

Questions everything you said

Ask for assurance like seeing testimonials or any success stories
You can go a long way with your business when you have trusted and loyal customers. They will prioritize all your new innovations first before checking other brands.
Why Filipino Telemarketers are the Best Option for an Emotion Driven Cold Calling Campaign?
Now that we already know the customers you can prioritize in emotion driven telemarketing campaign, let's check why Filipino telemarketers is the best for this cold calling service:
Rapport in Doing Telemarketing Philippines Outbound Service
When your telemarketer talks over the phone, 84% of prospects are more focused on the tone of their voice rather than their words.
So, the best way to build a rapport with a prospect at the start of a conversation is to align with their speech patterns. 
Moreover, you also have to respond to cues that indicate their feelings and state of mind.
This is where a telesales company Philippines can excel at. Filipino call center agents have the ability to connect with their customers through giving empathy towards them.
Not to mention that they have a great accent which sounds calming in the ears of American shoppers.
Establishing rapport with your customer makes them relax. As a result, they can be more open in the conversation and can share key information required in building better relationships.
Philippines Outbound Call Center Agents' Communication Skills
80% of new telemarketers fail due to their hesitation during the phone conversation with your potential clients. They can hear if agents have no confidence towards what they're pitching.
The secret to an effective emotional driven conversation is to listen thoroughly more than you speak. Which is where call centre services Philippines is known for.
Most outbound telemarketing services Philippines have training for attentive listening with their agents  before even going into live operation. 
This improves their communication skills since they can pitch their product depending on what the customers say. 
This is also in line with customers' sentiment as 69% of them want someone to listen to their needs first before hearing any offer.
Hire Telemarketer Philippines for Their Empathy and Understanding
Understanding your customer's challenges and motivation will help you create a more personalized sales process depending on their needs.
48% of them expect a specialized treatment for being loyal with your company. So, you need a different approach on how to treat your potential clients.
You need to rely on important information based on the challenges they provided to you during the start of the conversation. 
There's no template here that you can go by as everything varies depending on the tendencies and mood of customers. 
That's why outsourcing your telemarketing services in the Philippines can help you a lot with this situation.
Most BPO companies have several expertise in analyzing customers' tendencies which they will forward to their experienced Filipino telemarketers.
They will use it to analyze the purchasing pattern of your potential clients. This way, they will feel the special treatment they're expecting from your company.
Morals and Values of B2B Lead Generation Companies in Philippines
Lining up your morals and values with your customers' is possibly the most important element in creating a strong relationship with them.
Your company needs to show the human side of your business. It means you need to demonstrate how you care about your customers by listening to them.
Therefore you need to look for an outsourcing company that will prioritize your customers' needs. 
Someone who can create metrics and KPIs that will help you improve your relationship with your prospects.
This is where contact center services Philippines can come in handy. Most of their philosophy aligned in making their service better for their customers.
Filipino telemarketers make sure that they will treat potential customers in the best possible way. 
It is an accurate practice since 68% of customers said that a pleasant representative was key to their recent positive experience with a business.
Set Your Eyes with One of the Best Telemarketing Companies Philippines
If you are an SME looking to outsource your telemarketing service then go to Magellan Solutions. We have 18+ years of telemarketing Philippines experience with more than 100 clients all over the world. 
Here are some outbound telemarketing services that we have:
Our Business Developers can help you in setting up your key performance indicators (KPI). KPIs will guide you and monitor the progress of your business with us.
We also offer guaranteed flexible pricing options based. Magellan Solutions understands that start-up business needs have limited funds in outsourcing services.
Our security is also world class because of different standard certifications. Magellan Solutions also has an ISO/IEC 27001:2013 Certification. 
It ensures your company's sensitive data is safe in our system. Our expert team provides security measures against phishing and data breach.
Contact us today and hire telemarketer Philippines. You will also get a free 60-minute business consultation. Please fill out the contact form below.
TALK TO US!
Contact us today for more information.