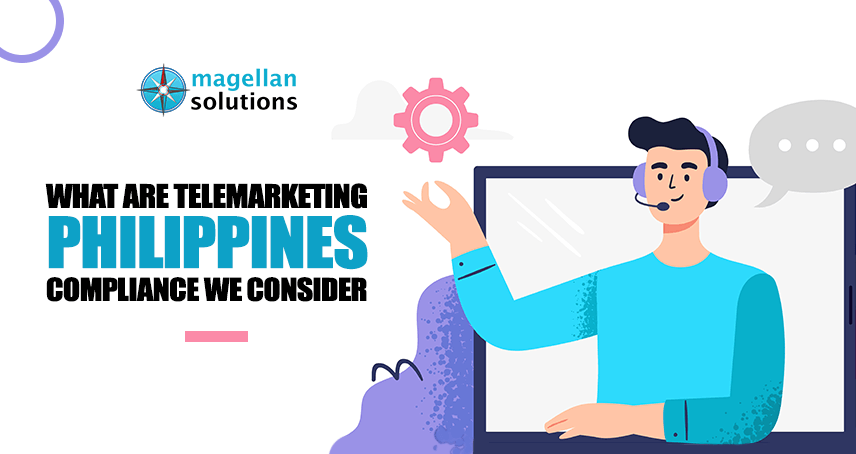 Telemarketing Compliance:
The Rules of Telemarketing You Need to Follow
When it comes to following legal requirements, the biggest challenge outbound telemarketing services Philippines face is being up to date.
Magellan Solutions wants to deliver the best service to your customers. That is why it's in our best interest to know how to navigate legalities and rules.
The Controversy Surrounding Telemarketing
While telemarketing has become an enormously popular method to advertise items, it is also a polarizing strategy in modern marketing, because consumers find it unpleasant and hazardous. Most individuals do not enjoy being called by strangers suddenly.
A substantial number of firms utilize unethical – or at least exceedingly unpleasant – techniques in telemarketing. For example 'robo-calling', a practice that uses a pre-recorded message transmitted to thousands of telephone customers in one broadcast – the telephone rings, you answer, and hear a promotional recording.
Ever since humans first started using the telephone, it has been a significant marketing and sales tool.
Scammers use the telephone to scam people, especially older adults who live on their own and have symptoms of dementia or some form of cognitive disability. Fear of being deceived or having a family member swindled has made many individuals anti-telemarketing.
Telemarketing Legislation
Because of scammers, as well as the intrusive and unpopular methods used by a number of telemarketers, most governments have enacted legislation to combat these practices.
In the United States, some jurisdictions have enacted legislation or formed industry organizations to create 'Do Not Call' lists. Telemarketing teams are not permitted to contact consumers who have signed up for the program. Companies that call people who are on these 'Do Not Call' lists are subject to steep fines.
The Federal Trade Commission of the United States established a National Do Not Call Registry in an effort to reduce intrusive telemarketing throughout the country.
On the homepage of the National Do Not Call Registry, the following warning is displayed:
"Scammers have been making phone calls claiming to represent the National Do Not Call Registry. The calls claim to provide an opportunity to sign up for the Registry. These calls are not coming from the Registry or the Federal Trade Commission, and you should not respond to these calls."
When it comes to receiving unsolicited phone calls in the United Kingdom, you can register with the Telephone Preference Service in order to avoid them. You can either register your landline or mobile phone online, or by calling 0345 070 0707, which is available 24/7. The service is completely free, but it may take up to 28 days to take effect.
In order to conduct legitimate market research, companies are permitted to call people on the Telephone Preference Service list, provided that the calls do not contain any collect or marketing data that could be used in future sales calls. Unfortunately, many businesses violate and exceed the boundaries of those rules.
Some people choose to protect themselves by installing a call blocker on their phone. It is a device that can be attached to a telephone or that may already be incorporated into the telephone itself. It is possible to use the call blocker to prevent different types of calls from getting through. Some of them require the caller to identify himself or herself before answering the phone.
Customers can usually reduce the number of nuisance calls they receive by contacting their telephone service provider; however, some of these options may not be free of charge to customers.
What is Telemarketing Compliance?
While digital, social, and content remain hot issues in marketing, personal connection is still a key component element of business development and marketing operations. While in-person interaction has been placed on hiatus due to COVID-19, businesses are relying on phone calls to add direct human communication to develop trusted connections. However, with privacy restrictions on the rise, corporations must follow criteria for how consumer data is acquired and used for communication through numerous channels, including over the phone.
Understanding the complexity of telemarketing law is tough. Under federal law, telemarketing is defined as "the initiation of a telephone call or message for the purpose of encouraging the purchase or rental of, or investment in, property, goods, or services, which is transmitted to any person." 47 C.F.R. § 64.1200(f)(12) (12). Complying with state and federal telemarketing legislation needs ongoing attention to the developing regulatory and litigation landscape.
Under the TCPA, individuals are empowered to initiate lawsuits and collect damages for receiving unsolicited telemarketing calls, faxes, pre-recorded calls, auto-dialed calls, voice calls as well as SMS messages received by telemarketers. Sellers and telemarketers must comply with the TCPA, along with other applicable state and federal regulations, or face hefty monetary penalties.
Telemarketing techniques in the United States are also restricted by the Telemarketing Sales Rule (TSR) (TSR). The TSR requires material information about a seller's or telemarketer's goods or services to be provided to customers during marketing calls.
Telemarketers face civil penalties of up to $16,000 per TSR violation if relevant information is not revealed before the consumer pays for products or services. Pursuant to the TSR, the National Do Not Call registry was established in 2003. The Do Not Call Registry allows customers to place their phone numbers on a registry to prohibit most unsolicited calls.
Telemarketing Services in the Philippines
Consent & Compliance
Our qualified Filipino telemarketers understand the impact the requirements can have on your operations. This is why we want to work with you to ensure compliance while facilitating your sales and marketing goals.
Even more so, we are aware that failure to comply with relevant legislation can have a devastating impact on your business.
So we've listed the most important procedural requirements:
Time and Day Restrictions
Telemarketing calls must be placed between the hours of 8:00 a.m. and 9:00 p.m. according to the federal law. But there are some state laws that impose a narrower calling window. 
Furthermore, most jurisdictions prohibit telemarketing calls on Sundays. 
But again, some states permit certain types of calls during specially designated hours. In addition, there are also states that prohibit all telemarketing calls on legal holidays.
Recording Requirements
At a minimum, to the extent that a business records its telemarketing calls, there must be clear notice to the consumer. 
Our agents ensure that the customers are made aware that the call would be recorded first thing and explain that it is for quality assurance purposes. 
We further assure them that the recording will be maintained as a record of the underlying transactions.
Call Conduct Requirements
Under applicable federal and state law, call centre services Philippines agents must provide general details. 
This should include full first and last name, as well as the full corporate name or registered d/b/a of the entity that they are representing.
Moreso, a number of states apply the "no rebuttal rule". 
This means that if a consumer indicates that he or she is not interested in a product and/or service promoted by the telemarketer, the call should end there. 
The telemarketer can no longer try to convince the consumer to purchase/obtain the product and/or service offered. 
Meanwhile, other states permit only one "rebuttal" before the telemarketer is compelled to end the call.
Telemarketing Philippines outbound
is not always about annoying calls
Companies face risks from both regulators and consumers. 
Violations of telemarketing and DNC rules are subject to fines of up to $40,000 per violation. These rules are regularly enforced by the federal regulators and state's attorneys general.  
The TCPA provides consumers with a private right of action which has led to thousands of lawsuits per year and settlements amounting to millions of dollars. 
It's also important to keep in mind the possibility of PR damage to your organization. The effects of negative publicity can be worse for a company long-term than the fine or settlement.
But with B2B lead generation companies in Philippines, we make sure that our agents know when to stop pushing for their agenda. 
We prioritize the image that your company upholds. Thus, we put our utmost focus to reiterate the importance of putting a limit to our calls.
This is only a brief overview of some of the procedural requirements that we observe. Contact us via our form below and we'll get back with more details.
TALK TO US!
Contact us today for more information.