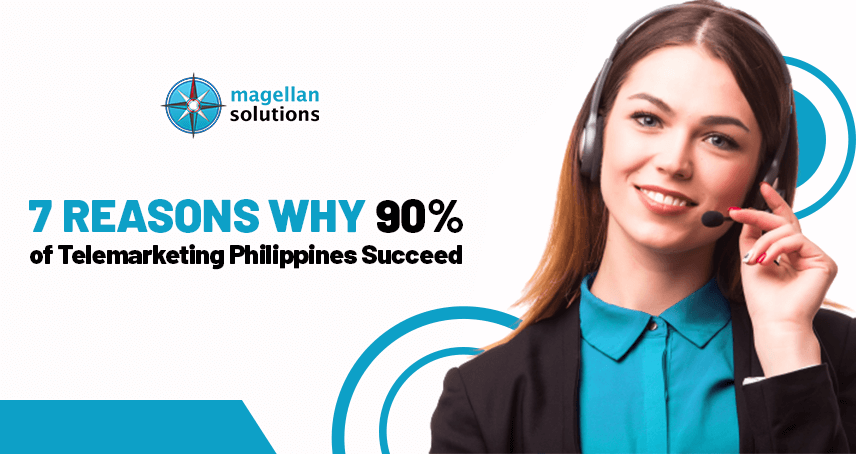 7 Reasons why 90% of Telemarketing Philippines Succeed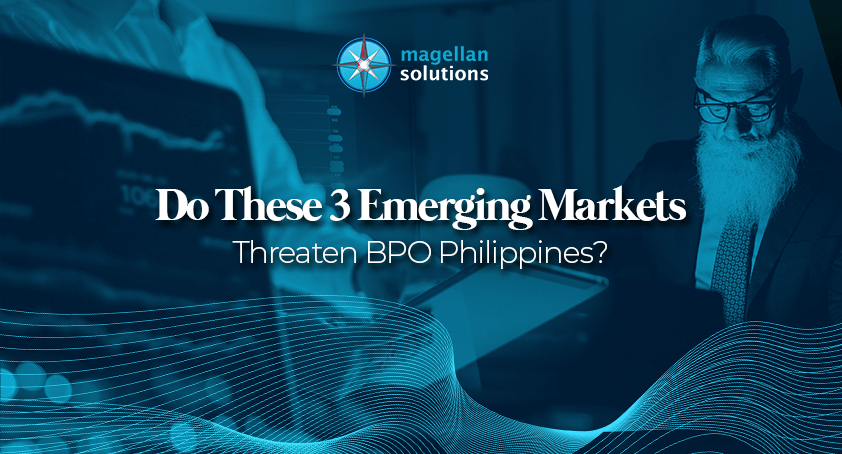 Do These 3 Emerging Markets Threaten BPO Philippines?
Cost saving is not the only advantage of telemarketing in the Philippines it can offer to any business
Telemarketing Philippines saves 50% as opposed to standard US telemarketing outsourcing rates. Yet going for an additional 20% in savings is often not worth it. As you need to sacrifice quality to do so.
Telemarketing like cold calling campaigns and making sales calls is an excellent way to generate leads. Yet this is often challenged by getting a positive return. 
Outbound telemarketing services Philippines improve your business's chances of getting a good ROI in two ways:
Skilled agents that handle calls who are experienced in cold calling technique

Agents from this top outsourcing destination have lower wages which reduces the amount you'll need to spend for your campaign
Let's dig deeper into Telemarketing first.
What is Telemarketing (in simple words)?
Telemarketing is a two-way direct marketing approach in which telemarketers advertise, solicit, and offer a company's products and services to potential clients over the phone, as opposed to other methods of direct marketing.
In layman's terms, telemarketing is the practice of promoting by telephone, with the telephone serving as the primary means of communication with prospective customers. It does not entail any direct face-to-face contact with the recipient.
Objectives of Telemarketing
The following are the goals that telemarketing is intended to achieve:
1. To raise public knowledge of the company's products and services by distributing information about them.
2. To place orders for products.
3. To perform market research studies
4. To entice the audience to come into the business and shop.
5. To schedule an appointment.
Telephone marketing is used by many different types of businesses. Examples include Internet service providers, financial services, home security systems, and insurance firms, among other things.
Telemarketer's Duties and Responsibilities
Outbound telemarketers are responsible for the following tasks:
Making telephone calls to a list of current or potential customers (this latter activity is also known as cold calling).
Proposing products or services and explaining their quality and benefits in detail.
Generating leads and appointments for the sales team.
Upselling and cross-selling.
In the meanwhile, the responsibilities of an inbound telemarketing operator include the following:
Using customer relationship management (CRM) systems to manage customer interactions
Using a computer to record the results of phone calls
Telemarketing Operator Skills and Qualifications
Telemarketing operators are required to possess the following abilities:
The ability to make sales and marketing calls as well as an understanding of sales strategies are required.
Strong communication, negotiating, and persuasion abilities, as seen by a relaxed and confident telephone approach.
The ability to communicate a message to a consumer and generate responses
Skills in using a computer
Team player
Patient, tenacious, and highly driven
Telemarketing Best Practices
While telemarketing has earned a negative name as a result of its usage by unscrupulous individuals attempting to steal from the defenseless and by obnoxious "robo-callers" who continuously play a recorded outgoing message, when done properly, it can be a powerful small company marketing tool.
It doesn't matter if you're selling to companies or consumers; telemarketing is most effective when the company making the call already has a relationship with the person being phoned, even if it's a tenuous one. For example, the call receiver may already be a client of the company or maybe a prospective consumer who has requested further information from the company.
If the persons being contacted are strong prospects, the caller should know why they are being called. Did they read an email message about the product or enter a prize drawing at a trade event, for example? Individuals who make sales calls should be knowledgeable about the items they are selling as well as the companies they represent, and they should be able to answer inquiries about both of these topics. Also important is that they are taught how to deal with common purchasing objections and how to overcome them in a dialogue.
Telemarketing is most successful when used to nurture leads rather than to generate them.
Why the 70% Off Sales Pitch is a Trap in
Telemarketing Call Center Philippines
With the competitive world we have today plus tons of telemarketing companies Philippines left and right, the 70% off sales pitch is now a trap. 
Telemarketing Philippines outbound has been consistently saving worldwide companies half of what they would normally spend on the same type of service in the US.
Often, businesses make the mistake of thinking outsourcing telemarketing campaigns is all about cost saving. The paradigm has shifted. While cost saving is enticing, there are more things to it that the telemarketing call center Philippines offers.
Low-cost outsourcing of Filipino telemarketers does not work in the long term. Like in any business, if you want to get high-quality services then you must be ready to pay for its cost. 
You must remember that the 70% cost saving does not make sense, at least for a reputable Philippines outbound call center. Telemarketing is no easy task and often requires employees or cold callers with A-grade experience in the industry.
Cheap outsourcing providers cannot afford to offer your business cheap outsourcing costs. Often this sets you up for failure. Which a good owner avoids at all costs.
Now, if we are looking at telemarketing services in the Philippines, not through the "lens" of cost-saving, what can they contribute to your business?
Telesales Company Philippines
Provides these Competitive Edge to any business
Cost saving is not the only advantage you get when you hire telemarketer Philippines. Good business leaders know that there is a delicate balance between costs and getting a far more valuable competitive edge. Which telemarketing Philippines often provides for businesses across the world. 
1. Flexibility and Scalability
Call center outsourcing in the Philippines reacts quickly providing staffing flexibility and scalability to its clients. This is especially true for lead generation Philippines when you launch new products or services. As well as to get your needed support in anticipation of volume spikes.
2. Specialized Industry Knowledge
Call center services Philippines is filled to the brim with lots of telesales company Philippines. Yet not two providers are the same. This is a factor that most businesses take advantage of. 
As this is helpful for businesses with unique service offerings who are not familiar with outsourcing. Better yet, simply looking for a better partner when it comes to telemarketing efforts.
3. Expert Management and Support Staff
Telemarketing Philippines outbound understands how to run an effective and efficient operation. This is simply because it is their business venture. They have set up their management style to ensure your Filipino telemarketers stay happy and motivated. 
This leads them to perform better which equates to connecting with prospects at a much higher and more valuable level. Adding to that, they have access to a broad set of resources and tools that assures you the best operation.
4. Data Collection and Analysis Expertise
B2B lead generation companies in the Philippines have access to vast amounts of data in their telephony system. Something that they can analyze and share with clients to help you reach key decisions. 
Furthermore, a reputable agency that works with a variety of businesses across many industries can identify and share the best practices to ensure your telemarketing Philippines success. 
5. Access to the Latest Tools and Technology
Call center services Philippines enable clients to take advantage of the newest technologies for their telemarketing efforts. This is to ensure a smooth process flow and maximize the cold caller's time in reaching prospects. 
CRM tools also help to zoom in on the right prospects and warm them up properly, before they deliver it to your sales team to close the deal.
6. Employee Management
Telemarketing companies Philippines eliminate the hassle of managing cold callers from the hands of the client. As they perform labor-intensive functions related to managing the campaign. 
This often includes hiring, training, and employee relations. Additionally, payroll management ensures they get the necessary benefits. 
7. Round-the-clock Service
The Philippines outbound call center provides expanded hours of operation. Something that may not be economically feasible in-house. For telemarketing campaigns, the right timing contributes to their success. 
Thus a provider that can do the legwork at the best time possible to connect with prospects is an advantage hard to pass up. 
4 Reasons
Telemarketing Services in the Philippines
Make Your Business Better
These are the benefits of outsourcing that make your business better.
1. Lets you focus on core marketing and sales processes
Telemarketing Philippines outbound does the legwork for you. Outsourcing this function helps your in-house marketing and sales department to focus on what they do best. Create marketing plans to reach your audience effectively and close sales with properly warmed-up prospects, respectively.
Your Filipino telemarketers can converse well with your targets to convey the message you want them to know. Which often leads to a better chance to close the deal that returns a higher profit. 
It also frees up the time and energy that you can use to build your brand better and understand your core market better. 
2. Gives You Access to Skilled
Filipino Telemarketers
Investment in recruitment and training of cold callers comes with a cost. In-house telemarketing effort is not a guarantee of success. 
Telemarketing call center Philippines enables you to tap into the expertise and skills of its people. It is given that English literacy in this country is impeccable, especially in the Asian region. 
Often, business owners forget that conversational proficiency is a factor here as well. Filipino telemarketers can maintain a professional and friendly conversation with your prospect to pique their interest. 
A good telesales company in the Philippines invests in its people's skills. Thus they ensure they are well-trained on the latest sales techniques and methodologies. As this is instrumental to the success of your business telemarketing campaign. 
3. Provides Risk Management and Workflow Continuity
Telemarketing is a stressful career to be in and thus is plagued with a higher attrition rate. Leading telemarketing companies Philippines address this by ensuring cold callers are well compensated and they truly invest in the employees' skills and talent. 
They also set up activities to ensure they stay happy and motivated. Something that cold callers translate into their excellent performance to deliver the services you need.
4. Reduce Operational Costs
The average salary of a US telemarketer is $13.39 per hour. As opposed to Filipino telemarketers with $9 per hour. Also, you have to include in the US costing the following:
Management Services as a start-up and clerical set-up fee that ranges from $500 to $2,000

Service cost per agent per month regardless of call volume ranges from $150 to $400

Telemarketer salary with $13 to $18 per hour excluding overtime during holidays and peak seasons

Tools or software that you may require
These factors add up in the overall investment you have to think of when outsourcing. However, telemarketing Philippines has been proven to reduce costs in comparison with their US counterparts.
What to Look for in
Telemarketing Call Center Philippines
It is important to define your standards and know what you are truly looking for before you hire telemarketer Philippines. This is possible through the following:
Define your vision

Determine the number of telemarketers you want to hire

Determine your target number of calls

Identify your target audience

Identify your target numbers

Determine what are your short-term and long-term goals
What are the characteristics of a good telesales company Philippines that will suit your business?
Company Culture
This plays a huge part in every team's productivity, efficiency, work ethic, and work-life balance. The company you partner with is your telemarketer's home. That is why you need to see if the exchange of ideas is encouraged and is listened to. 
Also, you must zoom in if they are continuously trained. It is a good practice if your outsourcing provider's company culture is in line with yours.
Flexibility and Scalability
The right contact center services Philippines will be flexible and understanding of your business needs. This means they take the time to understand what your pain points are and thus have the drive to resolve them. Also, they should be willing to adapt and scale as your business grows. 
Performance and Call Statistics
A successful telemarketing campaign lies in the ability of your call center outsourcing Philippines industry experience. That is why it is best to take a closer look at how they have been performing in the past years. 
Call statistics are important. As this will help you study how the company has been doing performance-wise. That is why it is best to truly know your provider before committing. You must think of them as a partner to grow with and not a one-off engagement or strategy.
Magellan Solutions is a Leading
Telesales Company Philippines
Almost two decades in the industry translates our experience and knowledge into custom-fit solutions for businesses worldwide. We make sure that our service delivery is customized to resolve your pain points and improve your telemarketing efforts.
Magellan Solutions employ A-grade Filipino telemarketers who are competitive and have the right knowledge and skills to converse with your prospects, effectively. We make sure they are up to date with the latest sales calling methodologies to ensure they perform at best.
Our tools and infrastructure support our telemarketing processes to ensure it's of top quality all the time. We also protect your data and information with the best security protocols as we bear ISO 27001-certification and HIPAA-compliant. 
Contact us today and partner with a reputable and reliable provider of telemarketing Philippines. Fill up the form below!
TALK TO US!
Contact us today for more information.